Pro Tips
04.06.23
How to Tell if Shortness of Breath Is From Anxiety
Because that sh*t is hard to decipher.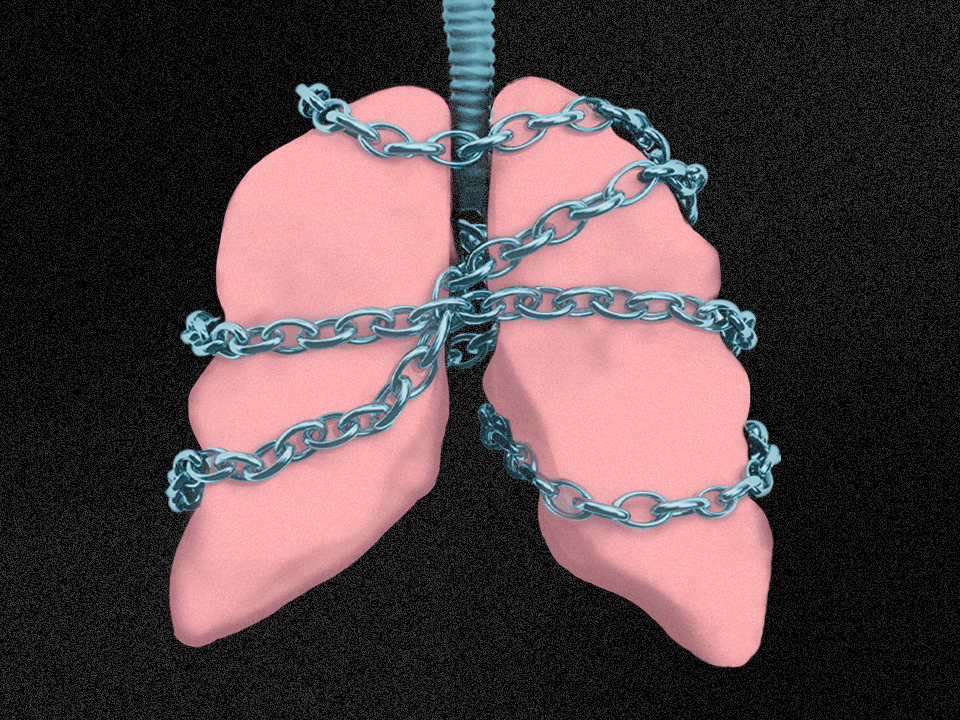 Shutterstock / Wondermind
You're getting ready for the week—shopping for groceries, picking up your meds, tidying up your apartment—when, suddenly, your chest tightens and you're hungry for more air. Before you know it, the feeling has escalated and it seems as though you're running out of oxygen and options. This incredibly uncomfortable, scary, and isolating sensation really sucks. But what makes it even more miserable is figuring out how to tell if this shortness of breath is from anxiety or an actual medical emergency. And, either way, there's no doubt it's causing you anxiety.
How to know if shortness of breath is anxiety or something else.
Honestly, the shitty but true answer is that you can't always tell if your shortness of breath is from anxiety or not. That's part of the reason why pulmonologist Barbara Mann, ​​MD, an assistant professor of medicine at Icahn School of Medicine at Mount Sinai, says she often sees patients who don't realize their need-more-air symptoms are caused by anxiety.
That said, there are some hints that can clue you in to whether you're experiencing a medical emergency or anxiety. One is the type of shortness of breath you're dealing with. "Very frequently, with the sensation of not getting enough air in or a sensation of air hunger, that's almost always anxiety related," says Dr. Mann. She adds that there are a few rare medical conditions that make people feel like they can't take in enough air, but those conditions often come with their own set of symptoms totally separate from anxiety. So if you're not experiencing any other symptoms (and you didn't just walk up several flights of stairs), this might actually be a stress or anxiety symptom.
Context clues are also really helpful in this situation. If you're short of breath in stressful moments, like when you're stuck in traffic or you're about to ask for a raise, then it's likely an anxiety response.
Of course, this semi-suffocating feeling can also be a symptom of a bunch of health issues, according to the National Institutes of Health. So if it happens frequently and you haven't been checked out by a doctor, it's worth bringing up to them.
Finally, if you find that distracting yourself (see: scrolling the socials, doing a lap or two around the block) for five to 10 minutes makes you less tuned into your breathing, it's highly unlikely that you're experiencing an emergency situation, says Dr. Mann.
That said, if you're ever concerned, don't hesitate to go get help. "I don't want to minimize these symptoms because they could be serious," adds Dr. Mann. And if you haven't experienced them before or, at least, not to this extent, then seeking out a medical professional isn't an overreaction.
Why does anxiety cause shortness of breath?
When your brain perceives a threat, as in being mugged in a dark alley or just presenting an idea to your boss, your body reacts with a physiological fight-or-flight response, preparing you to fight off the robber or flee the conference room.
Part of that response is an adrenaline rush that increases how fast and deep you're breathing in order to supply your brain, muscles, and organs with lots of oxygen to help you survive, says clinical psychologist Jonathan Abramowitz, PhD, an anxiety researcher and professor at the University of North Carolina at Chapel Hill.
Sometimes this response can also cause constriction of the blood vessels in your brain, which can lead to lightheadedness, dizziness, and a feeling of impending doom, says Dr. Mann.
And while a robbery seems like a more appropriate scenario for those symptoms to pop up than a meeting with your boss, your body doesn't pick up on context clues. So, even when things are mostly fine, your nervous system will try to protect you.
Unfortunately, shortness of breath, whether it's caused by anxiety or a medical issue, can trigger even more symptoms like the ones above, says Dr. Mann. "You feel like [these symptoms] represent something very dangerous," she says. "That can make you more anxious and it becomes a self-fulfilling cycle of anxiety, more symptoms, into more anxiety." Ugh.
So it's easy to see how shortness of breath could spiral into a full-on panic attack if you can't stop catastrophizing (aka fixating on any and every worst-case scenario), explains Dr. Abramowitz. Like: OMG I can't breathe. Do I have Covid? Am I having a heart attack? Do I need to go to the hospital? Am I dying? Is this what dying feels like? 
This scenario is especially true if you deal with health anxiety, which can show up in conditions like OCD, generalized anxiety disorder, and panic disorder. It's also worth noting that hyper-awareness of certain symptoms—to the point where it's causing you tons of distress and interfering with your life—is pretty much the hallmark sign of  somatic symptom disorder, so if you've been stuck in this cycle for a while, it's definitely worth reaching out to a mental health pro for help.
So what can you do about shortness of breath from anxiety?
If you suspect (or know on some level) that anxious feels are behind your breathing situation, distracting yourself by taking a walk, getting lost in your TikTok algo, or doing a quick grounding exercise is a good place to start. But you can also take a beat and try to remind yourself that this bodily sensation—while incredibly uncomfortable and annoying—is something you've felt in other stressful times before and it's not necessarily a symptom of something going terribly wrong in your body, says Dr. Abramowitz.
Over the long term though, learning to get comfortable with the unknown is what makes the biggest difference, he adds. Without seeing a doctor, there's really no way to know that this is not a medical issue, it's true. But we all have to live with a reasonable amount of uncertainty about our health, says Dr. Abramowitz. "What we want people to do is to be able to say to themselves, 'You know, chances are things are OK, and I can manage that, and I'm going to go back to what I was doing."
If you don't think you'd be able to do that without going full spiral, it might be helpful to see a mental health professional who specializes in anxiety or health anxiety who can help you work through these complicated feelings.
Wondermind does not provide medical advice, diagnosis, or treatment. Any information published on this website or by this brand is not intended as a replacement for medical advice. Always consult a qualified health or mental health professional with any questions or concerns about your mental health.