Q&A
04.17.23
Jessie Mei Li Is Having a Weird Time
The 'Shadow and Bone' actor gets candid about her mental health lately.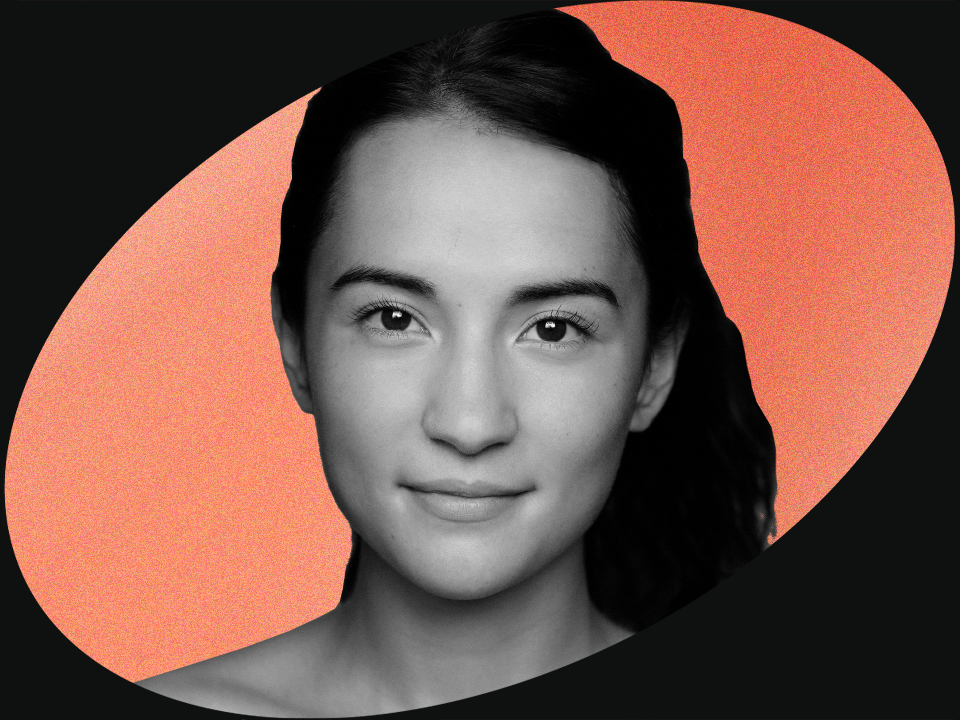 Photo Credit: Wolf Marloh
As Alina Starkov on Netflix's Shadow and Bone, Jessie Mei Li adventures through the Grishaverse and takes daring strides to fulfill her destiny as the Sun Summoner, aka someone who can harness light even in the darkness. While filming Season 1, which released in 2021, the actor started to realize that she had a lot more in common with her fantastic character than she originally thought, and Alina's impulsive decisions made Mei Li reflect on her own mindset. Turns out, Mei Li's trouble focusing and sitting still, for example, eventually pointed to an ADHD diagnosis at 24. 
Two years after getting that life-changing diagnosis, Mei Li checks in with Wondermind to share how it's allowed them to practice self-forgiveness and also strengthen their relationships. Here, Mei Li gets honest about life before the diagnosis, how she's feeling a bit weird these days, and the relief that comes with opening up to friends.
[Sign up here to never miss these candid conversations delivered straight to your inbox.]
WM: How are you doing lately?
Jessie Mei Li: I've been in a very strange head space. I've gone through a lot of transitions and changes and ups and downs. The last few months I've sort of felt like I'm kind of disassociated with a lot of what's going on, and that's been a very strange time.
It has not necessarily been wholly bad. I've been having a nice time and trying my best to get through it, but it's been a weird time if I'm completely honest. I haven't been great, and I've always struggled to say that. So that's why right now I'm going to be brave, and I'm going to say I haven't been doing very well.
WM: Does it feel like you're kind of just going through the motions of life?
JML: Yeah, I guess so. I think the thing with mental health and everyone's experience is it's so difficult to articulate what is going on in your own mind, in your own soul. I tend to struggle with this notion that I've got a roof over my head. I've got clean water. I've got food. I've got friends. I've got family. What have I got to be worried about or upset about? That's a real problem. It just perpetuates how you're feeling, right?
I very much fall into that bracket of, Oh, I don't feel good. Or I've been through something, but I don't really give myself the emotional time or space to actually process it because I'm too busy going, Well, other people have it worse than me. Just chin up, man. Get on with it. But that is not a good mindset to be in, and that's sort of the one I've been stuck in my entire 27 years on this planet. So [I'm] trying my best to tackle that as 2023's goal.
WM: What are some ways you take care of your mental health on a regular basis?
JML: For me, a thing that's really important is being outdoors, being in nature. I have got the scattiest brain in the world, and sometimes I actually forget that. I'll be like, Why do I feel so strange? And then I'd go for a walk. I live in Bristol, and there's some really gorgeous places to walk. [There's] a Japanese word for forest bathing [called shinrin-yoku], and I get that. I'm in the trees, and I just go, Oh my God, I feel better now.
Over lockdown or when I came back from filming Season 2 of Shadow and Bone, I just walked and walked and walked. I listened to music or just walked along with no music, no phone—just my keys. It's where I managed to do all my processing, I think. With gentle exercise, it gets the blood moving, you get out in the fresh air. I think going for a lovely walk is key.
WM: You were diagnosed with ADHD as an adult. How did receiving a diagnosis impact your mental health? 
JML: Getting a diagnosis for ADHD genuinely changed my whole outlook on my life. For such a long time, I think I did—and still do—hold myself to an incredibly high standard in terms of I've just got to get on with it and be there for everyone and be a good friend and be a good family member and all of that stuff. 
When I was younger, I used to just beat myself up all the time. My self-esteem was incredibly low, especially during my teenage years. It's such a vulnerable time. Although I didn't struggle at school, I found a lot of things really difficult, [like] organizing my time and dealing with emotional strain and all of that. If I'm being completely honest, I've had a lot of quite bad mental health episodes. Certainly when I was younger, especially in high-stress situations. I went to university and had a rubbish time, like a really bad time.
Off the back of that, I think I was so stressed. And when I get stressed, like many people with ADHD … I cannot sleep. Obviously we know how important sleep is for mental health, but my brain just won't. It goes into flight-or-fight mode, and I go into bed, and I've got this mad adrenaline. It's still an ongoing struggle where my chronic insomnia has caused me to have some quite bad mental health episodes. But I think having a bit of self-awareness and a bit of self-forgiveness with the diagnosis and understanding from friends and family [helps]. 
Now I know that the people that I love in this world know that about me. They know that I might not reply for three months, so it doesn't mean I don't love you. It's just my brain is busy elsewhere. That's been really helpful for me just to be able to breathe and try and focus on myself. … It's almost like I need permission from people, and having the ADHD diagnosis has made friends be more like, "Yeah, man. You just do you for a bit. It's all good. I'm here. Let's go out for a dance sometime, but no stress. We'll talk when we talk." That's been really, really good for me.
WM: Do you mind sharing if you're in therapy to help you manage your ADHD? Or is it something you work through on your own?
JML: Actually, this week I'm getting my act together. One of my very good friends who's actually in the cast of my show had to sit down and help me. I've been in therapy and my therapist is incredible, and we've been doing some really interesting stuff, like EMDR, which I didn't really know much about until recently. But the problem is, as I previously mentioned, I am very scatty. Even if I'm writing things down and setting alarms on my phone or whatever it may be, I'm really bad at remembering that I need to book my therapy. So what's happened is over the last six months or so [is that the] therapy that I want to have once a week, I've ended up having once a month because I just haven't remembered to book it.
Although I love my therapist very much and she's brilliant and really helped me with lots of different issues, I've realized what works for me is I need that consistent once a week timetable thing so that I don't have the excuse of going, "Well, I forgot. Oh, I'll do it next week."
Therapy, I've realized, is so important. Recently in stressful situations, I've looked at friends of mine who I believed to be very similar to me and said, "How do you do it? I can't cope with this stuff." And those friends say to me, "Jessie, I've been doing the work. I've been going to therapy for years, and I'm on the other side. You're at the start of it. It's so hard, and you're going to have to look at some things you don't want to look at, but you can get there." And that is such a wonderful thing.
That really inspired me because before I was not anti-therapy, but I hadn't had very good experiences of it and felt a bit like, Well, these people don't know me. And you've got an hour or whatever to try and decipher what's going on in my very complex inner world and my childhood and all of these things. It's not really worth it.
But it is worth it. You commit your time to it, and it is worth it. But I definitely needed that encouragement, that support from friends who'd gone through it, to really get me in the therapy zone. Guys, therapy, do it.
WM: What's a stigma or misconception about mental health that bugs you?
JML: When people incorrectly use certain disorders and stuff. People say, "I'm so ADHD," but they actually don't have ADHD. Or "I'm so OCD" or whatever it may be. I just think it doesn't sound very good. I'm like, "Do you have OCD?" And then it's like, "No, I don't actually have it." And I'm like, "Oh. We've got into a conversation cul-de-sac here because I wanted to hear about your experience."
And just generally the misconceptions around various disorders and things like autism and the assumptions about that and how that affects you. What really bothers me, actually, is when people don't really understand how difficult being neurodivergent is. Sometimes if you don't have one of these neurodivergent disorders, it's difficult to put yourself in that person's shoes.
When I was younger and thinking I might have ADHD and everyone was like, "Just get a notebook, man. Get a planner." It's like, I don't even know how to explain to you I've literally got so many planners. … But I open them, and I look at them, and I go, "Well, that's nice."
I'm not one of those people that [thinks] there's no answer to any of my problems. Of course, there are things that help. But when people come at you so strong with like, "Yeah, I'm like that, but I just get on with it, really. Chin up," I'm like, "Well, great."
WM: If you could give yourself a pep talk right now, what would you say?
JML: It's OK to do what you want, babe. I think that's what we struggle with, isn't it? It's not allowing myself to actually just do things that I want to do. I know it sounds ridiculous, but I'll be like, "Yeah, but my flatmates said that maybe we should all do something together," or "I probably shouldn't do that because…" Look, if you want to go and do something and you've got the time, just do it. It's OK. And it's OK to not want to do things as well. It's OK to take it easy. It's OK. Everything's OK. Just breathe.
WM: Any final words of wisdom?
JML: The way that a lot of western society has been built is not conducive to good mental health. We live in late-stage capitalism. Everyone's on social media. We're bombarded with things all the time. There's so much going on and so much pressure to be seen, to be successful, or to be beautiful. It's so much pressure. What I think is helpful to understand is that it's not you that's sick. Often, it's society that is sick.
Sometimes it's good to look externally and go, Do you know what? I'm actually making my way through this world, which is incredibly difficult to navigate. There's so much about it that's individualistic and dog-eat-dog and [can make you think] you've just got to graft and work it out on your own and be a girl boss or all that bullshit.
Actually, we are human beings who thrive in community. We're social creatures, and reaching out to people can be terrifying. … I live with my two best friends, and I love them so much, but even then, I find it really hard to say when I'm not OK. Yesterday I sat down with them, and I said, "I'm not OK," and I had a little cry. That was really hard for me. But the release and the little laughther and giggles that we had afterward, it's so worth it.
If you are brave enough at some point to do that, it's scary, [but] I can't tell you how fantastic it is to invite people in and know that you aren't alone—because you're not. Even though this world will tell you that you are, you're not alone.
This interview has been edited and condensed for length and clarity.
Wondermind does not provide medical advice, diagnosis, or treatment. Any information published on this website or by this brand is not intended as a replacement for medical advice. Always consult a qualified health or mental health professional with any questions or concerns about your mental health.