Essay
11.30.22
What Travel Is Like for Me as an Autistic Person
I hate to say it, but planning ahead really does work.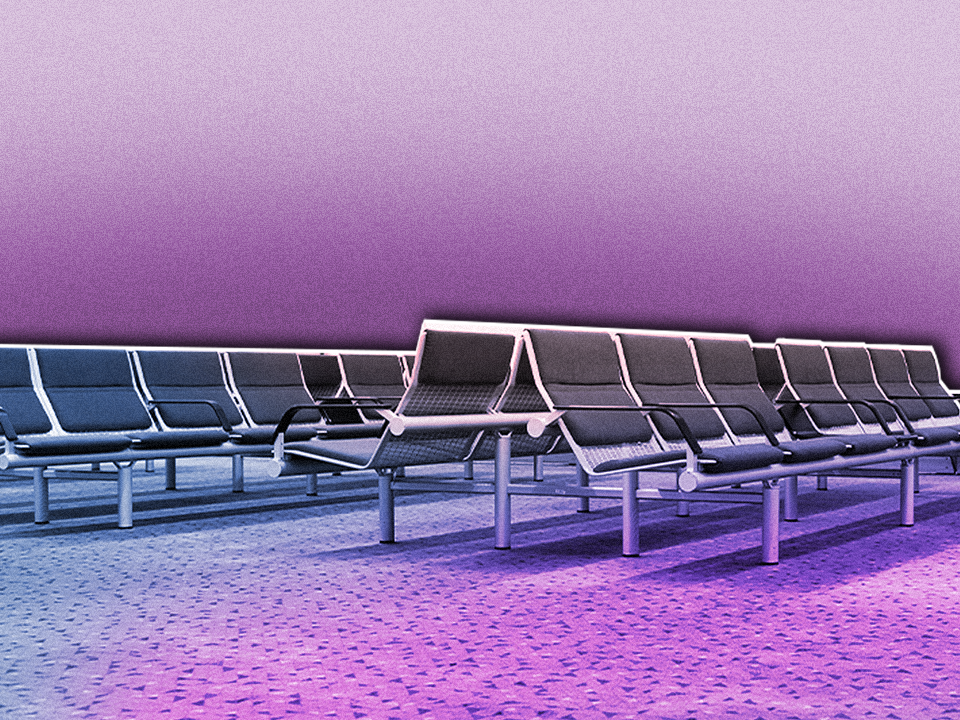 Whether it's a day trip by bus or a flight abroad, the idea of going somewhere different—no matter the distance—excites me like nothing else. Part of that is probably because I'm autistic, which is another way to say that my brain works differently from the so-called neurotypical majority, especially when it comes to social interactions, communication, sensory processing, and behavioral differences. 
For me, my neurodivergence means I crave newness and get a lot of positive stimulation from being in new places, surrounded by new sights, smells, and the sounds of people speaking in other languages. But traveling as an autistic person isn't all pure joy. Actually, having autism can make travel particularly daunting—especially when everyone else is traveling too.
Sure, I crave sensory stimulation, but autism and air travel take it way overboard (same for train stations, BTW). No lie: Sometimes when the reality of having to face an airport sets in, I get extremely sick and anxious and debate canceling. Other times, the journey itself can sometimes send "abort mission!" warnings through my mind.
That's often because the bright lights, endless lines, soundscapes (if you can call it that), unexpected delays, and disruptions are too much—it's like an information and sensory overload. And the lack of understanding from airport personnel and airlines never helps either.
Even for neurotypical people, I highly doubt any of these things are pleasant to put up with, but as someone with heightened sensory sensitivity, traveling makes me feel like my brain is taking in too much information at once, tanking my ability to complete basic tasks and sometimes even pushing me into a meltdown. If you have autism, this probably sounds familiar since up to 90% of autistic people experience sensory differences, according to a 2022 review of 25 studies on autism.
How I make air travel easier as an autistic person.
Airports or any departure station can feel like everything that's inaccessible and unfriendly comes together in one building and conspires to trigger you. So! Fun!
And even though the travel industry—and society in general—have a long way to go to become more accessible to neurodivergent people (the load for change shouldn't be on us!), putting extra effort into my pre-travel routine does help me manage being out of my comfort zone enough to enjoy some casual people-watching while I wait to arrive at my destination. These hacks even give me headspace to be excited so that, when I arrive, I can truly start to have some fun.
Here's everything I do to navigate this (sometimes hellish) experience.
Reframe how you think about travel.
As an autistic person, I know that being flexible can be hard, but accepting that travel will almost never go exactly as planned makes it much easier for me to handle all the chaos. Remembering that we travelers have little control over how the day shakes out actually helps me feel more in control over my mental health throughout the day.
Catch some Zs.
I'm a late riser, so early morning flights mean my routine—something that's very important for helping some autistic people like me—can get disrupted and my travel days become more difficult from the get-go. If I don't get enough sleep beforehand, I can be even more sensitive to noise and other disturbances.
Take extra steps to be more comfortable.
Some of my worst travel days happened when I wasn't as prepared as I could've been. Of course, autism is different for everyone, so what works for me might not work for other autistic people, but it's worth thinking about what usually takes you to your happy (or just content and comfortable) place.
To combat any potential sensory issues, the first thing I do is plan my travel outfit in advance. I make sure I'm sporting something that has max comfort—hard pants are not in my vocab on travel day—and easily removable layers to adjust to over-air-conditioned or really stuffy planes and trains.
Sometimes I know when something feels wrong in my body, but I can't always identify exactly what it is or how to fix it. So I make a conscious effort to be mindful of my temperature by making a note to myself or setting a reminder on my phone to check in with how I'm feeling physically. Otherwise, I find it hard to figure out why I'm uncomfortable or how to fix it if I'm freezing or too toasty (which can make me grumpy).
To reduce all that overstimulation when I'm en route, I break out my headphones so I can listen to an airplane mode-friendly white noise app or my go-to soothing playlist. Don't forget: If your headphones block out important announcements, like gate changes, make sure you look up that info on your phone and/or sign up for prompt notifications. This can be super helpful if you struggle with auditory processing too.
And if wearing paparazzi-proof sunglasses or carrying a fidget spinner makes you feel better, do it!
Grab some snacks.
As a neurodivergent person, it's easy for me to forget about basic needs like eating and drinking water while traveling—kinda like those temperature challenges.
Different eating behaviors, like being put off from food because of its texture, color, or even the brand name, are also common with autism, according to that 2022 review of studies. And because I know I can be choosy about my food (and I've never responded well to a setback when I was hangry or thirsty), I bring vegan faves from home. Plus, I do my best to plan mealtimes in advance and set timers for when I should be eating and drinking.
Lean on your travel buds.
If I'm traveling with friends or family, I share the things that I find difficult. Like, I tell them that I can't chat as we board because I need to put on my headphones to feel safe. When my travel crew gets what I'm dealing with, then I feel less alone and supported if I need help.
That's always felt like enough for me, but if you need more or other types of support, some airports and train stations do offer accommodations for autistic people, like familiarization videos and booklets that show you around the space and talk you through the travel process and available assistance. Some also have lanyards you can wear so that the staff knows you have an invisible disability and might need some extra help or understanding.
Show yourself compassion.
A huge part of why I sometimes feel sick and anxious before traveling is because I can get down on myself for having these struggles. Instead of forcing yourself to deal with all the stress that comes with traveling, try to accept that you might need certain adjustments and that it's OK and that you're doing your best as a neurodivergent person traveling through a neurotypical world.
Wondermind does not provide medical advice, diagnosis, or treatment. Any information published on this website or by this brand is not intended as a replacement for medical advice. Always consult a qualified health or mental health professional with any questions or concerns about your mental health.