Q&A
04.14.23
Tay and Taylor Lautner Are Great at Talking About Their Feelings
The couple gets candid about fear, stress, and embracing vulnerability.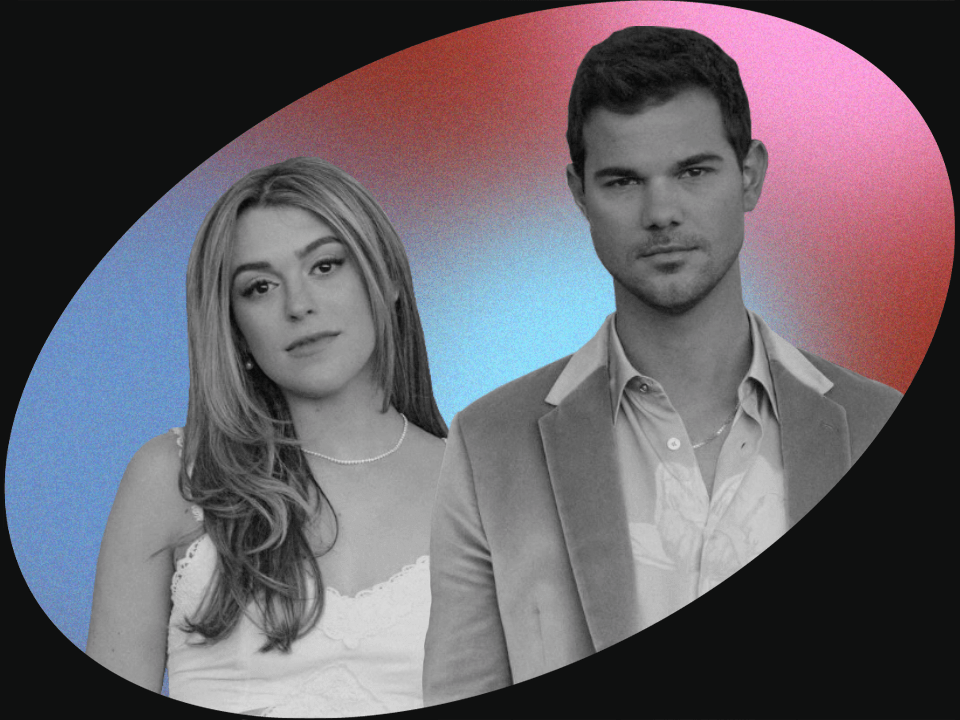 Photo credit: Nicole Ivanov
If you can believe it, there's something even more charming about husband and wife Taylor Lautner and Taylor (Tay) Lautner than their shared name. It's the way they open up about their mental health journeys—to each other, friends, and even sometimes complete strangers like me—with ease, vulnerability and a total lack of ego.
They're doing a whole lot of that lately on their new podcast, The Squeeze, where the couple gets emotionally deep with guests like Alyson Stoner and Emmanuel Acho. They're also getting into the mental health space with a blog (LEMONS by Tay) and a nonprofit (The Lemons Foundation). Who doesn't love a theme?
The podcast is proving to be deeply healing for two people who have dealt with significant stress from their careers—Tay, as a nurse on the frontlines of the Covid pandemic, and Taylor, as an actor whose early start in entertainment (not to mention Twilight-mania) led to huge successes and equally huge pressure.
"It has been very cathartic," says Taylor. "Honestly, we say it all the time, it's like free therapy."
Here, Tay and Taylor share the moments that changed the way they think about mental health and how they got so good at talking about their feelings.
WM: What emoji best describes your mental health right now?
Tay: I think mine would be the upside down happy face.
Taylor: Explain.
Tay: I shall. Because I'm happy and things are great, but we're just in a very busy season. So everything is good, everything's going great, but it's just stressful. So it's, "I'm happy, but I'm slightly stressed."
Taylor: That's a good one. Mine was the salute one. Why am I feeling that? If the salute emoji was smiling, that would be my emoji. Because yeah, I'm happy. I feel good. But there's a lot going on right now. It's not a super stressed out salute, it's a happy salute. We're all very blessed.
WM: You're both so open about your mental health journeys, but when did that start for each of you? When was the first time you remember having to think about your own mental health?
Tay: I definitely think my own would be while I was working in the hospital as a Covid nurse. That was such a heightened time when no one really knew what to do or how to handle it or how to process it. So when I felt myself kind of just dissociating and removing myself altogether from every aspect of life, I realized that—well, actually, I didn't even notice it. Taylor actually brought it to my attention.
He was just kind of like, "Hey, are you OK?" And I was like, "Yeah, I'm fine. I'm just tired." I was working the night shift and it was just a lot picking up extra shifts because we were short-staffed. And he was like, "No, but are you actually OK?" And I was just like, "Oh, that's a good question. I don't know." And the conversation just ended there. But that was kind of the first time—I'd say that was January of 2021—that I really, truly had to look at myself and be like, OK, we need to start figuring out what's going on here.
Taylor: I feel like both of our mental health journeys maybe didn't start at the same time but were addressed near the same time. I think it kind of took each other to feel comfortable enough talking about it and having somebody to talk about it with. I think whatever I deal with—I'm still very much in the mix of it today—but I think it starts from an early age. Starting in the entertainment industry when I was 8 years old and just growing up with that life and everything that comes with it, and not talking about it, not speaking about anything, and just thinking that all that is normal. I think it took finding Tay, along with amazing friends that we have in our lives, to really start diving deep and having honest conversations about why we do certain things.
WM: What's made the biggest impact on your mental health?
Tay: Something that I've really learned is that I need alone time and I need quiet time. I definitely think that stems from me being an only child, which I recently just discovered. I think I need to be by myself to process things and just to have time to myself. It was just always me by myself growing up. So I'm used to quiet time. I'm used to just sitting in my room doing things by myself. And I'm so fortunate that we do get to spend so much time together, but it's important for the healthiness of our relationship and for myself that I do take time to be alone—go work from wherever today, go get coffee by myself, go get out of the house, have some alone time for my brain.
Taylor: For me, I think the biggest thing is just starting to talk about it. I wasn't purposefully not talking about it, I just never really was introduced to the idea of talking about it. And I think what helps that a lot is finding people—friends, family, a loved one, whatever—that you feel comfortable enough with to be your true, authentic self and trust. And also those people that will hold you accountable, that aren't just "yes" people. People that will challenge you and they love you enough and care for you enough to hold you to it and challenge you to be a better version of yourself. I think that is probably the biggest difference-maker in my life.
WM: What part of your mental health still feels like a work in progress?
Tay: I think all of it. We've been talking about this a lot on The Squeeze and just personally between us. With healing, I feel like a lot of things come to the surface. … So I think it's just honestly not wanting to quit, if that makes sense? I mean, luckily we do have a mental health podcast and a nonprofit and a blog so we can't really do that, because that is my job. But in all seriousness, it's definitely hard. You gotta rip the Band-Aid off, but then the healing process is that you have to keep healing and open those doors that are scary and learn how to organize them and make them pretty or deal with that.
You get more comfortable talking about things, but it's still hard some days to bring stuff up. You get more used to it, for sure.
Taylor: During the hard days, during the tough days, it's not something you're excited to talk about. And probably the worst thing you can do is keep just shoving it down and down. So yeah, just staying resilient.
WM: You've both dealt with significant stress from your careers. How did you learn to cope with that?
Tay: Specifically talking about my career as a nurse, I think maybe it would be just accepting and learning. I make humor a very big thing. My therapist, I'll laugh with him, and he is like, "No, what you went through is a big deal." Because I always end it with, "But it's fine. I'm fine. It's OK." And he's like, "No, you need to understand and accept that what you went through was hard." And I don't like doing that. I like to just brush things under the rug. And he's like, "You need to fully address this. Understand and know and believe that what you went through is hard and what you're feeling is valid."
Taylor: Yeah. I don't even know where to start for me, to be honest. I've talked on the podcast about body image and how that's been something for me to work through. So that's definitely been one of the bigger things. I think another thing is just living up to expectations. When the bar is set so high, by you or by strangers, you can't help but feel the pressure to live up to those expectations. And a lot of times, those expectations are nearly impossible to reach. And then when you don't reach them, you feel like a failure. And I think that is definitely something that I have had to deal with. And it really used to get to me, so much so that I would be like, "I'm done. I want to be done. I don't want to do this anymore. It's not worth it. It's not worth my mental health."
But the problem is I was putting value in a place that it shouldn't be. And it's taken a long time, years, to figure out for myself that that doesn't deserve those expectations, those opinions. That doesn't deserve my time and my energy and my value. We find value where we put it, and I had to shift where I was putting my value, and now I'm in a much healthier place. But I think that was a huge thing for me. Starting this at such a young age and accomplishing amazing things at such a young age. It's like, Well, where do I go now from here? And then if you don't reach that again, I was feeling like I was failing. But it's like, I'm not failing. I've done amazing things in my life, and there's so much more I can do. But you gotta put the value in the right place, and that's definitely been a journey for me.
WM: How did you get over that fear around failing or not knowing what comes next?
Taylor: I definitely lived in fear. I still do, but not nearly as much as I used to. I was living in a ton of fear of: Am I going to do the wrong thing? Am I going to make the wrong choice? Am I going to offend or upset or disappoint people? So living in fear was definitely a huge thing for me personally, and having to shift the way that I thought.
Fear can really hold you back from some amazing things, or you can use it to drive you. I've had multiple things in my life that I was terrified of doing and my instant gut reaction was to be like, "No, I can't do that. No, I'm going to fail." And it just terrified me. And I pushed myself, or somebody helped push me to do it, and it ended up being one of the best experiences in my life. And I was like, "Thank goodness I did that. I can't imagine if I didn't." So yeah, fear is a tricky thing for me because it's about finding that balance to not let it control you and dictate you, but use it in a good way, because fear can be helpful as well.
WM: Tay, how did the fear and stress that you experienced as a nurse impact how you show up for yourself?
Tay: The nursing field is very much [like] you just go, you just do. Especially during the time of Covid. It was like, "Oh, I can't go to the bathroom for seven hours. OK. Oh, I haven't had a break to eat in nine. OK." Because there was no time.
People's lives were on the line, and you just go. You don't look back. You just do it. And I've seen that kind of transition into my life at home—just the constant go, go, go. And I have such a hard time sitting. Even when I'm cleaning, I'm like, Oh, I'll grab this and I'll move this there, and I'll do this with that. When I go downstairs, I can only make one trip. Just critical thinking constantly in my brain. Now being removed from that—and even in the hospital when I was still working but Covid slowed down—really just learning to set boundaries was a very big thing for me.
Because I am a "yes" girl. I will tend to everyone's needs before mine. I'm a 2 on the Enneagram. I am a helper. That is very much me to my core. And I honestly feel like it has taught me to be selfish, for lack of a better term. Just be selfish with my time. Obviously, I say that lightly. But I don't need to go pick up an extra shift for the third time this week. It's my day off. I need to rest for myself. And now, being out of the hospital and just putting that into everyday life, [I'm] learning to just be like, "No, I actually need that rest day."
WM: As a couple who hosts a mental health podcast together, you make it look easy to talk about tricky topics. Have you always been this open with each other about your feelings?
Tay: I think we've definitely both had to learn it. I feel like we're very fortunate in the sense that we both started our mental health journey at the same time. We both started learning about ourselves and started to open up to each other—not for the first time, but about, "Hey, I think I'm depressed," or the actual heavy stuff. Obviously we're best friends and we tell each other everything, but really getting into the thick of our mental health, we kind of got to do together.
It's been a blessing, but it also has been hard to not take it personally or [think], Oh, why can't I make them happier? Or things like that. And just learning: Hey, this journey that Taylor's on, me loving him more than anything, it has nothing to do with me. It is him on his journey, me on my journey. So that's been something that we've learned together and just how to be there for the other when we need it. Some days I wake up and I'm like, "I'm having one of those days," and I don't get out of bed. And Taylor, I think the first time that happened, he was probably like, "What is wrong with you?"
Taylor: Yeah, she's definitely talking more about me with everything she just said. I feel like I've had a harder time understanding that when you're having one of those days or you're going through whatever, it doesn't have anything to do with me. It doesn't mean I'm failing as a husband. It doesn't mean that I'm not doing my job to make her feel better. That's been the hard part about working together with this—or just being married or having a relationship with somebody.
It took me a bit to be able to cope with the idea that, OK, if she's sad, I can't just snap my fingers and make her feel better. I can do a song and dance for you, but it's not magic. So sometimes it is just important to be there for them. And if she says, "I don't feel great today." It's like, "OK, that's fine. I'll pick up the slack and do whatever I can." And then when she's feeling better, we'll move forward with life. But not taking offense or feeling like a failure for not making you feel better definitely was something that was more challenging for me to grasp.
WM: What mental health advice do you wish you could go back and tell your younger self?
Tay: I would tell myself to just trust myself and truly to be confident in who I am. Because now sitting here today, I'm confident in who I am and I just love the person that I am. And I think I'm chugging along here doing pretty well. So I think I would just tell myself to keep trusting in myself.
Taylor: I'm not one of those, "when you know, you know," and love-at-first-sight type of people, but it's kind of true. I just would go back and tell myself, "Go through all the life experiences." And if we didn't each have our previous relationships and everything we've learned, then we wouldn't be who we are today with each other. I think that is really important. But I don't think you should put stress on yourself for, "Why haven't I met that person, settled down, X, Y, and Z?"
You will know. And it's going to feel right because you're going to feel respected and you're going to feel loved, and it's a different kind of love and respect. And if you're not being treated that way, it's probably not the right time. Just be patient for that, because nothing's better than it. And yeah, I would just tell myself: Go through all the life experiences, learn everything. Take that with you, and grow. But don't put pressure on yourself. You don't know the timing of when you're supposed to settle down or find the perfect person, but you'll know. And it's a great feeling.
WM: What mental health misconception do you want to put to bed forever?
Taylor: Getting rid of the weakness idea. Men's mental health has been something that [Tay is] passionate about. Having not only Tay, but close male friends in my life that I feel totally open and able to be vulnerable with—there's nothing more impactful than that. And not having anybody make you feel weak for talking about it or feeling sad or whatever. Honestly, if you can do that, it's strength.
Tay: Yeah, men's mental health is very big to me because, growing up, I had a lot of people in my life struggle with mental health, whether it be addiction or bipolar disorder. I lost a friend to suicide. And they were all males. And I found myself, somewhat recently, kind of looking at that and being like, What's that saying? The proof is in the pudding. That is showing that this men's mental health thing, this is an actual thing. We need to genuinely start talking about it. And it's been really cool to see Taylor and our close guy friends be vulnerable with each other. It's so attractive to me when Taylor is like, "Hey, I'm kind of feeling like this." When he opens up to me, I'm like, "Oh my gosh, this is great."
Taylor: Oh, she loves nothing more than a dinner date where we just talk about our feelings the whole time.
WM: Any advice for people who are nervous to open up about their mental health with their partner?
Tay: Taylor makes it easy for me to open up because I feel so safe and respected. And I know that, in saying something, I'm not going to be judged. So I think that has been something that has made it easier. Finding a partner, finding a friend, finding a therapist, someone that loves you unconditionally and you can go to, who isn't going to judge you for whatever you're about to say.
But also, I can guarantee you, whatever you're about to say sounds worse in your head than it will to the person you're saying it to. Just find that person. The first time's going to be hard or rough, or you're not going to get your thoughts out. Maybe write them down before you go into that conversation. Or you can write it down and give it to them in a letter form. I've definitely done that before because I've had to learn to use my words. Talking does not come easy to me. Which is funny because, why do I have a podcast?
Taylor: I think judgment is a huge thing. I believe love is one of the greatest gifts that you can receive and also one of the greatest, if not the greatest, gift you can give. Love is powerful and it's hard to love with judgment, because we all have our own stuff. Nobody is perfect. And as soon as you accept that and realize that judgment is a dangerous thing—I mean, you want to talk about something that's bad for your own mental health? Judging others. Constantly judging others is exhausting and horrible for your own mental health. So as soon as we can put love way up here and judgment way, way down here, it's going to fix a lot of things.
If you love somebody, if you truly love somebody, then judgment doesn't really exist because you love who that person is no matter what. It's been a beautiful thing to experience with Tay and all of our close friends and family. It's powerful.
Wondermind does not provide medical advice, diagnosis, or treatment. Any information published on this website or by this brand is not intended as a replacement for medical advice. Always consult a qualified health or mental health professional with any questions or concerns about your mental health.