Essay
05.24.23
The Truth About Shopping for a Wedding Outfit With Body Dysmorphia 
This is not what dreams are made of.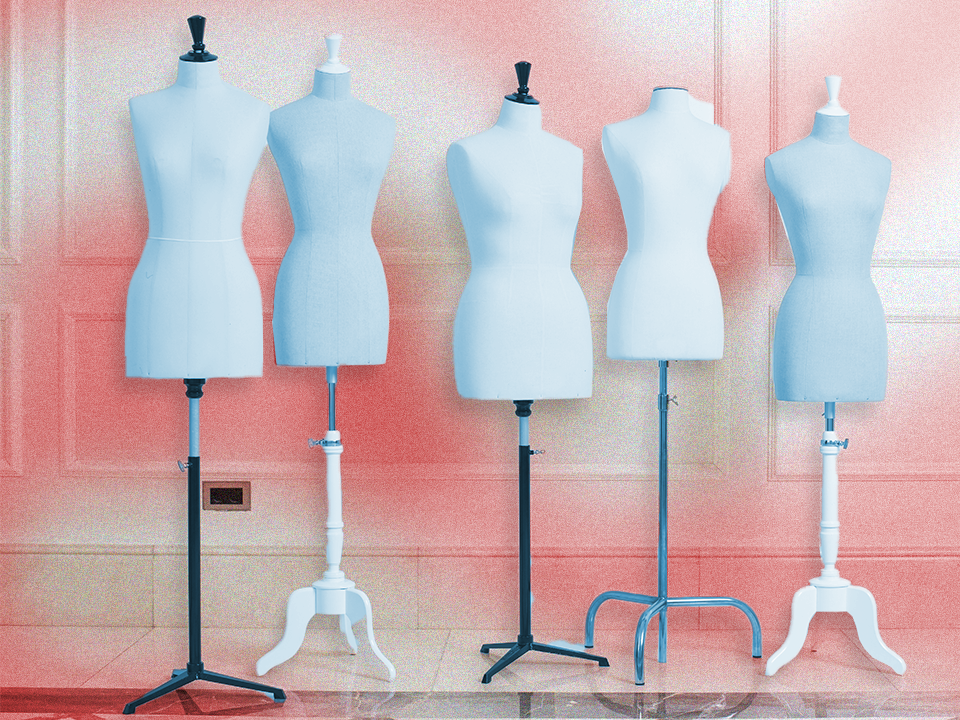 Shutterstock / Wondermind
"How was dress shopping?" a friend asked me the weekend after my first bridal appointment. "It was great," I lied. "There are a few potentials."
As cliche as it sounds, we're told that shopping for a wedding outfit is supposed to be a dream come true. It's a magical experience where you're surrounded by your family and friends playing dress up, looking stunning, and imagining yourself getting married to your true love in a few months time. But for someone who has body dysmorphic disorder (BDD), like me, this feels less like a fairytale and more like a nightmare.
My mom lives across the country, so when she came to visit me in New York City this spring, I wanted to make her feel included in my wedding planning experience, which was all happening here. I had her and my future mother-in-law tag along.
Before we got there, I did let both of them know I was…less than enthused about the experience. In fact, I expected that I'd stand on the pedestal in front of the terrifying 180-degree mirror scrutinizing my every imagined flaw. And I wasn't far off. It ended up being a real-life version of my worst nightmare with my own negative thoughts screaming over the supportive comments of my family behind me.
I almost canceled my second appointment, I came up with a bunch of excuses that weren't true at all: I had a headache. My cat was sick. Work needed some last-minute changes to an assignment. Ultimately, I went, but not without crying twice. No one tells you that you might hate shopping for an outfit for your wedding. So…I will.
What body dysmorphic disorder feels like for me.
According to the DSM-5-TR, BDD is a classification of obsessive-compulsive and related disorders that involves being excessively preoccupied with perceived physical flaws that aren't noticeable (or are barely noticeable) to other people. People with BDD also feel compelled to participate in repetitive behaviors in response to this distress—like excessive grooming, skin picking, and mirror checking, to name a few. BDD can also affect how you show up in day-to-day activities, like seeing friends or even going to work. And while there might be overlap in the symptoms of BDD and other mental health concerns, a diagnosis of BDD means that your symptoms aren't better explained by another condition, like an eating disorder.
I've struggled with body image issues for most of my life. Still, they didn't significantly affect me until I was diagnosed with a chronic illness in 2016. My health radically altered my weight and appearance. Seven years post-diagnosis, I'm finding a new normal. I know which foods will send me into a months-long flare-up. I'm finally on a medicine that allows me to *not* go to the bathroom eight times a day and I am, for the most part, healthier than ever.
But the psychological damage from the years spent trying to understand what was happening to my body and the way people responded to it changed the way I saw myself. Now, I look in the mirror and I don't recognize the person staring back at me. Imagined flaws, skin-picking, mirror checking, yes, confirmed. I also avoid social functions like work dinners and happy hours with friends because I can't stand how I look on certain days or I can't find any clothes that will hide those perceived imperfections. Even as I shopped for wedding dresses, all I could focus on were the tiny cellulite-caused divots in my leg showing through the silky fabrics or the way the lace clung to my hip dips in a seemingly unflattering way.
I can't even look at photos of myself on vacation because I'll find something wrong with my face or the position of my hands. Months later I'll look back and not understand why I thought these images were so monstrous, but I still keep them hidden in my photo library.
How I made the best of my wedding shopping experience.
Needless to say, shopping for new clothes in general is an emotionally taxing process that often leaves me in a days-long tailspin nitpicking my body from head to toe. So, I went into wedding dress shopping mentally prepared. I didn't really expect to find something that worked for me or like how I looked in anything. I fully planned to hate every single gown and leave the store disliking the entire experience. But, I realized I reached a turning point in my bridal appointments when I started being more open and honest about my feelings, even the ones we're not supposed to feel during our fairytale wedding appointments.
While my body dysmorphia is regretfully alive and well, open communication was the biggest thing that got me through this whole experience. It also helped that the stylists (shoutout to Valentina and Liza at BHLDN!) started the appointment by asking me about the things I'd like to see, and how I was hoping to feel while wearing a dress.
That alone opened up the floor for me to explain my insecurities in a way that made me feel like I had a voice and control. Up until that point, it felt too vulnerable or embarrassing to say I didn't like parts of my body. But the stylists supported me and found different looks that complimented the parts of my body I do like. They even asked before sharing my measurements with me.
Because my stylists kicked off the appointment with non-judgmental kindness, I was able to actively communicate my worries. If a dress made me feel uncomfortable, they'd listen and offer alternatives—like lace cover-ups or entirely new dresses—to ease my worries. They used authentic and meaningful validation versus toxic positivity to allow me to come to my own conclusions about the dress. They wanted to know exactly what I loved and hated in order to find dresses that might better suit my own expectations.
They were also reassuring when I tried styles I was less comfortable with and helped push me out of my comfort zone. In fact, I even asked them to pick a dress they thought would suit my body, given my concerns and one of them was actually The One, if you can believe it. It's a dress I never imagined myself in, and I know that if I hadn't felt so supported, I probably would have avoided it entirely.
Being real about my feelings with the stylists and having a team of friends and family to negate my own concerns helped immensely. While this might not work for everyone, giving those around me permission to help reassure me (in a non-dismissive way!) can help me get out of my own head—especially since BDD is about preoccupation with perceived flaws. If they're saying one thing and I'm saying another, it helps me pause and reevaluate what I'm telling myself. I was able to ignore the thoughts in my head and step back to look at my body from another person's perspective.
Instead of wondering if the dress showed too much "arm cleavage" or if the barely-visible-to-anyone-but-me acne scars on my back were showing, I focused on the parts of the dress they complimented. My boobs looked great. The structure of the dress fit my stature super well.
While we can't control what our brain tells us is or isn't true about our bodies, we can control how we support ourselves during this tricky moment. We can book therapy appointments and discuss our worries with our therapists. We can bring Post-It notes with positive affirmations with us and paste it on the mirror as we slip in and out of different options. We can be open about our concerns with those around us so they can better support us as we conquer our fears.
There is no easy solution to overcoming BDD, but we deserve to enjoy our Big Day feeling as much as everyone else. If that means taking extra time to choose a dress—seriously, do NOT rush into it—then so be it. And, to anyone else shopping with body dysmorphia, an eating disorder, or body image issues of any level: I see you. I hear you. I support you.
Wondermind does not provide medical advice, diagnosis, or treatment. Any information published on this website or by this brand is not intended as a replacement for medical advice. Always consult a qualified health or mental health professional with any questions or concerns about your mental health.