Pro Tips
08.15.23
How to Break Through ADHD Paralysis and Get Sh*t Done
Look at you being all productive and stuff!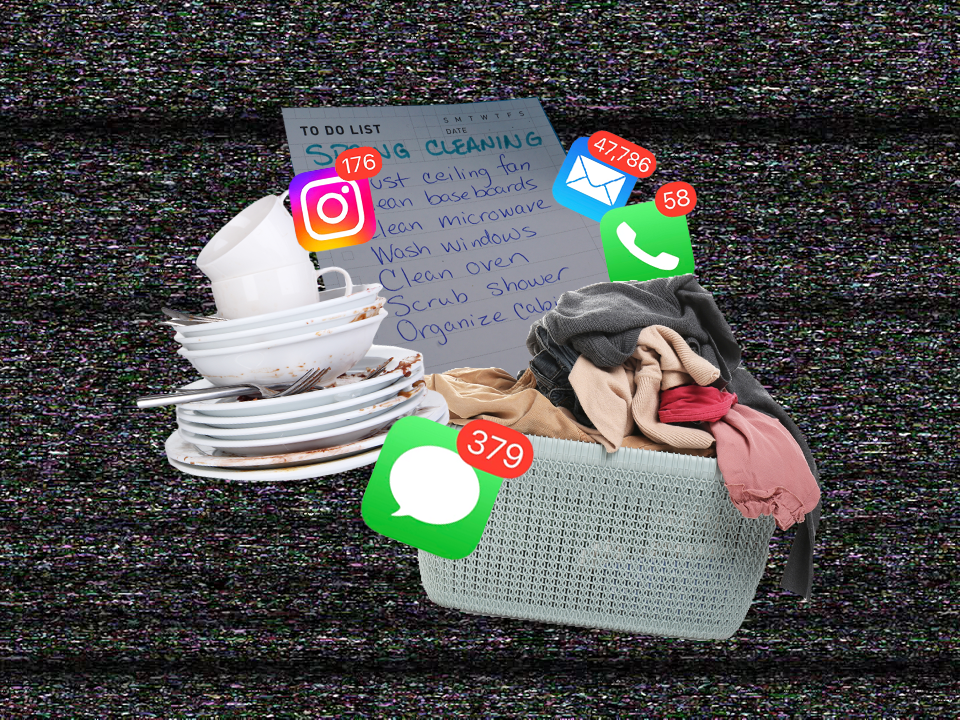 Shutterstock / Wondermind
Have you ever wondered why your computer keeps freezing up—only to realize that you have roughly 100,000 tabs open in your browser? That experience is similar to a thing a lot of folks with attention-deficit/hyperactivity disorder (ADHD) deal with all the time: ADHD paralysis.
Basically, this phenomenon happens when "people with ADHD get absolutely flooded and overwhelmed by their environment, sensory stimuli, or the amount of information that's being given," says Sasha Hamdani, MD, a psychiatrist with ADHD, creator of the forthcoming app Focus Genie, and author of Self-Care for People with ADHD: 100+ Ways to Recharge, De-Stress, and Prioritize You. "As a result, they freeze. They can't think, process, or do any of the steps … to pull themselves out of it."
So, what is ADHD paralysis?
While this isn't an official diagnosis or symptom of ADHD that you'd find in the DSM-5-TR, ADHD paralysis is "part of the lived experience of people who have ADHD," says clinical psychologist Andrew Kahn, PsyD, an associate director at Understood.org who also has ADHD.
And it's really common when people with ADHD have a multi-step project on their to-do list or are trying to make a decision without really understanding their choices, adds Dr. Kahn. For some, an overwhelming mountain of boring stuff to get done, like homework or laundry (assuming you don't love homework or laundry), can also trigger this issue, he says. Same goes if you're trying to accomplish something in the middle of a really tough emotional situation, says Dr. Hamdani.
Though this issue hasn't been studied a ton, here's what experts theorize is going on: ADHD paralysis is caused by two key components of ADHD happening at the same time: executive dysfunction and sensory overload. People with ADHD tend to struggle with executive functioning, meaning that their brains have to work harder to plan activities, complete tasks with multiple steps, and receive and organize information, Dr. Kahn says.
On top of that, people who have ADHD tend to absorb and process lots of data at inconsistent rates, says Dr. Hamdani. "You're analyzing tone, color, visual cues, olfactory cues; [your brain] is sucking in absolutely everything," she says—but [you don't] have the ability to filter out what's important. Dr. Kahn describes this whole scenario as "an overflow" of information.
Basically, if you have ADHD and you're getting way too much urgent information all at once—like struggling with a last-minute work project when your partner calls to ask about dinner plans, or grieving the loss of a grandparent in the middle of finals—your brain says, I can't even, and shuts down to preserve itself, explains Dr. Khan.
While that might be going down inside your brain, the way ADHD paralysis looks in your day-to-day functioning depends on the person and the situation, explains Dr. Hamdani. For example, if you have inattentive ADHD, you might get quiet or space out more than normal, while those with ADHD hyperactive type might be more likely to get agitated and irritable. Regardless of your subtype, this symptom can also show up as poor time management or completely losing all track of time (aka time blindness), she says. "You can jump from one task to another because you're trying to pull yourself out of that paralysis. You can feel foggy too."
How to deal with ADHD paralysis.
If this struggle is all too real for you, we get it! Whether you're in the thick of it right now or know it's just a matter of time before ADHD paralysis hits again, check out these tips that can help you break through in the moment and keep it from throwing you off in the future.
1. Know your patterns and habits.
Before creating her app, Dr. Hamdani says she used the Notes app on her phone to jot down all the basic things she did every day in order to see what patterns she could draw between her habits and ADHD symptoms. "If I don't sleep two days in a row, I'm garbage," she says as an example. "I know that [ADHD paralysis] will happen to me." Understanding your baseline needs can help you better prioritize them to stave off ADHD paralysis (or make it less awful in the future).
2. Ask for accommodations.
Dr. Kahn says that once you understand your own ADHD patterns and what things make you tick, you can ask for support from loved ones—and, if it feels safe, your workplace. For example, if you work in an open office and find the noise gets distracting or overwhelming, it's perfectly reasonable to ask your manager if the company is willing to expense noise-canceling headphones for you or give you access to a conference room for more quiet. "None of those things cost a tremendous amount of money, but they accommodate the needs of that neurology," he says.
3. Get everything out of your brain and onto a page.
Feeling overwhelmed by your to-do list? Put it on a physical sheet of paper—a giant one if you have to. "Just kind of barf out everything you need to do on one page," says Dr. Hamdani. It doesn't have to be in any order or super finessed, she says—just write it all down so that you can focus on the task at hand. Later, you can go through that list and select the next most important thing for you to get done.
4. Prioritize easy wins.
If you're in a brain foggy, ADHD paralysis state, it might not be the right time to start a dissertation or huge work project. Instead, Dr. Hamdani recommends focusing on the "easy wins," like brushing your teeth, eating, and doing laundry. Those things can keep you going until the worst of it passes and you have more bandwidth to focus on things that need it.
5. Create little incentives for added motivation.
Some research suggests that the "reward system," part of the brain, which produces the feel-good hormone dopamine in response to pleasurable stimuli, might not be as effective in people with ADHD as it is in neurotypical people. That could make it harder for people with ADHD to achieve that sweet getting-shit-done buzz that comes with crushing regular ol' tasks.
So, tacking on little treats after you get something done can serve as extra motivation, suggests Dr. Hamdani. This could be a 20-minute break after powering through some emails or signing up for your favorite chill yoga class after finishing laundry. Any reward that feels "personally meaningful" will do. (Bribing yourself with Starbucks is also fair game.)
6. Get help prioritizing.
When you have ADHD, it can be really challenging to take on a Big Thing at work, says Dr. Kahn. You might feel like you have no idea where to start or what's the most important element to focus on. Instead of scrolling TikTok for hours or doing any random task you can think of to avoid the project, ask your manager or a trusted coworker for help finding a way in. Saying something like, "Hey, can you help me find a starting place?" or "What are the top three things you need me to do now?" can give you something tangible to work on. It'll also ensure that you're meeting expectations, he says.
You can do the same thing if you're dealing with a big project at home: Ask your partner, roommate, or friend what they think is the most important place for you to kick things off versus what can wait for another day.
7. Find a "body double."
This is less James Bond than it sounds. Essentially, body doubling involves doing work while another person is in the same room (or even on video chat). Just the presence of that person can help people with ADHD focus, says Dr. Kahn. He says body doubling has really come in handy when trying to get work done from a coffee shop. "A little social pressure and the presence of others [adds] a little bit more stimulation," he says. That, in turn, helps you stay motivated and interested in the task at hand. Ta-da!
Wondermind does not provide medical advice, diagnosis, or treatment. Any information published on this website or by this brand is not intended as a replacement for medical advice. Always consult a qualified health or mental health professional with any questions or concerns about your mental health.