Pro Tips
02.16.23
10 Affirmations for Black People to Level Up Your Mental Health
No generic pep talks here.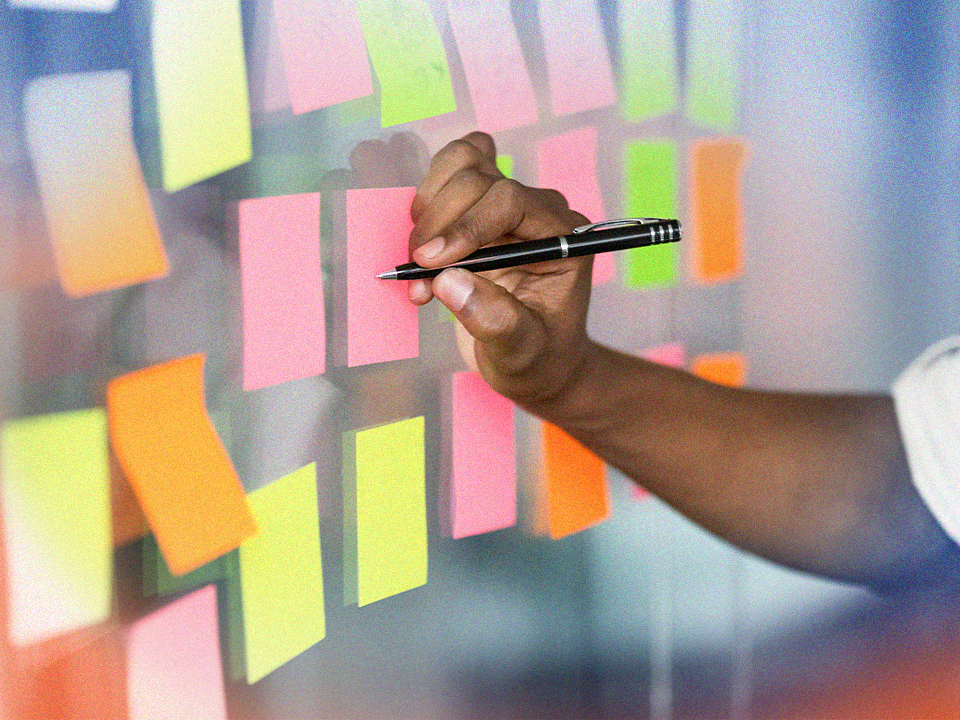 Shutterstock / Wondermind
We could all use a little encouragement and positive thinking now and then, which is why affirmations, or brief encouraging statements that boost how you think and feel about yourself, can be a game changer for your mental health. If you're already familiar with affirmations, you might be picturing someone standing in front of a mirror repeating phrases like, "I am beautiful," or (if you spend too much time on TikTok) "I am the luckiest person in the world." But the best affirmations go beyond generic statements and speak to your specific situation, helping you actually believe what you're saying. And that's crucial for people of marginalized communities, especially Black people.
Because Black people face racism in so many aspects of our lives, that can lead to us feeling dehumanized and, in some cases, believing those racist views, which may increase our psychological distress, according to a 2021 study of 171 young African American women. Yet, as a mental health therapist, I believe in the power of the mind. I believe affirmations created specifically for Black people can help us combat the stress of enduring racism—racism that the Centers for Disease Control and Prevention says can impact our mental and physical health.
Using affirmations that are unique to our experience can help us humanize ourselves and undo some of the damage of racism-related stress by addressing our unique history and current realities while affirming our futures. It can help us see the beauty within ourselves and all our potential, as I wrote in my book Affirmations for Black Women: A Journal.
It's true that you can't affirmation your way out of interpersonal and systemic racism, but if you're part of the Black community and looking for affirmations that resonate, here are 10 to remember when you need some extra encouragement.
1. I deserve to move through life with ease.
The Black experience includes the pains of oppression, but that doesn't mean you have to struggle all the time. A life filled with ease is your ancestral right. Your ancestors and the generations before you did not break racial barriers for you to be stressed out every day.
Truth is, it's possible that you have internalized: Everything in my life is hard. There are plenty of reasons why this message can stick in our minds, like watching our people experience years of hardship and being made to feel that you have to work twice as hard to get half as far. Understandably, when you start to repeat these negative thoughts, your mental health can suffer, and you might even find yourself dealing with anxious thoughts and depression.
If you can relate, then consider saying this affirmation in the morning to call in a more peaceful life. You deserve it.
2. I reject societal standards that don't align with me.
There are standards around everything in this world, especially when it comes to beauty, education, jobs, relationships, gender, sexuality, you name it. And if you don't hit the milestones or fulfill the characteristics associated with these societal rules, you might judge yourself and question your self-worth.
But when these unhelpful norms make you conform to standards you actually don't agree with deep down, like contouring your "Jackson Five nostrils" just to fit a Eurocentric beauty ideal (no shade to the makeup peeps who love playing with products!), you start to sacrifice your values and vision for your life just to make other people more comfortable.
As a single Black woman in her mid-30s, I had to let go of the marriage and children burden from my spirit. For so long, it was something I chased, making poor dating decisions out of desperation in hopes of skirting the harmful "bitter and lonely" stereotype about single Black women. But once I rejected this societal standard and accepted that my life—just the way it is—is beautiful, my mental health improved, and I found emotional freedom.
If you need help tapping into your inner voice and true values, use this affirmation to reconnect with yourself and get comfortable with rejecting societal pressure.
3. I give myself permission to create boundaries with family.
Creating boundaries is one of the most beneficial things you can do for your mental health, especially when it comes to dealing with family. This can be hard for Black people considering many of our family dynamics involve what therapists call "enmeshment." In the case of families, that can mean parents leaning on the child for emotional support and hindering the kid's independence (like one parent complaining about the other one to you and now you're their unofficial therapist). If you often feel responsible for other people's emotions, it's definitely possible you had some of this going on growing up.
Plus, many of us grew up with strict parents who focused on obedience and used punishment to keep us in line. If this sounds like your childhood, then you probably learned to neglect your needs (like wanting to hang with friends or wanting physical safety, aka not be spanked) and do things to avert interacting with your parent's emotional distress.
But you deserve to set boundaries and protect your emotional and physical health, whether you still live under the same roof as your fam or not. For me, the hardest part was releasing the guilt and being honest about needing some distance from my loved ones, but it was so worth it.
This affirmation can give you the encouragement and permission to begin creating boundaries with your family. Once you're ready to make a boundary, this guide can help you figure out the specifics.
4. I can use my voice to speak up for myself and others.
Your voice is the most powerful tool you have. For centuries, Black people have started movements that empowered our communities and created generational change (hello, Kimberlé Crenshaw, Marsha P. Johnson, Ida B. Wells, and Phill Wilson).
It can be frightening to use your voice for good because you might be misunderstood, ignored, or seen as a threat simply because of your melanated skin. But! You gotta push past your fear and speak up at the sight of injustice. Whether it's on a global scale or on an individual level, we can use our voice and spark positive change, no matter how many people try to silence us.
Recognizing that you can advocate for yourself and others can also help build your self-confidence, so let this affirmation serve as a reminder of the power that lives within you.
5. I release feelings of shame around my identity.
The world demonizes Black bodies for simply existing, and it can be tough not to internalize all the negative messages about us. But don't make your haters' lives easier by being ashamed of who you are. To be the best you, release any shame you have around any of your intersecting identities, like having dark skin or being trans.
That can sound way easier said than done. So, to get started, forgive yourself for being ashamed of whatever it is that makes you, you. Next, take a deep breath and say, "I release feelings of shame around my identity" and visualize those negative thoughts floating away and making room for the positive thoughts that were tucked away.
6. I won't allow racism to distract me from my greatness.
"…The very serious function of racism is distraction," said Black American novelist Toni Morrison in a 1975 keynote address at Portland State University. Racism wants you to believe that your life does not matter, that your culture is degenerate, that you're not good enough, and that the way you were naturally created is despicable. Lies, lies, and more lies.
Racism is a distraction because the powers that be (*cough* white supremacy *cough*) are threatened by all the good we can achieve if we had full access to resources. It would give us the ability to make anything happen. And while systemic racism does play a role in how we're able to advance in society, you have to remember that we are just as deserving of life, freedom, happiness, and success as everyone else. Use this affirmation to commit to unlearning any lies you might believe about yourself because of racism and commit to being your best self.
7. I make time to process strong emotions.
As a community, Black people are often encouraged to suppress our feelings, deal with our traumas later (or never), and keep it pushing—it's what we've had to do for generations. It makes sense that "what doesn't kill you makes you stronger" has become a popular saying in our community, but it couldn't be further from the truth.
Not to scare you, but not making space to process your emotions can lead to trauma and other mental health consequences (like misusing substances to avoid processing your emotions) that can erode various aspects of your well-being. Stress, for example, can cause significant mental and physical health issues among Black people, suggests a 2018 review that examines the connection between stress, racism, and health disparities among African Americans. And, if left unchecked, stress can play a role in causing heart attacks and strokes, suggests a 2017 study on the link between stress and cardiovascular disease.
Repeating this affirmation can remind you of the importance of sitting with your feelings and working through them because the stakes are too high not to.
8. I recognize rejection as protection and redirection.
As a Black person, you're probably no stranger to being rejected based solely on the color of your skin. It hurts being let go from a job or broken up with, for example, and it can make you second guess your self-worth and increase self-doubt, anxiety, loneliness, or helplessness you might already feel. But it's important that you don't wallow in that feeling because it can discourage you from moving forward in your life.
It might suck to go through, but rejection can also be viewed as protection and redirection. What may feel like a full-stop "no" from a job can mean "not yet" in some cases, or it might lead you somewhere you are celebrated and understood, not just tolerated. And getting brushed off by your crush or situationship can save you a lot of heartache and wasted time down the line when you realize they were never going to be able to give you the love you deserve. This affirmation can remind you that rejection is not the end of the road.
9. I choose to find people who make me feel safe and supported.
When you have people in your corner who make you feel validated and understood, it's easier to feel empowered in all aspects of your life. And creating a community of people who not only look like you but can relate to your lived experiences as a Black person will help you gain a sense of belonging, curb some loneliness, and feel safe and supported.
At the end of the day, we all we got, so pull out this affirmation when you need to give yourself permission to let go of anybody who may be detrimental to your mental health and claim relationships with folks who make you feel seen.
10. I am grateful for the opportunity to live my truth.
Our ancestors had to go through a lot of injustices to see a change in this world and for us to be free and chase our dreams. Even though we know how far we've come, it's still so easy to get caught up in what we don't have or wish we had. But practicing gratitude can help you maintain a positive outlook, be thankful for what you have, and be open to receiving whatever comes your way.
Repeat this affirmation to remind yourself of how grateful you are to be able to live your life however you see fit because our ancestors didn't have this luxury. Embrace this opportunity to live your truth.
Wondermind does not provide medical advice, diagnosis, or treatment. Any information published on this website or by this brand is not intended as a replacement for medical advice. Always consult a qualified health or mental health professional with any questions or concerns about your mental health.