Q&A
08.25.23
Amanda Seales Wants You to Know That It Is That Deep
The comedian opens up about dealing with her emotions and her new project, 'IN AMANDA WE TRUST.'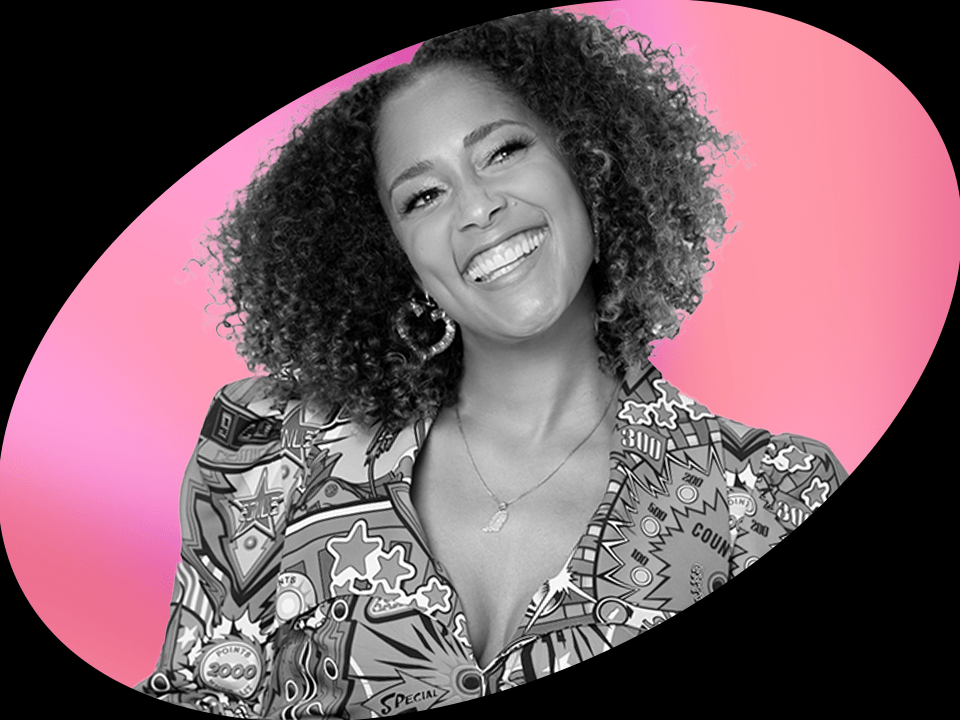 Photo Credit: Jerome A. Shaw
We proudly stand with the WGA and SAG-AFTRA. As such, this interview does not focus on the promotion of any particular project that falls under the strike.
While all-around entertainer Amanda Seales is most known for her stand-up comedy, acting, podcasting, and ability to shut down trolls in record time, lately, she's been channeling her energy in new ways.
On August 18, Seales released IN AMANDA WE TRUST on Patreon. An independently produced political comedy documentary, IN AMANDA WE TRUST follows her through Washington, D.C. as she speaks to voters and politicians alike to figure out what some people care about the most and their impressions of our country today. And fret not: Despite the title, presidential campaign-inspired imagery, and the fact that the synopsis says Seales is on a "journey of curiosity to find out if she could or should run for political office," this is not another case of a celeb who wants to take the White House.
Ultimately, Seales is on a mission to encourage people in the U.S. to better understand the government and for everyone to become more politically active in their communities. "I'm very passionate about the reality that we as an American culture are not involved in politics from a place of knowledge," she tells Wondermind. "It is oftentimes from a place of emotion, and that is not going to help us be active agents for change in the best way possible."
Part of that passion includes destigmatizing mental health and learning how political participation can create responsible policies that help those who need it access mental health care. And discussing these things with influential folks like Reps. Ilhan Omar and Jamal Bowman was also on her agenda.
Here, Seales opens up about her current state of mind, the best thing she learned from therapy, and protecting her peace.
[Sign up here to never miss these candid conversations delivered straight to your inbox.]
WM: How are you doing lately?
Amanda Seales: I have been compartmentalizing very effectively lately. That's the best way to put it. There's a lot of things going on simultaneously that are affecting my mentals in various ways, in extreme ways. Some things are frustrating, some things are just sad, and some things are incredible. That range can really throw you off if you're roller coastering. So I've been really exercising my [coping] tools and my mechanisms as of late. … I'm actually doing alright because I'm dealing with it. It isn't dealing with me.
WM: What's invigorating you right now?
AS: Putting out an independent project is very invigorating. There's a sense of accomplishment even if people don't like it. You get to kind of ride the high of: I did it! I did a thing! Then you get to look forward to the possibility that people even like the thing, you know?
When your art is your job, you reach a point where you have to make sure to celebrate these moments or else you are just putting yourself in the same cog of laboring as the folks who want to get out of that space.
WM: How will you celebrate this moment?
AS: I was gonna have a whole screening and blah, blah, blah. Then I realized I was doing that for other reasons than genuine reasons. I've been working on admitting truths to myself in an even deeper way. … I've been working on being a lot more intentional about things like, What are you actually doing? What are you actually intending to do here?
And a lot of times, baby, [your gut] is telling you. When something is a challenge that shouldn't be a challenge, 9 times out of 10, it's because it doesn't need to happen. It's not really for you. So I was like, Why is this screening so hard to set up? Oh, because it's not necessary. You're doing it to be a part of the same type of hoopla that you don't actually rock with. So now it's gonna be at my house—for a quarter of the price!
WM: As someone who is very involved in political and social activism, and even as a creative who is on strike right now, I'm sure you encounter people or situations that try to make you feel less-than. How do you remind yourself of your worth when you're fighting for progress?
AS: I'm kind of going through this epiphany moment right now where I feel as though I've been taking a lot of mediocre treatment… And I'm a bad bitch, you know? I'm just like, Wait, why have you been allowing that? I think as Black women in particular—not just creatives, not just people in the labor force, but as Black women—there's this idea that we have to have a certain level of humility and modesty in order to be a lady, in order to be respectable, etc. But that humility and modesty gets beaten down into: I'm happy to be here. But I worked my ass off to be here, actually. No one handed this to me. So I'm coming into this space of: You earned this. You earned the opportunity to be in this space and be revered and have admiration for the work that you've done. 
So sometimes self-care is just the affirmation: You did this. You did this with your brain, with your thoughts, with your heart, and this wasn't something that was just given to you on some platter. So pat yourself on the back. Then tell them they better pat you on the back too. … At the end of the day, there is a lot of meh and mediocre out here. So if I'm not showing up that way, I don't want to be treated that way.
WM: What does relaxation look like to you?
AS: I've really been using my pool. That's a very LA statement, but, yes, I've really been using my swimming pool. LA is one of these places where a lot of people usually get a pool just to have a pool. I'm like, we're gonna be in this pool. We're gonna be on the side of the pool. We're gonna be on the slide into the pool. We're gonna get a floaty shaped like a giant airplane. We're gonna read on the floaty shaped like a giant airplane in the pool. I've been committing to that.
And then when that's not the case, self-care is playing Candy Crush and watching television at the same time.
And if I'm being very honest with you, my number one source of self-care is shopping. Judge me if you want! And, by the way, it was shopping even when I didn't have money. The retail therapy is like, We going to Ross. But it feels good. And I love clothes, and I look at them as art, so it feels like I am sprucing me up, like you would do if you were some rich, divorced debutante that's like, "We're gonna redecorate the house!"
WM: You're a very outspoken public figure, and sometimes it seems like people try to get a rise out of you or instigate a reaction. What helps you protect your peace in those moments?
AS: I mean, some days I do not protect my peace in those moments. Some days they're absolutely able to get to me. But I would say other days when I'm really feeling clear headed and light, the easiest thing that helps me protect my peace is knowing these people don't know me. It's almost like you gotta fly above that and look down and be like, Oh, this isn't even about me. This is some tool or method that you're using for whatever. Sometimes it's a matter of trying to get money with a clickbait headline, but sometimes it's just trying to make someone hurt because you hurt. Hurt people hurt people all the time. I know that may sound a bit elitist, but sometimes if I can step out of the tornado and then see the path of the tornado, then I can dodge a tornado's path.
WM: What's one of the best lessons that you've learned from therapy?
AS: Practicing the pause. If you're a very hypersensitive person like myself, and you're also able to identify your feelings very quickly, you can trick yourself into thinking, I need to respond immediately because I know exactly how I feel right now, and they're gonna know how I feel right now too. But when you practice the pause, it allows you to just fly further away from something and see the bigger picture. Sometimes it could be something that's antagonistic, but sometimes it could be an opportunity. And if you don't have to respond immediately, it gives you a moment to process like, OK, what do I really want to do with this?
But we live in such a time of urgency and immediacy that it makes you think that you have to be. No, just give it a beat. Let it go through your nervous system. Let it take a ride or two or three before you spit it back out. That's been really helpful.
I also started seeing a reiki healer who I really, really love, and it's a different kind of therapy. She said something recently that just was like, "Amanda, you have to stop trying to save people." And I was just like, "Ugh. But also, why is it so bad to save people?" And she was like, "Because nobody needs saving. Everybody has what they need within them for them." She saw my face, and I was inquisitive, and she was like, "Amanda, I'm not healing you. I'm feeling you." Oh my god. I think that was such an epiphany for me because I immediately understood what she meant. She's just bringing to light things that I already have and just giving me the opportunity to use them on myself. That's different than saving someone. I'm gonna tell you as a 42-year-old person, trying to save someone doesn't work.
WM: If you could go back and give your younger self some mental health advice, what would you say?
AS: You know what I would say? It is that deep. I have two sides of this. For my generation, when I was in my 20s, it was [the mindset of] "it's not that deep." So everything just gets displaced and dismissed. So you don't deal with anything, but it's dealing with you. You're not really learning any mechanisms on how to handle things, and you're not learning the language and the words for your emotions and what things are. So everything is just always being swatted away and pushed under the rug, but you're feeling it. And it eventually comes to the surface because it was never acknowledged.
Now, if I were a young person in this generation, I would say that even if it is that deep, practice the pause. Because I feel like in this generation, it's the exact opposite. It's like every feeling, feel it to the fullest at all times. I work with a lot of folks in their 20s, and I feel like what also happens is they feel like they need to respond to every feeling with some type of action. And the thing about feelings is that even though they're very real, some of them are real for, like, 10 minutes or even 10 days, right? So the pause allows you to really truly identify like, Is this real? Is this something I need to put action to, and what is the proper action that I need to put to this? But if you burn the bridge before the pause, I hope you can swim.
This interview has been edited and condensed for length and clarity.
Wondermind does not provide medical advice, diagnosis, or treatment. Any information published on this website or by this brand is not intended as a replacement for medical advice. Always consult a qualified health or mental health professional with any questions or concerns about your mental health.