Q&A
07.31.23
Amelie Zilber Gets Candid About Taking a Gap Year for Her Mental Health
The actor and content creator gets real about how cutting back helped her mental health.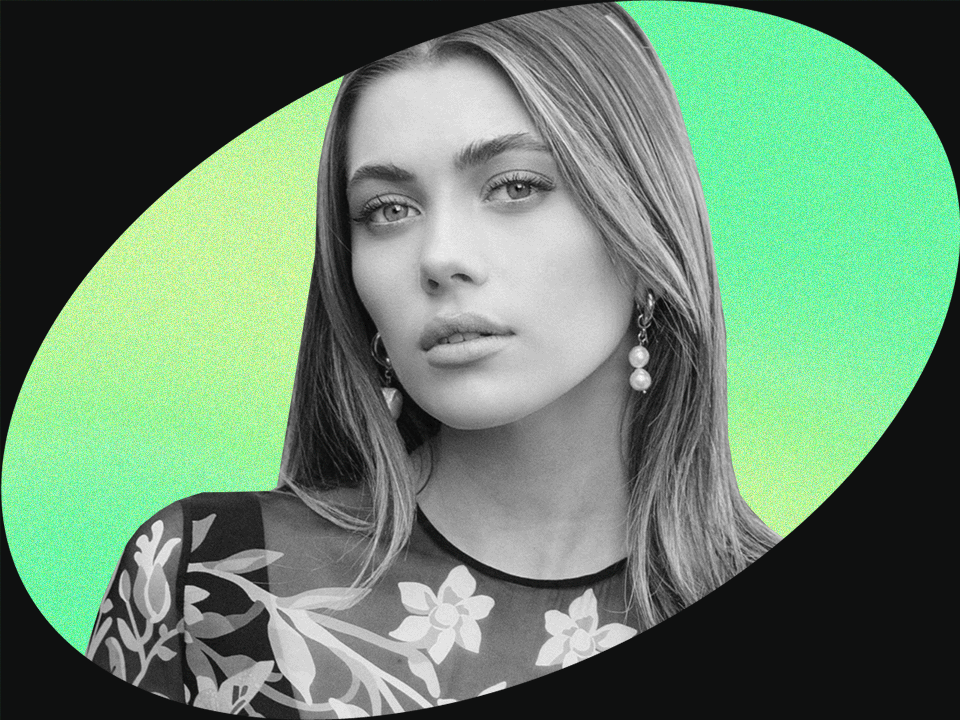 We proudly stand with the WGA and SAG-AFTRA. As such, this interview does not focus on the promotion of any particular project.
Since she was 12, Amelie Zilber has been helping young voters digest complicated political and social issues, with recent vids covering topics like the latest "supremely f*cked up" court rulings and the Biden administration approving a controversial oil drilling project. She's amassed millions of followers doing this work, and these days, she also fills her resume with acting roles and her studies at Georgetown University (and soon Columbia University).
Despite how much of a natural she seems at academics and producing educational content, Zilber is candid about once struggling to know who she was without all that. "I thought that the value that I could add to people's lives was directly correlated to the amount of knowledge I could share with them," she tells Wondermind, adding that this partially influenced her decision to take a step back from school for about a year.
Here, Zilber checks in with Wondermind to talk about college stress, redefining her identity, and how we should think about feelings. "I'm not advocating for the darkness, and I'm not advocating for people to experience the darkness. I'm advocating for the idea that you can be a good person—you can be a wonderful human being and good at your core—whether or not you are in darkness," she says. "We are human beings with the wonderful capability of feeling a myriad of emotions. We should love to learn who we are when facing those emotions."
Read on for what else the star has to say about her mental health journey.
[Sign up here to never miss these candid conversations delivered straight to your inbox.]
WM: How are you doing lately?
Amelie Zilber: Lately I have been feeling really good. I am really grateful to be in a space right now where, aside from the occasional hiccup or downtrodden mood that happens every now and then, I am in a really beautiful space internally.
WM: What helps you out when you're in a low mood?
AZ: The biggest lesson I've learned in the past few months—especially 'cause I do believe I'm in a better headspace now than I think I've maybe ever been in my life—is surrounding myself with my friends. My friends have been the surefire most significant help in uplifting me and making me feel better.
Yesterday, I had that little occasional hiccup. I was in a space that brought up a lot of memories that kind of put me in a sad place. But I was with, like, six of my girlfriends, and we had spent the entire day together just swimming and being girly mermaids in the sun. We were all at dinner when this happened, and they were just like, "You're good. We're good. Let's have a good time. You're allowed to feel whatever you wanna feel, but be present, enjoy what's happening right now. We're here for you." It just helped, and it went away.
WM: What moment or time period in your mental health journey stands out to you?
AZ: I would say the past six months have been really transformative in the way that I have learned to regulate the way I respond to my emotions. 'Cause I do strongly believe that the way that we feel isn't necessarily something to regulate, but the way that we respond to the way that we feel is what we should pay attention to.
I've just worked tremendously these past few months on my inner dialogue and changing the narrative of the conversations I have with myself. I no longer believe in the stories that I told myself about who I am and about the people around me, and anything that doesn't serve me in those ways is no longer applicable to my life. I'm really, really proud of myself.
WM: What aspect of your mental health would you describe as a work in progress?
AZ: Unfortunately my relationship to my body and my relationship to my physical appearance is something that I have struggled with for eight years, and it's not done yet [laughs].
WM: How do you deal with negative thoughts about your appearance?
AZ: When a negative thought creeps up about something that I know is not true and doesn't matter, I do this little mental exercise [where] I picture the words in my brain—what I'm telling myself—and then I draw a giant "X" mark on it, and I throw it out and replace it with something different.
I know that sounds a little weird and whatever, but it's actually an exercise that I learned in acting training and for something completely unrelated. Now I've turned it into something I use for my mental health, and it really works for me. I can't say that it would work for everyone, but it works for me, and it's about finding what works for you.
WM: You're also pursuing a college degree. When you first went to college, what was that transition period like for you, mentally?
AZ: Well, my first year of college was online due to Covid. At the same point in time, there were a lot of different shifting relationships in my life, in addition to some personal problems that I was going through, in addition to a global state of disarray. It created a concoction of what I would say is probably the lowest point in my mental health journey. I was depressed. I was extremely overwhelmed. I was burnt out. I was stressed.
Throughout my first year of college and everything happening, I think my body physically manifested the stress into physical ailments. I ended up having multiple hospitalizations because parts of my body were literally failing. I would say that was maybe the worst year [for my mental health] and then my exterior health. But I mean, I'm glad I have that as a reference to know that when I'm under duress internally, my body will physically express that.
I believe so strongly that the people in my life who are at school and who work diligently like that—that is your career. Your school life is completely encompassing every part of who you are. It's definitely a difficult period for a lot of people, especially when you throw in the idea of, What am I gonna do with my life? What's my long-term plan? Who am I? There's so much to figure out internally. Then you're also being faced with the stresses and pressures of expectations and responsibility. It's a lot. My friends and anyone who's in college right now are brave.
WM: Do you mind sharing more about your decision to take time off school and if you had any conflicting feelings about it?
AZ: I made the decision to take a gap year two days before I was supposed to start school, which just goes to show that it was a really difficult decision and I had spent months battling this internal conflict. Really the reason for this is that academics has been at the root of my identity for honestly as long as I can remember. Who I was was as good as who I was as a student, which is a really sad way to conflate your identity. My self-worth was entirely dependent on how well I did in school and the intellectual ways I could contribute to conversations. I thought that the value that I could add to people's lives was directly correlated to the amount of knowledge I could share with them.
I look back on that now, and I feel sorry for that version of myself because that's a really sad way to perceive yourself and also perceive the worth of who you are in other people's lives. I won't sit here and lie to you and be like, "I'm totally happy with the decisions that I've made and everything's good now" because I do struggle still with the idea of, Was this the right decision?
But I do also have enough awareness to recognize that taking time off of school was the best decision for my career. So many amazing and wonderful opportunities have presented themselves to me simply due to the fact that I wasn't living across the country. … So I wouldn't change my decision at all. But that isn't to say there haven't been points in the past where I've had this internal crisis of, Was this the right decision?
WM: As someone who's on social media a lot for work, how do you avoid falling into some of the negative aspects of being so online?
AZ: I think it's impossible to not let social media affect you. … I think anyone who sits here and is like, "Social media doesn't affect me at all" is probably lying. If they're not lying, amazing for them—they're on God-tier level of not letting other people's judgments affect them. But I think for the majority of people, that just isn't the truth. I think in large part that comes from the fact that, as humans, we are not conditioned to be so aware of how other people perceive us. We are community-oriented beings and we are supposed to have the input of a few people in a community—not hundreds or thousands or millions.
I've really removed social media from my day-to-day list of activities, which has been a really challenging thing to do, but also a very rewarding one. In retrospect, it sounds super embarrassing to say social media is no longer on my day-to-day. Like, what did I do today? I spent a lot of time on social media. That's so silly. If I was talking to my great-grandmother, she would be like, "What are you doing?" But it's also a symptom of our society and where we are in current day, so have grace with yourself in that regard. But I [have] two days a week where I actually just scroll for the fun of scrolling, and then the rest of the time is purely for work purposes. That has been really hard but also really amazing. I'm so much more present with myself and also with the people around me, and I love it so much.
WM: Any final words of wisdom you'd like to share?
AZ: Give yourself grace. Don't fall into the trap of [thinking] you are insufficient as a human for experiencing darkness because it doesn't change who you are at your core. It doesn't change your essence; it doesn't change your value and potential. None of that changes just because you're experiencing darkness. We all experience darkness. The gravity of yours might be different than the gravity of mine, but it doesn't make you any worse or less than anyone else.
This interview has been edited and condensed for length and clarity.
Wondermind does not provide medical advice, diagnosis, or treatment. Any information published on this website or by this brand is not intended as a replacement for medical advice. Always consult a qualified health or mental health professional with any questions or concerns about your mental health.