Pro Tips
03.03.23
6 Tips for Dealing With Burnout as a Caregiver
These strategies can help when you're in the thick of it.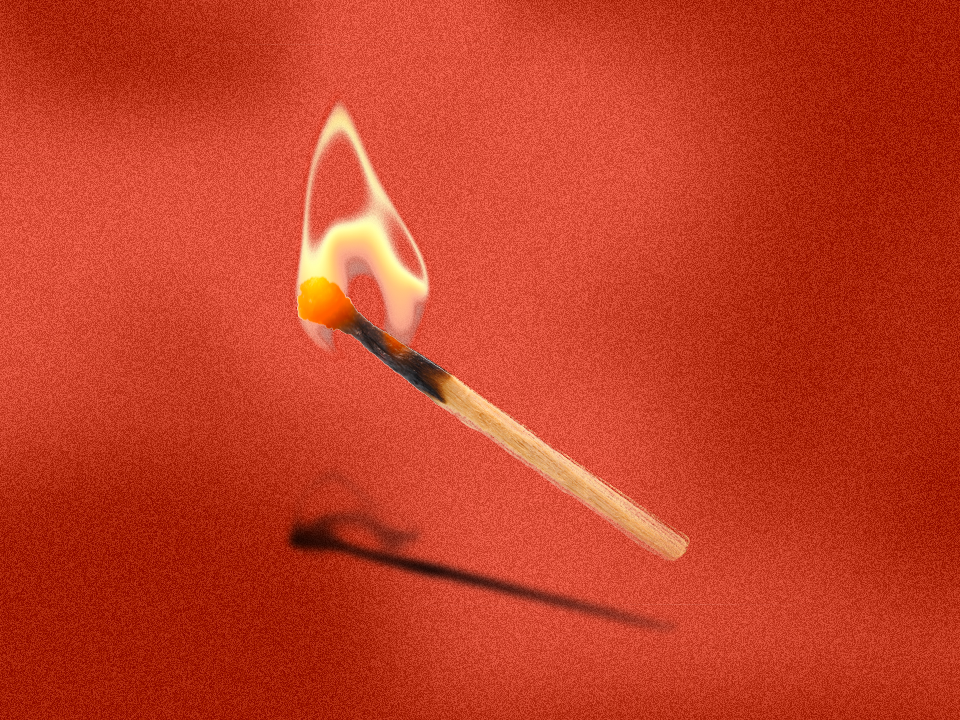 Shutterstock / Wondermind
If you're the primary caretaker for your S.O., your parents, your kid, or whomever, you probably know that the stressful, overwhelming work of being responsible for another human (or humans!) can often lead to hardcore burnout, or, as the American Psychological Association puts it, physical, emotional, and mental exhaustion that affects your motivation and mood. Yes, caregiver burnout is real.
When you're going through it, you might notice that burnout makes you feel generally irritable and resentful of your situation or even the people you're looking out for (or both), says Kelsie Scott, LCSW, owner of Therapy for Caregivers. Being fried can also come with a sense of helplessness or feeling isolated, says grief and trauma therapist Katherine Hatch, LCSW. Plus, and not to freak you out, burnout sometimes leads to anxiety and depression too, Scott adds.
So, yeah, given all of the appointments, bills, cooking, and other responsibilities that come with caregiving, not having the drive or emotional bandwidth to tackle it all can be a pretty massive problem. But, even if you're currently in bed hating life, it doesn't have to be like this forever.
The first step toward combating burnout, whether you're on fire right now or just trying to avoid that, is to actually acknowledge that you're going through a hard time, Scott says. Instead of pushing your feelings all the way down to get through the day, recognizing that there's a problem sets you up to navigate those emotions and move forward.
Other than that, we've got a bunch of ways you can get back on track mid-burnout by taking care of your mental health. Sure, not every one of these expert-backed strategies will work for you, but take whatever seems doable. In the end, prioritizing your mind with the help of these tips enables you to get more done—or at least feel better while you get after it.
1. Practice saying no.
Since essential caregiving obligations are nearly impossible to take a break from, saying no in other areas of your life helps you conserve energy in the long run, says Hatch. Sure, it's good to have some kind of life outside of caregiving (if you can), but if you find yourself reluctantly agreeing to plan a baby shower or help your cousin move, it's time to change that. Burnt-out caregivers often agree to stuff like this since explaining why you can't do it, aka setting that boundary, can feel harder than just doing it, says Hatch.
That's because oftentimes we feel guilty for setting boundaries or saying no thanks to society telling us we're responsible for making sure other people are happy and taken care of, says Hatch. But, spoiler, you're not! And feeling guilty doesn't mean you did something wrong, notes Scott. Let yourself off the hook. 
2. Reclaim small moments in your day.
Taking breaks isn't going to magically cure your burnout, but spending 20 to 30 minutes doing something for yourself (like soaking in a bath, phoning a friend, checking emails, or sweating it out) can help you decompress and get a bit of energy back, says Scott. For example, if heading to a doctor's appointment with the person you're taking care of opens your anxiety floodgates, going on a walk or doing anything unrelated to caregiving—even for a short time—can give you a break from the anxiety, she explains.
You might feel off claiming time for yourself when you spend most of your free time taking care of someone who needs you—that's normal, says Hatch. But giving yourself just a tiny bit of physical or emotional rest can help your body get out of overdrive mode and regulate your nervous system, she notes.
Now, if you're not sure when you can even take a break, try tracking your schedule for a few days, suggests Scott. This can shed some light on how much "me time" you already take (or don't take) and when you might be able to realistically hit pause, says Scott.
She recommends writing out the things you do for a few consecutive days on paper or in your phone. If timing each task is too stressful, you can skip that. Just note when you took care of other people vs. yourself. When you look it over, see if you can erase a non-essential item from your to-do list and squeeze in a you task, like journaling, working on a little creative project, or just sitting in a dark room with your eyes closed (it counts!).
3. Ask for help.
Not everyone has access to friends, family, or paid caregivers who can chip in, but if those options are available to you, use them! If not, see if you can access other kinds of help. Fill your manager in on what's going on at home and ask if you can get a little more support with assignments, says Scott. Get some emotional backup by asking your best friend if you can vent for a few minutes or checking out support groups in your area. (FWIW, anger, frustration, grief, and other tough emotions can build up and feel painful to hold on to, which can make you even more burnt-out.)
Obviously, it can feel impossible to reach out for help when you're in a whirlwind. But if you're not completely tapped out, tell your close friends or fam about your situation and ask if they can make an effort to stop by, call, or text when they have a sec, suggests Hatch. Even if you can't reply to their texts or calls, knowing they're thinking of you can make you feel supported.
4. Ground yourself.
You can't deep-breath your way out of burnout. But grounding exercises can be helpful tools for getting out of your head and away from your anxiety, says Scott. You know, like when the insurance company puts you on hold for the fifth time today.
There are a few tools you can try: Go for a walk and pay extra attention to what you can see and hear and smell, focus on what's around you in the room you're in right now, tune into your breath, or use a technique like box breathing.
5. Give yourself room to mess up.
When you eff up as a caregiver, it can be hard to make peace with that mistake. But if you don't, you might find it impossible to get things done. Instead of judging yourself for being a human with a lot on their plate, try to find a little self-compassion and give yourself a pass so you can cross off the next thing on your to-do list, says Scott.
You might have had a bad morning at home and so you were super short with your boss. Instead of beating yourself up about it, apologize to your boss (if you feel like that's necessary) and try to give yourself grace, Scott explains. "There's no perfection in caregiving. Getting things wrong, because that will happen, is OK. Not knowing is OK. Asking for help is OK," she says.
6. Create a caregiver constitution.
Another great way to prevent burnout is to make a list of realistic expectations for this role and remind yourself of them when you're feeling overwhelmed (Scott calls this a "caregiver constitution"). These can be guidelines for how you'll make time for yourself, which of your strengths you'll utilize as a caregiver, what responsibilities you'll tackle and which ones you'll outsource, or whatever you think will be important to remember while you're taking this on.
For example, you might promise yourself that you'll only let yourself be mad about a mistake for two minutes instead of the whole day or that you'll attempt to squeeze in a mental health walk at least once a week. This list isn't a cure for burnout, and it might even be tough to get on paper if you're struggling right now, but reminding yourself of these goals can keep you from falling into unhelpful patterns. And you can always switch it up to reflect new goals, boundaries, or whatever you want to keep in mind as a caregiver, says Scott.
Wondermind does not provide medical advice, diagnosis, or treatment. Any information published on this website or by this brand is not intended as a replacement for medical advice. Always consult a qualified health or mental health professional with any questions or concerns about your mental health.