Pro Tips
09.15.22
How to Know What You're Really Mad About
Meet the anger iceberg.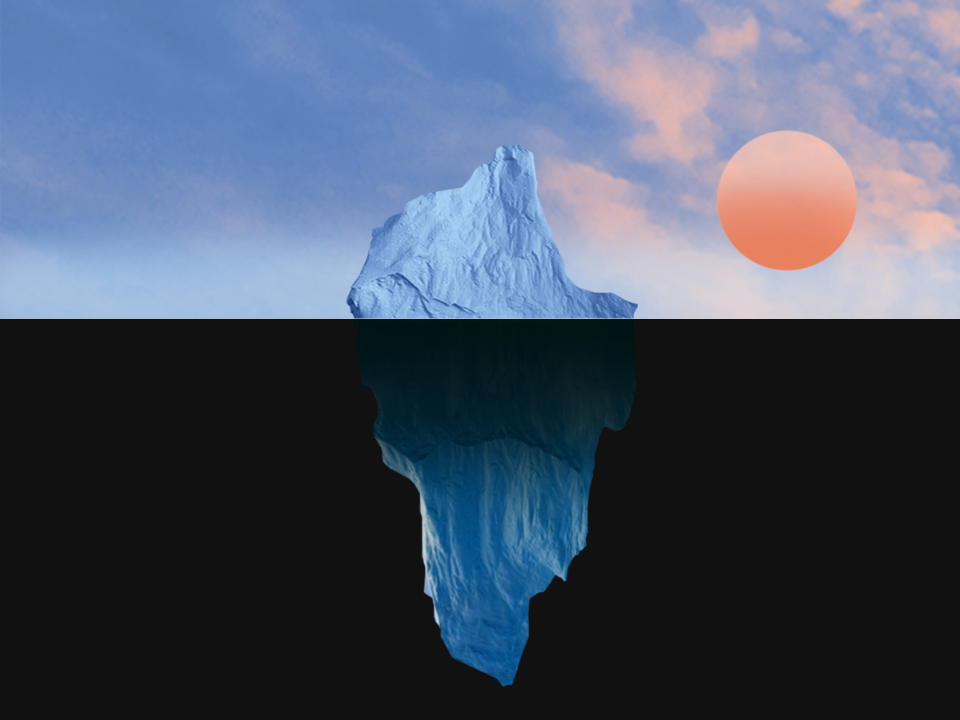 Shutterstock / Wondermind
When was the last time you felt angry? Like, big mad?
Maybe it was when your boss brought up a mistake you made in front of coworkers, and you could feel the metaphorical (or maybe literal) bile rising up inside you. Or when your flight was delayed…and delayed some more…causing you to miss your friend's rehearsal dinner. Or maybe your anger was triggered by yet another enraging headline that made you want to hurl your phone across the room. It happens.
Anger gets a bad rap but it isn't always bad. It's a natural human emotion that actually serves an evolutionary purpose to protect us. When you get angry, your sympathetic nervous system is activated, bringing on a fight-or-flight response, speeding up your heart rate, and leading to a surge of adrenaline that makes it easier for you to take physical action if needed.
Of course, all that physical activation doesn't really help you deal with your typical everyday stressors like Karen from accounting or politicians stripping away your rights. And when your anger is persistent and has nowhere to go, it can lead to some pretty nasty health issues and other stress-related side effects, which is why we don't want to just let our anger stew and spiral.
One of the best ways to get your anger under control is to understand what's behind it. That's the thinking behind a psychological concept called the anger iceberg.
WTF is the anger iceberg?
The anger iceberg is an analogy used to explain all the deeper emotions that can contribute to any particular bout of anger. It's widely attributed to the Gottman Institute, an organization of psychologists and researchers that focuses on couples, family, and interpersonal relationship therapy.
Think of an iceberg floating in the ocean. All you can see of it is the tip. But there's a lot more iceberg hidden beneath the water. If the tip of the iceberg is your obvious and visible anger, it can be helpful to consider the whole mess of emotions that could be lurking just beneath the surface.
For instance, your anger about your boss calling out your mistake in front of other coworkers may stem from emotions like embarrassment or shame. Your rage about the flight delay making you late for your friend's event may stem from feelings of helplessness and frustration. And your anger at all the social injustice you're seeing on your newsfeed? OK, that might just come from valid feelings of, well, anger.
And that's the tricky part: Sometimes anger is a secondary emotion that masks a primary one like hurt, shame, envy, sadness, or helplessness. Other times, it's legitimately the main character. "A lot of the time anger is the primary emotional response to experiencing injustice or having your goals blocked," says Ryan Martin, PhD, an associate dean and professor of psychology at the University of Wisconsin, Green Bay, and the author of Why We Get Mad.
So, yes, anger is a valid and complete response to something awful. And while the anger iceberg shouldn't be used to invalidate someone's rage-y feels, it is a helpful reminder that there might be other feelings worth exploring too. "Emotions rarely happen in a vacuum," says Dr. Martin.
How to know what's at the bottom of your anger iceberg
"The anger iceberg can be very useful because it allows you to consider, 'What else is here? What else am I feeling? What happened prior to me becoming angry?' When you take the time and look beneath the surface, you may be able to have better insight into the specifics that trigger an angry reaction," says Alicia Hodge PsyD, a psychologist in Washington D.C, and expert on anxiety, perfectionism, and self-care.
Consider all those times that you lashed out at someone when you were actually feeling hurt. "Oftentimes, complex emotions like betrayal or disappointment can be challenging to address and more difficult to process," says Dr. Hodge. "It may be more acceptable or easier to identify the angry feelings that result, versus understanding the full process."
So, how do you actually use this concept to figure out what you're really mad about? Start by asking yourself a few questions (with zero judgment), like:
What was the last thing that happened before I got real mad?
How did I interpret the thing that happened?
What was my mood at the time?
What feelings, beliefs, or values are involved in this situation?
Answering these questions will usually give you a better view of the depths of your anger iceberg. But…then what?
"Once you understand those things, you can manage each of them in turn," says Dr. Martin. "You can explore what provocations you might unintentionally invite into your life." For instance, is it time to unfollow your racist uncle on Facebook? Should you decline calls from your mom when you don't have the emotional bandwidth to go on a guilt trip today? Can you make time for some de-stressing activity after work so that you can better shake the day off of you?
Plus, with a deeper understanding of your anger, you can challenge unhelpful or negative thought patterns and inaccurate beliefs that cause you to get angry more than you'd like. Like, This person is out to get me, or Nothing ever goes my way. "You can think about the thoughts you are having and start to catch yourself when you are catastrophizing or overgeneralizing," says Dr. Martin.
When anger could be a sign of something else
Sometimes anger is just anger. But maybe you peeped beneath the surface of your anger iceberg and…there was a lot going on down there. Don't freak out, but in certain cases anger can be a sign that there's a deeper mental health issue going on.
For instance, anger and irritability can be triggered more when a person is at their emotional capacity or dealing with another mental health challenge. "When someone is experiencing anxiety or depression, they may have increased irritability that is uncharacteristic of their typical behavior," Dr. Hodge explains.
Not to mention that anger is often considered a more "acceptable" form of emotional expression than sadness, helplessness, or anxiety, says Dr. Hodge. So it's worth taking a deeper look at your mental health if you (or the people close to you) are noticing that you're angrier than usual lately. 
And in some rare cases, anger can also be a symptom of a personality disorder like antisocial personality disorder or borderline personality disorder (though there would be other symptoms of those conditions in addition to the anger).
So how do you know if it's time to seek help for your anger? "We can start to think of a person as having an anger problem when their anger is starting to cause them difficulty in their life or when they are having a hard time coping with it," says Dr. Martin.
Obviously, that can look very different for different people. Maybe your anger is messing with your relationships because you're constantly lashing out at people. Maybe you even get physically aggressive with people or property occasionally. Or maybe your anger is sapping your time and energy because you're always ruminating on things that set you off or nursing grudges. Your anger could also be pointed inward at yourself and you're using unhealthy approaches to deal with it.
If any of this sounds like you, but you're not alone and help is out there (cheesy but true). Whether you're dealing with occasional anger that you want to understand better or you're noticing anger becoming a problem in your life, it's empowering to look beneath the surface and understand more about your anger and yourself.
It's also empowering to talk to someone. "I would encourage anyone who is concerned about their anger to meet with a professional to work on some anger management strategies," says Dr. Martin, who adds that if you're having trouble finding someone local who specializes in anger specifically, a therapist who specializes in emotion-management strategies can be really helpful.
Wondermind does not provide medical advice, diagnosis, or treatment. Any information published on this website or by this brand is not intended as a replacement for medical advice. Always consult a qualified health or mental health professional with any questions or concerns about your mental health.