Stories
05.26.23
7 Asian TikTok Creators on How They Protect Their Mental Health
"It's always about checking in with myself."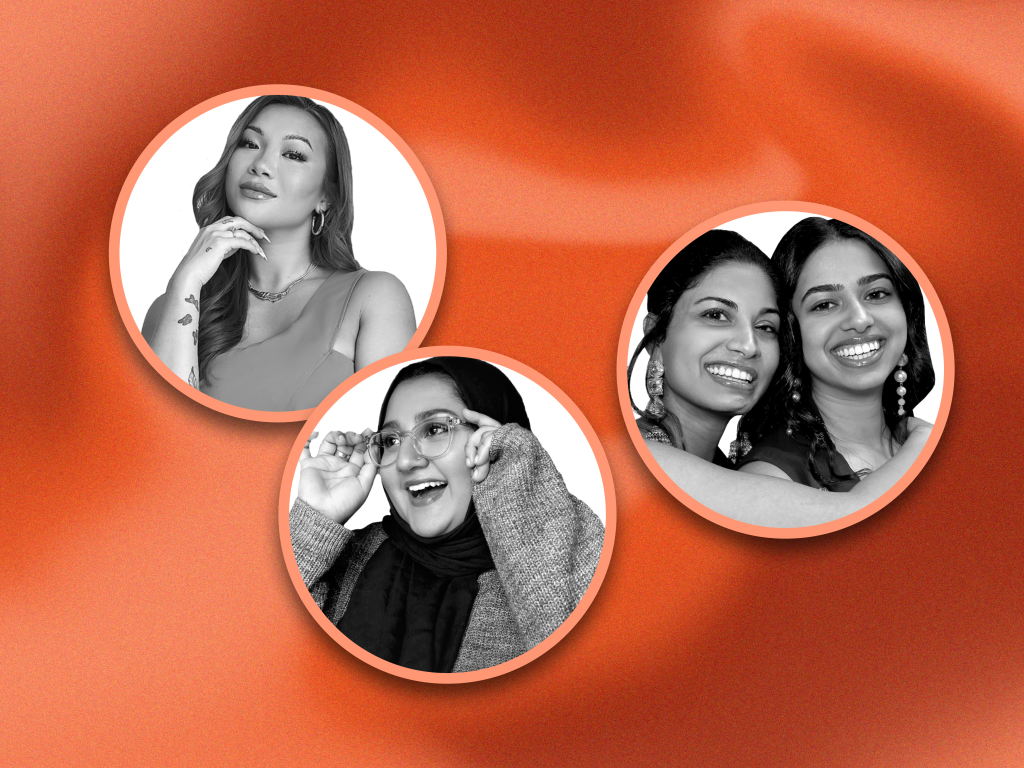 From inventing worldwide trends to culminating active communities within their niche, Asian content creators are being honored for their work on TikTok thanks to the app's debut list of Asian and Pacific Islander (API) Visionary Voices. The list, which was revealed during Asian American and Pacific Islander (AAPI) Heritage Month, honors 15 creatives, business owners, and culture changemakers who use their platforms to celebrate and honor their heritage.
"This May and year-round, we're committed to highlighting the stories of our API community by amplifying the voices who continue to break barriers and use their platform to share the diverse spectrum of API history and heritage," Shavone Charles, head of diversity and inclusion communications at TikTok, tells Wondermind.
Of course, putting pieces of your life online for strangers worldwide to see can be as vulnerable and terrifying as it sounds. In an effort to support creators offline, we checked in with a few of TikTok's API Visionary Voices to see how they protect their mental health.
For Garbo Zhu, AKA @grumpykidstudio, protecting her mental health means leaning into her creative side. A trained architect, she left her full-time job to run her own pottery studio crafting grumpy cups, vases, and dishes to bring joy to others. While this has since become her livelihood, it's also an important part of her self-care routine. "What I do for my mental health is doing what I love every single day: playing with clay," she tells Wondermind. And she encourages others to do the same.
Below, we spoke with a few more API Visionary Voices honorees to see how they're protecting their mental health, because sometimes being chronically online can be exhausting AF.
1. Check-in with yourself.
"For me to be able to show up for the people we work with, our customers, my family, my friends, I know I need to take care of my mental health. That means a different thing every single day. Sometimes it's as simple as journaling, taking a walk, or looking after my cat. For me, it's always about checking in with myself at the beginning and the end of the day to see what I need to be able to show up for everybody else throughout the rest of the day." —Niki Shamdasani (@sanisisters)
2. Find your people.
"I don't think I could just [take care of my mental health] by myself. I think we have a great support system of family members, friends, therapists, and random strangers on the internet sometimes. Having that community to support you makes all the difference. Surrounding yourself with positive energy to bring out the best version of you is the best thing you can do. If you're in need of that, reach out to us. We'd love to talk to you too." —Ritika Shamdasani (@sanisisters)
3. Take things slow.
"Throughout the day, it's so easy to get caught up in the things that are around us and the things we need to do, and we don't focus so much on things that are within us, so I like to take a slow morning, enjoy my cup of coffee, and really think about all the things that are going well in my life, all the things I'm grateful for. That way I'm less focused on tasks and things I have to do throughout the day. —Cassie Yeung (@cassyyeungmoney)
4. Prioritize yourself.
"I have a ton of practices I like to follow to prioritize my mental health and the biggest one is probably regulating my nervous system. It's been a big priority of mine over the past few years. I think in the current state of the world that we live in, it's really easy for our fight or flight, or our sympathetic nervous system, to get activated, and I like to do things like gua sha, meditation, taking baths, self-care, things that help activate the parasympathetic nervous system—the rest and digest state of mind where healing happens." —Stephanie Zheng (@mountlai)
5. Talk it out.
"I protect my mental health by talking through my feelings out loud, whether it be extremely ecstatic or heartbroken in a million pieces. Having a good support system that understands who you are can be what you need to navigate any problem that you're facing. As a Libra, I always feel the need to say yes to everything and everyone just to please them or make them happy. Now I know that when you say 'yes,' to everyone else, you say 'no,' to yourself. Not paying attention to negative comments has also done wonders for my mental health. I've come to understand that no matter how much good you do, there will always be someone in the world that disagrees. You can't make everyone like you and that's OK, so the positive feedback from fans that genuinely enjoy my content is what I focus on and give energy towards instead. However, my favorite ways to protect my mental health are sewing and crafting. It's the perfect way for me to express what I'm feeling inside and it also helps to destress. As a result, I gain a cute outfit!" —Nava Rose (@the.navarose)
6. Find healthy escapes.
"I protect my mental health by creating a safe environment for myself, meaning I never focus on the hate, I only focus on the positive. I make sure to never bottle things up, if there's something that concerns me or bothers me, I make sure to talk about it with the people that I trust and love in my life. But, most importantly, the thing that's helped me the most is reading—from romance to fantasy to thrillers. If I ever want to escape from reality in a healthy way, I'm picking up a book, especially a book that I can be sucked into." —Ayman (@aymansbooks)
Wondermind does not provide medical advice, diagnosis, or treatment. Any information published on this website or by this brand is not intended as a replacement for medical advice. Always consult a qualified health or mental health professional with any questions or concerns about your mental health.