Q&A
01.09.23
Caleb Marshall Wants You to Have Your Beyoncé Moment
The fitness star opens up about anxiety, therapy, and setting boundaries.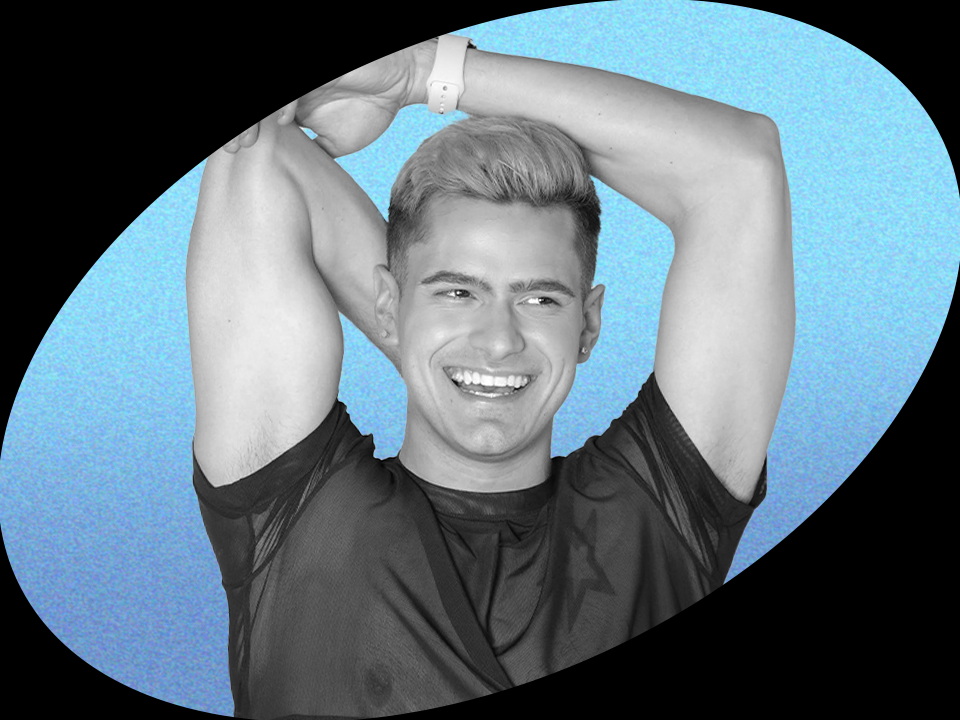 Photo Credit: David Avalos
Caleb Marshall knows how to put a smile on anyone's face—whether you've followed along to his YouTube dance tutorials or you just happened to catch his hilarious mid-live-fitness-class reaction to the #FreeBritney verdict. The self-described fitness pop star has built a devoted following by helping everyone be their best selves and find confidence through virtual cardio dance classes. And there's much more to come from him in 2023.
As Marshall continues to dominate the fitness industry and make it a lot less intimidating, he sat down with Wondermind to talk all things mental fitness. Here, Marshall opens up about what anxiety feels like, setting boundaries, and enjoying this moment.
[Sign up here to never miss these candid conversations delivered straight to your inbox.]
WM: How are you doing lately?
Caleb Marshall: I'm feeling so genuinely happy and fulfilled in my life. It is a really weird spot that I'm in, and I just feel so content and happy with everything that we've built and created. It's like a breath of fresh air right now. I'm just really enjoying the moment.
WM: How are you embracing that and staying in the present moment?
CM: It's been a total mental shift for me. When I started, I was so concerned with getting to the next rung and accomplishing something I was proud of and competing with all of these other people doing the same thing and moving to LA and being surrounded by people who always have more. It was just this moment that clicked, and I realized that you could always find someone else who has more than you, who has done more than you, who is more successful than you. You can always feel like you're not enough or like you're always chasing something. But once I realized that, I was like, But look at what you've built. Look at where you started, and look at where you are now. I realize I have a wonderful fiancé; I'm working with my best friends; I'm making up dances for a living; I'm touching people's lives and helping them get fit and look at exercise in a different way. I just realized, Whoa, I'm so happy and content with the life that I have. I don't need more. Everything else is just the icing on top of the cake.
WM: As a fitness instructor and motivator, what does mental fitness mean to you?
CM: Everything that I think I do in this channel is about finding ways to keep yourself happy, like mental fitness. It's being able to tackle situations that are hard and scary. As someone who has been open about struggling with anxiety, I always do what scares me. I never back down from a challenge even though I know it's scary and know I'm going to freak out internally and want to run away or my fight-or-flight's going to be activated. It's so rewarding when I push through and remember that I've done hard things before and can do hard things again.
I did Sesame Street, and I was so scared and like, Oh no. How am I gonna do? But I really just went into it with confidence knowing that I've done scary things before, and it was way easier this time than in the past. My journey with mental fitness has been training myself to constantly tackle the hurdles that scare me instead of trying to go around them.
WM: How does physical fitness factor into your mental health?
CM: When I'm not great mentally, it really manifests physically. I'll notice my heart rate getting fast, and I'll feel flustered, and I'll be sweaty. When I just start moving my body and translate that nervous energy into physical momentum, I find it releases [that energy] so much faster and turns that nervousness into excitement.
WM: Your classes are such a confidence boost. When do you feel like your best self?
CM: I feel genuinely the most confident in the middle of my classes. This energy takes over me, and it makes me feel like I can do anything. My whole goal is being able to spread what I do and make other people feel like they're a superstar and they're a pop star and they can also do anything. It's just giving normal people the confidence of a superstar like Beyoncé.
WM: You got into cardio dance to help with your anxiety. What are some other tools that are key for taking care of your mental health?
CM: I've been in regular therapy for the past few years. I go every week—I think it's incredible. It's really sad because it's such a privilege. I don't get it through my insurance, and most people I know don't have access to it. There's so much stigma around therapy that I would love to break down. Even when I'm feeling great, I still love going to my therapist and exploring why I'm feeling great and how I can use those tools to continue feeling great. Therapy's been huge for me. Meditation has been huge for me, especially to wind down at night.
I've been really into prioritizing my happiness in general and only doing things that actually make me happy—spending time around people who don't drain my energy and not feeling bad about spending less time with people who really take from me. For a while, I was kind of programmed—especially being from the Midwest—to be really polite and friendly and give my all to everyone all the time, and it's not realistic. I notice the more I reserve for myself and my fiancé and my best friends, the more I'm able to pour out into the world. Being able to protect myself from emotional vampires is [important for] my mental health.
WM: What helps you maintain those boundaries?
CM: For me it was therapy. Honestly, [it's been helpful] being able to bounce some situations off someone and them being able to tell me, "Hey, no. It's not selfish. It's OK and healthy for you to set those boundaries." I started doing it with family and setting boundaries from parent to child. Once I started getting more experience with setting natural boundaries, it became easier for me not to feel so guilty. It really just took practice.
WM: If you were to talk to yourself like a friend right now, what advice would you give yourself?
CM: I would tell myself to try to stay in this moment as much as possible. I spent a lot of my life feeling like I'm too far in the future or too far in the past, and I'm at a moment where I feel very present. I would encourage myself to stay here and that it's OK and I don't have to chase anything anymore. I'm doing great, and I've only recently really started letting myself know that I'm doing OK.
This interview has been edited and condensed for length and clarity.
Wondermind does not provide medical advice, diagnosis, or treatment. Any information published on this website or by this brand is not intended as a replacement for medical advice. Always consult a qualified health or mental health professional with any questions or concerns about your mental health.