WM X AVOCADO
05.18.23
Powered By

How to Deal With All Your Climate Anxiety
Anyone else feeling sweaty and stressed?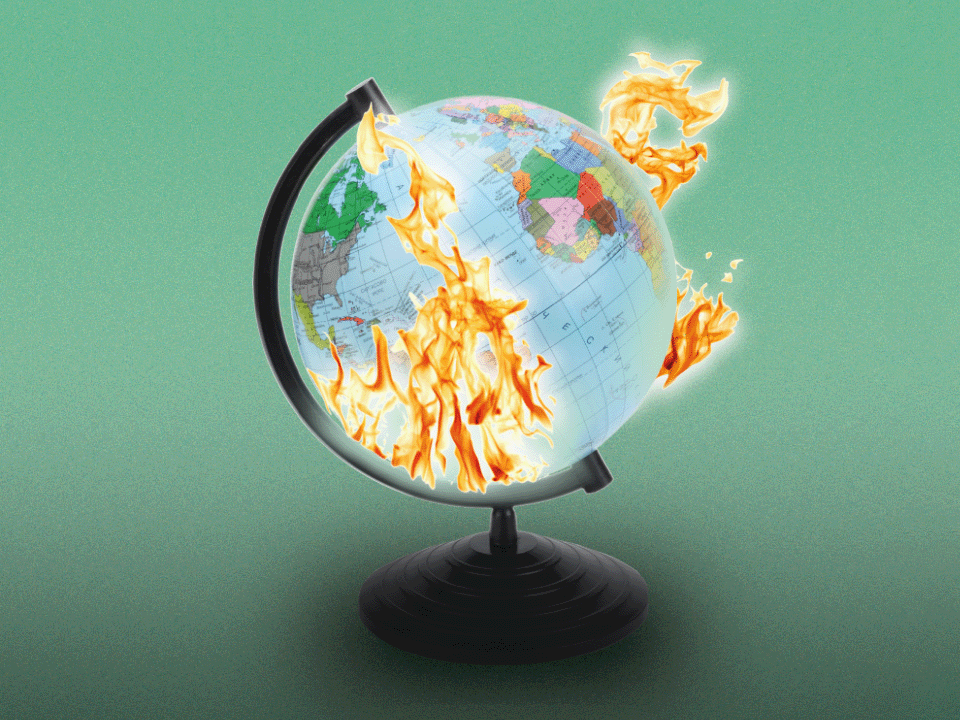 Shutterstock / Wondermind
If you're anything like us, you've had some conflicting feelings on these recent unseasonably warm days. On the one hand: Hello, outdoor dining weather and beach days in May. But also: Um, Earth, you good? As temperatures and rates of extreme weather incidents soar, so does our collective climate anxiety. Basically we're all sweaty and stressed about the planet…especially on days that we didn't expect to be quite so sweaty.
While not an official diagnosis, climate anxiety is a term used to describe the sometimes overwhelming feelings of worry, grief, sadness, hopelessness, and other emotions around climate change. And it's really common: more than two-thirds of U.S. adults say they experience it, according to a survey by The Harris Poll on behalf of the American Psychological Association.
Climate anxiety can take a lot of forms depending on your situation. You might be a young person who's freaking out about what the world will look like 50 years from now or you might be directly experiencing climate disasters already. Maybe you're worried about what this all means for your kids—whether you're already a parent or contemplating becoming one. It's a lot.
For some people, climate anxiety can also look like avoiding the topic altogether or mentally checking out, says Laura Carter Robinson, PsyD, a clinical psychologist in Michigan focused on helping adults and college students experiencing climate distress. Relatable? Yes. Helpful? Not so much.
One of the first steps to dealing with climate anxiety is acknowledging that the fears are there and that it's valid to be concerned. Those feelings are not in themselves an issue. In fact, they're a beautiful thing, Dr. Carter Robinson says. "They speak to how much you care about the planet," she says.
That said, if your feelings about our increasingly chaotic climate are causing you distress, despair, or to disengage, there are some ways to process these big emotions and work through them. Here's what you can do with all that eco-anxiety.
Let yourself feel multiple feelings.
When it comes to moments of dissonance—like the simultaneous joy and trepidation you feel when it's 90 degrees in New York City…in May—practice embracing the both/and or in-betweens of emotions. "Part of living a full human experience is saying things are never totally good and they're never totally bad," says Amanda Feaver, LPC, a climate-aware psychotherapist in Oregon. Sporting short sleeves and taking a walk in the park doesn't demonstrate a lack of care for the environment; neither will feeling grateful for a warm day. "It's OK to enjoy the sun and it's also OK to be really sad about ecological shifts and climate change," she says.
Practice calming your nervous system, especially when you're out in nature.
Climate change is happening, but we have to find ways to not despair. "We're not going to get out of this in our lifetime, and so learning how to mitigate that distress is going to be really helpful for us to be resilient throughout our lifespan," Feaver says.
Breathwork and meditation practices can be great stress-relievers, but if those don't appeal to you, you can start by just spending more mindful time in nature. "Being out in the natural world with other beings is incredibly calming. There's a lot of research that suggests things like gardening or walking in forests or walking along the water really calms the system down," Feaver says. Even sitting in your own backyard or front porch or touching some nearby grass can help.
A more intentional mindfulness activity in nature might help, too, like taking time to look closely at a particular tree or flower, says Dr. Carter Robinson. "Don't think of it as a flower or tree, but notice the colors. Notice the shapes that you see. Notice the shadows, notice the lines, notice the textures, and just let yourself go into that space," she says.
If being outside triggers your feelings of grief or anxiety around climate change, try starting smaller to ease back in, Dr. Carter Robinson says. That might be as simple as visualizing nature or spending less time outside to start. But if you're really struggling to find any peace in nature due to climate anxiety, that's a good reason to speak with a mental health professional if you can.
Connect with people who understand your concerns.
A lot of people feel like they're alone in their worries about climate change. But a recent study by the Yale Program on Climate Change Communications found that 64% of Americans are at least "somewhat worried" about climate change, and over half feel "disgusted" or "sad."
It can be incredibly isolating to feel like you're alone in your fears, so connecting with people who get your eco-anxiety can be a great way to feel validated and supported. "Whether that's friends or families, youth climate groups, either online or in person, climate cafes—there are lots of ways to find other people who are like you," says Dr. Carter Robinson. "When we connect with other people, we're less anxious and less lonely."
Of course, there's a fine line between validating each other's concerns and ruminating over them, so if you find yourself getting more anxious when you connect with others over climate concerns, that might be a sign to take a break or find a more action-oriented group.
Set some healthy limits on your news consumption.
Checking out of climate change can be a sign of not dealing with it, but that doesn't mean you need to subject yourself to an endless feed of doom and gloom. In fact, 56% of people listed media coverage of extreme climate events as a top cause of their eco-anxiety, according to a survey by OnePoll on behalf of Avocado.
"We have to protect ourselves from some of the vicarious trauma that we experience from being exposed to that," Dr. Carter Robinson says. That doesn't mean ignoring developments in climate change—but setting limits is important. "It's preserving your own ability to function and, in turn, that preserves your ability to care," she says.
A few simple things you can try, courtesy of Dr. Carter Robinson: Limit yourself to one trusted news source rather than multiple feeds, increase the number of solutions-focused climate sources you read, and monitor how you feel when you're reading. If a particular source tends to send your stress levels soaring, consider removing it from your lineup.
Pick one small action to take.
There are a million things that can be done to help the planet, but no one person can do all of them. In fact, trying to do too many things at once can be paralyzing. "Don't try to overhaul your whole life. Most of us don't have the stamina for that," Feaver says. Instead, "pick one thing to start with that you can fall in love with," she says. Maybe that's working toward eliminating single-use plastics in your home, or volunteering at a community garden, or working with an organization to protect your local waterways.
Change your focus to the future you want to see.
Anxiety can keep us stuck in imagining worst-case scenarios. That's hard on us, and it's no good for the planet either, Dr. Carter Robinson says. "Climate change is real and it's frightening and we need to act quickly," she says. But panicking only makes it harder to focus on solutions.
She encourages people to shift their focus. Instead of keeping a mental list of everything that's gone wrong with climate change, she asks people to envision the future they want to live in. "Use that instead of fear as your motivation," she says. Then, find small but meaningful ways to work toward creating that future.
Wondermind does not provide medical advice, diagnosis, or treatment. Any information published on this website or by this brand is not intended as a replacement for medical advice. Always consult a qualified health or mental health professional with any questions or concerns about your mental health.