Q&A
06.05.23
Dewayne Perkins Goes Where He Feels Good
'The Blackening' actor and writer sits down for a mental health check-in.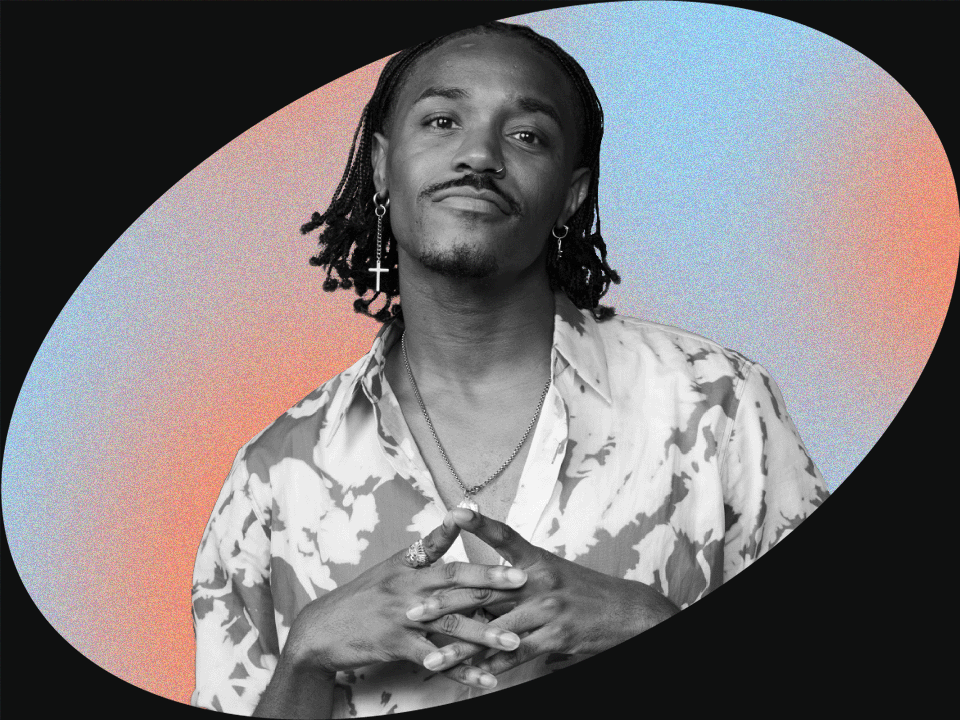 Photo Credit: Gareth Cattermole/Contour by Getty Images
Dewayne Perkins has been putting in the work in the entertainment biz for a decade now, writing on your favorite shows, like Brooklyn Nine-Nine and The Amber Ruffin Show, and becoming a must-follow on Twitter. Now, the actor and comedian is ready for the big screen. On June 16, the budding star will shine alongside Yvonne Orji and Grace Byers in The Blackening, a cinematic adaptation of his popular Comedy Central sketch, which hinges on the question of who dies first when everyone in a fright fest is Black. (Spoiler—and gasp—alert: The terrorized friend group does have to split up to survive.) 
Before the premiere, Perkins checked in with Wondermind to give us a glimpse into how his identity influences his approach to mental health and his relationship with work. "It feels like my mental health journey has felt very singular, where it felt very up to me," he says. "Nobody was going to do it for me. It was my mental health. There weren't resources where people were just like, 'We're going to help you when you're not figuring it out.' There was so much self-motivation."
Read on for a look at how leading with his emotions helped him get to this point and why a little comparison isn't a bad thing.
[Sign up here to never miss these candid conversations delivered straight to your inbox.]
WM: How are you doing lately?
Dewayne Perkins: I'm doing well. I think I've been moving with intention, and this year I really wanted to put an emphasis on being positive. That sounds very generic, but just relatively speaking, there's always a point of view to be had that is not negative. I've found that because I am constantly on this road to make things better for myself, I put an emphasis on the bad [things] because that's the stuff that needs to change. Now I [realize] I can do that but also still be a little happier with things that are not bad.
WM: You're taking a huge step forward in your career with the release of The Blackening. How are you feeling about your trajectory and where you're at in life right now?
DP: I'm feeling pretty good. Because of my identity and knowing the struggles that I have already been through and anticipated, I had a very much "work first, think later" mentality that I'm trying to move away from. So I feel like right now is the time where I'm actually getting to appreciate the work that I've done thus far. Because I've always felt more concerned with what was ahead instead of what I've already done. And [I'm] just looking at my credits and being like, Oh, I've done stuff. Shout out to me for actually being consistent and working a lot.
Now I'm feeling validated because I've always had a dream to write and star in a movie, but it always felt like a fantasy for years down the road. … I'm now realizing the luck aspect of it. Yes, skills—worked on that. Work ethic—worked on that very hard. But even despite those things, there has to be a level of luck that those things worked out the way that they did. So I'm very, very grateful now that I see what it is and now that it feels real.
WM: Where do you think your approach to work and always looking ahead comes from?
DP: Growing up where I grew up in Chicago and being Black and gay and creating a life that felt supportive and protective, I think that has made me a person that puts their feelings and emotions first. So even if something on paper is good, if the experience is not, I'm like, "Fuck that thing." My life is the time that I spend doing something, and if that experience is not good, it kind of taints the good. I've had jobs that were both on the spectrum of, Wow, this is a life-changing job, and then jobs I thought were going to be fantastic that were a terrible experience. So I think I created this no-feelings-at-all kind of a situation to be like, "Work is work." Like, I'm working because I have this goal.
And now I have done enough work on myself to be able to feel the good that's not just neutral. [Now] I want to do projects that light a passion in me, that make me feel good, and not just do a job where I'm of service to complete a project. Now it's like, "Oh, what makes me want to do this job?" I think that shift is kind of what happened. … I go where I feel good, and that's always changing depending on where, how, and who's going to make me feel the best. So I think that is the thing that kind of made me not appreciate jobs. Because, relatively speaking, people would tell me these opportunities are good, and I saw that they were career-changing, but day-to-day, I'm like, "I don't want to do this." I'm juxtaposing those two things and being like, "As a grownup, yes, this is a responsible job. As a person who could die at any moment, do I want to spend my time doing this?" So yeah, [finding] that kind of balance.
WM: One thing I love about your online persona and career is how you exude so much confidence. Have you always felt naturally confident or did it take effort to get to that point?
DP: I wrote a one-man show that I did once—no, twice—before the pandemic happened, but it was called How Being Black and Gay Made Me Better Than You. It's all about my journey to being confident. … I do think that it's just an amalgamation of the experiences that I've had as a Black gay person and seeing the ways I thought about the world constantly proven wrong. That kind of allowed me the freedom to not be dictated by other people. Because what the fuck do they know? They don't know what they're doing—most people don't.
I also thought, because of being Black and gay, I assumed that my life would be hard. Just being Black, I always assumed, OK, that's going to be rough. And then coming out as gay, my family was like, "Girl, you're already Black. Why are you trying to make [life harder]?" But it is what it is. So I was just really adamant about preparing myself. I thought I had to be the smartest; I just had to be as responsible [as possible]. So the bar that I created for myself was very high because I assumed that's what was necessary in order to live the life that I want and not stay where I was.
Then when I became an adult and I saw other people were not doing the work that I was doing, I was like, "Oh, the bar for everybody else is significantly lower." People are not as concerned with being a good person, being mentally well. There was just a lack of concern with people being confident with being full people, with having that freedom of self. I think, comparatively, that is what gave me my confidence, which is ironic because usually comparing yourself to people is what makes you less confident. But I compare myself to people that were worse than me. It's like, well, relatively speaking, wow, I'm killing it.
WM: What mental health advice would you go back and give your younger self if you could?
DP: That other people and their opinions are significantly less important than I think. People are concerned with themselves a lot of the time, and the idea that people are constantly thinking about me is crazy. And [I'd say] that thinking about yourself is good. Kind of reframing being self-centered and being like, yeah, you should center yourself early. You are the center of your universe. Make sure you know who you are and want to be and make sure that you're a force that is 100% sure of yourself, so when you interact with people, you are not adjusting yourself. You're simply existing and creating an interaction without having to taper yourself to the interaction.
This interview has been edited and condensed for length and clarity.
Wondermind does not provide medical advice, diagnosis, or treatment. Any information published on this website or by this brand is not intended as a replacement for medical advice. Always consult a qualified health or mental health professional with any questions or concerns about your mental health.