Q&A
07.10.23
Dinah Jane's First Solo Album Is a Testament to Her Healing
The former Fifth Harmony singer opens up about embracing her identity and what touring with the girl group taught her about mental health.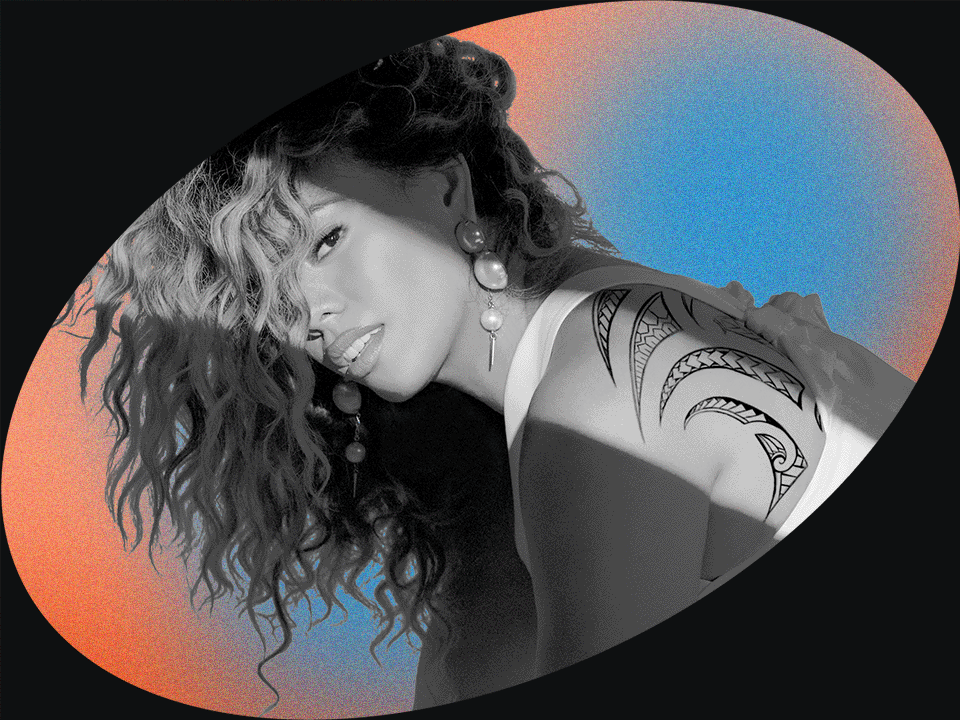 Photo Credit: Courtesy of Dinah Jane
In 2020, former Fifth Harmony powerhouse Dinah Jane assured fans that new music was coming soon, but the pandemic upended all her plans. Three years later, the pop gods have answered her followers' prayers because a new album is coming this year, she says. It'll be her first solo album, and this time, she's excited to release the music through her own record label.
"I think it's a really big platform to have for yourself, but also for your people," she tells Wondermind. "This journey isn't just for me. I know that this is for the next to come … I'm willing to be that tool for the people in my community [to show] that you can dream big, and you can go far. You can go even further than me, and I will support you."
Jane's music career has been filled with various ups and downs, from going on the journey with the beautifully diverse women of Fifth Harmony to having to take a break to get her mental health right and find out who she truly is, she says. After a few years away from music and tapping into her identity, Jane is ready for her return.
Here, the singer opens up about why she sometimes feels like Hannah Montana, the time when she was close to giving up, and how she shows her family the importance of mental health.
[Sign up here to never miss these candid conversations delivered straight to your inbox.]
WM: How are you doing lately?
Dinah Jane: I'm doing better. Some days I'm always in my head, and then I'm like, "Girl, get up. Stop. We got this far. Stop backtracking." But I feel like I'm doing better.
WM: What can you tell us about your new album?
DJ: I stopped [doing music] for three years, so there's a lot. I'm just unpacking everything that I've gone through. It wasn't just a sudden, "Oh, I don't want to do music." Well, it was like that actually. I've been in a constant battle with myself, and I didn't want to come back to the music unless I was healed, if that makes sense.
I feel like I've been doing this for so long that I was compressing so many things that I wasn't healing from, and it caught up to me all at once.
When Covid [forced the music industry to pause], it was a beautiful reset. At first I was just like, Why is this happening? Then awakening happened where I was like, No, this is meant to happen because I compressed so much. I was bearing so much that I should have healed from during the process. But I'm grateful that the pause happened in the industry.
I took that break to heal and come back stronger and with a better story. Because I feel like I didn't have a story before—I didn't even know who I was at the time. Obviously, I was in a girl group with beautiful ethnic women. But being that I wasn't really represented in the industry, being Polynesian, people instantly took it as, "Oh, is that the mixed girl?" or, "Is that the Latina or Black girl?" I got that a lot. At first I was like, Oh, that's cool. Period. I get the pass. Then I was like, No, no.
I've always owned being Polynesian, but being in the mainstream world, being amongst so many other races that have huge numbers, I come from one of the million. So I just started tapping into it more and realizing, No, I'm a Polynesian woman. I should be proud of it. I am proud of it, and I shouldn't be ashamed of it.
So identity crisis was such a huge factor for me that I struggled with being in a girl group. Then coming out of it, being solo, I was like, "Girl, if you don't just tap into what you've always been…" and that's what's beautiful.
WM: How did you find yourself and tap into your identity?
DJ: I think it was more of me just embracing what I live every day. I feel like I kind of live a Hannah Montana life. People get this image of me in Hollywood and LA that I'm like, Oh, cool. I'm here. I'm tapped in. But when I'm back home, I'm doing my chores. I'm with my family all the time. I'm picking up the kids from school. I'm very family-oriented, and people don't see that. … I really want to embrace my family more because they're a big part of my story and my journey.
And culturally as well, [my family] really influences my music. In some of my songs, I mention my grandma. I really wouldn't have made it this far if it weren't for my grandma. She's very spiritual, and I'll never forget growing up, she'd always pray for me. She'd always make me get on my knees like, "Let's pray to Heavenly Father so that you can be the star that you're meant to be." … I wouldn't have made it this far if it weren't for her and for her belief in me.
WM: What was one of the toughest mental health lessons you had to learn during your time in the group?
DJ: It was to live in the moment. We traveled so much, and we were doing so much at such a young age. I'm the youngest of the group. I know I don't look like it, but I was 15 when I started with the girls. I was learning to live in the moment because it could just literally pass by that quick. The pace was just back to back to back to back. I learned to journal a lot during that time. I have my journals still from that time. … I love revisiting my journey back then. I'm such a different person from then to now.
And talking about healing, compressing all your emotions and feelings catches up to you. When it caught up to me in the group phase, I learned to just take a pause and to surrender to God and say thank you. Be grateful for the good and the bad.
I also struggled making girlfriends after [being in a girl group for so long]. I was really good at keeping my homegirls back from home; they were my day ones—solid. From there, I just couldn't let myself allow more friends to come around just because I was in such a space like that. I was very picky with what women came around me. I think that's beautiful because, I mean, you're protecting yourself, you're protecting your peace, and also learning how women work. I'm like, "OK, what women gravitate to me? What friendships can I make from this?"
This year, I've made so many girlfriends that I'm so grateful for that have come into my life. I'm like, Wow. That's a healed girl. That's a healed girl because now she has a lot of girlfriends.
WM: Since going solo and taking a break, have you noticed a shift in your mental health?
DJ: Yes. I learned to prioritize myself. It goes for music, but also family. Learning that I can't always be a leader in everything. Things that I was consumed with at the time, I had to learn to let go of that and re-learn certain things. I learned that is more than OK. [It was also] breaking patterns and breaking bad habits.
Learning to say no was really hard. I get emotional about it just because I'm really proud of myself. Sometimes it's hard for me to say no because I'm such a people pleaser. I'm the oldest of eight kids, so I've learned to be that leader in my family. After the break and after not being in the scene for so long, I had to learn [about] myself a lot and learn to tell that girl to stop. Because the more I was catering to others, the more I was hurting myself.
That's why a girl is over here in her feelings, crying in the dark with her thoughts, fighting her own demons, and no one knew. Sometimes I just felt like giving up. Sometimes I felt like I wasn't doing enough. [In] relationships, I felt like I wasn't enough. With family, I felt like I wasn't doing enough. For myself, I was like, You're not doing enough. What can you do? But I was doing more than enough. I was doing more than I should've in every aspect of my life.
So 2023 has been so good to me this far. God has been so present so much in my life where I'm grateful and surrender to him.
I'm grateful for those hard times and the pause because I feel like I've gained so much wisdom. Before, I was not this talkative girl. I was OK with speaking about things that were on the surface. But I love the experiences I've gained during this time because I can now be that tool for other women and that voice for them as well. If I can heal, so can you.
WM: Are there any stigmas about mental health that you hope we move past?
DJ: In Polynesian homes, we don't talk about our feelings. I want to get rid of that stigma where we aren't allowed to express ourselves and say, "Mom, I'm hurting," or, "Dad, I think I have depression," or, "I have anxiety." Those things are real, and in my home, I've always struggled with that.
There were a few times where I was like, "I'm hurting," or, "I need to go for a walk" [during] an argument or whatnot. I couldn't go on those walks. I couldn't run away. They were like, "No, you have to handle it right here. What do you mean you feel this way? You don't feel that way. That's not real. Stop." [There's a phrase in] Tongan, and it means, "Girl, stop acting weak."
That's something that crippled me into my adulthood. I'm learning that you have to speak up and be that tool for your family like, "No, this is real. It exists." Just because we're Polynesian doesn't mean we always have to be strong [or that] we always have to give that "I don't hurt. I never hurt" [attitude]. I've learned to change that aspect within my own home, being that I am the oldest. Letting them see that I've been hurting this way has been an eye-opener for them, [and they're like], "OK, I believe her. Let's change that." If it starts with you, you're able to change those around you. I'm grateful that I was able to somewhat be that for my family.
This interview has been edited and condensed for length and clarity.
Wondermind does not provide medical advice, diagnosis, or treatment. Any information published on this website or by this brand is not intended as a replacement for medical advice. Always consult a qualified health or mental health professional with any questions or concerns about your mental health.