Q&A
09.25.23
Emma Brooks Gets Candid About Going to a Mental Health Facility
The model and TikTok star opens up about bullying, therapy, and medication.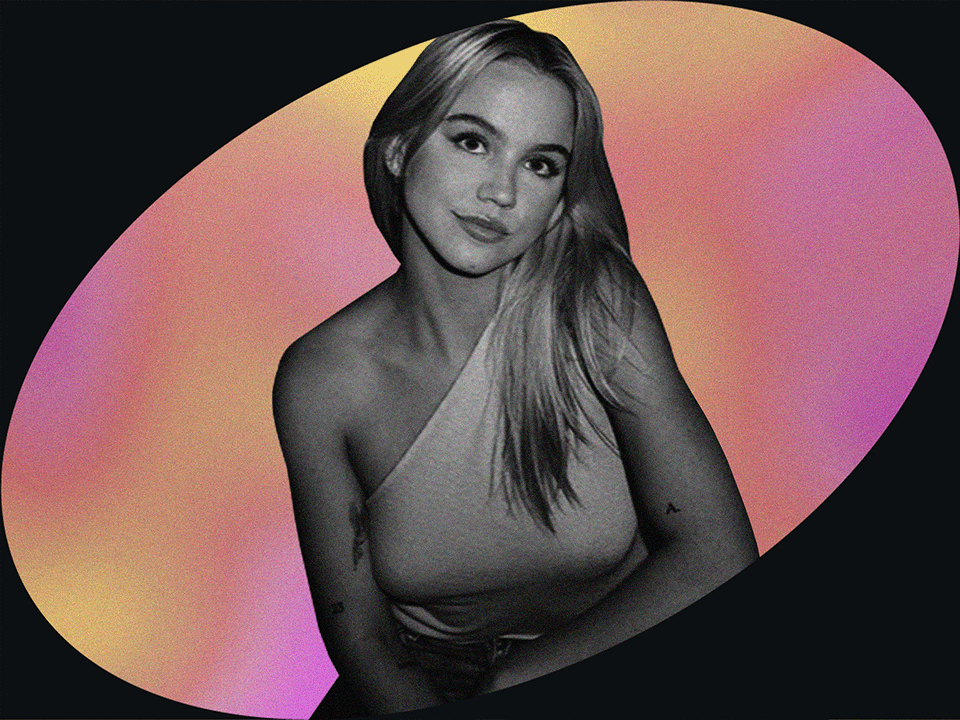 Photo Credit: Sophie Sahara
One look at Emma Brooks' resume might make you wonder WTF you did with the first 21 years of your life. Not only did she win Miss Louisiana Teen USA in 2019, but she's also appeared in a bunch of designer ad campaigns, amassed millions of followers across social media, and somehow found time to be a competitive dancer. It's clear she's put in the work to get to where she's at now, and she's using her platform to share what's going on in her mind and help destigmatize mental health.
Here, the model opens up about sitting with her feelings, overcoming childhood bullies, her experiences in a mental health facility, and how validation feels so good.
[Sign up here to never miss these candid conversations delivered straight to your inbox.]
WM: How are you doing lately?
Emma Brooks: I'm good. My brain is always in a state of feeling like everything is a lot. [Recently], a lot of good is happening at the same time as a lot of pain is happening—mainly within my personal life. It's a double-edged sword, especially because I'm so grateful for where I'm at in my life, and I wouldn't trade it for the world. I know that it's been a long road to get where I'm at career-wise, and it's been my dream for so long. There's so much good that's happening, but life is life, so there's gonna be things that come up because life is not just this easy thing.
I just turned 21, and I've been in LA since I was 18. There's been a lot that's happened that hasn't been so great, [and I've had to learn] how to deal with those things. And even now, with what I've dealt with in the past few weeks that may have not been so easy in my personal life, it kind of leaves me a little scattered almost. There's almost a little bit of imposter syndrome with trying to enjoy my accomplishments or even be proud of myself while at the same time really being sad. That's kind of where I've been at.
WM: Is there anything that helps you hold space and process that range of emotions?
EB: I experience a lot of inner monologue. Even when I'm really happy, there are so many times where I do feel guilt in these crazy moments. The way I try to handle it is I just talk to myself and my brain. Like, Don't take this moment for granted. It was given to you, and you should appreciate it to its fullest. You did work really hard, and you do deserve to be here. You do deserve to be happy for a split second. You deserve this. … Everything is so much easier said than done, but I try at least to soothe myself in my inner monologue.
I also love reassurance. So with the people I work with who see me all the time, I'll ask for reassurance because sometimes I just need someone to tell me that I deserve to be happy in that moment. Like, I need validation.
WM: That's so great, especially because sometimes it can feel a little needy to want validation, but it goes a long way.
EB: It's true! I'm very grateful I'm in a spot where I have people that I'm comfortable asking that from. I spent so long [being] surrounded by people that made me feel bad about what I'm doing and who I am, and [they] always made me question who I am. I ended up changing, and I never got validation. I was never in a safe place to ask for validation. Now, I have people that I feel safe around and comfortable with. I will always be grateful to not feel shame for asking for things like that or feel needy or feel like a nuisance. In my brain, I may call myself those things, but none of my work relationships or my personal relationships [do]. Everyone is so supportive, and I try to reflect the same way to them.
WM: What has your experience with therapy been like?
EB: I've been doing therapy for so long now. I initially got diagnosed with early signs of depression at 12 years old, and I started going to therapy at 14. That's when I first started taking antidepressants and anxiety medication, and it kind of went up the ladder from there.
I got very fortunate with my therapist. Honestly, I'm not that hard to please. If you just let me talk and let me get it out and if I feel safe, that's my key. I also prefer a woman therapist. I had the same therapist for about four years in Louisiana.
It's [been] a long road, especially through high school where I was admitted into a psych ward twice—both times by my therapist [laughs]! We had been through so much together over the span of four years. But things changed so much, and we had to break up. … Then I moved to LA, and I didn't have a therapist for a solid year, and I wasn't on any meds.
I've been with my therapist now for two years, and I'm still not on any medication. I feel like medication is so circumstantial, and I [think] some people feel like they're gonna take it for the rest of their life. But, for me, antidepressants were so helpful and useful to me in high school because in that environment, you can't change anything. [Medication] was helping me get through it and just making me not want to die. But now, antidepressants actually are making things worse for me and make my day-to-day life worse.
Everyone is different. I think there are other ways to do therapy that I think are more useful for people, especially because there are some people that don't like to talk and don't know how to talk, which is completely OK. I know there's text services with therapists, there's group meetings online with therapists. There are so many resources to have someone, because I think sometimes you just need one person to hear you out and one person to understand. I know people that feel like they can't talk to anyone about anything—even their closest people. That makes me sad because you can't just hold everything in. You need someone to hear you.
WM: Do you mind sharing a little more about going into a facility? Did you find it helpful?
EB: The first time I got admitted, it was by my therapist when I was 15 years old. And for good reason. I did tell her that I had a plan and was suicidal and was ready to go. I was admitted for nine days, and it's not a cute experience. It's not as crazy or stereotypical as Girl, Interrupted, but it's definitely not glamorous. It is a wee bit traumatizing. But, for me at that age, it opened up my eyes to what other people were experiencing.
At my high school, it was so weird to deal with depression, to deal with bullying. … It wasn't normal, and nobody talked about it. So I felt so alone, and I felt weird. Whenever I dealt with panic attacks and was having so much depression, I spent so much time in the counselor's office or in the chapel, eating my lunch by myself. I felt so isolated and alone.
To be fair, I've only ever experienced an adolescence unit. Adult units are completely different, so I can't speak on that. But for what I experienced then, it opened my eyes to meeting girls who [could relate]. One had been through things I could never even imagine going through and was still sympathizing with me, still being there for me, talking about what I was going through. It was just so comforting.
There are those moments where people are doing really outlandish things … and the treatment of the nurses [was tough]. They were like, "You're not here to make friends. You're here to better yourself." I just think mental health facilities are a little messed up. I don't know how it is in other places, but in Louisiana, they just didn't get it right. Because the one thing that got me through treatment and being in that hospital for nine days was those girls. Those girls changed my perspective. They made me feel loved. We wrote notes to each other, and I still have them to this day, and we still text from time to time, just checking in. Those girls really got me through.
The second time I went, I was 17, and I was also sent by my therapist for good reason. If you are actually a danger to yourself [or] someone else, then that's your therapist's job. Now, if therapists are abusing their power, that's a completely different story. … [In my experience], it's just very dehumanizing to go into a treatment facility 'cause you get treated like you did something wrong, even if you didn't. It's just a hard place to be.
The second time I went, it was during the summer, and I was able to go to an adolescent facility—thank God, because typically at 17, you get admitted to an adult facility. There were not a lot of kids, and I was there for eight days. That was a little bit harder. I had been going through addiction at the time, and I came clean to my mom, and I had done some things I wasn't proud of. I told her everything because I wanted to stop, and I wanted to get help.
I spent my time there, and it was a little bit different, especially being older and going for a bunch of other reasons besides suicide. It was a lot. There were not a lot of kids there, so we were kind of all alone. But I found a kid there who I clicked with, and we grew close.
Even the nurses were nicer at this facility, I think 'cause there were less kids, so it wasn't as strenuous. We were able to actually talk about what they've been through and what their experiences were. I was treated more like a human rather than a patient or this crazy person.
But trust with therapists is hard. Trust with any new relationship is hard. So finding that and being able to have a therapist that you can talk to [is important] 'cause sometimes self-harm is a passing thought. Whether it's hurting yourself or wanting to hurt someone else, [sometimes these intense emotions are] an in-the-moment kind of rage. You just want to be like, God, I feel this in my body, and I don't know what to do with it, without having someone be like, "Send them away." Unless you're like, "I have a plan. I'm gonna hurt myself. I want to hurt myself really, really bad." I can't even imagine being a therapist. That's so hard making that call.
WM: As somebody who has experienced bullying, what advice would you give to other people in that position?
EB: To anyone who is facing it, I really hope you know that you're worth more than what that person is saying you are. I hope you can have the patience and hope for yourself in high school to get out of that situation and to move away from those people and to know that they're such a little blip in your life. You're worth more than what they say. … It gets better, and I'm really sorry that you're being treated that way. You don't deserve it. You deserve love.
I wanna say, "Kick their ass," but you can't do that! They're such a nuisance and blip in your life. They don't deserve your attention or time. Whenever it comes to that time where you're graduating, you can just say goodbye to them. The best thing you can do is continue living your life and continue making moments and memories and new friends and new experiences. That person is probably someone who peaked in high school and will never be able to live a better life than you. I wanna be nice, but also, screw them. They're terrible. You can't kick their ass or anything, but revenge, it comes sweet if you have a better life than they do.
This interview has been edited and condensed for length and clarity.
Wondermind does not provide medical advice, diagnosis, or treatment. Any information published on this website or by this brand is not intended as a replacement for medical advice. Always consult a qualified health or mental health professional with any questions or concerns about your mental health.