Pro Tips
03.27.23
How to Break Up With Your Therapist, According to a Therapist
If you don't like what you're paying for, then it might be time to peace out.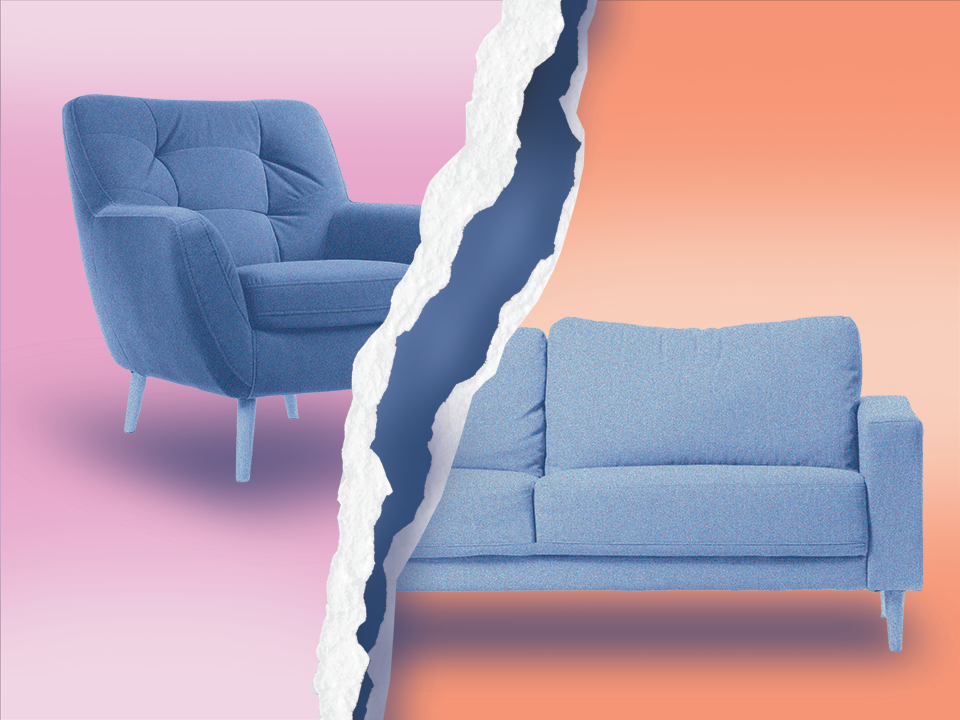 Shutterstock / Wondermind
In a perfect world, anyone interested in trying therapy would easily match with a therapist who was "the one." You know, someone who makes you feel safe enough to share literally anything and everything; someone who helps you handle life a little bit better. (Oh, and someone who takes your insurance and has availability at the exact same time you're free.) But if you're attending sessions and don't feel like this is really the right fit, well, that happens. Still, it doesn't have to continue to be your reality. Seriously, you can break up with your therapist at any time, for any reason.
There are tons of reasons you might want to dump your mental health pro, like if they're way too harsh, offensive, or just plain unhelpful. Sometimes we try to stick it out in these unproductive dynamics because we just think therapy is supposed to feel this hard or confusing or we're afraid of bringing up what's really wrong. I mean, it's intimidating to tell someone who's supposed to know exactly how to help you, "Hey, I actually don't find this very useful!"
Even as a licensed mental health counselor, I've felt hesitant to bring this up with a former therapist I wasn't vibing with. Because I wasn't sure of how to start that convo, I just avoided it altogether until I finally got up the courage and language to cut ties and find someone new. I've also had therapy clients break up with me, and each time these splits have led me and my past clients toward a path that was more in line with our ideal healing and self-discovery journeys.
At the end of the day, you're paying for a service, and you deserve someone who fully gets you and is up for the task. If you stick with them just because you feel obligated, you can end up feeling resentful, disappointed, and hopeless. Again, been there.
So, if you're not digging this therapy thing, here's what you need to know about breaking up with your current therapist and finding the right one (before you swear off therapy altogether).
Ask yourself: Is my therapist the problem?
Your therapist could be the thing that's bugging you, but it could also be the therapeutic process, a specific modality (or type of therapy) they use, or maybe even an issue that has nothing to do with them.
For example, if they're strongly encouraging you to progress with a trauma-focused technique faster than you're comfortable with, that could potentially be resolved with a conversation. Or maybe they have a weird way of trying to blame your parents for stuff but you adore your fam and really don't think it's worth exploring your struggles from that angle. In that case, try to create a boundary and let your therapist know those conversations bother you and feel unproductive. If you generally like your therapist and your issues are something that could be squashed by communicating your needs and boundaries, then definitely give that a go first. Odds are, your therapist will be proud of you for advocating for yourself.
If financial barriers are making you want to break it off, try asking for a sliding scale or if they offer scholarships (free appointments). If you have to find another counselor because they can't offer those adjustments, that doesn't mean they don't like you or they're a bad person—therapists have their own financial restrictions to deal with too. Another solution: Check out funding resources like The Loveland Foundation to help you offset costs.
Now, if the expert in question straight-up offended you and made you feel unsafe or uncomfortable, those are totally valid reasons to stop seeing them. When they don't listen, make assumptions and judgments about you and your concerns, or don't express compassion or empathy, they're not a safe space for you. When I was in grad school training to become a therapist, I had an encounter with a "bad therapist" after I reached out for support amid a crushing breakup. She was rude, dismissive, and shamed me under the guise of "keeping it real"—and this was all in our first session! Needless to say, it was also my last with her.
One of the best ways to figure out what's bugging you is to jot down some notes before and after your sessions so you can assess how your therapist impacted your mood. If there were specific things that bothered you, note that too along with how it made you feel, so you don't forget or brush it off later.
If you can't pinpoint what you don't like about your therapist but feel a general lack of connection or they don't pass the vibe check, trust your gut and move on. It might suck, but don't let one (or a few) bad experiences cause you to give up on the possibility of a great therapy experience altogether.
Pull a Ross and go on a break.
Much like any other relationship, you can outgrow your therapist. If you've been seeing them for a while and it feels obligatory and routine or the initial issue you tried therapy for is resolved, it might be time to take a break from your sessions altogether. If you relate, you can bring this up during your next session and let them know how much they've helped you and that you think you're ready to take a step back from them and/or therapy for now. Your therapist will likely be more than happy to hear that you're able to tackle life with confidence and are ready for the next chapter. Then, if you ever decide to hit up this pro again, you can.
Send a goodbye note.
Finding the right therapist is often compared to dating. Unlike dating, though, it's totally OK (and sometimes encouraged) to end things with your therapist over text or email if that's what feels right to you. If you're going to do it that way, be clear and concise when writing your reasons for leaving. In this parting note, it's nice to include how you appreciate their help (if true), a brief explanation of why you don't want to continue sessions with them, and if you want to attend or cancel your final appointment. The more specific you are, the easier it'll be for them to refer you to someone else (if that's what you want) or reflect on what they might want to change about their practice and approach.
You can ghost if you must.
While it's usually best to let your soon-to-be-ex-therapist know you won't be back, ghosting is always an option—even if it's pretty avoidant and risks you both missing out on closure. Poofing like a magician is best reserved for when a therapist said or did something way out of line or invalidated you in any way, like constantly misgendering you even after you corrected them. In that case, you don't owe them an explanation if you don't want to spend any more time and energy on this situation.
Keep in mind that if you feel their behavior was irresponsible or unethical in some way, you do have the option to report that to their manager, their company or clinic, or even the state licensing board, which is often listed on the disclosure statement all clients are required to sign when working with a therapist.
Process the grief.
Ending any relationship, including a therapeutic one, can prompt feelings of grief, relief, sadness, and more. Like a romantic breakup, it takes time to adjust to the separation and the mix of feelings associated with closing a chapter. So, sure, it's completely normal to take a break between therapists before moving to the next one. In fact, I'd recommend taking time to reflect on what didn't work for you and accept that your future sessions will look different—and that's probably a good thing in this case!
During your break, tap into your healthy coping skills to help manage any difficult feelings. If that looks like crying it out, talking with friends, going on walks, or scribbling through pages and pages in your journal, go for it.
But have a backup at the ready if you need it.
While taking a beat to process is a great option, if you still really need support or feel emotionally vulnerable, it can be helpful to have another expert lined up before you end it with your current therapist. If you don't have a new pro on deck and still feel relatively comfortable with your current mental health pro, share what qualities you're looking for in a therapist and ask if they have any recommendations.
You can also search on your own, using directories like Psychology Today, Therapy For Black Girls, Inclusive Therapists, Asians For Mental Health, and National Queer & Trans Therapists of Color Network, which let you apply filters for specific mental health conditions, zip code, payment preference, identity, and more.
Just remember what you didn't like about your previous therapist so you can try to avoid a similar situation in the future. During the consultation phase with new potential counselors, you can mention why you ended things with your last therapist and ask how this new practitioner's approach might differ.
Remember to take care of your mental health outside of therapy.
In today's culture that (rightfully) boasts the many benefits of therapy, it's natural to feel pressured to seek out an expert because it seems like something we "should" be doing. But if it doesn't feel like the right time or you're not ready for the commitment or emotional energy that a therapeutic relationship requires, that's OK too.
If therapy isn't the right move for you right now and you're not going through a crisis—in which case you'd want to seek support asap—consider other ways you can work on your mental health after the split. (JFYI, these mental fitness tips can help you take care of yourself in easy but impactful ways.)
When I was in school and between therapists, I tapped into virtual workshops, self-care courses, and meditations. Reading books about mental health and finding local support groups (because the friends we vent to are not experts and can—surprise!—be biased) can be effective ways to continue prioritizing you too. Putting your mental health first, with or without a therapist, will always have a positive impact on your well-being.
Wondermind does not provide medical advice, diagnosis, or treatment. Any information published on this website or by this brand is not intended as a replacement for medical advice. Always consult a qualified health or mental health professional with any questions or concerns about your mental health.