Pro Tips
02.15.23
How to Save Money When You Feel Like the World Is Ending
Soothe your anxiety while stacking some cash.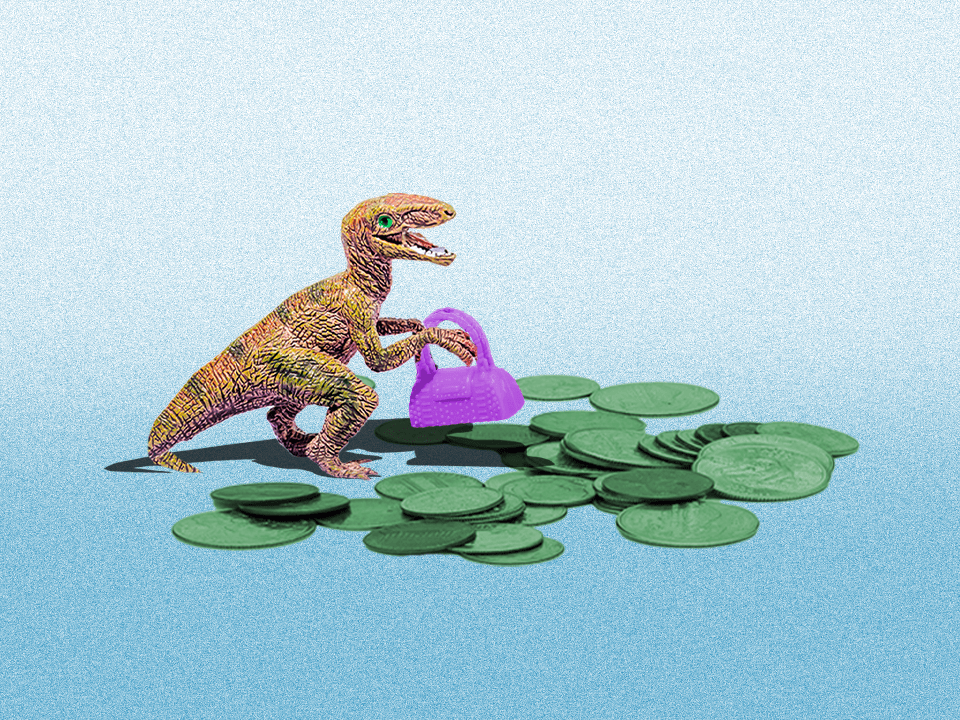 Shutterstock / Wondermind
If feeling anxious about the future is sorta your everyday aesthetic lately, I get it. Not to trigger you, but with climate change news, natural disasters, and seemingly endless geopolitical conflict (with a side of inflation and unidentified flying objects), it's no wonder we're all stressed the heck out. Anxiety about *~all of this~* messes with our lives in a bunch of ways—and our finances are no exception. After all, who gives a fuck about your 401(k)  when it feels like the world is ending? Thing is, thinking about how to save money can actually help ease your mind—especially now.
The next-level stress of the world right now basically shifts us into financial fight or flight, says licensed therapist Alex Melkumian, LMFT, founder of the Financial Psychology Center. Either we buckle down, work a million hours a week, and hoard as much cash as possible ("fight" mode) or say, "screw it" and blow a bunch of money to live like we're dying ("flight" mode).
It's easy to feel completely powerless in the face of a thousand dumpster fires, but what this anxiety really calls for is a sense of control, Melkumian explains. And though we might not be able to commit our lives and livelihoods to trying to fix these problems, taking some action (no matter how small) to support our financial health and mental well-being can really help us feel all-around better about the future.
"When we feel like we have control over our lives, we are more confident and feel at ease," says clinical psychologist and certified financial therapist, Traci Williams, PsyD. "By deciding how to spend your money now and how to save for your future, you can regain a sense of control over your life—and with that comes peace of mind."
In case you were worried, we're not going to just tell you to become an expert on bitcoin…or even Excel. But these expert tips for taming your anxiety while getting your financial affairs in order can definitely help you feel more optimistic about Future You and your bank account.
1. Consider talking to a pro.
I mean, you saw this one coming. If your anxious feels about the future are hardcore enough to influence how you save and spend that paycheck, talking to a mental health professional is probably a good idea. Counseling can help you manage anxiety and get your quality of life back in the black—and it could ultimately benefit your bank account balance.
Money beliefs and behaviors run deep, so a modality like cognitive behavioral therapy can help you rewire any limiting thought patterns and behaviors that stand between you and saving some of your hard-earned cash, Kaplan explains.
2. Tune into the present moment.
Chilling out enough to have a financial strategy that doesn't involve hiding from your credit card balance requires reeling your brain back into the here and now.
So having a toolbox of practices that help you feel calm when you're feeling freaked out (about money or whatever sends you spiraling) can help, says licensed therapist Debra Kaplan, LPC, co-author of Coupleship, Inc: From Financial Conflict To Financial Intimacy.
One of Kaplan's go-to strategies is a breathing exercise that helps you focus more on what's going on in your body than the stuff floating around in your head. Try it: Breathe in through your nose for at least three seconds, hold your breath for three seconds, then exhale slowly through your mouth for four seconds. Keep that up for a minute and repeat it two to three times a day. The goal is to make it second nature whenever future or money stress (or future money stress) starts to swell.
Another grounding exercise that can snap you right out of any swirly-whirly thinking: "When you find yourself worrying or consumed with negative thinking, pause to notice what is going on around you," suggests Dr. Williams. "Then name what you see, smell, taste, hear, and feel on your skin."
3. Do some good.
If you feel beaten the eff down about the state of the world (and your bank account shows it), do something teeny-tiny to contribute to the good. "Activism and volunteerism are tangible steps you can take to gain some control over your lived experience," says Dr. Williams. "These actionable steps help you shift from the debilitating thoughts and emotions into more productive uses of your time and skills."
Whether you volunteer with a local environmental activism group or go grocery shopping for the cute senior citizen next door, "any action, no matter how small, creates a sense of meaning and control that helps to manage anxiety," says Melkumian. And, hey, freeing up some of the mental space previously dedicated to stressing about the end of the world could translate to making moves toward healthier finances.
4. Add up those small impulse buys.
As for actual financial stuff, a big part of saving money has to do with spending money—and, specifically, spending less of it. Kaplan recommends peeping your most recent credit card and bank statement and adding up all of the random drugstore purchases, takeout orders, and any impulse buys you didn't think twice about. (Consider yourself warned: You could be very surprised.) Since these types of purchases often add up, creating more awareness around how much cash you spend on random shit can help you spend considerably less moving forward.
5. Budget for splurges.
Once you've got a better idea of your spending (and recovered from just how much you're dedicating to lip balms and Uber Eats), creating a good ol' budget is a no-brainer.
You don't have to go wild, though. Restrictive budgeting is just as toxic and unhelpful as restrictive dieting. "Don't deprive yourself," says Melkumian, who actually recommends that his clients have a line item in their personal budget dedicated specifically to buying fun things you don't truly need. Obviously, how much moola you can allocate here will vary, but the idea is to set some money aside to spend however the heck you want—even if it's completely frivolous (emotional support candle, anyone?). Otherwise, you'll inevitably burn through your intense budgeting willpower and yo-yo in the opposite direction.
6. Stop using your phone to pay for stuff.
Another way to get your spending in check without thinking about it too much is using physical cards (or cash, if you actually carry it) to buy things, Kaplan recommends. "It is all too easy to tap your phone and not really connect that to the act of spending," she says. This simple tweak also helps you become more mindful of where you're dropping cash so that you don't get that pit-in-your-stomach feeling once a month when you open your bank statement or look at your Venmo activity.
7. Rename your savings account.
Shifting your doomsday outlook in order to actually save some dollars might be simpler than you think—even giving your savings account a fun name can help, says Melkumian (who named his "Sleep Well").
"If you are stressed about money, you won't want to put money into an emergency fund because it just reminds you of having an emergency," he says. "Tweaking what you label your account can put a smile on your face and make you more motivated to save." Some options: Rich old lady fund; Older, wiser, richer; This one's on me; I am a luxury.
8. Switch your savings to autopilot.
If Netflix can bill you automatically each month and auto-refills for your cat's meds exist, why not capture that autopilot magic for your savings account?
Automating this shit is the easiest way to grow a nice chunk of change without having to think about it, says Melkumian. Start by automatically sending some cash to a single savings account (directly depositing 10 percent of each paycheck is a good place to start), he suggests. Once you hit your goal there—aim for at least a six-month emergency fund—you can set up automatic deposits for retirement accounts or investment portfolios, or increase the amounts you're already putting away each month. Choose your own adventure!
Wondermind does not provide medical advice, diagnosis, or treatment. Any information published on this website or by this brand is not intended as a replacement for medical advice. Always consult a qualified health or mental health professional with any questions or concerns about your mental health.