Pro Tips
07.20.23
How to Stop Intrusive Thoughts From Ruining Your Life
Brains! Are! Fun!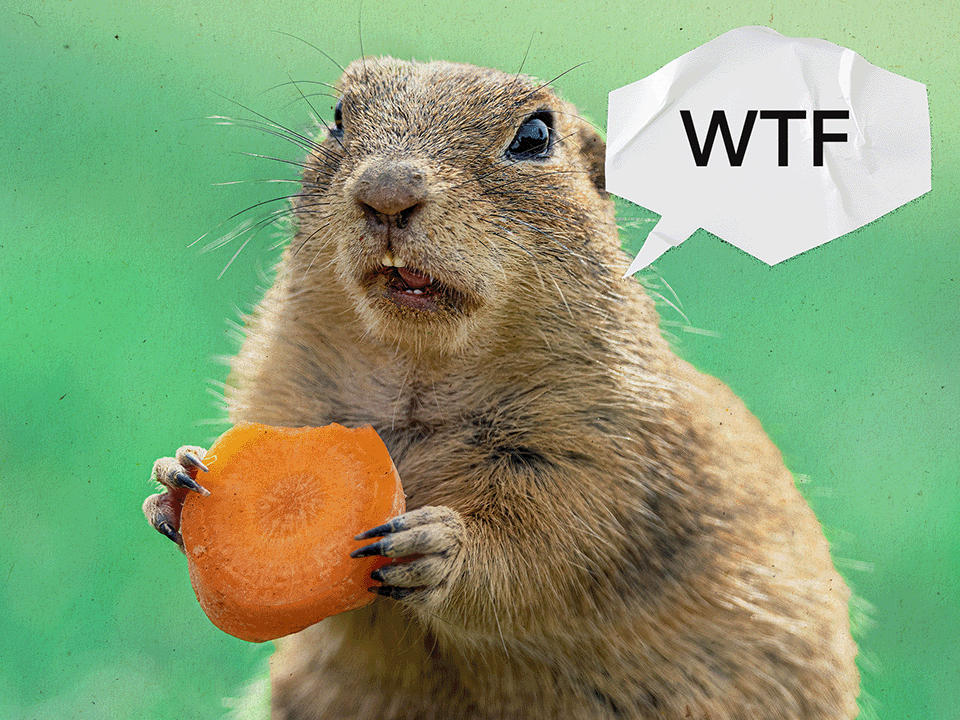 If you've ever picked up a friend's baby and had a terrifying vision that you might trip and send that kid flying down a flight of stairs or any other horror movie scenario hijacks your brain, then you're no stranger to intrusive thoughts, the super normal yet somewhat disturbing phenomenon that plagues all of us at some point. But if you're wondering how to stop intrusive thoughts from ruining your day/life, we've got a few tips.
Intrusive thoughts are exactly what they sound like: thoughts that intrude on whatever you're doing right now, explains licensed clinical psychologist Alyssa Faro, PhD, director of clinical services for the OCD Institute for Children and Adolescents. "These feel unwanted and bothersome and pop up seemingly out of nowhere," she says. Yeah, kind of like an actual home invasion. Sometimes these can be scary, like that dropping-a-baby situation, but others can be harmless or random, like throwing your phone out the car window while you're driving.
Thing is, even though we all experience intrusive thoughts with varying degrees of frequency and intensity, there's no clear reason why these ideas invade our mind. Therapist Aisha R. Shabazz, LCSW, likens them to blips in your noggin's ability to process the countless bits of information it's working through every single second—basically glitches in the system. Very obnoxious glitches.
So, what are you supposed to do when you're sitting with your friends at brunch and suddenly have a freaky thought bomb that involves all of your deaths? Here's how to stop intrusive thoughts from killing the vibe.
1. Don't fight it.
Since you obviously don't want to think about an awful thing, it's understandable that you might push back against that intrusive thought, telling yourself something like, Stop it! This is effed up! Why am I even thinking this? Knock it off! Wait, is something wrong with me?
Don't do that though. "The harder you try to push those thoughts away, the more they push back," says Dr. Faro. "Imagine you're playing tug-of-war with these thoughts," she says. "If you stop struggling to try to win and just let go of the rope, they lose the ability to tug at you." So step numero uno here is to accept that intrusive thoughts, like all thoughts, come and go (even if you'd prefer they do more of the latter).
Instead of judging those thoughts or telling them to GTFO or both, get in touch with how their presence makes you feel, says Shabazz. That way, you're taking a moment to reflect on your reaction to this brain invader, rather than judging it for existing in the first place.
Building awareness around how you feel right now can help you gain more emotional intelligence, even if what you're feeling is, well, not that great. If you need a little help pinpointing your exact emotion, check out the Center for Nonviolent Communication's Feelings Inventory or a handy feelings wheel.
2. Do a quick reality check.
Once you've done that, you're ready to start creating some distance between you and the thought (finally). A good way to do this is by asking yourself, Could this actually happen? suggests Shabazz. Chances are, it's hella unlikely, if not practically impossible—and acknowledging that will help you deflate its impact on you.
If you need some reinforcement here, pretend you're watching a movie in which your intrusive thought actually happens, Shabazz says. How would you and any other popcorn-eaters react? Would you find it completely absurd? Would you be tempted to walk right out of the theater because the plot is straight-up ridonkulous? If the answer is, "yeah, probably," then you have more evidence that you don't have to worry about it happening in your actual life. Insert sigh of relief here.
"Relocating the thought from your mind into a fictional place distances you from it and leaves room for you to observe it instead of identifying with it," explains Shabazz.
And even if it is possible, think about how likely it is to happen to you. Sure, accidents are a thing, but aren't you relatively careful around babies? And in what world would throwing your phone out the car window actually be a thing you did? Even if it could happen, that doesn't mean it will.
3. Call the thought what it is.
Another helpful practice here is cognitive defusion, a technique that allows you to see your thoughts as just thoughts, and it can help you feel like whatever random or disturbing thing you're thinking about is just an idea, not the truth.
One way to do it is to label intrusive thoughts as thoughts when they butt in. For example, if you think, What if I left the stove on and my house is burning down? shift that to, I'm having the thought that I left the stove on, suggests Dr. Faro.
This tweak can take the edge off of intrusive thoughts by making you feel less like the thing that just popped into your head is actually happening, she explains. The more you can detach yourself from the thought, the more you deflate its power and the easier it is to brush it right off.
4. Come back to the now.
Your next step here is to manage your anxiety by changing your focus from The Shining-esque what-ifs to what's happening IRL.
One of the fastest ways to get back to the present is to use all of your senses, says Shabazz. That means tapping into what you see, smell, hear, feel, and taste. If you're at brunch, you can do all of these things with your coffee. (Honestly, is there anything it can't do?)
Pick up your mug and notice how it feels, Shabazz suggests. Is the ceramic smooth against your hands? Can you feel the warmth through it? Then, take a look at your coffee and inhale its life-giving aroma. Go ahead, take a nice, loooooong sip. Listen to your friends ranting about the latest episode of Vanderpump Rules as you taste the deep flavors of your coffee (assuming it's actually decent…). Bless your tastebuds.
Quick tip: This whole ~being present~ thing will be a whole lot easier if you practice it regularly. "If you [only do it] when you're knee-deep in overwhelm, you're less likely to feel relief when you need it most," notes Shabazz. So, maybe have yourself a little moment with your coffee on the daily, yeah?
5. Seek some help if you need it.
OK, no, a therapist can't tell your intrusive thoughts to GTFO as they come up, but (and this is an important one) enlisting the support of a mental health provider is absolutely, 100% worth doing if intrusive thoughts are impacting your ability to enjoy. your. freaking. life.
Intrusive thoughts can negatively impact your life when you often consider them plausible, judge yourself for having them, or fixate on trying to make them go away for good, Shabazz explains. Still, a licensed mental health pro can help you manage how often they come up, how intense they are, and the distress they cause you. We love to see it.
Wondermind does not provide medical advice, diagnosis, or treatment. Any information published on this website or by this brand is not intended as a replacement for medical advice. Always consult a qualified health or mental health professional with any questions or concerns about your mental health.