Pro Tips
11.15.22
You're Not Weird or Broken If You're Dreading the Holidays
Not feeling so festive? That's cool.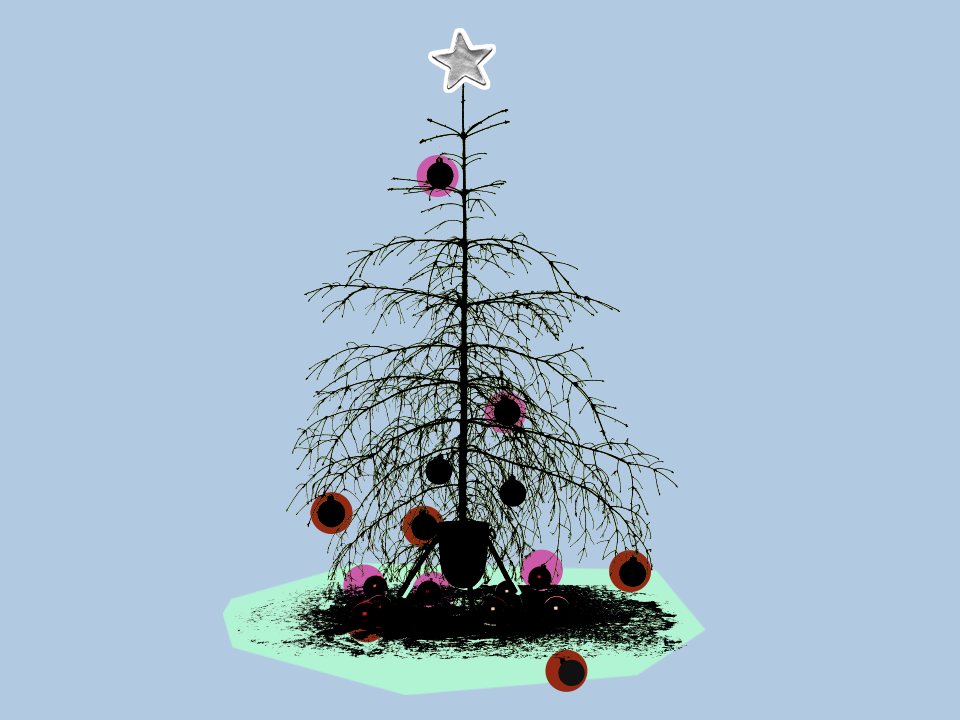 Shutterstock / Wondermind
It's the most wonderful time of the year—or so they say. From decking the halls to attending parties and spending quality time with your family, the holiday season is most often associated with joy and good vibes. But if this time of year leaves you feeling more blah than fa-la-la-la-la, you're certainly not the only one internally screaming, I hate the holidays. "The holidays can be challenging for many people," says licensed psychotherapist Amber Robinson, LMFT. "There are so many societal pressures around what the holidays should look like. When people feel like they don't meet that mold, it can be very defeating." And it's not just outside pressures—there are a variety of potential landmines that can trigger holiday sadness, anxiety, just general discomfort, and other emotions.
But, ICYMI, you don't just have to suck it up. By identifying your holiday triggers and deploying strategies to safeguard yourself from holiday sadness, you'll have a better chance of finding some peace as we sail through the rest of 2022. Here, everything you need to know.
Let's just admit that the holidays can be really effing hard.
There are so many things that can make October to February pretty challenging—not the least of which are the unrealistic expectations we put on the holidays.
From everyone's travel plans to all the happy family pics that fill up your Instagram feed, there are endless messages broadcasting this idea (whether it's factual or not!) that everyone is happy.
Then, of course, there's all that family time. "For adults with childhood trauma or strained family relationships, the expectation of spending time together can feel overwhelming," explains Robinson.
Even if the issues with your family don't go as far back as childhood, certain dynamics can make things tricky. Say, for example, you have a loud uncle who can't help but voice his questionable political opinions. Knowing you're going to have to endure his tirades could induce feelings of dread, making you hate the holidays.
Yes, managing the relationships you have can be hard, but dealing with your feelings about the relationships you don't have can be even harder. Perhaps you've lost a loved one. Having to celebrate without them can kick up feelings of grief. Or maybe you're mourning the fact that you don't have a relationship you'd really like to have with a family member or even a partner. "There's often an emphasis on romantic relationships over the holidays—whether it's needing a date for a party or the endless jewelry commercials highlighting happy couples," says licensed clinical social worker Alyson Cohen, LCSW. "If you're not partnered and want to be, there are so many reminders of what you don't have that it can make you feel extra lonely."
Last but not least, money stress is very much a thing right now (and kind of all the time). In the American Psychological Association's 2022 Stress in America Survey, just over half of people surveyed said that they're stressed about money, which, yeah, checks out. With presents and potential travel costs, this time of year can get real expensive.
Here's why you might hate the holidays. 
Remember when you were in middle school and someone had a sleepover that you weren't invited to? That left-out feeling sucked. The holidays can conjure up that feeling times a million.
Maybe you weren't invited to a party—or you were and everyone looks like they're having so much more fun than you are. "When you feel as though you aren't meeting the societal expectations of what the holidays should look like, it can impact your self-talk," says Robinson. "This is one of the most prevalent issues I see in my clients." Unfortunately, we are often harder on ourselves than we are on others, and getting down on yourself can make you feel hopeless and lonely.
Stress is another potential problem. Checking your bank account balance or worrying about potential family blowups can really eat away at you. "All of these inner conflicts that we experience add stress to the body, not to mention potential anxiety or depressive symptoms," shares Robinson.
Small moves can lift your spirits.
We can't promise you'll go from hating the holidays to Buddy the Elf, but mitigating how challenging the season is for you is def possible.
First, find ways to give yourself a little grace. If you're beating yourself up over what you don't have (whether it's money, a partner, or a supportive family), it's important to cut yourself some slack. "How you talk to yourself matters!" says Robinson. "A question I have my clients ask themselves is, 'Who's voice is this?' Is it actually yours or is it your mother's or your ex's or someone else's? This can help quiet that voice."
Another tactic that therapists will often share with clients: If you can't flip a negative thought into something positive, tell yourself you're going to put a pin in that negative thing for now.
If others are spurring your sadness, find a way to keep their judgments at arm's length. Say you are dreading all the holiday parties because you're miserable at work and the go-to small talk question always seems to be "How's work?" Cohen says having a go-to phrase can help. "Create an easy answer around questions you know you may be sensitive to," she says. "The goal should be something neutral that doesn't feel like a lie, but also doesn't open the door for further interrogation." An example of this: If the work question is what you dread, you could say something like, "I'm hoping to really focus on my career needs in the new year, but for now, I'm just trying to experience the holidays in the best way possible. Thanks for asking."
If you sense a holiday meltdown is coming, do what you can to protect your peace before things get bad.
Having a prevention-focused mindset can go a long way toward ensuring your holidays don't put you in a funk. "I like to tell people to embrace the three Bs: balance, boundaries, and breaks," says Robinson. When planning your holiday schedule and accepting invites, focus on finding a balance between the things you have to do and things you want to do.
From there, you can figure out what your boundaries are. This could mean avoiding certain people or simply turning certain things down. "Remember, you can not attend an event or not travel back home if it is going to cause you distress," says Robinson. "Saying no to preserve your mental health is always OK, even when it feels like it isn't."
At the end of the day, it's about knowing what you need to feel well and building in breaks to ensure you don't overextend yourself. "This may look like having a set time to leave or only spending a certain amount of time with company before getting some alone time in," says Robinson. By giving yourself some time and space away from the things that cause you stress or sadness, you'll be more likely to stay even-keeled throughout the season.
Wondermind does not provide medical advice, diagnosis, or treatment. Any information published on this website or by this brand is not intended as a replacement for medical advice. Always consult a qualified health or mental health professional with any questions or concerns about your mental health.