Q&A
02.28.23
Ines Tazi Got Candid About Her Mental Health While Filming 'Perfect Match'
"Often on these shows, it's a lot of commodifying women's bodies and not even trying to understand the person's emotions."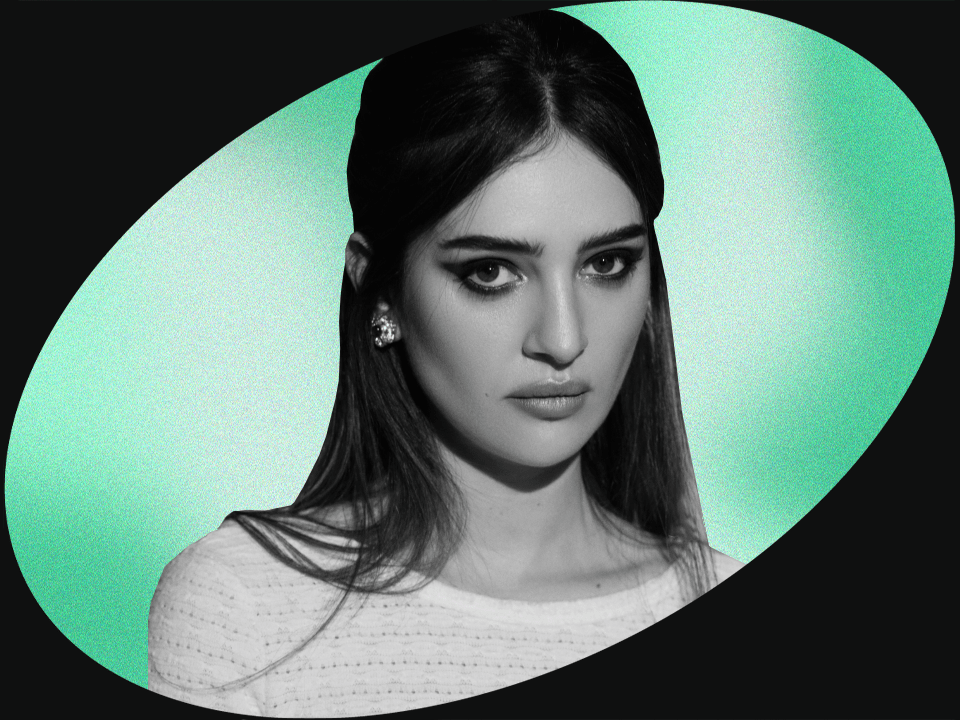 Netflix's Perfect Match reality dating series is by no means perfect and has a lot of explaining to do (Anne-Sophie and Colony, you will always be famous). But one thing they did get right? Casting the effortlessly cool Ines Tazi, who you might have originally met on The Circle: France.
Throughout the Avengers-style series in which past Netflix faves come together to find love and/or money, Tazi solidified herself as a fan favorite, following her heart and standing up for herself at every turn.
Whether she ends up with her perfect match or leaves Panama single remains to be seen in the last few episodes released today (don't worry, no finale spoilers here). But after Perfect Match, Tazi is focused on prioritizing her mental health and anything that speaks to her creative side, like pursuing acting.
It takes a whole lot of mental toughness to stick it out on a show like Perfect Match, and Tazi is here to tell us all about how she got through it. Here, the Netflix icon opens up about embracing vulnerability, savoring the little alone time she got on the show, and managing all the stress that comes with searching for love on international TV.
[Sign up here to never miss these candid conversations delivered straight to your inbox.]
WM: How are you doing lately?
Ines Tazi: Overall, I would say I'm doing OK, but I've been trying to make sure that I'm looking after myself, so I'm spending a lot of time by myself. … I'm more stressed than usual because this is just crazy. I'm doing a lot of meditation, a lot of grounding, a lot of moments without my phone, and a lot of nice dinners and wine bars with my friends. So, I'm doing fine, but it's a fine thread.
WM: What has it been like to see the reaction to Perfect Match?
IT: I've been happy with the feedback I got because, on the show, I really wanted to be able to portray a woman that could also go through a lot of struggle but stay true to herself. [I made] sure my mental health was in an OK place while filming to make sure that I was going to be that woman—the same woman that I am on the outside.
Often on these shows, it's a lot of commodifying women's bodies and not even trying to understand the person's emotions. I really try to put emphasis on that, and this is what people perceived, so I'm very happy about that.
WM: It was so stressful when you had to pair up before bed. What was it like on the days when you weren't sure if you would get a match?
IT: Oh my god, honestly, it was very stressful. To be truly honest, you get sucked into the game in a way that you feel like if you are going outside of the house, it's the end of your life. It's so weird. Looking back at it, I'm like, If I don't get matched, it's fine. I mean, [I'm in] Panama. It's all chill.
But even the game gets very, very stressful. … I consider myself a feminist, and it was so important for me that my narrative as a woman would be empowering—although vulnerable, it would be empowering. For me, vulnerability and empowerment come hand-in-hand. So that was the stressful part; I was just so scared that the story wouldn't finish well.
Also, there were sometimes people with whom I wanted to explore further things in the house. So yeah, it was just so, so stressful. I don't know how I stayed in this house—a lot of resilience, I think, because I matched with way too many people, way too many people.
WM: It was wild how after only a few hours some people were already thinking of another match, but you handled it really well.
IT: Honestly, it was so much resilience in that sense because [in] my real dating life, it's all about deep-level connection to an extent where I actually got a DM from someone telling me, "Hey, Ines. I think that you are demisexual or sapiosexual." [That] means you do not get sexually attracted to people instantly; it takes an emotional connection or an intellectual connection in order to be aroused. I think that might be the case. I don't know how sapiosexual people [fare] on a reality show. I have no idea if I'm actually sapiosexual; I need to look into this. But yeah, that was an interesting one.
WM: It seems like it could be so easy for your self-esteem to take a hit on a show like this. What helped you maintain your confidence and your values while filming?
IT: It is very difficult because, I mean, humans are conditioned by the environment we're in. So unless there are a lot of people like you, it is so difficult to stay true to who you are. That, I think, takes a lot of anchoring and grounding and critical thinking.
I knew nothing about the concept of the show, but I knew that it was a very stressful environment. Before the show, I [had been] doing weeks and weeks of practicing anchoring. I'm kind of new to that, I'm not going to lie, like [to] meditation and stuff. [Learning that] came from burnout that I [was going through] literally the same week Netflix called me for the show. I was experiencing burnout because of my job. So I learned to do all of that grounding, anchoring, etc., so that helped me for the show.
I remember even one day I was with Chloe Veitch by the pool, and she was like, "Girl, I'm stressed." And I was like, "I'm stressed as well. Do you want me to do a meditation?" So I translated a meditation I knew in French that I memorized. And I was like, "Close your eyes, let's do meditation." And we did a guided meditation, so that helps.
Loneliness is so underrated. I love to have my alone time, so it was so hard because you're always with people. Sometimes I would just take a book and put my face in the book—I wouldn't even be reading. [It was] just to make sure I had a moment where no one was looking at me. Or even when I put my makeup on, those were moments where I was like, OK, Ines, reconnect. Or when I was peeing. I swear, I was on my toilet break, and I was like, OK, it's time to wake up and think straight.
You try to think straight. You never truly think straight there, but that's what I was trying to do. So yeah, a lot of small tools. And thinking of how my father would react to a certain situation, that grounds you very quickly.
WM: Did anything in particular help you maintain your boundaries around intimacy or getting to know the other matches?
IT: When I'm comfortable with someone, sexuality is such an important part of my life. I love having sex and I love being sensual and I love all of that, but it takes a little bit of time for me.
Shayne and the first people I matched with were very respectful toward that, and I appreciate that. … That wasn't a problem for me because it's just so obvious: I'm not going to do something just to please someone, especially physically. There's no way.
I don't consider [the reason] someone matches with me is because they expect some sexual interaction or something like this. That takes time. I know my worth. You are not matching with me just because I have a body and a pair of boobies. I like to think that you're matching with me because of the whole package.
So that was pretty clear to me, but emotionally it was difficult too because I absorb emotions a lot. I feel like I'm someone who sometimes can trigger people's vulnerability, and I trigger my own vulnerability. So to go from one person to the other was very, very difficult.
WM: What are you looking for in a partner?
IT: Most of my life I've been in a relationship, and I'm starting to question all of that and what I really need in a partner. I really need my partner to understand and respect my individuality and love me for that individuality. In a lot of relationships, you tend to forget about your own space. I really need someone to worship that and feel empowered by that.
I don't like when a man feels threatened by my personal views or my ambition or my humor or the space I take in public. When a man feels less manly because I might take up a little bit of space in public, it's a negative; it's maybe even a toxic trait. I realize that sometimes men find women who are funny unattractive. How wrong is that? What I'm looking for in a partner is someone who's really comfortable in who they are and feels empowered by their partner's success.
One of the most precious tools that a friend gave me one day is when you're dating someone, you need to look into five things: Your emotional connection, your intellectual connection, your physical connection, your spiritual energy connection, and your communication. Whenever I'm dating a guy, sometimes I'm like, Physical? OK. Emotional? OK. I just need someone to respect and love and worship my uniqueness, my craziness, my ambition, etc.
After that, am I looking for something specific in a guy? Nah, I don't have criteria. … I do love people who are so passionate about certain topics, who have values, and who have a higher purpose than themselves. I find that so sexy and attractive. And [I love people] who love sports the way I love sports. There's a few things here and there, but there's no idea of what a perfect husband would be for me.
WM: Would you ever try another reality dating show again?
IT: Some people are telling me, "Ines needs to be the Bachelorette." I was like, "That is a big stretch." Honestly, I'm keeping all of my options open. But I think this experience was really big for me, and it was incredible because it was so true and relatable. I think when you're going back on another show, you learn from it and become a bit of a professional and it's less relatable. This is not what I want to give on-screen; I want to give an experience that is as relatable as possible. If I were to go back and have that same experience, I learned so much from it that I wouldn't necessarily be my true self. Not that I was my true self, but the truest version of myself in this setup.
WM: Any final words of wisdom?
IT: Embrace being "crazy" because one danger of mental health is that you try to optimize everything in your life and forget that you are an animal and that you are also primitive. You have impulses and are going to make mistakes. It's a fine balance. I think you've got to work on yourself, be better, and introspect. But also, accept that you're going to make mistakes, and you're going to want to have fun, and you're going to do things that are wrong. It's all about finding your own balance between the two, and I think that's really important. Otherwise, you fall into the trap of optimizing everything. We're human; we're not meant to be perfect.
This interview has been edited and condensed for length and clarity.
Wondermind does not provide medical advice, diagnosis, or treatment. Any information published on this website or by this brand is not intended as a replacement for medical advice. Always consult a qualified health or mental health professional with any questions or concerns about your mental health.