Pro Tips
01.12.23
How to Be Better at Being Alone
Solitude doesn't have to suck.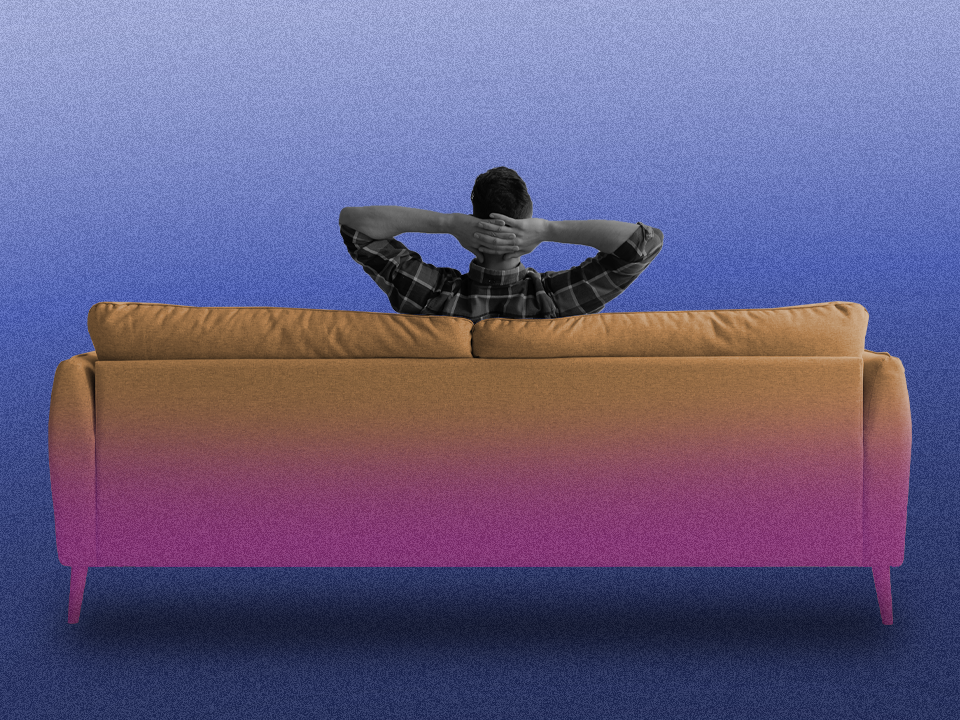 Shutterstock / Wondermind
If most of your time is consumed by things that involve other people—like work meetings, family dinners, birthday brunches, baby showers, etc.—alone time might make you cringe. Maybe you surround yourself with people because you don't know how to be happy alone. (Yeah, this stuff goes deep.) Or maybe you're sitting solo a lot these days (because...life) and basically hate it. Either way, you might need to hear this PSA: Alone time can actually be really good for you.
Solitude, or periods of time where you're doing you without interacting with others, is usually less stimulating than being around other people, says Thuy-vy Nguyen, PhD, an assistant professor in Durham University's psychology department who studies solitude. So, you might feel more relaxed and calm on your own than if you were hanging with your crew.
Plus, when you're by yourself, you can dedicate less brain power to what people expect of you, says Dr. Nguyen. You don't have to worry about whether your sweatpants have toothpaste on them or if that thing you just said was awkward. Thus, that time off from giving any effs can help you recharge.
All of that said, it's true that being alone can bring up feelings of loneliness, boredom, and depression, says Dr. Nguyen. So it's not weird if that's happening for you. Still, going into your alone time with a plan can make a moment of solitude a happier, more fulfilling situation.
Listen, it's not an exact science—what works for you may not work for your neighbor or your dentist—but reminding yourself of the benefits can help alone time feel less terrible. From there, give some of these expert-backed strategies a shot. You might have more fun than you'd expect.
Practice being an alone-time person.
Though it sounds obvious, people have a better, more relaxing solo experience when they choose to be alone than when they're forced, says Dr. Nguyen, co-author of the upcoming book, Solitude: The Science and Power of Going At It Alone.
But sometimes, even if you hate it, you might find yourself by yourself. Your friends are busy, your partner is out of town, and you're out here wondering what to do with your life. In those moments, being an experienced alone-timer can help it all feel less dire.
Enter, scheduled solo time: Penciling some solitude into your day, week, or month can help you learn to enjoy being a party of one. Start with 15 or even five minutes instead of, say, a full 24 hours, to make it feel more manageable, says Dr. Nguyen. "We want to start small so we can have positive feedback," she explains.
Show yourself a good time.
Think of alone time like being on a date with yourself, suggests licensed psychologist Carolyn Rubenstein, PhD. Though you can totally frame planned alone time like this, dating yourself can be especially helpful in moments where you wouldn't choose to be alone but you are. That's because treating yourself like a partner adds a bit of excitement that can counteract the shame or negative self-talk around being alone, she says.
So cook something delicious while catching up on Ginny & Georgia, take yourself to a movie, or go sip a latte in your local coffee shop—treat you how you want to be treated! And if it does involve being out in public by yourself, it's 100% normal to feel self-conscious about that, Dr. Nguyen assures.
If your alone-time self decides that staying in and scrolling social feeds with a glass of wine is the solitude date you're most excited about, that's OK too. In fact, in her research, Dr. Nguyen found that some people can still get to a calm place on their phones. But, if scrolling through social media or anxiously waiting on a text back actually makes you more stressed about being alone, definitely toss that phone someplace else, she says.
Try something productive.
Achieving a thing during your alone time—like reading two chapters, listening to a podcast episode, organizing your basement storage, or getting your inbox to zero—can make you feel good about being by yourself, says Dr. Nguyen. It might even make you want to be alone more often.
For best results, do an activity that's somewhat challenging but not so challenging that you're frustrated or so easy that you're bored, Dr. Nguyen says. If you find just the right task, you might slip into something called "flow state," she adds. It's like being "in the zone," which can help you also feel refreshed once you're done, clinical psychologist Jenny Wang, PhD, previously told Wondermind.
But allow your plans to shift if you get overwhelmed, says Dr. Rubenstein. Maybe you thought making the contents of your fridge into an aesthetically pleasing rainbow of produce was going to be fun but realize 10 minutes in that it's not. Go do something else. You literally have no one to impress here, so game-time decisions are welcome.
Make being alone a comfortable place to be.
When you're concerned about your surroundings (such as the risk of getting hurt or being in an unsafe environment) you're less likely to feel calm and recharged in solitude, says Dr. Nguyen. So be mindful of that if you're planning something like going on a walk alone or taking a solo trip.
You also might feel more comfortable by yourself knowing that your boundaries won't be crossed. If you're worried about people encroaching on your solo time, you can flip through a book or wear headphones as a hint to those around you that you're keeping to yourself, Dr. Rubenstein points out. And if you want to set similar boundaries with people you live with, maybe tell them exactly when you want to be left alone, says Dr. Nguyen.
Know that it doesn't have to be perfect.
For some people, it's hard to spend time alone because it's logistically difficult. Maybe you live with friends or a partner you're tempted to spend time with whenever they're home. Or maybe you have kids and you can't help feeling guilty or distracted whenever you're alone. If this is you, then you probably already know that boundaries and time blocks just don't always work. In this case, don't strive for perfect, disturbance-free solitude, because that's not realistic.
When interruptions and distractions come up during your solo time, let yourself feel annoyed and then go back to what you were doing if you can, Dr. Rubenstein suggests (you can also just plan more alone time later). "It's real life, and it's going to be messy, and that's OK if it feels a little like this was imperfect alone time," she says. "That's part of the experience of being human: Literally nothing we're doing is ever gonna go the way that we plan."
Do some self-exploration.
Spending time alone can help you learn about yourself because you have more bandwidth to turn inward and self-reflect away from other people, says Dr. Nguyen. Draw or paint, journal about your values, or see what the meditation hype is about and notice what thoughts come up as you give it a try.
Heads up: Turning inward could bring up negative thoughts. (Maybe that's partly why you're avoiding alone time in the first place?) But don't force yourself to continue reflecting if you get uncomfortable, says Dr. Nguyen. Sure, it can be worthwhile to unpack hard emotions, figure out what it is you're feeling, or even just sit in your sadness, but if you're not ready, switch gears to something fun.
Tell people you're trying to get good at solitude.
Having a friend or two to talk to about your solitude sessions can be really encouraging, Dr. Rubenstein says. Maybe you check in afterwards to tell them that it was totally awkward, but you did it. Use their congrats as motivation to keep going. Let the good vibes flow!
Also, telling people in your life that enjoying being alone is a thing you're working on could clue them in on why you're saying "thanks, but no thanks" to some dinner or going-out plans. That's a win for you too.
Wondermind does not provide medical advice, diagnosis, or treatment. Any information published on this website or by this brand is not intended as a replacement for medical advice. Always consult a qualified health or mental health professional with any questions or concerns about your mental health.