Pro Tips
03.24.23
How to Heal From Intergenerational Trauma
It's time to let go of all the junk you didn't ask for.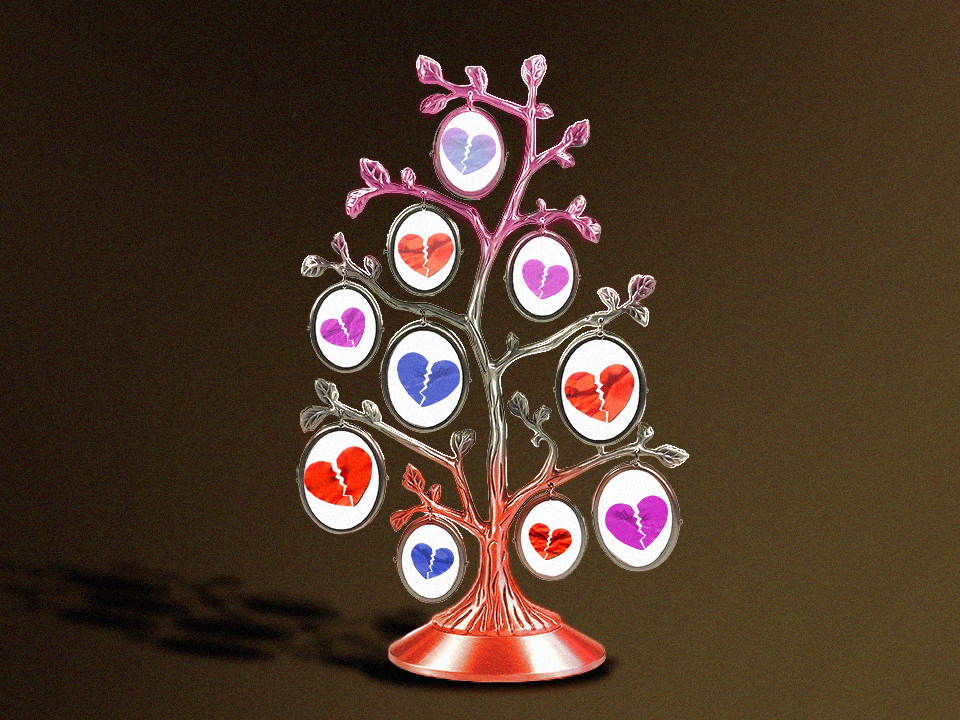 Shutterstock / Wondermind
This might not come as a surprise, but the way your parents and grandparents and beyond moved (and still move) through life has a huge impact on you—even if you're a fully-formed adult or a licensed therapist, like me, who is evolving and healing every day.
Intergenerational trauma (aka historical trauma or multigenerational trauma) can happen after someone in your family experiences a traumatic event and develops unhelpful thoughts and behaviors in response to it. When those actions and emotional responses are passed down, people experience intergenerational trauma.
Even though it isn't in the big book of mental health diagnoses (The Diagnostic and Statistical Manual of Mental Disorders), intergenerational trauma is widely accepted as a real mental health burden. The idea is that families who went through atrocities like slavery, concentration camps, genocide, colonization, famine, natural disasters, or who have histories of abuse, incest, incarceration, and poverty can pass down intense emotions triggered by the traumatic events they went through. And their experiences of depression, feelings of disconnection, anxiety, anger, and other tough emotions could impact you today.
Maybe your background includes ancestors who were enslaved before being subjected to more forms of racial trauma. It's very likely that those generations could've been plagued with feelings of abandonment, fear, and low self-esteem. And if they didn't have the proper tools to deal or even the space to talk about it, this trauma could result in their descendants (and maybe even you) feeling a loss of identity, insecure, or anxious in certain environments. You or some of your relatives might even manage these emotions in unhealthy ways, like neglecting your feelings, using violence, self-sabotaging, misusing substances, or just trying to get through life in survival mode.
It's worth acknowledging that all of this emotional inheritance you did not ask for comes on top of whatever family or societal issues you're already dealing with. You know, like politicians coming for your rights, microaggressions, or random family drama—just to name a few. Plus, life gets even trickier when you add in complicated dating or work dynamics, health stuff, and money stress to the mix.
The science behind how historical trauma is passed down needs more research, but many mental health experts agree that the emotional toll of trauma festers when your family doesn't talk about the events your relatives went through. When you and your kin don't communicate, you can get stuck in a cycle of unhelpful learned responses and thoughts (like isolation, aggression, shame, guilt, attachment issues, emotional repression, and sadness) that can be traced back to generations before you. And if you have kids and grandkids before learning how to deal, they could also be at risk of coping with life in unhealthy ways. (But, since you're reading this, you're probably way ahead of the game. *Wink.*)
Take it from me, a licensed marriage and family therapist who is healing from intergenerational trauma: If you're going through this trauma struggle, you can and deserve to become a better version of yourself—but it takes work. (Shout out to my late paternal grandmother, who I often call upon for guidance!)
Because trauma can have deep, stubborn roots and impact your relationship with your fam, dealing with it can be emotionally painful, confusing, exhausting, and can even make you feel sick, so it's best to understand that before moving forward. If you're at your emotional capacity, think about whether this is the right time to dive in or if you can afford to wait a beat without tanking your mental health.
If you're ready to get started with this healing stuff already, read on for how to deal with intergenerational trauma.
1. Notice what's causing you discomfort.
One way to kickstart this journey is to journal about the people or environments that make you feel anxious or uneasy and investigate how that impacts the way you show up in the world.
Once you've sat with those emotions, see if you can remember when you first started feeling or acting this way. Say you've noticed that you don't feel comfortable voicing your opinion any time your spouse irks you. Think back on if that was a common feeling in any previous relationships or if this is unique to this S.O. If this is a recurring theme for you, can you pinpoint what might've influenced you to repeatedly disengage in this way? Could it maybe be something your parent did to protect themselves when you were younger because your other parent was often violent? If so, that could be one way intergenerational trauma is manifesting for you.
If the root of your behavior is pretty clear, then you can move on to accepting that this has been passed down to you and that you want to ditch this habit. Ideally, you'd do this without shaming yourself for your upbringing or not noticing it sooner. Acknowledging that your current behaviors are a problem will help you get ready to put in the work to heal from the trauma.
2. Break old patterns.
If you're experiencing historical trauma, someone raising their voice, invading your personal space, or seeing someone who looks like you being mistreated or discriminated against can trigger your stress response, sending you into fight, flight, or freeze mode. When you're triggered, you might turn to unhealthy coping tools and behaviors that you've seen your elders or others in your community use, like avoidance, shouting, violence, or substance misuse.
Obviously, those attempts to self-soothe aren't very helpful in the long run. So finding healthier ways to deal can help you respond to those triggers more effectively and enable you to heal. You might try creating physical distance by going for a walk before returning to deal with what's bugging you, journaling about your feelings so you don't lash out at someone, vocalizing what's wrong, practicing deep breathing, or finding a creative outlet. It can take time to find what works for you in various situations, but keep experimenting so you can build up new behaviors and coping skills.
3. Bring other people along on your journey.
Every family and community has its own unique dynamic, so your mileage may vary on how comfortable you feel talking about these topics with your people. But because this trauma is a collective experience, it can be helpful to embrace connecting with those who feel like a safe space because they know what you're feeling.
Maybe that means bringing intergenerational trauma up with your family. If you feel safe, you can talk to them about why you think you all are like this and the role traumatic moments in your ancestors' pasts might play.
Yep, it might feel intimidating, but you can start this dialogue by asking for a few details about an aspect of your family history that helps you start connecting the dots. Then, you can build up to deeper, more in-depth convos as your comfortability increases. You can also start these convos by talking about how you, for example, feel insecure in a corporate environment because of your background and asking if your parents or relatives have ever felt this way too. This won't be a one-and-done conversation, but talking it out can help your fam find healthier ways to navigate life.
When your trauma is connected to your community as a whole, try to find organizations or groups like healing circles that have similar interests. Since you have a common background, you can talk freely about your experiences. You can also share ideas for better coping and interpersonal skills that apply to your specific culture and situation. Finding groups like these can be tough, but activist groups or spiritual and holistic centers in your area often can connect you with smaller groups with similar interests. One I'm personally fond of is The Diosahood, a support group serving women of color.
4. Tap into your culture.
If you're part of a community that has experienced or is still experiencing racial and/or ethnic trauma, it's common to feel like your culture was ripped away from you or to feel too scared to embrace those parts of your identity. Understandably, that can make you feel lonely, angry, sad, and impact your self-esteem. These feelings run deep and can be easily triggered, like when you're rejected for how you look but see other people praised for ripping off your culture, for example.
To help you build confidence and a stronger sense of identity, try dressing in clothing that has cultural significance to you or practicing certain dances, rituals, or religions connected to your culture—all of which can be done in the comfort of your own home. Visiting wherever your ancestors came from (if possible) and learning about your background through museums, history books, or stories from elders can help strengthen that sense of connection too.
If you're open to more spiritual-focused practices, trying ancestral work, which is all about connecting with past generations, can help you feel more tied to your culture and family. That can look like writing a letter (or praying) to your ancestors and asking for their guidance on whatever is making you feel stuck or lost. I've done this a number of times by calling on my late grandmother before going to sleep, and this practice helps me feel more connected to my lineage and more grounded.
5. Get your self-care on.
Since working through any kind of trauma can leave you feeling depleted and pretty emo, having a solid self-care routine on deck can help you feel more rested and recharged. If you're on this healing journey alone, consider getting out and hitting up some friends for chill time after a tough week or a heavy journaling sesh. If you're working with a therapist, prioritize something that you love to do after a session like collecting free fruit samples at the farmer's market.
6. Give therapy a shot.
Naturally, working with a therapist to process trauma is best because we can help you figure out if you're ready to tackle this challenge and how to do it. Plus, it's always better to heal with external support than trying to weather everything on your own.
Because much of historical trauma healing involves changing behaviors, look for a therapist who can use trauma-informed cognitive behavioral therapy (TF-CBT) techniques to help you curb whatever unhealthy habits aren't serving you. 
Another therapeutic approach I use in my practice is family constellation therapy, which I often combine with TF-CBT to explore family dynamics and complex intergenerational trauma through exercises like role-playing or art therapy. It can also involve learning more about your family's history by talking to your relatives or whoever experienced the initial trauma—if they're open to it, that is. And if your family is down to process all this together in a professional setting, then family or group therapy is a great option—you can even try family constellation therapy together. 
All this will help shed light on what behaviors and thought patterns have been passed down as a defense mechanism or to conceal family secrets. So if you constantly heard things like, "What happens in this house stays in house," for example, it could help to explore why your family adopted those ideas and how they might be hurting you today. (JSYK, family constellation therapy has controversial origins, as many claim homophobic, antisemitic, and misogynistic themes permeate the works of Brett Hellinger, who developed the theory. Still, it's possible to use some of the techniques today in an inclusive and culturally responsive way.)

The bottom line: Breaking this trauma cycle can be challenging, and it'll be a lifelong process, especially if you have kids and want to make sure you're not passing down any unhelpful habits, but it is possible to reduce its grip on you. And when we heal ourselves, we also heal those who came before us and anyone who will come after us.
Wondermind does not provide medical advice, diagnosis, or treatment. Any information published on this website or by this brand is not intended as a replacement for medical advice. Always consult a qualified health or mental health professional with any questions or concerns about your mental health.