Q&A
11.29.22
Jonah Marais Shared the Music Industry Advice He Wishes He Knew Sooner
The singer opened up about therapy and being in Why Don't We.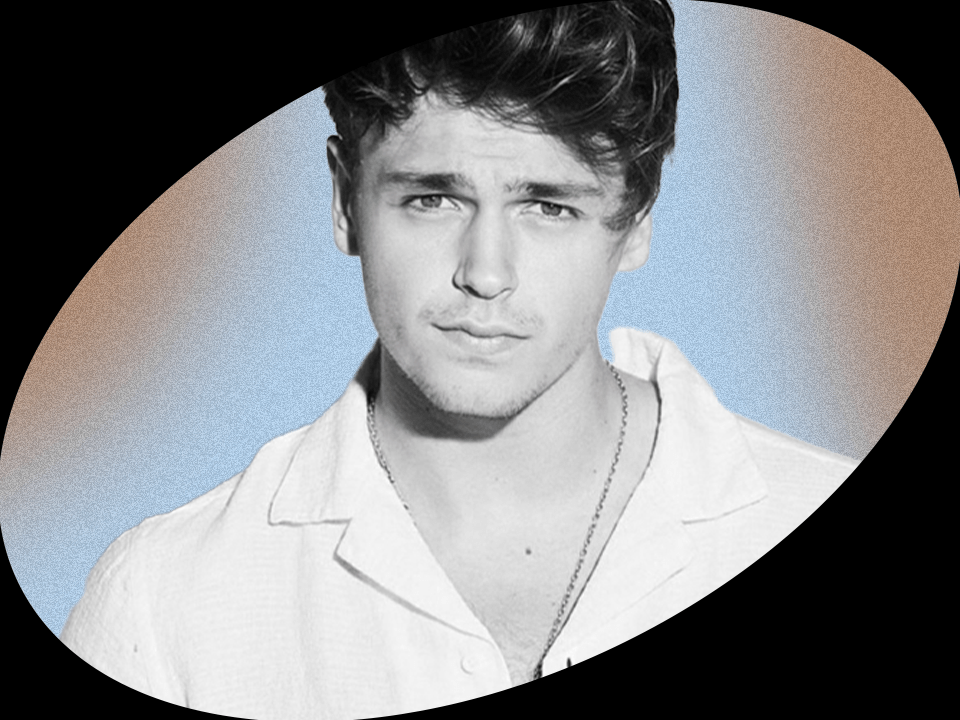 Photo Credit: Jimmy Fontaine
Before he joined pop group Why Don't We in 2016, 24-year-old Jonah Marais got his start singing on livestreams from his high school bedroom. At the time, he was using music to cope with his mother's breast cancer diagnosis. (She's all good now, he tells Wondermind.) Needless to say, the Minnesota native quickly found a growing fan base that would help him reach 60,000 viewers on one livestream and secure in-person music gigs.
These days, Marais plays to much larger venues when his band isn't on hiatus and has found comfort in performing in front of thousands of fans. Growth! Here, Marais tells us about how his confidence has grown since the start of his career, how therapy has helped him, and where his mind is at these days.
[This interview originally appeared in an April 2022 edition of the Wondermind Newsletter. Sign up here to never miss these candid conversations delivered straight to your inbox.]
WM: When you do a show, thousands of people come out to watch. How does it feel compared to when you first started and were playing smaller 20-minute gigs?
Jonah Marais: Back then, I definitely wasn't as comfortable on stage or in my own body, like [in] who I am. I didn't really understand how I want to be in the world or how I want to portray myself or how I want to sing—I was still forming my thing. Not that I even fully know that now, but I'm definitely further down the road. So I was a little more nervous back then, and also, I think there's something about performing to a large number of people that makes it a little bit less intimidating. The lights just come on, and there are so many people out there [and it makes it] a little easier to do your thing.
WM: Do you notice a difference in your mental health when you're on tour versus in lockdown or just writing songs and having a free day?
JM: I think I'm happier on tour because I feel like I'm doing what I'm supposed to be doing. Being on the road, traveling, waking up in a new place, and meeting people…I've had parents come up to me and give me a hug or shake my hand and say, "You've helped my daughter in ways that I couldn't," and stuff like that is the reason why I got into all this, to try and make a positive impact on the world in whatever way I can.
It's a little hard to tap into that when I'm just in LA. Sometimes in the creative process, in the studio, I feel that fulfillment and happiness. But I think COVID and being locked down in one place definitely challenged me in a lot of good ways and pushed me to [put] roots down and get a routine and get a good community here that I can hang out with. It's definitely helped me a lot because I remember coming home [after a] tour before, and I would have these identity crises. I was like, Who even am I without all of that? I don't even know! So I think being home for a while was a blessing in disguise.
WM: How would you describe your mental fitness right now?
JM: I see a therapist once a week. I will say that's drastically changed the way that I think and how I'm able to be in the world. I can self-analyze and be like, How am I actually doing?
Right now I'm feeling, overall, really good. It feels like things are heading in the right direction in terms of our career and getting back on the road—I think that's been a huge thing. We have been dealing with a lot of legal stuff, and we've been in a lawsuit with my old manager, who treated us pretty poorly.
WM: Your band went public about that last fall. Did you feel nervous or embarrassed about speaking out about this?
JM: No, I didn't feel embarrassed. I was just a little nervous to see what would actually happen. But I know that it's important to speak because I think there are a lot of people out there who are dealing with the same thing in our industry. I think it would have helped me a lot at 17 years old to hear about what's going on and understand that: Careful what you're getting into, careful what you're signing, careful who you're dealing with, because not everyone is a good person.
WM: Was therapy something that was recommended to you or was it something you felt like you needed, maybe to deal with the stress of what was going on?
JM: No, I kind of came to it by myself. I think anyone should have a therapist, even if you're doing very well. It's just so good. It's like taking a course on yourself. You really get to know your own brain and the way you think about things and process things. I think it's really a beautiful process.
But yeah, there's no denying that what took place has had an impact on me and my mental health, and how I think about myself and how I am in the world. But, also, just in general—being in the spotlight a little more and being on the road and the things that come with my life—I was just feeling a lot of anxiety at the time. Also, I was kind of going through a breakup, and that was part of it. I felt like I needed a little support.
WM: Have you dealt with any stigma around your decision to seek help?
JM: Not everyone understands it, that's for sure. I think it's not looked at the same as "I'm sick, I have to go to a doctor" or "I'm going for my yearly check-up." I think mental health is just as important as physical health. If your mental health is taken care of and you're paying attention to it, I've noticed I've been able to be open in conversations and actually hear people and have a lot more meaningful interactions in the world.
WM: Tell us about a few essential tricks in your mental fitness toolkit.
JM: Even if it seems like there is a lot of negative stuff going on, I really try to see all the positives and talk myself through it, like: OK, this is happening, this is good. I talked to mom today, that was really good. Just being grateful and literally saying it to yourself—out loud or in your head, whatever. Spinning everything in a more positive way to yourself. At least for me, that really does help.
Also remembering that not everyone is against you. The world is not against you. It's not like everyone else isn't also dealing with stuff, too. Just try to be kind to everyone and know that everyone is dealing with something. And be easy on yourself a little bit.
This interview has been edited and condensed for length and clarity.
Wondermind does not provide medical advice, diagnosis, or treatment. Any information published on this website or by this brand is not intended as a replacement for medical advice. Always consult a qualified health or mental health professional with any questions or concerns about your mental health.