Q&A
11.21.22
How Kendall Toole Shows Up When She's Not Feeling 100%
The Peloton instructor got real about joining the team and managing anxiety and depression.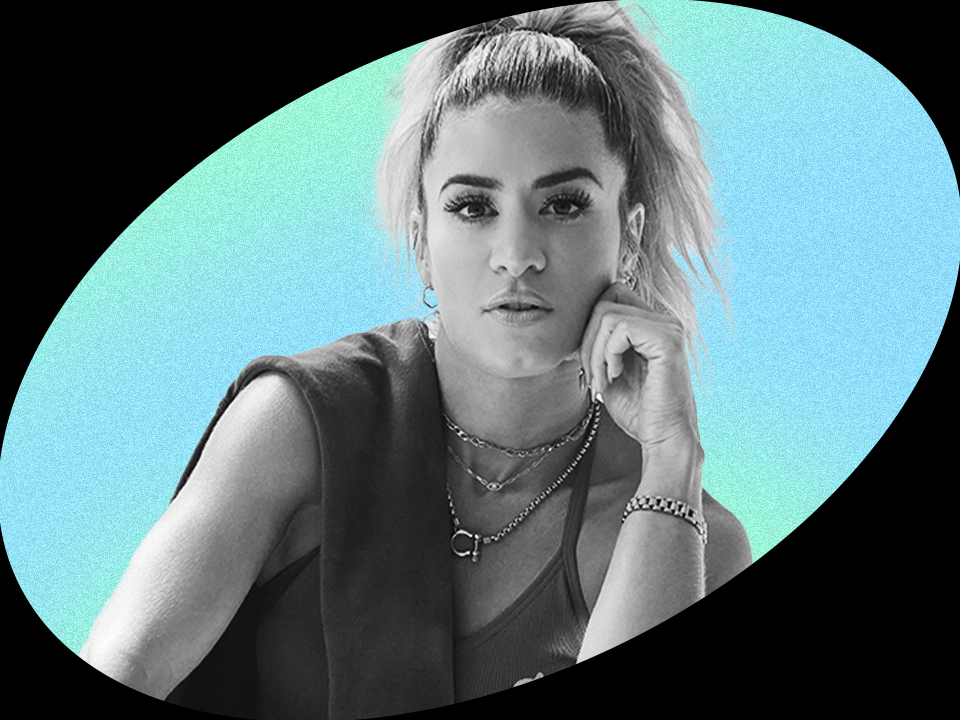 Peloton fans know Kendall Toole as the bubbly LA native whose classes will always lift your mood, thanks to the help of playlists filled with angsty throwbacks. For the uninitiated, Toole is also a huge mental health advocate, often sharing her story and fronting several mental health-themed classes.
In fact, at the end of every Toole class, she sends members away with the powerful message: "They can knock you down, but they can never knock you out." (It's something her father said to her about eight years ago when she was experiencing suicidal thoughts, and it stuck with her through the years.) Here, Toole talks to Wondermind about working through anxiety and depression, getting excited about life again, and how fellow Peloton star Cody Rigsby helped her overcome imposter syndrome.
[Sign up here to never miss these candid conversations delivered straight to your inbox.]
WM: How are you doing lately?
Kendall Toole: There have been extreme highs and quite a few extreme lows. Also, we're amid Mercury retrograde, and something's up! My mental health has been tested, I think, is the best way to put it. I'm really working to stay in that space of gratitude. I'm also working to stay in that space of gratitude for these sorrows and grief and setbacks and other things that are happening much more behind the scenes than what I get to publicly show. I'm on the upside of managing and day by day, integrating that gratitude and joy—even for the sorrows—to honor this transition period in my life.
WM: As a Peloton instructor and motivator, what's it like showing up on the days when your feelings aren't lining up with your public persona?
KT: There are many days—we all have them—where you realize, OK, when those red lights come on, I sometimes need to be an archetype. I need to be the superhero version of myself. There are days when my mental health or what's going on in my personal world just doesn't want me to be that. So it's like, how do you negotiate that space? I think growing up in Los Angeles, for better or for worse, you learn to mask incredibly well and step into a character. So I think, OK, I might not feel like this woman right now, but I know the people taking this ride need this woman. So who's this character?
Then when those lights go off, if I'm not feeling it, I can go back to where I was. It's like putting on a costume. The fun part, though, is when you put on that costume, you do kind of fall into that character. I wouldn't say live your whole life that way, but if you gotta show up in a room when you're not feeling 100%, it's OK to separate and step into the Sasha Fierce version of yourself.
WM: Did it take time to learn how to separate your emotions like that?
KT: In the training process, I had a ton of imposter syndrome. True story—and Cody will attest to this: When I was training for Peloton, and two weeks before I was going to launch, he sat me down and was like, "OK, boo, I'm gonna be honest with you. You need to get it together. We hired you because you're you. We didn't hire you because you need to be like somebody else that's already here or the expectation of what you think we want. We want you. So I need you to take that mask that you've put on in LA, and I need you to scrub it off. That's what we want. Go back home for a second and remember who the eff you are." Sure enough, I came back, and in that first ride, I felt more myself than I had in the entire training process.
It's a habit and a skill that you have to learn to show up in those confidence spaces. … Confidence is partly practice and discipline, right? It's through little practices and wins [that you learn]: Oh, I thought I'd be uncomfortable in the heels or in the pretty skirt, but I'm really feeling myself right now. It's that little check mark. It probably took me a good year and a half to feel comfortable to be like, Here's my Peloton life, here's when I'm in work- and service-mode, and here's when I need to be in service-to-myself mode. Almost getting to 30 is realizing I have to be servicing myself as much as I go out and service the world.
WM: How does approaching that 30 milestone feel?
KT: I'm feeling wonderful—screw what society says. … It'll almost be the eight-year anniversary of the darkest day that I've ever had in my life. I think of what has occurred in those eight years: the heartbreak, the setbacks, being super broke and [I] couldn't figure out where a car payment was going to come from. I'm very grateful and feeling very blessed to be able to buy a home this year and have a car that I love, and I'm not taking those things for granted. [I built] something that I'm so proud of that I never thought I would do, and [I] see the world in a way that I didn't think I would. If that's what comes with aging, then give me more of it.
WM: What's something that helped you get interested in life again after that period of depression?
KT: So many people want to focus on that moment and the darkness and heaviness of it, but the process that comes after is really beautiful. It was the simple things. I went to film school at USC, so it was allowing myself to get swept back up in a movie theater. I would go to the movie theater and, 'cause I was broke, I would sneak into the different movies and just sit there all day. We've all done it. Popcorn's 20 bucks—I've already paid my dues. I started playing guitar when I was little, and I picked up a guitar and started playing again. I really tried to do things that would fuel my soul, that weren't transactional, that weren't something that I was building for a job or trying to find success in. There's a lot of grace in those areas of our lives when we're doing something because we enjoy it. I'd get in the car, I'd drive out to Malibu, and I'd do a bunch of hikes there. And boxing was so cathartic and so healing for me because it was a space where I could [get out] all of this storm and the tumultuousness [inside me].
WM: You said your life looked perfect from the outside at the time, but what do you want others to know about people who seem perfect?
KT: Perfect does not exist. Perfect is not human—it's not why we're here. … Every time you find yourself putting somebody on a pedestal, remember that you are putting them above you, and remember that we're all equal—doesn't matter if you have everything or you have nothing. We all have mental health struggles. We all have good days and bad days, and we all are connected more so through that.
WM: If you could go back and tell your younger self something, what would you say?
KT: I've always been a fighter. I always feel like I have to put all the weight on my back and trudge up that hill. [I feel like if] it's not a fight or a total battle and blood's drawn, it's not worth it. If I could go back to 20-year-old or 21-year-old Kendall, especially at that point in my life, I'd tell her that you don't have to fight so hard all the time. It will flow. It will work. There's more. The answers don't have to all be there when you want them—and they're not going to be there when you want them. That's not how it works.
Whenever you [go through] something like that in your life, you have a before and after point. What came after has been a life that is so full and has so much color and so much joy and so much pain, but I can appreciate both.
WM: What moment do you think was a positive turning point?
KT: When you're in that fight after you're diagnosed or are in the thick of [your struggles], everything is languishing; everything is weight. There's just pressure, pressure, pressure. So it's subtle when it happens because you sometimes don't realize it until you look back. There's freedom in that first day when you don't feel so suffocated by whatever you're dealing with, and you maybe had a good laugh, or you had a great time out with your girlfriends for dinner, and you were present and enjoyed yourself.
Some of my favorite moments have been when I've been afraid to speak my truth or afraid to share my vulnerability. Once I did, the feedback [of people relating is incredible]. It's just this massive domino effect—it's like ripples in water.
Stigma sucks, and it shouldn't exist because shame should not exist if it's part of our journey. There's no shame in what brought us to our truest selves and to be more of who we're meant to be. … I have some good days and bad days where I go back into my shell and hide again, but then I'm like, Wait, shame doesn't need to exist here because this part of me has built the voice that I have today. So I'm grateful for all of the pain of it.
This interview has been edited and condensed for length and clarity.
Wondermind does not provide medical advice, diagnosis, or treatment. Any information published on this website or by this brand is not intended as a replacement for medical advice. Always consult a qualified health or mental health professional with any questions or concerns about your mental health.