Pro Tips
06.16.23
How to Find (and Pay for) LGBTQ+ Mental Health Care
The struggle is real, but this can help.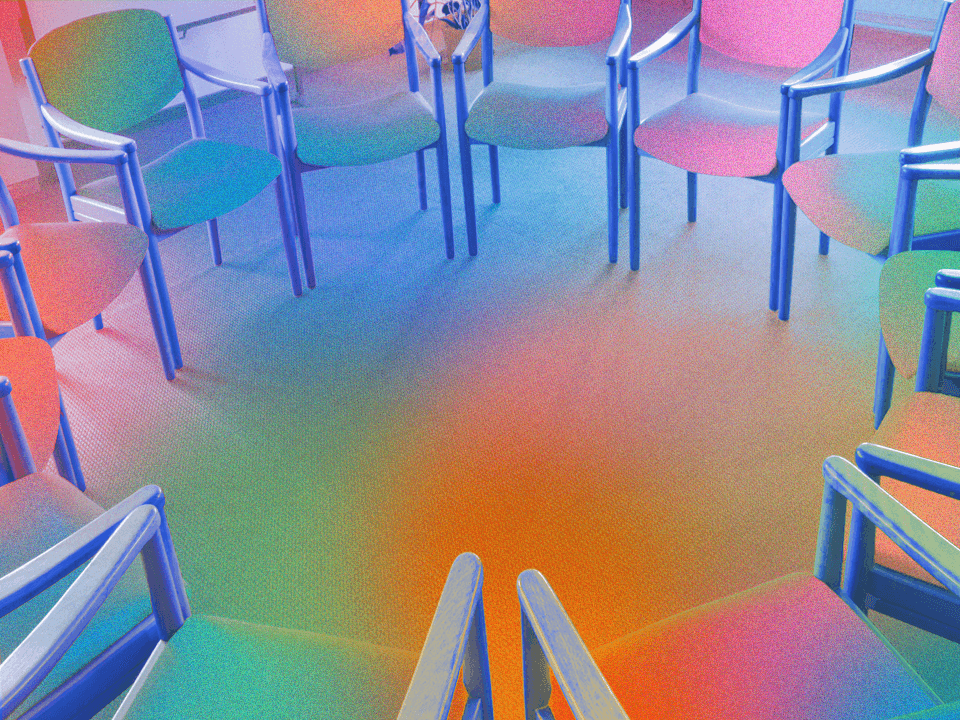 Shutterstock / Wondermind
Here's an effed up yet unsurprising fact: 56% of LGBTQ+ young people said they wanted mental health help in the past year but weren't able to get it, according to a survey by The Trevor Project.
At the top of the very long list of reasons why: feeling scared to tell someone about their mental health concerns, getting permission from a parent or caregiver, and fearing not being taken seriously. Of course, there are also the other super important matters of being able to access and pay for that mental health care, which survey takers said got in their way of getting mental health help too.
It feels like we shouldn't have to say this, but it should be easier to get lifesaving mental health care. So, this Pride Month, we pulled together a ton of resources and tips for finding affordable and inclusive mental health support. We hope it helps.
How to find a therapist who gets you.
Having a mental health pro you click with is key because you want to feel safe enough with this person to get (very) vulnerable. But finding the right therapist is a lot like dating, and it might take some time before you find The One. "I do think that eventually you will find that person who gets you and who you feel comfortable and safe [with]," says Juan Romero-Gaddi, MD, psychiatrist at Equal Mental Health and a member of Wondermind's Advisory Committee. So before you even step into a virtual or IRL office, here are a few ways you can look for an inclusive, culturally competent provider.
1. Think about what you're looking for in a therapist.
If you want a therapist you can relate to and who has had the same or similar experiences, that might mean only looking for one who is part of the LGBTQ+ community. But that could limit your search, which might already be squeezed by things like location, cost, availability, insurance, expertise—the list goes on.
The most important thing is to "find the therapist who feels the least intimidating," therapist Sara Stanizai, LMFT, says. "It certainly helps to have someone who shares an identity with you, but it's absolutely not a requirement." Sometimes, working with someone who is part of your community can actually put more pressure on you and make you feel like you have to be a certain way, Stanizai says. So don't feel like you need a therapist who matches every part of your identity.
It's natural to be on the fence about providers who aren't part of the community, but don't immediately rule them out. If you've had several negative experiences with cisgender people, for example, having a healing relationship with a cis therapist in an affirming environment can potentially be a corrective experience, says therapist Alo Johnston, LMFT, who's also a member of Wondermind's Advisory Committee.
Ultimately, you want someone approachable, affirming, and who has the right expertise to address your specific concerns.
2. Look for databases full of LGBTQ+-affirming providers.
Do yourself a solid and start your search with directories and organizations that can help match you with professionals who are qualified to work with LGBTQ+ people. Here are a few to bookmark:
The key is to be as flexible in your search as you feel comfortable and to find someone who can help you achieve your goals, whether it's focusing on a specific mental health condition, exploring your identity and sexuality, learning tools to help navigate unsafe spaces, or working on mindfulness.
FYI, if you're specifically searching for a therapist who can write you a letter for gender-affirming surgery or treatments, Johnston suggests checking out The Gender Affirming Letter Access Project. There, you'll find a directory of providers and tips for talking to a therapist about this upfront.
3. Take advantage of free consultations.
After you've sussed out a few therapists' websites, social media, pics of their office, and online reviews, ask for a free virtual or phone consultation. These intro sessions are made for you to get to know the person you might eventually tell all your business to, so use them to ask anything and everything on your mind.
If you're nervous about opening up and would prefer a therapist first show you that you are safe around them, you can be more general by asking what type of experience or knowledge they have around the LGBTQ+ community, recommends Dr. Romero-Gaddi.
Some other great questions are, "Why is this work important to you?" or "What percentage of your current clients are like me in terms of my identity or culture?" Stanizai suggests. Then you can listen for cues about whether or not they see you as an equal or if there are any red flags. If those providers sound like they're doing this work because they feel sorry for the LGBTQ+ communities or they're trying to work out personal issues through you, those are some solid warning signs.
4. Speak up for yourself.
When you're in the consultation or an official session, if anything ever rubs you the wrong way, remember that you're the one who has the power. Consider asking the therapist, "What did you mean by that?" or saying, "I actually don't agree," and see how they respond. If you'd rather not or there have been repeated microaggressions, misunderstandings, or blatant insults, "you don't even have to finish the session. There's no obligation to put up with it," Dr. Romero-Gaddi says. It's completely up to the therapist to educate themselves, so if you don't feel like doing that emotional labor, feel free to ghost, Stanizai adds.
You're the best judge of whether you feel safe and respected. So trust your gut, keep your options open, ask questions if you can, and know that it's OK if you want to switch therapists whenever you please. Go ahead and break up with them. You get to choose who you want to bring along on this journey.
How to find affordable therapy.
Cost can, obviously, be a huge barrier to therapy, particularly for young LGBTQ+ folks, who have a much higher risk of experiencing some form of homelessness or who may not feel safe using their parents' insurance. Here are some expert-backed ways to find mental health care you can actually afford.
1. Check out your local LGBTQ+ community center.
These are places where you can gather for social events and special programming like financial services, job coaching, medical services, support groups, and even counseling from licensed providers, says psychotherapist Thomas Vance, PhD, an LGBTQ+ advocate and member of Wondermind's Advisory Committee. In fact, roughly 53% of all LGBTQ+ centers provide mental health services like therapy and peer-led support groups, per a 2022 report by CenterLink and the Movement Advancement Project (MAP).
Joining a community center is a great way to meet people like you, get in on that life-improving programming, and potentially receive free or deeply discounted therapy from providers who know how to give affirming care. You can find one near you at lgbtcenters.org.
It's worth noting that if you live in rural or suburban areas, your closest community center might not offer mental health services (about 37% of small centers offer health and wellness services, including mental health care, versus 73% of large ones, per that MAP survey). However, a center in a bigger city in your state might offer virtual mental health services, so be sure to call around to ask, suggests psychologist, professor, and scholar Kevin Nadal, PhD.
One big caveat is that you may not get as many therapy sessions as you want or need. Since income for these centers is donation- and grant-based, "they might have a limited amount of sessions that community members can access," says Dr. Nadal. But, when you run out, those therapists can refer you to others who work with LGBTQ+ clients like you, he says.
One more thing: Even if the providers at the center have lots of experience with LGBTQ+ people, ask them about their background working with the other parts of your identity, says Dr. Vance. "If you go to a community center but it's all white LGBTQ+ folks, then I come in as a Black queer person, I might be triggered," he says. If they haven't worked with someone like you before, ask if they know anyone who could provide culturally competent care to someone with all of your identities, says Dr. Vance.
2. Ask about sliding scale fees.
Essentially, this is a range of prices the therapist will accept per session based on your income or needs, says Dr. Nadal. One-on-one therapy with a licensed provider isn't cheap, especially if they don't take your insurance (assuming you even have insurance). But some therapists have control over how much they can charge clients, and that's where sliding scales come in.
If you found someone online that meets all of your criteria, check their website to see if they have a sliding scale posted. If not, call or email them to schedule a consultation. You might say: "Hi, I found you via a Google search [or however you found them] for LGBTQ+-affirming therapists, and I'm so excited to meet you. I'm wondering if you offer a sliding scale option?" If not, ask if they know anyone who does.
It can also be helpful to share a bit of your story, says Dr. Nadal. Tell them a little about your identities, what you're looking to get out of therapy, and all of the resources you've exhausted to try to find affordable care.
3. Consider group therapy.
These sessions often cost less than solo therapy, says Dr. Nadal, and they can be very useful. Group therapy is led by a mental health professional who guides convos and helps everybody process their thoughts and feelings, says Dr. Vance. Typically, the group is focused on one specific issue like anxiety or grief. Though you might not get to speak every session, listening to others talk about experiences that are similar to yours can normalize what you're going through—which is therapeutic in itself. Plus, you'll learn from how they dealt with those situations.
4. Look into any therapy funds you might qualify for.
These are usually paid for by non-profit or mutual aid organizations that want to help specific people get access to low- or no-cost therapy. Some offer a number of sessions or up to an entire year of them, but it really depends on the group, says Dr. Nadal. For all of these, you'll need to meet specific criteria and apply online.
It can be hard to put yourself out there and potentially face rejection, but therapy funds are definitely worth a shot. If you're accepted, talk to your therapist about how you can keep up care once you run out of free sessions, says Dr. Vance. Check these options out and bookmark the ones you'd like to apply for in the future.
5. See a therapist-in-training at nearby universities and medical schools.
Grad students studying to become therapists have to log a lot of hours with clients to receive their licenses. And since they're not official mental health providers (yet), you can receive help from them (and support from their supervisors) for less money. Search around for programs at local universities or medical colleges taking new patients or check out the resources below.
How to get mental health support without therapy.
If therapy isn't a fit for you right now or you're looking for a little assist while you click, email, and call your way through the options above, these resources can help.
1. Peer support groups.
These online and in-person groups serve as a network of people experiencing things similar to you who can suggest resources, help normalize your situation, and problem solve, says Dr. Vance. Think of your mental health treatment as a race: "Your mental health provider is like your trainer, helping you through these different challenges," he says. "Peer support is like the crowd cheering you on, holding signs, and passing out water." Here are a few options that might work for you.
2. Support hotlines.
If you want to be prepared for a future mental health emergency, these hotlines are worth saving for later. And, of course, if you need help now, definitely reach out.
If you're experiencing suicidal thoughts or are in crisis, contact the 988 Suicide and Crisis Lifeline.
Wondermind does not provide medical advice, diagnosis, or treatment. Any information published on this website or by this brand is not intended as a replacement for medical advice. Always consult a qualified health or mental health professional with any questions or concerns about your mental health.