Stories
06.14.23
15 Mental Health Reminders for the LGBTQ+ Community—From Therapists Who Get It
"Connect with the people and things that feel like sunshine in the midst of the rainstorm that is our political climate."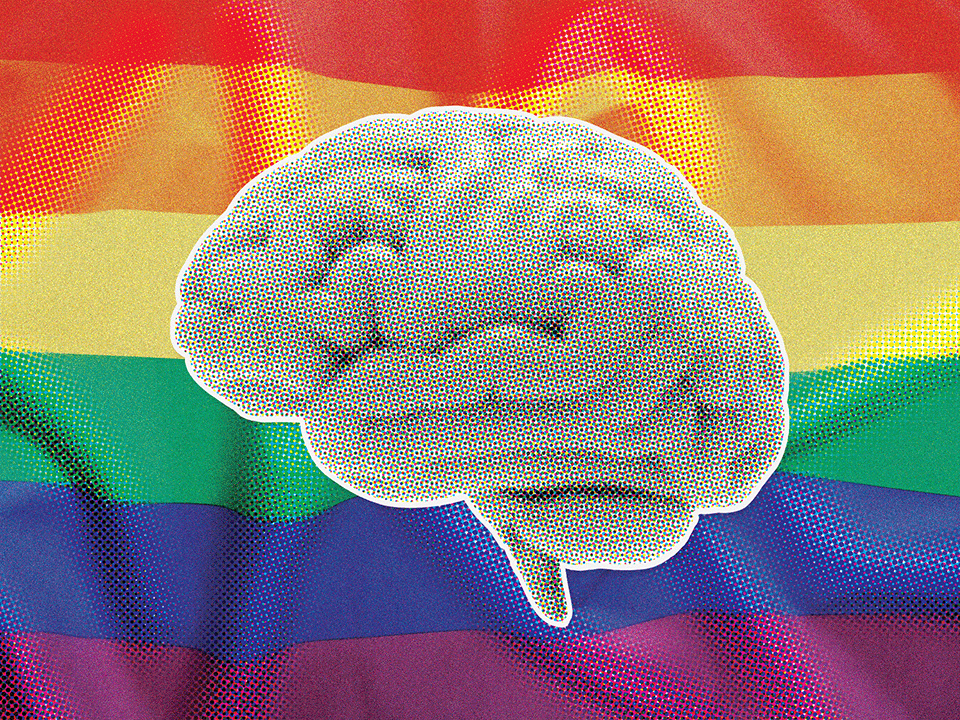 Shutterstock / Wondermind
When I was 22, I started thinking about coming out as bisexual—but the idea was terrifying.
I had just ended a long-term relationship with a man and was struggling with internalized biphobia that kept me in a constant state of panic. Still, part of me thought I'd feel instantly better when I told the world I was bi. But, after sharing the news, I was overcome with insecurity. Whether I was walking down the street in a masc-presenting outfit or showing up to a gay bar for the first time, I felt more alone than ever—even though I was finally embracing who I was.
After navigating my queerness alone for a while, I finally decided to get some support. Up until that moment, I had no idea just how helpful it would be to hear from an expert. (I was lucky enough to find one who was also part of the LGBTQ+ community.) Over time, my chest-crushing anxiety slowly melted away. Don't get me wrong, it's not like they fixed all my problems overnight. But hearing the words, "you are queer enough, regardless of who you are dating" and learning real-world tips for prioritizing my mental well-being made it easier for me to show up in my life—and in LGTBQ+ spaces—with confidence. 
I mean, sure, talking to a therapist won't solve all the hate or systemic issues plaguing us. But, with everything that's going on in the world, a little guidance from experts who understand the LGBTQ+ community can help us protect our mental health over the long term—and that's what we're doing here today.
Whether you're looking for some reassurance about your identity, extra reasons to feel joy, or permission to dig into all those big feelings, here are 15 mental health reminders from LGBTQ+ therapists who get it.
1. Focus on what you need.
"When it comes to protecting mental health and affirming identities, I want to underscore the power of self-care. This can look like setting boundaries, taking breaks from social media, seeking therapy, or even just taking a moment each day to celebrate who you are. Balancing conflicting emotions and prioritizing joy can be challenging, but one way [to do that] is to seek out joyous and affirming spaces in the community. That could look like joining a local LGBTQ+ group, participating in Pride events, or finding a supportive online forum.
As for conflicting emotions, remember it's OK to feel multiple things at once. Your feelings are valid and deserve to be expressed." —Ryan Sultan, MD
2. Don't worry about what you think you should be doing.
"It can be difficult to perpetually fight [for your basic human rights and safety]. It can be difficult to not feel like you have a safe space or a space where people understand you at all. Give yourself permission to be. You don't always have to be the advocate or the educator—you get to do those things when you feel you are able. Figure out what makes you feel balanced, happy, and nurtured, and do more of it. Forget what everyone else has to say and do what feels uniquely good to you. For me, daily movement of my body helps me feel balanced when processing big emotions. I take myself for a walk as if my life depends on it—because it does. Figure out what truly balances the negative for you." —Nicole Nina, LCSW
3. You have a whole community standing with you.
"To every single member of the LGBTQ+, including those who are still questioning their identity and sexual orientation and particularly those who are not 'out' yet, remember that being you and loving who you are is an act of bravery itself and the best way to celebrate your pride this month—and always. For the LGBTQ+ individuals struggling with their mental health: You're not alone. You, and most of us, face unique challenges compared to the rest of the world. But let's not forget that our community's most enormous power is the support and love each of us have for one another." —Juan Romero-Gaddi, MD
4. Celebrate the courage it takes to be you.
"As a transgender person, I can't say what a breath of fresh air it is to be authentically me. I also know that coming out is not available or safe for everyone. Just know, no matter who knows in your life, you are valid and important, and your life matters. Being transgender is truly a superpower. We defy with power and resilience and have existed for thousands of years despite others attempting to silence us. That in itself is something to take pride in. You're not sick, you're not broken, and you are being authentic, which takes courage." —Jack Bartel, PsyD
5. Your identity is valid—full stop.
"Identity exploration is something that occurs throughout one's lifetime, and gender and sexuality are two aspects of identity that people often explore. People begin exploring their identity at different times and for different reasons. Sometimes it can be a freeing experience, and other times it can be hard not to have an answer on what feels right to you. Figuring out where you personally fall on the spectrum of gender and sexuality can take time and you might try several different ways of being until you learn what fits best for you. Questioning your identity does not make whatever identity that is less valid." —Lindsey Bass, LPC
6. Be gentle with yourself.
"Please don't underestimate the impact of being LGBTQ+ in a world that is still full of toxic beliefs about you. Even if your family has offered you acceptance, you are a minority living in a society that is often opposed to you. Deep down, do you believe you are 'less than' others? If so, you may have internalized some ridiculous beliefs about LGBTQ+ people, even if you might be an out and proud adult. But here's the truth no one wants to hear: Your childhood experiences really do matter. Growing up, you may have heard some nasty comments about LGBTQ+ people, so there might be a part of you that still believes what they told you. All adults still have that vulnerable child within them. Can you treat that inner kid with the same compassion and gentle care you would give an abandoned puppy that showed up at your door?" —Adam D. Blum, MFT
7. Remember to have hope.
"It is a scary time to be a part of the LGBTQ+ community right now, so your fears are valid. Talk to other queer and trans people around you so you can share space with someone who understands. Keep faith in the possibility that transformation in our society will occur. It can be discouraging to not have yet found your chosen family, but don't lose hope because those people are still out there. Life is very long, so it's OK if it takes time. In the meantime, engage with those around you and surround yourself with the love and support that is inherent to our community." —Eden Katz, LMSW
8. Focus on what you can control.
"To the trans community, remember your strength. Each day, your presence and your authenticity are testaments to your resilience. Surround yourself with people, places, and things that bring you joy and hope in the midst of the scary world we live in. There is so much that we cannot change or control, but we can choose to love and celebrate ourselves and our community! Connect with the people and things that feel like sunshine in the midst of the rainstorm that is our political climate." —Hannah Mayderry, LCMHC
9. You don't have to handle everything on your own.
"You are not alone. The world is a scary place right now, which can trigger fear, anxiety, and depression (to name a few) for a lot of people. Our current social and political climate can make it scary to be who you really are and to embrace your true self, but you are not alone! It is OK to seek therapy and talk to someone you trust to get support and process your feelings. There are also online resources available, such as the Human Rights Campaign, The Trevor Project, PFLAG, and the National Suicide Prevention Lifeline (call 988 from anywhere in the U.S.). Don't be afraid to use these resources and reach out for the support you need." —Jessica Clodfelter, LCMHC
10. You deserve happiness and safety.
"The world can seem pretty heavy and scary right now. It can be hard to remember that we need care and celebration too. Celebrate your milestones, both big and small, and acknowledge your resilience and bravery in pursuing your authentic self. Remember, your gender identity is valid, and you have the right to live authentically and pursue a fulfilling life. Surround yourself with a supportive network of friends, family, and professionals who can uplift you and help you along your journey. You deserve love, respect, and happiness today and every day." —Lana Lipe, LCSW
11. You matter more than you know.
"To young people in the LGBTQ+ community, I offer this advice: You are the future, and your voices matter. Surround yourself with positive role models, mentors, and friends who uplift and empower you. Find safe spaces, both online and offline, where you can express yourself authentically and explore your passions. Remember, your identity is not a limitation but a wellspring of strength and resilience." —Prerna Menon, LCSW
12. Take your time.
"To those who are questioning their identity, it's important to remember that self-discovery is a personal journey. Give yourself permission to explore your feelings and thoughts without judgment. Seek support from affirming individuals or professionals who can provide guidance and create a safe space for self-exploration. Remember that it's OK to take your time and that your identity is valid, regardless of where you are in the process." —Dolly Ferraiuolo, LCSW
13. Don't let unhelpful thoughts hold you back.
"Be less concerned with the truth value of thoughts (like, Is it true that no one loves me and people are judging me?). Instead, try looking at the function of those thoughts. That is, are those thoughts helpful for you? If they are not helpful, then find new ways of relating to those thoughts. Sometimes we need to 'pick up' our unwanted thoughts and feelings and bring them along with us as we pursue the things that are important to us. So, in practice, if you are thinking, I am too scared to go make friends, recognize that as just a thought. It could be true, it could be false, but it is also just thought. Can you experience that thought or unwanted sensation, and at the same time, do the things that are important to you, like pursuing relationships? Oftentimes, our behavior needs to change before our feelings change." —Luke R. Allen, PhD
14. It's OK to feel conflicting emotions.
"Pride month can bring a mix of emotions, including joy, pride, and even anger or sadness due to ongoing challenges. Allow yourself to experience and validate these emotions. Find a balance between engaging in activism and self-care activities that bring you happiness. Connect with others who understand and share similar experiences to foster a sense of belonging." —Thomas A. Vance, PhD
15. Own your joy.
"It's hard to question your identity, and it's even harder when there are constant political attacks on those identities. It starts to feel pointless to try and find out who you are. But on the other side of questioning is joy and peace. You may not believe that in this moment, but I want you to hear that bigots cannot steal all queer and trans joy. That joy is owed to you, and you will reach it." —Alo Johnston, LMFT
Wondermind does not provide medical advice, diagnosis, or treatment. Any information published on this website or by this brand is not intended as a replacement for medical advice. Always consult a qualified health or mental health professional with any questions or concerns about your mental health.