Q&A
08.07.23
How Drag Queen Miss Peppermint Protects Her Peace
The drag star sits down for a mental health check-in.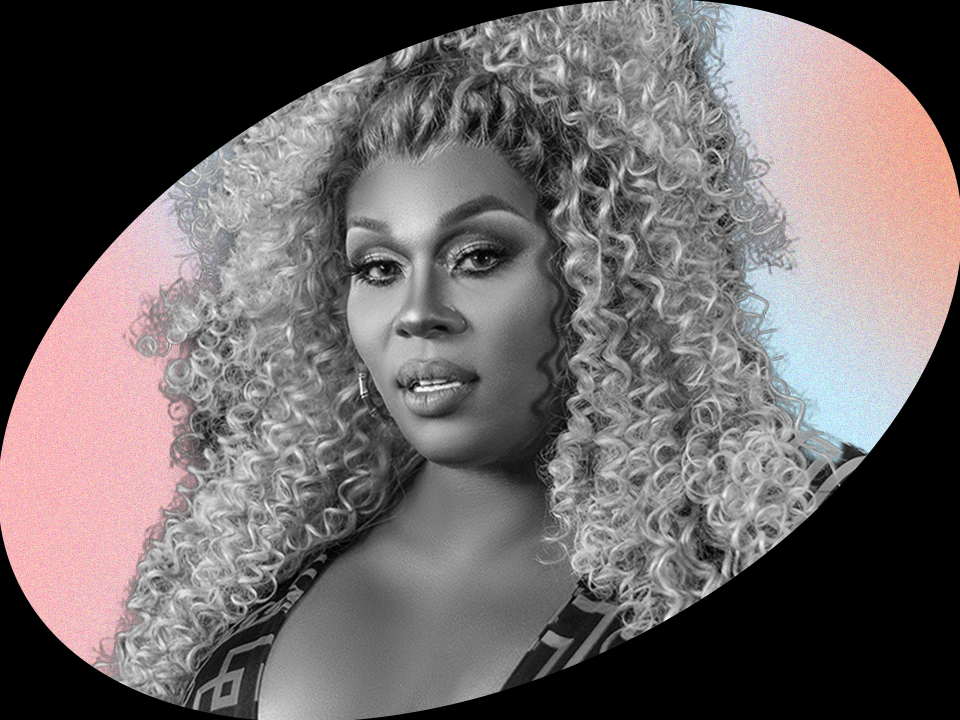 Photo Credit: Ricardo Diaz
This interview was conducted prior to the SAG-AFTRA strike and does not focus on the promotion of any particular project. We proudly stand with the WGA and SAG-AFTRA.
When drag icon Miss Peppermint (aka Peppermint) was younger, she dreamed of paying the bills with money from her performances. A little more than two decades later, she continues to do just that, making strides as an all around entertainer. (If you haven't caught her Janet Jackson tribute, you're missing out.) 
When she's not keeping busy, Peppermint's mental health routine will make you feel seen and maybe even give you an idea for your next bed rot day. Here, the drag performer gives us a glimpse inside her mind, from what she learned about her first major breakup to what Laverne Cox taught her about protecting her peace. 
[Sign up here to never miss these candid conversations delivered straight to your inbox.]
WM: How do you take care of your mental health on a regular basis?
Miss Peppermint: Listen, I'm a freelancer, so I'm unemployed—I'm perpetually unemployed. I have a career, but I don't have a job. So I am constantly looking for work, and I'm constantly auditioning and asking other people for approval and frequently being turned down and worse. I'm always on the hustle. For me, when you're always on the hustle, the feeling of scarcity comes through a lot.
So I say "yes" probably more than I should, which means I have a very full schedule that doesn't even make sense because it's not all coming from one source. It's just coming from all over the place. There are many times where I'm asking everybody, "Can you have a little flexibility in your schedule so I can do both of these things?" That happens all the time.
By the time everything's said and done, there's like an hour left in the week where I'm not booked. So in those moments, I just watch a scary movie and eat ice cream. That's how I take care of my mental health.
WM: What stands out to you the most in your mental health journey?
Peppermint: Breakups. Unfortunately, they're not fun, and I have had my fair share—more than I care to say. But I remember going through a major one because it was one of the first that I had ever really gone through. I took it kind of hard. It was really difficult. I wasn't really enthused by anything. I was feeling uninspired. I just felt like I was drowning in darkness. … It  was a very suffocating feeling and really difficult. It felt like something I just couldn't control. I couldn't fake my way out of it. 
I remember I told a really good friend of mine that I wasn't really eating much at that moment in time. I'm always playing music, and for more than a month, there was no music if you were around me. I didn't wanna hear music, except for when I had to do music for work. It was a silent [time]. I wasn't allowing myself to enjoy anything. Don't turn on the TV, no laughter, no music, no nothing. Because everything I did reminded me of my ex. … I remember feeling like I was suddenly robbed of [joy], and I would never feel joy again.
So I was describing that to my friend, and he was like, "I'm glad you're feeling this right now." At first I was like, "What are you, cursing me?" And he was like, "No. That means you're alive and you're feeling." I hadn't really thought of it like that, so then I was able to be grateful for that, you know? That put a new perspective on it for me. … I'm grateful for those experiences because I've had a couple of breakups since, and I've been depressed and felt upset and down and everything, but I haven't felt like that since. 
WM: What aspect of your mental health is a work in progress today?
Peppermint: I'm influenced and affected by other people, things, and instances that are happening around me. And those things have the ability to change my mental state if something happens that's really wonderful or scary or difficult. From that perspective, it's constantly an evolution.
But I think the gift or maybe the superpower that I was given from a really early age—despite having had some tough times, uncertainty, and insecurity, 'cause all those are just part of the human condition—is that I have been blessed with the ability to connect to my gratitude, self-confidence, and who I am. [It's a certain] amount of self-satisfaction that it appears that some people around me aren't always keyed into for themselves.
For instance, I'm an entertainer. The thing about entertainers being in a gig economy and always freelancing is that we're never satisfied. We all want to be as famous as the most famous and most successful and the richest of all.
I actually don't want or need any of those things. I mean, if something happens and there's a million dollars, I'm not gonna flush it down the toilet. But when I moved to New York City at 18 after graduating from school, I went out and got a job as an entertainer doing drag. Paying my New York City rent with just that drag job, I already deep in my subconscious said, "Oh, I did it. I made it. This is it." So anything else that happened since then feels like extra. It feels like, OK, of course I'd like to do that. Let's go and do these things. Or, Oh, maybe I'll create this [because] it feels good to create different things and have new conversations and meet new people.
Not that I don't have goals and dreams, but I'm incredibly content. I don't know if it's just a defect or a superpower depending on how you look at it, but I'm incredibly satisfied with my life, and I obviously have so many things to be grateful for that have happened since then.
WM: What's the best mental health advice you've received?
Peppermint: I was listening to a speech by Laverne Cox, and she told the story about how she was rushing through the airport on the way to a busy Hollywood event, and she was misgendered by the attendant when she asked where the bathroom was. In that moment, she decided to take a breath and calmly go about her business and do what she needed to do without really engaging with the fact that they were misgendering her. She said she realized in that moment that who she was at her core—her womanhood—none of that was at stake, you know? This person could call her what they want. It doesn't change anything. That was so simple, but it was really key. I think about that a lot.
In that same vein, there's a brilliant activist who was speaking with me in confidence many years ago when I was a little younger. We were talking about one's medical transition as a trans person and whether to do this and that and when is the right time and how fast to do it. I remember her saying, "There's no finish line," which really connects to when a lot of people who aren't a part of the trans community ask the question, "So when are you gonna be done transitioning?" to someone that they know is trans. The answer to that is: There's no finish line. We're never done transitioning. People may or may not have goals for a medical transition, but really, the answer is, "I'll stop changing and stop evolving when there's nothing left to change or evolve too." And as humans, we're constantly evolving and changing. 
This interview has been edited and condensed for length and clarity.
Wondermind does not provide medical advice, diagnosis, or treatment. Any information published on this website or by this brand is not intended as a replacement for medical advice. Always consult a qualified health or mental health professional with any questions or concerns about your mental health.