Pro Tips
10.27.23
How to Do Life When You're Scared of Germs
Be honest: How many times have you washed your hands today?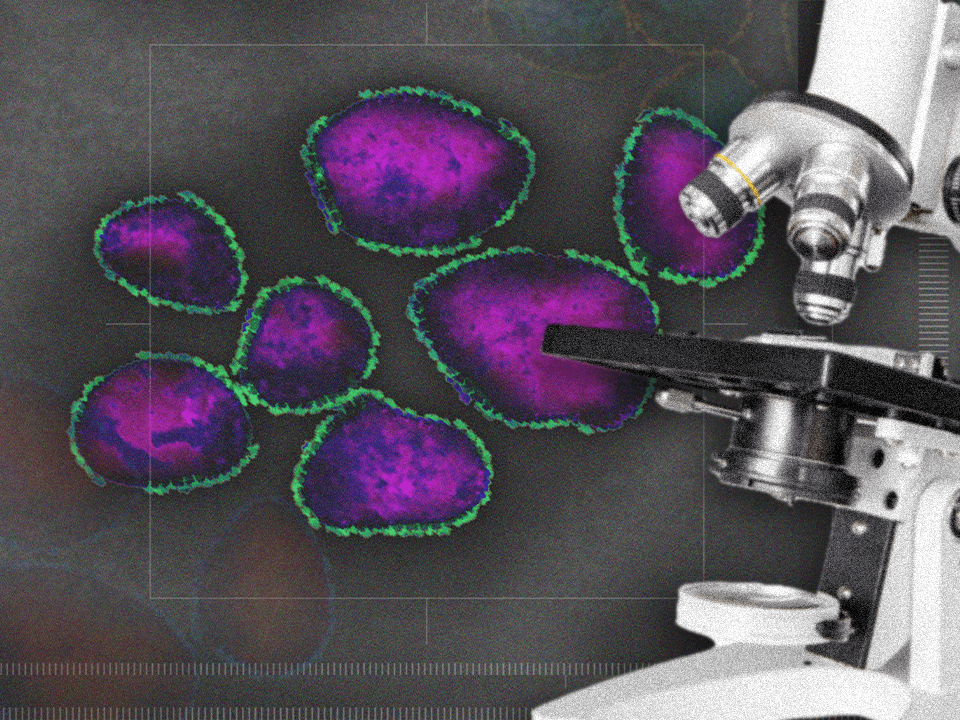 Shutterstock / Wondermind
It's totally valid to get squeamish when your Uber driver coughs vigorously into his stuffy Honda Civic or when a public restroom looks (and smells) like it hasn't been cleaned in months. Wanting to steer clear of germs so you don't get whatever you coworker brought to the office just makes sense. But some people are so afraid of contamination that it actually interferes with their lives in a big way. They avoid places or things they assume are dirty or they're overly worried about what could happen if they come in contact with germs. When their fear gets this extreme, that's generally called mysophobia (also known as germophobia).
It's rational to leave a particularly gnarly public bathroom stall and thoroughly wash your hands while hoping you didn't catch anything in there, but someone with mysophobia may avoid those bathrooms altogether because they're so scared, says licensed clinical psychologist Maha Zayed, PhD, director of The OCD & Anxiety Center. Or that person might reluctantly use them while engaging in safety behaviors—like trying not to touch anything, scrubbing for a long time (or multiple times) with lots of soap, or not eating with their hands afterwards, explains Dr. Zayed. They might even spiral with worries that they're going to get sick and die after using the public restroom and panic if they can't do their safety behaviors, she notes. See the difference?
Mysophobia and germophobia aren't technically listed as mental health conditions in the Diagnostic and Statistical Manual of Mental Disorders (DSM-5-TR). But mental health professionals sometimes see this extreme fear of germs in conditions like obsessive-compulsive disorder and an anxiety disorder called specific phobia, says psychotherapist Jennifer Daigle, LPC, NCC, who has contamination fears within her own OCD. But it's also possible to be majorly freaked out by germs and not actually meet criteria for a mental health disorder, she notes.
If any of this sounds like you, know that there's no shame in being scared of germs. "We fear the things that could kill us or hurt us or make us sick, so it's not unusual at all to fear germs," says Daigle. You just might want to do something about it if that fear's interfering with your ability to do life in a way that makes you happy, she says.
For some people, that might mean seeing a therapist who can help them confront their fear with exposure therapy, says Daigle. But if you don't have access to therapy—or you aren't quite ready for that—check out these therapist-approved tips for facing your mysophobia or general discomfort around germs. You've got this. 
Remind yourself of all the risks you take—and why.
First off, if you're like, "But germs ARE gross, and I DO want to avoid them!" you're not wrong. Germs definitely can make you sick, but sometimes that's out of our control. And learning to live with that uncertainty can help you break out of your mysophobia cycle.
Daigle encourages her clients who struggle with this to think about the other risks they take on a daily basis. "The moment you wake up and walk downstairs, you risk potentially falling and getting hurt, but you do it anyway," she says. Those risks are relatively easy to take, so try to see existing around germs in a similar way.
Then take that one step further: Ask yourself why those risks are worth it. You have to get out of bed and do things because, if you didn't, you wouldn't see your favorite people or get shit done. Now, think about why it's worth taking the risk to be around germs. What does that fear stop you from doing? "Everyone will have their own 'why,' but, for me, if I let my own fear of contamination stop me, I'd never see my friends or family, own a dog, or do things that I love. I'd never leave my house," says Daigle. "And the idea of that hurts more than the risk does."
Take a hard look at how you deal with germs.
As counterintuitive as it seems, the things you do to avoid germs—the ones that make you feel better in the moment—are actually feeding your mysophobia over time. They're fueling the mysophobia fire, if you will. That's because every time you avoid germs or clean things to feel safe, you're reinforcing to your brain that germs are dangerous, explains anxiety specialist and clinical psychologist Alex Littleton, PsyD. When you do that and then don't end up getting sick, your brain sees that as proof that your safety behaviors are worth doing, notes Daigle. You keep doing them, and the cycle continues.
Think about it like this: Your fear of germs is a tiger. All the stuff you do that makes the fear go away temporarily—cleaning an excessive amount, over-analyzing situations where you might've been in contact with germs, or avoiding certain places—actually feeds that tiger a piece of meat (yum!) and makes it grow, says Dr. Littleton.
So take an honest look at your safety behaviors. Do you go through more hand sanitizer than water bottles? Do you avoid any bathroom other than your own? Write out a list of ways you're feeding the tiger. The next time you're tempted to engage in one of these behaviors, think of them as fueling behaviors, not safety ones. Even though they might ease your concerns a bit in the moment, you're basically drinking a big ol' cup of anxiety juice, says Dr. Littleton.
Cut back on cleaning rituals.
We're not telling you to let your home go to filth or to not wipe up a spill on your kitchen counter. Cleaning our bodies and our spaces is a thing that all of us have to do on a regular basis, so it can be tricky to know where the line is when you have mysophobia. Something to keep in mind is whether you're cleaning because you want to (it feels enjoyable and natural) or because you feel compelled to out of fear, says Daigle.
And even though people have different ideas of cleanliness, figuring out how to scale back on these safety behaviors can be as simple as following general recommendations for basic hygiene and minimizing illness, notes Dr. Littleton. That might mean only washing your hands for 20 seconds like the CDC recommends. If you're scrubbing to the point where they're raw and red, that's a sign that you can probably cut down, says Daigle.
Start small. You can just sit with dirty hands for longer than usual before you go and wash them, suggests Daigle. Or, if you typically wash your hands three times for a minute each after you touch a doorknob or go to the bathroom, try washing them twice or scrubbing for 45 seconds each time instead, Dr. Zayed suggests. The goal is to reduce the frequency and duration over time to prove to yourself that bad things are likely not going to happen when you touch things you think are dirty, Dr. Zayed explains. Plus, you'll also see that you can tolerate discomfort. Go you!
Approach germs slowly.
As much as you're going to hate this, putting yourself in situations where you're engaging with germs will help you lessen your fear over time, says Daigle. (Hello, exposures!) But no one is asking you to go lick an airplane toilet seat—or even go on an airplane if that's something you're currently avoiding. Instead, experts suggest an exposure hierarchy, which helps you work your way up to scary situations in a more approachable and manageable way.
So, make a list of situations or places, ranking them from not super uncomfortable (1) to "LOL, I would never" (10). Let's say you aren't ready to go on a plane quite yet because that's a 9 for you on that scale. That's fine! Maybe you sit in a friend's car or go to the grocery store to touch the apples. You can approach this list however it makes sense to you. Once putting yourself in a situation seems manageable, you'll work your way up to the next thing, says Daigle. You can also recruit friends or fam to do this stuff with you if you need extra support or someone to lighten the mood, suggests Dr. Littleton.
You might go into a situation and think it gives off 2 or 3 vibes on your exposure hierarchy but actually realize that it's a huge 7. If you're not quite ready for that, it's always OK to scale back how scary something is if that means you won't flat out leave—since leaving perpetuates the idea that the thing you're doing is dangerous and should always be avoided, says Daigle.
Of course, it's worth noting here that if you are someone whose fear of germs coincides with being immunocompromised (or caring for someone who is), your exposure hierarchy might look very different. In cases like this, it's best to check in with a trusted health care provider as well as a mental health provider if you can.
Try a grounding exercise.
Someone with mysophobia usually goes into fight, flight, or freeze mode when they're around things they think are dirty because their brain is signaling that they're in danger, says Daigle. To get out of that reaction and calm your body and mind down, try grounding.
One grounding exercise that Daigle's a fan of is using your senses in the 5-4-3-2-1 method: Pay attention to what's around you and name (in your head or out loud) five things you can see, four things you can feel, three things you can hear, two things you can smell, and one thing you can taste. This orients yourself back into real life (rather than your worst-case scenario) and reminds your nervous system that you're safe even when you're panicking, Daigle says.
If 5-4-3-2-1 seems too complicated, you can always just count your breaths, Dr. Zayed suggests. When you're purposely focusing on the present, like your breathing, there is less room to focus on thoughts about germs, she explains. Here are more mindfulness exercises you can try.
Give yourself a heck of a lot of grace.
All this said, if dirty places are ever overwhelming you so much that you're in a full-fledged panic and can't find a sense of calm, it's fine to tap out. You won't be able to learn from a situation like that if all you're doing is focusing on fighting or fleeing, Daigle says. "Go home, take a bath, read a book, give up," she encourages. "Don't kick yourself for it. Do things that make you feel safe and loved and come back [to try] again when your nervous system is regulated."
If it's hard NOT to beat yourself up for washing your hands when you were trying not to or leaving a public place that makes you uncomfortable, imagine saying the same mean things to someone you love, Dr. Littleton suggests. This perspective shift can help you realize that you obviously wouldn't want to hurt those people, so you probs shouldn't be saying that stuff to yourself either.
Talk about fear…literally.
A lot of people feel shame that germs freak them out—Daigle felt it herself growing up. But, since everyone has something they're afraid of, just talking about fear with friends or family can make you feel like you're not alone, Daigle says. If you want to talk about contamination specifically, go for it! But you don't have to. "Normalizing fear, sharing the human experience of fear and uncertainty, can make people feel so heard without even really having to say anything about OCD or phobia or germs," she says.
You can turn to your BFF at dinner and be like, "I've been super scared of things lately. Do you ever get afraid of stuff?" And you can always ask someone if they're open to chatting first by saying something like, "If you're open to it, I'd love to talk about fears that have been making it hard for me to do stuff I want to do," Daigle suggests. And, if they're down, you could ask if they've ever missed out on things because of fear too, she says.
Think of your fear like a beach ball.
As much as we tell you to not worry about germs, you're probably still going to worry about germs at least a little bit (and sometimes maybe a lot). Even with tons of coping skills and years of therapy under your belt, intrusive thoughts can get you every once in a while. But instead of engaging with those thoughts when they pop up, see if you can just let them hang out near you while you continue living your life.
A helpful way to imagine this is to think about your contamination spirals as a beach ball. If you spend all your time trying to push the ball away, you won't be paying attention to what's going on around you and it'll just come back anyway, says Daigle. So, let the beach ball be there. Let it follow you when you talk to friends and do life. This is proof that you can have these intrusive thoughts and they don't have to control you—which is something Daigle learned in her own treatment for contamination fears.
Get help if this is a lot for you.
You can confront your fear of germs on your own, but if it's overwhelming for you or if you just need extra support, definitely find a mental health professional who's worked with mysophobia before. Where to start: Check out anxiety therapists or OCD therapists on Psychology Today, where you can filter by types of therapy, like exposure therapy. You can also look at the International OCD Foundation for specialists.
A therapist can not only help you work through exposures and manage your anxiety around contamination, but also help you dig deeper and figure out if there are any core fears that are driving your germophobia, says Daigle. Sometimes you're scared of death or dying young or of hurting other people, she says.
Also, therapists can actually do the exposures with you. For example, Dr. Littleton will practice touching toilets and shoes with his clients so they build up the confidence to do it by themselves. It might seem weird to do things like that with a mental health pro, but whatever works!
Wondermind does not provide medical advice, diagnosis, or treatment. Any information published on this website or by this brand is not intended as a replacement for medical advice. Always consult a qualified health or mental health professional with any questions or concerns about your mental health.