Q&A
01.20.23
How Naomi Osaka Deals With Anxious Thoughts
"It's always OK to admit things are hard."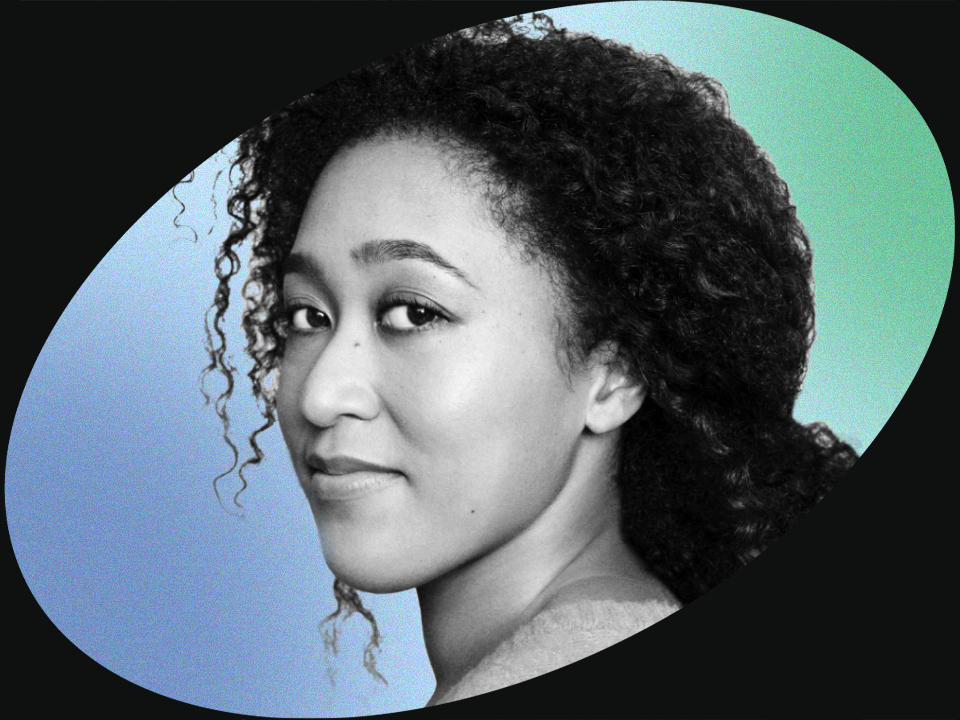 Photo Credit: Zoey Grossman
You probably already know and love Naomi Osaka for her undeniable skills on the tennis court, being an inspiring entrepreneur, and, of course, being a fierce mental health advocate. When she's not busy making tennis history collecting Grand Slam titles (four to date!), she's using her platform to raise awareness about social and systemic issues (like police brutality), as well as getting candid about her own mental and emotional health.
In case you missed it, Osaka made headlines in 2021 when she pulled out of the French Open after competition officials fined her $15,000 and threatened to suspend her because she chose to skip media interviews to prioritize her mental health, something that was unprecedented in the sport at the time and garnered a ton of support from her fellow athletes and celebs. Not that she owed anyone an explanation, but Osaka followed up the event with a tweet that opened up about her experiences with depression and anxiety. "The truth is that I have suffered long bouts of depression since the US Open in 2018 and I have had a really hard time coping with that," she tweeted. "Anyone that knows me knows I'm introverted, and anyone that has seen me at the tournaments will notice that I'm often wearing headphones as that helps dull my social anxiety." She went on to describe the "waves of anxiety" she experiences before she speaks to the press and shared that she would be taking some time away from the court.
Since that break, Osaka went on to light the torch at the Tokyo Olympics, participated in more tennis competitions in 2022, and shared that she was focused on having "more fun on the court." She's also been busy making waves in other ways, like solidifying her status as a powerhouse in the fashion industry (she co-chaired the 2021 Met Gala) and forming Hana Kuma, a new production company dedicated to uplifting diverse stories and making them feel universal, in June 2022. And she's currently on a mission to highlight the importance of rest, relaxation, and recovery for the body and mind by partnering with and narrating guided meditations for Hyperice and Modern Health.
Earlier this month, Osaka delighted fans with a quick lil life update: She's pregnant and looking forward to returning to tennis in 2024. "These few months away from the sport has really given me a new love and appreciation for the game I've dedicated my life to," she wrote in an Instagram post. "One thing I'm looking forward to is for my kid to watch one of my matches and tell someone, 'That's my mom.'"
So, you can imagine how excited we were to catch up with the tennis legend and mental health hero herself. "I'm all about maintaining my health, and that includes both physical and mental health," she tells Wondermind.
Here, Osaka gives us a glimpse into her mind, including how meditation has helped her manage anxious thoughts, the reality of trying a new mental fitness exercise, and the mental health misconception that needs to go away forever.
[Sign up here to never miss these candid conversations delivered straight to your inbox.]
WM: What's invigorating you these days?
Naomi Osaka: I have been really excited and moved by the stories I have been able to learn about and even share through my new production company, Hana Kuma. Our first documentary, Mink, is the story of [the first woman of color elected to Congress] Patsy Mink, and she really inspired me to start telling more stories about women and women of color. There is so much to explore and learn. It's exciting.
WM: As someone who deals with anxiety, what helps you get grounded and ease your anxious thoughts?
NO: I have found that if I start my day with meditation, even if it's really brief, it helps ground me for what's to come in the day. While there's no way to anticipate and stop unexpected challenges a day may bring—and for me, I cannot always stop having anxious thoughts—I have found that it's better to eat, sleep, take care of my body, and take time for simple moments of meditation to help calm me. Little things that help me maintain a routine are also great at keeping me grounded.
I love my morning skincare ritual, which includes applying daily SPF from my suncare brand, KINLÒ (I recommend the Always Golden Daily Moisturizer, which hydrates my skin and protects from harmful UVA/UVB rays with SPF 40). Also, using my Hyperice devices post-workout or after training helps with recovery. When our bodies are well-rested and recovered, it's easier for our minds to do the same.
WM: What has your journey with meditation been like?
NO: At first it wasn't easy, as meditation was an unfamiliar practice for me. The more I made time for it in my schedule and allowed myself to focus on breathing, the easier it became. Now, meditation is more of a daily ritual that I am excited for than something that feels foreign or a bit frightening.
WM: What aspect of your mental health would you describe as a work in progress?
NO: All of it [laughs]. But honestly, it's always a work in progress, and we cannot expect perfection. Allowing yourself to have space to grow is really important.
WM: What stigma or misconception about mental health bothers you the most?
NO: That if you admit there is a problem, you are considered "weak," when it's actually the opposite. Being able to share that you may need help or are struggling is a huge sign of strength.
WM: If you could give yourself a pep talk right now, what would you say?
NO: Be kind to yourself.
WM: What mental health message would you like to share with your fans and followers?
NO: It's always OK to admit things are hard, that things aren't OK sometimes, but always know that there are people out there who can relate to you and what you're feeling.
This interview has been edited and condensed for length and clarity.
Wondermind does not provide medical advice, diagnosis, or treatment. Any information published on this website or by this brand is not intended as a replacement for medical advice. Always consult a qualified health or mental health professional with any questions or concerns about your mental health.