Q&A
04.05.23
Simi Moonlight's Confidence Advice Will Teach You How to Not Give an Eff
The fashionable content creator is so real for this.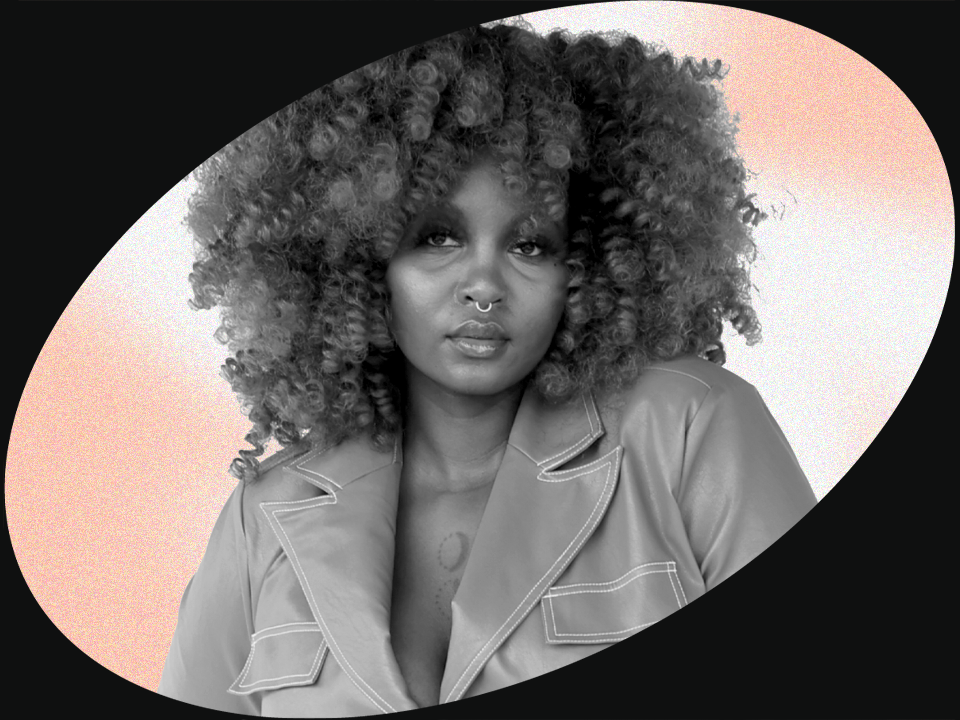 Photo Credit: Sean Howard
If you're as obsessed with TikTok's GRWM niche like some of us are (guilty), then you've probably come across Simi Muhumuza (aka Simi Moonlight) and her vibrant, creative, and just plain cool fashion sense. The content creator has amassed a following by inviting us to "trust the process" as she pieces together outfits that always have that It Factor, and through her "Style Therapy" series, which dives into how style can inspire personal growth and confidence at any size.
Here, the former psychology student checks in with Wondermind to talk about style and mental health, what they look for in a therapist, and how you can actually, finally (!!) stop caring about what other people think.
[Sign up here to never miss these candid conversations delivered straight to your inbox.]
WM: How are you doing lately?
Simi Moonlight: Honestly, a bit anxious and kind of chaotic and all over the place, but that's just because I've been moving. I always feel so anxious if my space is not organized.
WM: As someone who is passionate about fashion and being unapologetically herself, how do clothing and style factor into your mental health and confidence? 
SM: I think knowing that I am dressed in a way that makes me feel good always allows me to have more confidence no matter what I'm going through. I don't want to say I'm dressed the best or dressed to impress. It's more so I'm dressing how I want to dress at this moment, which I think is really important to differentiate. Because I've made that a standard practice for myself, I feel a lot better even when I'm internally going through it.
WM: How do you feel about the early 2000s trends coming back, which are notorious for being triggering and not size-inclusive?
SM: I think I've just stopped being concerned about things that may or may not trigger me because if it's not something within my control, I'm not going to focus on trying to avoid it. The reality is that I may have to come across it at some point, so how can I make it so that it can work for me? With early 2000s fashion, I already knew what the cycle would be. Fashion is cyclical. We all know we know this. It's the one industry that refuses to change. I really don't get it. … So I knew that with the clothing styles coming back, so would the fatphobia and the eating disorders and all of these things that are very triggering to people. But also, I don't think those things ever left. I think we just got better at concealing them.
When I made that video, I was thinking about the fact that I didn't get to dress how I wanted to dress when I was younger. First, because I lived in a strict household. Second, because nothing ever fit me. Now we're in a day and age where not everything might fit, but you will likely find something that will fit, and it's up to you to make it work for you. … It's also up to you to allow yourself to have fun and to experiment despite what the past might have been.
WM: You studied psychology in school. What drew you to that subject?
SM: I genuinely enjoy understanding how people work and why people do the things that they do. I've been like that since I was young; I was always the kid that was asking questions. I don't know about anyone else, but in my African household, asking questions was not a good thing. I needed to find an outlet where I could ask the questions and also get the answers. For me, that looked like psychology. I told myself I was going to be a psychiatrist and all these things. It could still happen, but right now I feel good about where I'm at.
WM: As somebody with a psychology background, what has your experience with therapy been like?
SM: Therapy has been really great in some aspects. I've found a therapist that is able to keep up with me and call me out on over-rationalizing my emotions. For someone who has studied psychology, I don't think that always means you're the best at processing your own emotions. I can feel an emotion and understand why it's happening and understand where that initial emotion came from, but that doesn't mean I'm feeling it, and that doesn't mean I'm actually taking care of the emotion. It just means I understand it.
An issue in the beginning of my therapy journey was coming across therapists that weren't used to someone who was kind of on their level a little bit. Obviously I'm not a trained therapist, but I have a pretty big understanding of psychology, and I understand how this works. I got to the point where I could have been a therapist if I wanted to—I just chose not to be.
So for me, I had an issue finding someone who would talk to me as if I understood what they were saying. I came across a lot of therapists that were talking to me as if I didn't understand what feelings were, and I was like, "Girl, I know what this is. I just need you to help me process it." So finding a therapist who helped me get to that point was so amazing.
WM: What's one of the best ways you've learned to process your emotions?
SM: Definitely crying. As much as I love journaling—I'm also a writer at heart—that's another way that I will over-rationalize my thoughts because I'm writing them down. I'm like, Yeah, I know what's happening. Yeah, I'm going to fix it. And then I don't ever actually take the time to feel my emotions. So when I'm crying, I feel as though this is my body telling me, "Girl, you have to feel this. You have to get it out. You have to have this moment because if you don't, you're just going to sit here and think about this moment and not actually [feel it]."
WM: What advice would you give to somebody who is scared to show up how they actually want to in the world?
SM: You really have to remind yourself that everything is made up. Literally, everything in the world is made up. We have been taught these systems that most of the time make no sense, and you have to remind yourself that someone made this up. So why can't I just make up the fact that I'm the baddest B in the room? Or why can't I just make up the fact that I am a great individual with talents? Obviously, you do have to put in the work behind the things that you say about yourself, but saying [good] things about yourself is always kind of the first step—saying them and believing them.
People are always asking me, "Oh, how are you so confident?" Because I don't care. Everything is fake, and who really cares? Nobody actually cares as much as you think that they care. Even bullies don't care as much as you think that they care. They just need something to do; they're bored, and you just happen to be the subject matter at this point.
If you're getting critiques from people that love you, then that's different—you should care about what they're saying. But if it's not those people that you trust and that support you, don't care. Live your life. Do you, and be unapologetic about it, especially if you're not hurting yourself or other people.
WM: Any final words of wisdom?
SM: We get so in our heads about where we are in life and what we're doing. The reality is that given the systems that we have had to endure, it's a miracle any of us are actually doing anything. That is something that we really have to ground ourselves in a lot of times.
I'm always an advocate for people celebrating themselves no matter what they did, even if all you did was wake up. You deserve to be celebrated. You're doing better than you think.
This interview has been edited and condensed for length and clarity.
Wondermind does not provide medical advice, diagnosis, or treatment. Any information published on this website or by this brand is not intended as a replacement for medical advice. Always consult a qualified health or mental health professional with any questions or concerns about your mental health.