Q&A
11.03.23
How Chef Sohla El-Waylly Is Navigating Life With Her Book Baby and Real Baby
Plus, the food media veteran talks about learning from failure.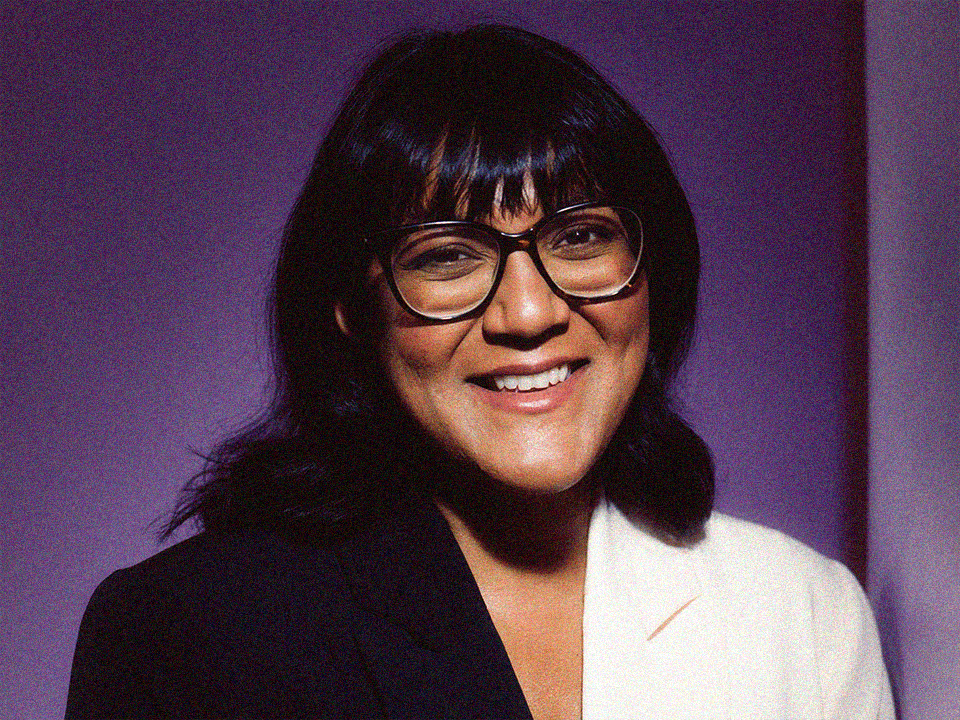 Photo Credit: Justin J Wee
Whether you've been a hardcore Sohla fan since her early YouTube days or you jumped on the bandwagon after watching her as a judge on The Big Brunch, you're about to start seeing a whole lot more of Sohla El-Waylly.
That's because she just released her debut cookbook, Start Here: Instructions for Becoming a Better Cook, a massive feat that was sorta like birthing a kid, El-Waylly tells Wondermind. "It's kind of like you have this baby, then they go off into the world, and so now the baby's gone and I [get to] see how people react to it. It's scary."
This book baby metaphor makes even more sense when you realize that El-Waylly also just had a real-life baby (yes, she's been busy). "Hanging out with this kid's been fun," she says. "I think it's going to get more fun when she knows I exist and makes facial expressions that aren't just gas."
We caught up with El-Waylly before her book launch to talk about therapy, failure, and all the emotions of raising a new baby (the human kind, not the book kind).
[Sign up here to never miss these candid conversations delivered straight to your inbox.]
WM: Congrats on becoming a new mom! How are you doing lately?
Sohla El-Waylly: I am sleepy. That is the main thing. We have a not-yet-five-weeks-old baby, so she hasn't gotten to the point where she sleeps more than two hours at a time. You know, we're just sleepy [laughs].
Right after having her, I specifically remember, on day four, it must've been peak hormone crash because I had a weird mix of emotions and highs and lows. I was just sitting there crying, being like, She's never going to be this small again! But … it's been mostly good. There's been a couple of nights where it just feels like she is crying constantly, where I'll wake up and feel really frustrated and feel like I can't do this. Then, two seconds later, she'll be really cute and sleep in my arms and I'm over it.
My mental health throughout the pregnancy and postpartum was top of mind for both me and my husband. [Editor's note: She's married to fellow chef Ham El-Waylly.] So I found a therapist that was specific for working with new mothers, and that really helped a lot. … And I also found a midwife team that's very trauma aware.
One big reason I waited to have a child was because I was really worried about my mental health. It's a lot happening to you, to your body, and I wanted to make sure that it was as pleasant an experience as possible. And I think all of that work really paid off because the whole pregnancy was really smooth. I was really good emotionally. The whole labor and delivery was really smooth. Even now it is.
I was really worried that I would lose my identity. Your identity changes when you have a kid, and I was afraid that I wouldn't be me anymore. I feel like I really prepared for that. And I have had to slow down, and it's been OK, but I think it was because of all the therapy.
WM: Is this the first time you've worked with a therapist?
SE: No, I have in the past, but this is the first one that I really like and click with. I also think part of that's because I took it really seriously. I go in with a checklist every week of what I want to talk about, and I make sure I think about everything during the week. It's like if you have a personal trainer—I don't have one, but if you have one—and you only work out that one time a week with them, it's not going to do anything. It's about doing the work on your own. I think I just took it more seriously because there are some stakes. So it really has worked well for me this time around.
WM: What made you want to look for a therapist who specializes in the pregnancy and the postpartum period?
SE: Well, it was something that I was really thinking about even before conceiving, but I didn't immediately go for the therapist. I thought I could do it on my own. And then there was a point, I think at the end of the first trimester, where I was just getting really overwhelmed and having a lot of nightmares. Then I was like, No, it's time to get some help.
WM: What's the best thing your therapist has taught you about motherhood?
SE: So many things, honestly. But I guess constantly reminding me that whatever I do, I'm doing a good job, I'm trying, I'm doing the right things. It's just a lot of reassurance because it's easy to feel like you're messing up even before you get started.
Before giving birth, I was just terrified. So we were talking through all my fears and all the bad things that I think could happen. And now, I feel like I'm over the big scary hump, and it's more day-to-day stuff rather than these big, scary things. But it's still very helpful.
WM: You mentioned your identity changing when you have a kid. Who is Sohla, the mom?
SE: I still feel like me! I was even able to work part-time after the first week, which is really important to me because a big part of who I am is the work that I do. I was even talking to my husband. We're like, "Oh, it's just our life, but there's a baby now." It's great. It doesn't feel like much has changed.
WM: Speaking of work, tell me about the highs and lows, if there were any, of creating your new cookbook.
SE: [Laughs] It was pretty much all lows. I don't feel any highs from it yet. Maybe I will when it's out, but it was really hard. I think the biggest thing was self-doubt. A lot of, How could I possibly do this? Who am I to write this?
Towards the end, I did a lot of the writing in one big chunk like three months before it was due. The first year of working on it, I pretty much did research and outlines, but the bulk of the writing happened towards the end. I was just at home, not sleeping, not getting any sunlight, not on a normal person's schedule, writing through the night and then sleeping during the day. I really got lost in my head because there was nothing else. I was just doing this. So when I finished the manuscript, I did get very, very depressed.
I thought I'd feel like a big sense of accomplishment and instead I felt burnt out. And it took a few weeks of just doing absolutely nothing to recharge. I think a big part of it was that I hadn't left the house, so I would just lie in the backyard in the sun like a solar panel and recharge.
WM: What do you want people to get out of this book?
SE: I really want people to learn from this cookbook. It's not just a collection of recipes. I really want people to take away techniques. [Editor's note: The book is like an awesome master class. Each chapter teaches you one core cooking or baking technique, like how to stew and braise, and has a list of recipes to help you practice that lesson. It's not JUST recipes, people!]
My favorite thing is when I learn something from somewhere or from someone and I carry it with me. Like, I'll be cooking, and I remember this chef who taught me how to blanch peas 20 years ago or I remember when I read about how to dice potatoes when I was a kid. I really hope that there's something in the book that people carry with them and it can be part of their life.
WM: In the intro of the cookbook, you talk about the importance of failure. When was the last time that you failed?
SE: Well, I failed yesterday. I was working on a new recipe for pumpkin cheesecake. I have a problem with springform pans. You know where it has a detachable bottom? You typically use it for cheesecake, and you wrap it in foil and bake it in a water bath. But I feel like it always leaks, so I tried to just bake a cheesecake in a regular pan to see if I could flip it out, and I couldn't, and the whole thing fell apart. And then we scraped it out of there and ate it anyways. From that, I learned there is a point to the springform pan, and you don't really know until you try.
That's a little failure that happened, and then big failures happen too. One of the biggest public failures I've had was our restaurant [Hail Mary] closing, and I think it's something that I learned the most from. So I think that you can't be scared of it. Yes, you're probably going to fail. I feel like I fail 99% of the time, and it's cool. You learn from it. That makes that 1% even more exciting. … It's better to try and fail than to not try at all.
WM: How do you learn to keep believing in yourself through failure?
SE: It's like a self-perpetuating kind of thing, you know? You fail, and then you try again on something small. And then the more you get back up, the more you realize it's easy to come back from stuff. I feel like the more times I fuck up, the more I realize that I can get over anything. And the bigger the failure, the more confidence it gives me, because I know no matter what, I can always bounce back like a cockroach [laughs]. I think every time is very scary, but what's the other option? There's no other route but to just keep moving forward.
WM: Is there anything about mental health that you want to teach your kid?
SE: A big reason why I got really focused on my own mental health before and during the pregnancy was because I don't want to teach her my bad habits. I get really anxious about things and stressed about stuff, and there was a point after the pandemic where I was having panic attacks. So I really want to get all that under control. I want to teach her by example. I want to be very thoughtful and levelheaded about my decisions, and hopefully I can show her that as well.
WM: How do you personally cope with panic attacks?
SE: I do a daily check-in. That really helps me see where I am mentally and try to be present. And I think that's the main thing, just trying to be present with everything, which is harder to do than it sounds. Just taking a second every morning, checking in with myself and also checking in with my husband, because sometimes you spiral in your head and I need to talk it through with someone who I trust and be like, "Is this really a problem or am I getting lost?" So that really helps too.
[When I'm in an actual panic attack,] I find that any kind of stimulation makes it worse. I don't even want someone to touch me, so it's more just getting in a quiet place and shutting everything off and just being alone with myself.
WM: What's the best mental health advice you've ever received?
SE: I think a big thing that I've gotten from this therapist was just forgiving myself. I think that was at the core of a lot of things. I just wallow in regret and guilt sometimes, and I need to get out of that hole because it doesn't do you any good.
WM: A little bit of a lighter question! As a chef, can you explain how emotion ties into the food that you cook?
SE: I think if it's good, it should have some emotion behind it. It doesn't have to be a [big] meal—it can even be a bowl of cereal—but if you're enjoying it, it's gonna evoke some emotion. Nostalgia or comfort or something like that. I think when I've had a meal and I don't feel satisfied, it's because it didn't give me that. I think that you get that when the food is coming from a place that matters. You know what I mean? There's a story behind a dish or a restaurant or a recipe, and it really comes through when you sit down and eat.
I'm a big fan of Thanksgiving. I always get lots of warm, fuzzy feelings for Thanksgiving because, growing up, that was the first time I got to cook unsupervised since my family kind of let the kids take over. So anytime I have box stuffing—not even a fancy stuffing—or gravy from a jar, it just gives me those nostalgic feelings.
WM: What are you most proud of?
SE: I think the relationship I have with my husband is the best thing, and it's what keeps me grounded. It's like the foundation in my life. We have a great relationship, and we worked really hard to get there. It didn't just magically appear. I think a lot of people see us and how well we communicate, and they think that we just found each other and it's like a fairytale, and it's like: No, we worked really hard for it, and I'm really happy we have it.
We are constantly communicating, and sometimes it's frustrating, but it's really important. You can't just leave things unsaid or lingering. You got to talk through everything and you got to work through everything, and it's going to be worth it in the end.
This interview has been edited and condensed for length and clarity.
Wondermind does not provide medical advice, diagnosis, or treatment. Any information published on this website or by this brand is not intended as a replacement for medical advice. Always consult a qualified health or mental health professional with any questions or concerns about your mental health.