WM x BUICK
08.29.23
Powered By
10 Surprising Ways to Relieve Stress That People Actually Swear By
Don't worry, we're not here to tell you to just do yoga or take a deep breath.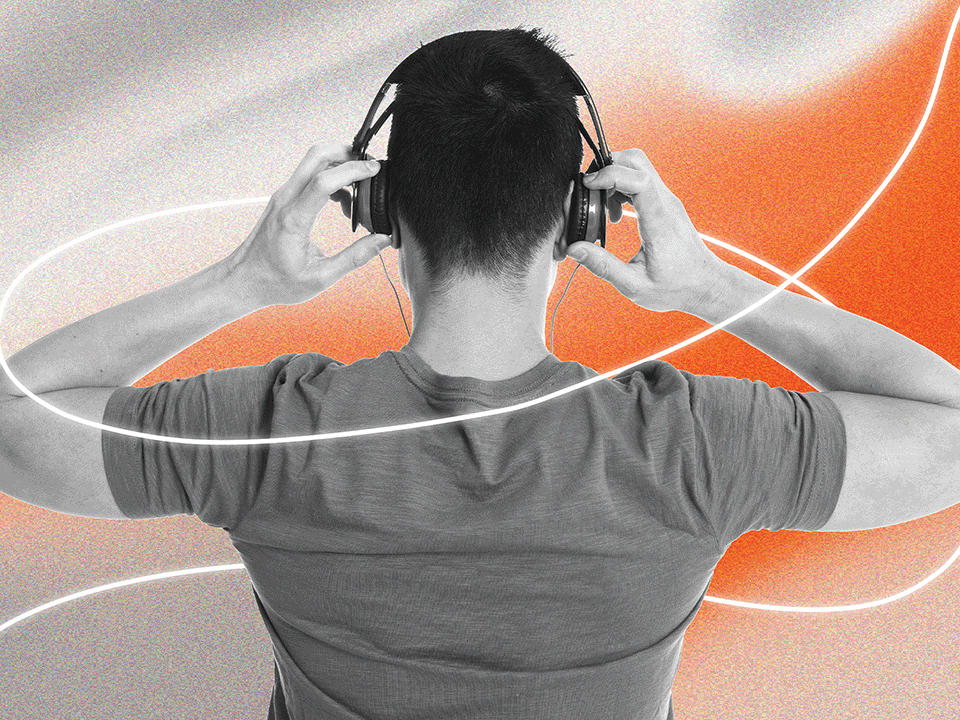 Shutterstock / Wondermind
Telling a friend that you're super stressed and getting the advice to "just relax" or "try yoga" can be enough to make your already-overstimulated brain explode. (Like, great idea, Carol! I've never tried *checks notes* just relaxing!) We'll give you the benefit of the doubt here and assume that you've tried all the usual tips to relieve stress before and haven't quite found something that works for your unique brand of overwhelm.
The thing is, there's no one-size-fits-all solution to relieve stress—or anything mental health-related, for that matter. So it's unhelpful at best—and infuriating at worst—to just get the same stale advice over and over again. That's why we asked people to share the simple, surprising, stress-busting tips that actually work for them. Here are 10 ideas to try that don't involve yoga or deep breathing.
1. Stare at the wall. That's it, that's the tip.
"On especially stressful days, if I know I have a few minutes free somewhere in my schedule, I will set a 15-minute alarm on my Alexa, put my phone down, and lie on my back on my couch facing the wall. It's not to sleep or scroll or read, it's literally just to STARE at that little spot where the wall meets the ceiling. (Now that I'm back at the office more, I'll do the same thing right when I walk in the door if I've had a bonkers day). It just feels quiet. There is nothing to accomplish. No goal at the end of it. I'm not pressuring myself to meditate or practicing any sort of mental exercises, and I don't think about anything specific—or avoid anything specific—I'm just letting my brain settle for 15 minutes. As weird as it sounds, it's like I can feel the pressure seeping out of my skull. When the alarm goes off, I usually get back to doing what I'm doing and feel like my shoulders are relaxed. Whatever anxiety that was building about my to-dos has faded a bit and I usually feel like whatever it was that seemed so insurmountable 20 minutes ago is now doable." —Amy H., 33
2. Throw a short-and-sweet cleaning party.
"I relieve stress by waking up, putting on some music, and taking 30 minutes to deep clean or purge something. A junk drawer, my fridge, a closet—anything manageable in 30 minutes. On top of feeling really accomplished when it's done, before you know it, your whole house feels clean and organized. I try to do this every day. But it doesn't always happen. When I get overwhelmed, it becomes a task that helps get me back in a good headspace." —Carley I., 38
3. Zone out in the sauna.
"One of my goals as a mother has always been to carve out some time for myself during the day. Fortunately, my gym offers a wonderful solution with their two-hour kids club service. Over the past few months, I have made a conscious effort to incorporate exercise into my routine and then dedicate 20 minutes to some post-workout 'me' time. During this period, I often head to the sauna, accompanied by soothing music, to decompress and unwind. While I'm in there, I make a deliberate attempt to be present and fully immerse myself in the moment, setting aside thoughts about future tasks or events from earlier in the day. When I've finished my time in the sauna, I leave feeling rejuvenated and ready to tackle the remainder of the day." —Samantha C., 37
4. Touch sand or water or grass—whatever nature's nearby.
"Whenever I'm feeling stressed or overwhelmed, I walk down the street to my local coffee shop, grab my favorite drink, and then head straight to the beach and (depending on my shoes) touch the sand or the ocean with my toes. It's my favorite thing about living in LA. We even went on the day I was induced. I walk the same path along The Strand and just let the sun hit my face and the wind whip my hair. I'm the type of person whose brain is ticking a mile a minute, and I'm constantly thinking of the next thing on my plate, but when I'm walking my loop it's the one time I remember to just breathe and let everything else fall away. I hardly ever pull out my phone—no podcasts, no music, no need to take photos. As soon as I get a few blocks from home, I let my brain turn back on, and I feel completely refreshed." —Samantha O., 33
5. Channel your inner Top Chef.
"A lot of people find cooking to be stressful but it's actually one of my favorite ways to relieve stress. Following a recipe and focusing on each step lets me tune out other thoughts and worries. It's essentially a mindfulness practice. I also like that there's room for creativity—baking intimidates me because there's usually less room to experiment (because, chemistry) but with cooking, I find I can substitute ingredients or add something extra that I love, and it usually goes well—and I get to give myself a little pat on the back for taking a chance and creating something that I can enjoy. Even better: Cooking a meal is something I need to do, so I then get to cross a daily task off my to-do list." —Amy W., 33
6. Have a little podcast ritual.
"Numbing out in front of the TV or scrolling through TikTok does nothing for my stress level, but it's usually all I want to do after a chaotic day or week. To help me get in some dopamine-boosting entertainment while also doing activities that actually help me de-stress (walking, tidying up, showering, cooking, etc.), I've started using podcasts as a reward (a habit-stack, if you will) for these not-super-exciting-on-their-own tasks. Some of my favorite combos: Normal Gossip + cooking/cleaning. Maintenance Phase + mental health walk. Baggage Drop + nighttime routine. Trust me, it works." —Casey G., 34
7. Birdwatch. Seriously. Don't knock it 'til you try it.
"Bird feeding and watching is an easy way for me to feel closer to nature. I find that carving out just a few minutes each day helps my mental well-being. I've dealt with generalized anxiety disorder for most of my life. If I have a stressful or heightened anxiety day, I make an effort to spend a few minutes relaxing and watching the birds outside. It's a quick way for me to mix meditation with a hobby I enjoy! Anecdotally, I feel my stress and anxiety have dramatically dipped since I started the hobby several years ago." —Daniel D., 31
8. Cricut anything and everything.
"Cricuting is a great stress reliever for me. I like designing something, making it with the machine, and then seeing how people react when I give them something personalized. Before I started Cricuting, I didn't have a great method for unwinding and relieving stress—I used to just scroll through TikTok or Instagram. Now, I Cricut and it's been a huge help, especially when I feel overwhelmed and overstimulated taking care of my twin toddlers." —Rebecca L., 31
9. Start a little routine you can rely on.
"During my medical residency in New York City, sometimes when I was post-call (after working overnight) I'd get the same everything bagel with scallion cream cheese from my bagel guy. I think having something consistent that I could look forward to was key. If it was an extra bad night at the hospital I would eat it on a bench in the park and it always made me feel better." —Amy B., 31
10. Do a cold plunge.
"I do a cold plunge at the gym—or, if I'm able to, the ocean—about once a week, for six minutes at a time. It's killer, but the fact that it makes it impossible to think about anything except getting through the next couple of minutes forces me to be present. I've found that this completely resets my mind and clears any lingering stressors. Plus, there's something really satisfying about getting through the discomfort. It's a good reminder of my mental and physical resilience and ability to persevere through tough situations." —Kevin H., 33
Wondermind does not provide medical advice, diagnosis, or treatment. Any information published on this website or by this brand is not intended as a replacement for medical advice. Always consult a qualified health or mental health professional with any questions or concerns about your mental health.