Pro Tips
09.01.23
How to Talk About Not Always Wanting to Be Alive
Your guide to the conversation you've been too scared to start.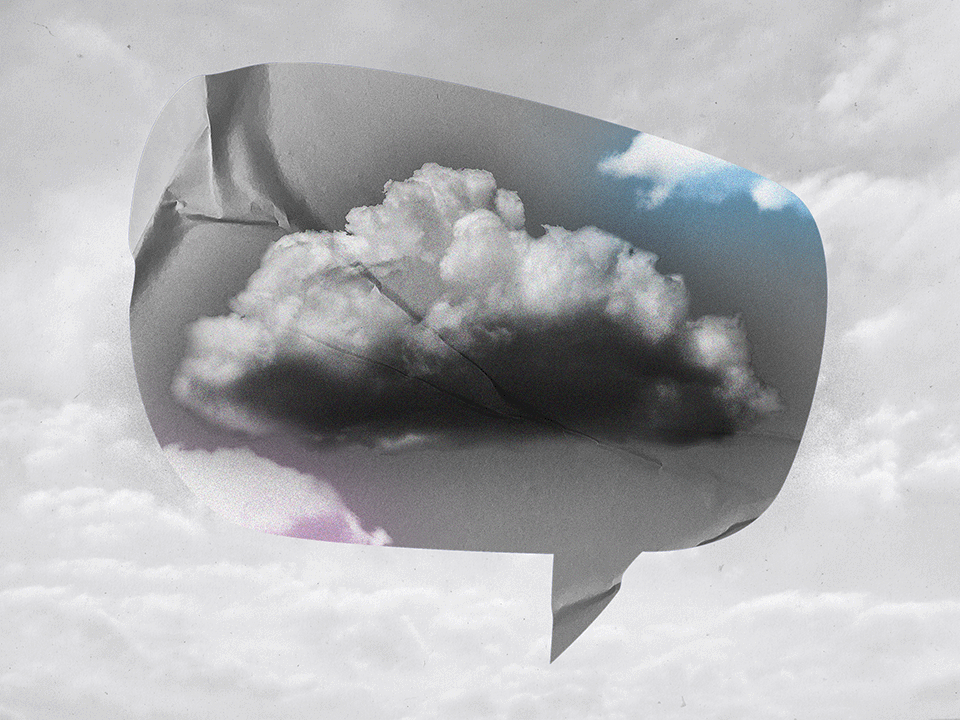 Shutterstock / Wondermind
There is a space between wanting to die and planning to die. And, for most of my teens and early twenties, before I had the language for suicidal ideation (or suicidal thoughts), I was well acquainted with those murky waters. At the time, I believed that there was only "suicidal" and "not suicidal," so I dismissed my feelings as "not real" until they eventually became too big to ignore.
What is suicidal ideation, anyway?
Suicidal ideation basically means thinking about dying by suicide, according to the American Psychological Association (APA). "It's a category of thoughts that reflect a person's wishes, fixation, or contemplation about death or suicide," says trauma-informed psychologist Mariel Buqué, PhD, author of Break the Cycle.
Most of the time, suicidal thoughts stem from a depressive episode, and it doesn't usually result in someone acting on those ideas, per the APA. "There is a difference between actively wanting to die and just not wanting to be alive," explains therapist and researcher Sonyia Richardson, PhD, an assistant professor at the University of North Carolina at Charlotte, whose work centers on reducing the risk of suicide in Black youth. Suicidal ideation exists on a spectrum between those two things. So, even though it can feel scary, suicidal thoughts on their own isn't an emergency, she adds.
When your thoughts about dying or even killing yourself come and go infrequently, that might be what's called passive suicidal ideation. But if they bubble up a lot or on an ongoing basis, that could be a sign you probably need some help, says Dr. Richardson, especially if these thoughts progress to the point where you feel motivated to act on them or you're thinking about a plan. "This constitutes active suicidal ideation."
If you can relate to being somewhere on the not-really-attached-to-being-alive spectrum, you might've felt super alone up to this point. However, a survey by the CDC done between 2015 and 2019 suggests that roughly 4.3% of U.S. adults had suicidal thoughts within the last year. Plus, a review of research published in the Journal of the American Academy of Child and Adolescent Psychiatry found that between 14.3% and 22.6% of young people under the age of 22 experience suicidal ideation. That basically translates to millions of people every year having the same thoughts as you. While maybe that's a little scary, it's also nice to know it's not just us.
And, again, those thoughts don't necessarily mean you're in immediate danger. "On a daily basis, we have over 6,000 thoughts," says Dr. Richardson. "Many times, our thoughts are not truly indicative of what we think or feel. They just pop up." And yet the stigma of having suicidal thoughts can keep you from ever discussing these kinds of thoughts with the people closest to you, explains Dr. Buqué. "Its taboo nature has closed out many opportunities for those who are suffering to actively talk about their ideation and perhaps even receive help in minimizing their distress," she says.
Here's why it's so important that we talk about this.
Talking about suicidal ideation, active or passive, can help you deal with the things that are triggering this mental health symptom, says Dr. Buqué. That's because extreme distress and the desire to make that distress go away permanently usually feed the ideation in the first place, she explains. When you reach out to a friend and tell them that you don't always want to be alive, they can help you find ways to manage whatever emotional struggles you're going through—or they can simply offer connection and support. And those are the exact things you likely need to minimize how much suicidal thoughts impact your life, Dr. Buqué adds.
Of course, most of the people you hang out with probably haven't been taught or trained to talk about these kinds of thoughts and feelings, says Dr. Richardson. But that's very much OK.
Both Dr. Richardson and Dr. Buqué recommend reaching out to your people (the ones you trust the most) about your suicidal ideation. Together, you can look for solutions and resources to help you feel better.
It sounds intimidating, but I can confirm from personal experience how helpful this can be. Having a network of people who understood or were open to learning allowed me to work through my feelings and prevent my suicidal ideation from becoming more active.
Sure, not everyone may get exactly what you're going through, but there are enough humans out there to make it worth opening up. Here, we asked experts how to get that important conversation going in a healthy and helpful way.
Get familiar with your feels.
Acknowledging what you're feeling is the first step to finding ways to manage your pain, including bringing it up to your people. When I didn't know any better, I used to think my passive suicidal ideation was cowardly, so I tried to ignore those thoughts. But your pain—no matter where it falls on the spectrum—is valid.
If you suspect you might be experiencing suicidal thoughts, check in with yourself to see if something has been off, says Dr. Richardson. Take a sec to ask, What am I feeling at this moment, and what triggered these feelings?
Then ask, Do I like how I'm feeling? If not, find something to distract yourself like journaling or listening to music. If the feelings stay or become intense and negative, it's definitely time to reach out for help. You can call a friend or the Suicide & Crisis Lifeline via their easy-to-remember number 988 (you can text the hotline too).
Think about what you need.
If you can, noodle on your expectations for this conversation. Do you want them to just listen, problem-solve, or help you get connected to assistance from trained counselors or licensed mental health pros? Your friends and fam will want to do whatever they can to help, so it might make the chat easier if you give them some direction.
Talk about talking.
If you're concerned about how the convo might go or you're not sure how they'll receive what you're about to throw down, Dr. Richardson recommends giving your person a quick heads up that the thing you're about to say is a big deal. You can do that by asking them, "Is it safe for me to share something really difficult with you?" she explains. Giving them an opportunity to respond can squash your fears about being invalidated or signal that they're not the right source of support.
Be as blunt (or not) as you want.
Opening up about your struggle is fundamental in helping you find a way out of it, or at least through it. But you don't have to straight up say, "I am experiencing suicidal thoughts, and I need your support." You totally can, but if that feels weird or uncomfortable, use words that make sense to you, says Dr. Richardson. That could sound like, "Life is too hard, I just can't do it anymore." Or, "Things aren't getting any better, I've lost all hope." You don't even need to use the word suicide, she adds.
Get help seeking help.
While you shouldn't let one person take on the sole responsibility of your well-being, they can help you seek out professional help or call a suicide hotline on your behalf or even with you, says Dr. Burqué. Those pros can navigate you through the ideation and find solutions to your pain, she adds.
Yeah, you could do this alone, but when you're in the thick of it, having friends nearby can help you get emotionally regulated (as in co-regulation) and give you the courage to be honest and truthful about how you're feeling, says Dr. Richardson,
Ultimately, it's important to remember that the pain you're experiencing is real and valid—and those around you want to help any way they can. However much it hurts right now, reaching out to the people who care about you can enable you to find a path onward that doesn't end with life itself. Trust me, I've been there.
If you don't know who to talk about this with, try these resources.
If you're not sure who to seek support from, going straight to resources like 988 is totally fair game. "988 is available as a free resource," says Dr. Richardson. "You can speak to a trained professional about what you're experiencing, and the counselor will listen and provide support. [They] will not be alarmed by the information that is shared and are trained to respond."
If that's not quite right for you, try some of these hotlines and resources whenever you could use a little extra support.
Wondermind does not provide medical advice, diagnosis, or treatment. Any information published on this website or by this brand is not intended as a replacement for medical advice. Always consult a qualified health or mental health professional with any questions or concerns about your mental health.