Q&A
11.13.23
How Torrey DeVitto Quiets Her Inner Critic 
The actor and activist shares what works for her.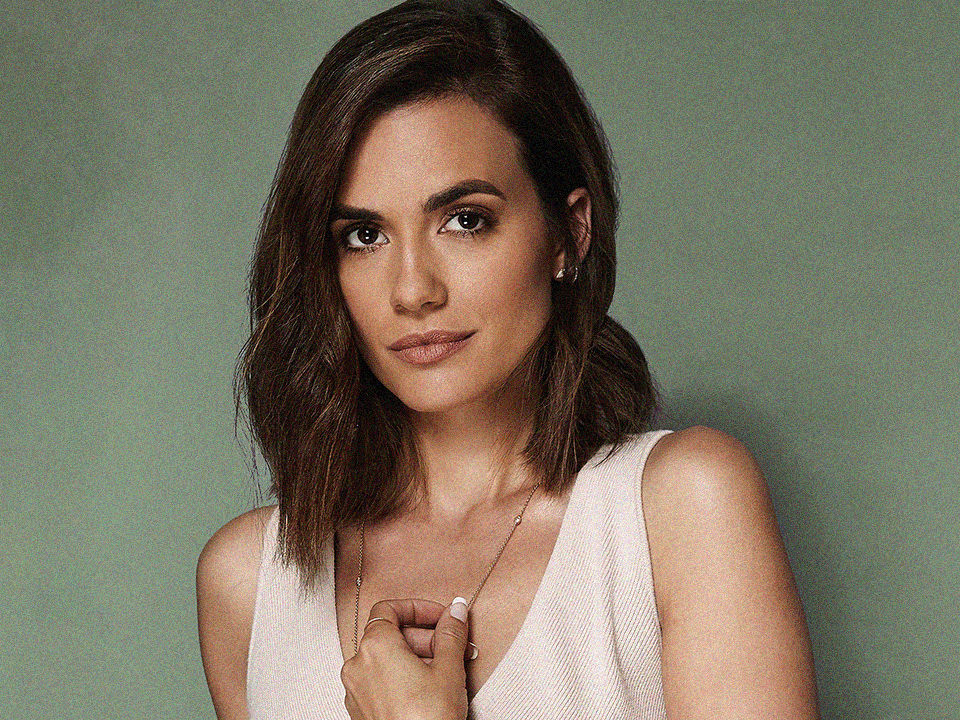 We proudly stand with the WGA and SAG-AFTRA. As such, this interview does not focus on the promotion of any particular project.
You might've hated her villainous character on a certain twisty teen drama, but in real life, Torrey DeVitto is a delight and a fierce advocate. The longtime actor often uses her platform to spread awareness of important social and political issues, fighting for climate justice, animal welfare, and reproductive rights. In 2022 she spoke at Planned Parenthood's Bans Off Our Body virtual rally and shared her own story of having an abortion in her early 20s. Looking back on the moment, she tells Wondermind that she's always wanted children, but the timing wasn't right. 
"Reproductive rights are so important for so many reasons. That is the piece that frustrates me. Some people are like, 'It's just the right to choose, and you just didn't feel like it.' That's belittling my story. The right to choose is just one piece," she tells Wondermind. "They're not thinking about what happens when someone has the baby, postpartum, and all these things. They're not thinking about the mental capacity that it takes and how much mental health is tied into all of this," she adds. "If someone is making the best decision for themselves at the time to say, 'I have the right to choose over my body. I am not mentally ready or capable to do this right now,' that has to be honored. It's nobody else's business."
Over the years, DeVitto has become well-versed in the importance of mental health and finding what works for her (alone time, well-deserved spa days, boundaries, muting envy-inducing social media accounts, just to name a few). Here, she opens up about dealing with anxiety, the benefits of aging, and the example she'd like to set for young people.
[Sign up here to never miss these candid conversations delivered straight to your inbox.]
WM: How are you doing lately?
Torrey DeVitto: I'm doing pretty well. I feel like I've been more connected with my family and nature with the strike going on and having so much downtime. [It] has been a silver lining to all of this, for me personally, even though I'm hoping we resolve this as quickly as possible. But overall, I'm feeling pretty good. Ebbs and flows every day, which I think is normal, but pretty good.
I also totally acknowledge that it's a privilege to be like, "Oh, I'm enjoying this downtime," 'cause there's so many people where it's like, no checks. We gotta get this moving. I'm one of those people [where] I can't just live like this forever, but I do have the luxury of being like, OK, these last couple of months, it's been nice to chill for a second. But I acknowledge that that's not everybody's experience. And for that, I definitely want this to get moving as quickly as possible and as fair as possible.
WM: You've been open about experiencing anxiety. Do you mind sharing what that looks like for you?
TD: When I was younger, I didn't know the word anxiety, [but] I know there were moments in which I felt so anxious. I remember it used to come out when I was a tween as an obsession with having my bathroom really clean. It was really hard because me and my sister shared a bathroom, and she's so messy and I was so not. I remember I would start shaking, and I'd start crying all the time. Like, it would give me a panic attack, but, obviously, it wasn't the bathroom. It was just me transferring anxious energy into something that I wasn't able to have control over. And then when it was cleaned, I had control over it. I remember that being a really big thing for me even though I wasn't aware of what was actually going on in my mind or my body.
When I was in my 20s, I would call my mom, and I would just be sobbing, and I couldn't breathe. I was like, "I don't know what's happening to me." She was like, "Honey, you're having a panic attack. Just breathe." Then, luckily, I found meditation around 26. 
It's funny [because] I feel like you have this expectation of, Well, I'm spiritual now. I do meditation. I do all the work, and that should all go away. I almost feel like it gets so much worse before it gets better. Surrendering something to the universe and being like, "Please help," is like ripping off the Band-Aid and the wound under there is totally exposed.
I feel like meditation frustrated me and was giving me more anxiety 'cause every thought, every noise, I was like, Everybody, quiet down! I'm meditating! Why isn't the world silent? I'm meditating, dammit! But after that, I learned to breathe through things.
I also started studying A Course in Miracles, which I love. And [it's the idea that] nothing real can be threatened, nothing unreal exists, and all that ever was real in any situation was love, and fear is just a human illusion. When I think of things in that way, it helps calm me down so much 'cause I'm like, OK, I have control over this. This is just part of the human experience, which is just a blip in time. Everything's so much bigger than this moment right here.
WM: Do you remember how long it took you to get a handle on your anxiety?
TD: I honestly feel like it's still a journey, right? Being human is hard, especially right now. There's so much going on in our world, socially, human to human. There's so much environmentally going on right now that's really scary. I feel like it's a constant struggle for me.
Honestly, when they say life gets better when you're in your 30s, it's so true. I would never go back to my 20s—ever! … Getting older kind of gives you that calmer vibe 'cause you get to know yourself more. You don't put up with BS as much anymore. You know your nos more. You're more confident in your nos. 
But I could go down an environmental spiral and be like, Oh my god, the whole world, we're gonna implode. Oh my god, it's gonna freeze. It's gonna be like the ice age all over again. We're all gonna die! And then I literally have to say, OK, am I doing everything I can in this moment to contribute in a positive way? Yes. Is there anything else I could be doing right now? No. So let's calm ourselves. It's almost like you have to give yourself a timer. Like, these are all the things that are gonna stress me out. I'm gonna let them stress me out right now for the next five minutes. Then I've gotta breathe, and I've gotta move on and calm myself throughout my day.
WM: What's something you're proud of when it comes to your mental health journey?
TD: I've gotten to a place where I literally don't sweat the small stuff—and I used to. Now, if my luggage goes missing, if I'm stuck at the airport for 12 hours because my flights were delayed, I'm like, All good. The universe, for whatever reason, is keeping me here because it's preventing something worse from happening. So I'm good with it. Let's just read a good book and sit in the terminal for the next 10 hours. I literally don't stress about that stuff at all anymore.
And I've gotten pretty good at being able to calmly talk through things, which, as an Italian woman, is not the easiest thing. … But being able to rationally see both sides and talk through things and breathe through things and realize nothing's really a big deal at the end of the day, that took me a while to get to. … Or finally saying, "Not my problem" was such a huge, empowering statement for me to learn.
WM: If you could give your younger self some advice, what would it be?
TD: As cliché as it is, treat yourself the way you treat people you love, which is something I still work on and try to remind myself. Like last night, all I wanted was ice cream. I wanted it so bad, and I love food. I had a great dinner and then I get this ice cream and I'm like, "Load it up. I want the cone with all the scoops." I ate it, and I had the best time ever.
Then I woke up this morning, and I [had] a sugar hangover and felt puffy and my jeans were a little tight. I was like, Why'd I do that? If I was sitting next to a friend who was like, "Why'd I do that?" I'd be like, "You enjoyed yourself. You look beautiful. Let it go. It'll be gone by this afternoon." But when it's your own self, you're so hypercritical and so down on yourself and so mad at yourself.
I wish I could tell my younger self to start from a younger age. Talk to yourself the way you would your sister or your best friend or your daughter. That was a big component for me as I was getting older, because I do want kids. The way I talk to myself sometimes when I'm like, "I don't like my arms. I think my arms have cellulite now." Like, what the hell? If I use this language in front of my child who might have my arms, they're gonna grow up feeling that way about their arms. And their arms are beautiful. I look at my niece and everything about her is perfection. Perfection! And she has parts of me in there, but if those parts are on me, I'm gonna hate 'em. But if they're on her, I love them. That makes no sense.
I was so hypercritical of myself as a teen. I feel like—especially as a young woman—we all are. Society is definitely mapped out for us to hate ourselves.
WM: What aspect of your mental health would you describe as a work in progress?
TD: It's a mountain that is forever climbable. I do think it's important to have those moments where you stop and you look at the amount of miles you have climbed already and you're just proud of yourself for a moment, even if you feel like you have more miles to go. Even for me, it's like, I try, and then I feel myself slip. I'll feel myself get triggered by something I thought I already worked through. And then what's even worse is the beating up process we do on ourselves when we feel like, Wait, I already got past this. This shouldn't be making me anxious. I already worked through this.
There's still a piece there that you're meant to work on and grow from, so be grateful that it's coming up. I try to look at like all my little missteps in my mental health journey as, I'm actually very grateful for that because it's showing me where I still need to heal.
This interview has been edited and condensed for length and clarity.
Wondermind does not provide medical advice, diagnosis, or treatment. Any information published on this website or by this brand is not intended as a replacement for medical advice. Always consult a qualified health or mental health professional with any questions or concerns about your mental health.