Explainer
03.16.23
This Is Why You Can't Turn Away From True Crime
And what to do if it's, um, becoming an issue.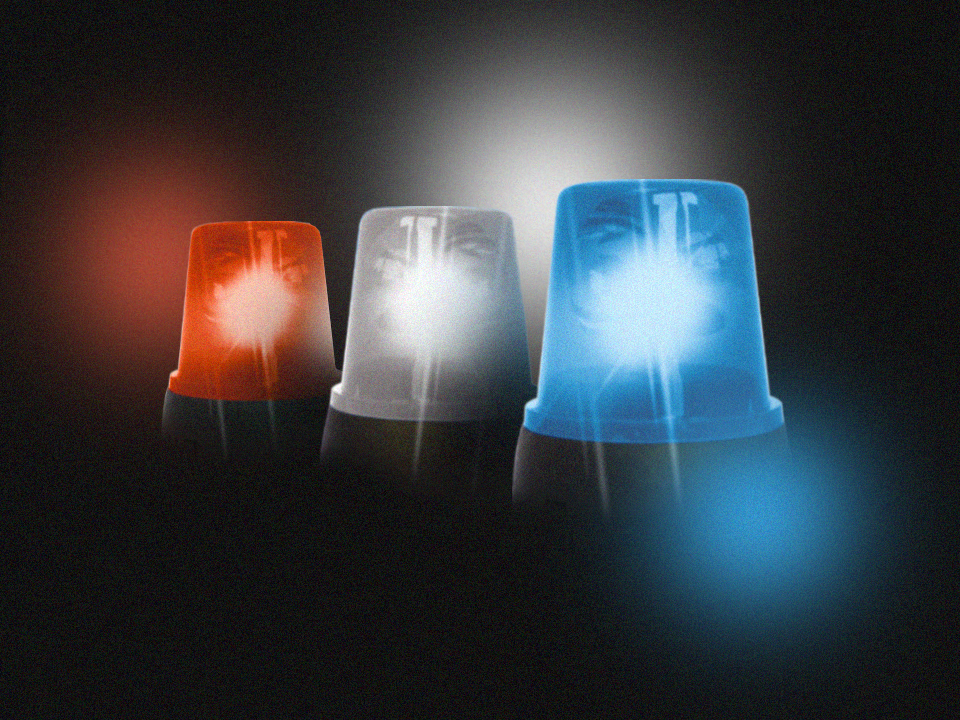 I know I'm not the only one who binged all the episodes of the Murdaugh Murders docuseries in one night—and then immediately locked myself in my bedroom. And I'm definitely not alone in unearthing my semi-dormant Twitter account to read the Idaho homicide trial's 19-page probable cause affidavit or catch up on speculation around what actually happened to Shanquella Robinson in Mexico. I know this because I saw hundreds of people in the comments doing the exact same thing.
But between the latest episode of Wine & Crime and the TikTok and Reddit rabbit holes I voluntarily jump straight down, I've often wondered, Why the hell do people like true crime so much?
Yes, let's acknowledge that part of this is simply the availability—this stuff is just everywhere. From Dateline to podcasts to streaming docuseries, it's so easy to get your true crime on anytime you want. Plus, you can log onto just about any social media app after you watch or listen and get pulled into conversations with other true crimers about any case you've been following. "All of these mediums make it easier to consume true crime and, in some cases, become obsessed with it," says Amanda Vicary, PhD, associate professor of psychology at Illinois Wesleyan University. But what is it about the true crime genre that pulls some of us in so deep?
Why are we like this?
Ultimately, mental health experts don't fully understand all the factors behind our true crime obsession. But there are a lot of theories as to why real-life nightmares draw us in.
A true crime show, podcast, or book is a thrilling window into a person's story or psyche that's (hopefully) much different from your own. Sort of like how people-watching in a crowded place can take your mind off of life for a while, "this is like that turned up to a 10, with a fascinating, often complicated true story that has villains and sometimes heroes," says clinical psychologist Ryan Howes, PhD.
So, yeah, escapism likely has something to do with craving some Keith Morrison (IYKYK) after a long day or listening to My Favorite Murder while you clean your bathroom. And because the explanation or "motive" isn't revealed until the end, it allows you to temporarily lose yourself in a dramatic story of a serial killer or grifter through its conclusion.
That said, a 2010 study co-authored by Dr. Vicary suggests that people who identify as women are more likely to be hooked on true crime books than those who identify as men. The authors hypothesize this could be because those who identify as women are more scared of becoming the victim of a crime, says Dr. Vicary. And that fear could motivate them, consciously or not, to consume more true crime content as a way to prepare for or prevent that from happening, explains Dr. Vicary.

Then there's the sheer curiosity of it all. "Some people are just curious about what makes someone do something wrong or harmful, or what they would do if faced with similar circumstances," adds Dr. Howes. It's possible that fascination can keep us coming back for more too.
Finally—and we know it sounds weird—if you've experienced abuse or trauma, you might be extra enticed by true crime stories, says Dr. Howes. Even if it is triggering, you might empathize with the victims or feel super invested in seeing the perpetrator brought to justice, he explains.
It's also possible hearing the stories of other victims makes you feel less alone or validates that what happened to you wasn't your fault, he adds. Crime content breaks down the cases in ways that help dismantle irrational beliefs that you, as a victim, brought the crime on yourself. By learning about the planning, the motive, or the loss of control by the perpetrator, you can see how so much of whatever happened to you was completely out of your control.
Is true crime bad for my mental health?
The annoying news is that consuming murder content can trigger existing anxieties or compulsions, which thrive when your brain and body are on high alert (i.e. you three episodes deep into I'll Be Gone in the Dark), Dr. Howes explains. "As the stories twist through multiple theories, suspects, warning signs, and clues, people with anxiety can find themselves scouring their own homes, relationships, and life events that show similar signs of danger." Dr. Howes says.
Of course, that isn't the case for everyone, and it's possible your true crime hobby helps you connect with others and find common ground while swapping theories and predictions. "You get a sense of community, a sense of fitting in, and people want to hear your opinions," says Dr. Vicary. And if you don't get that in your everyday life, that's a huge perk.
Still, if this kind of content is messing with your sleep cycle, relationships, or making you generally more tense or unsettled, it might be good for you to set some boundaries around how to engage with your love of true crime, says Dr. Vicary. Here's how to do that.
1. Compartmentalize your "true crime" time.
If it's actually stressing you out, curbing the total amount of true crime content you take in each week is a good place to start. "The more stories you hear about these rare crimes, the more likely you are to think they are to happen," says Dr. Vicary.
So if you notice that murder mystery TV episodes or scrolling through Reddit threads are making you feel restless while you try to sleep, designating a ~special~ time to get your true crime on, like Friday nights or on your commute, can make it something you look forward to while also limiting how much you watch or listen to.
2. Ground yourself.
While you're delving into these true crime stories, remind yourself that this is not your reality at this moment. Then, do a quick little grounding exercise to come down from a state of high alert or panic. Dr. Howes recommends taking a look around your surroundings, noticing what you can see, hear, smell, taste, and touch. If you need more calming vibes, close your eyes and visualize a place (real or not) that makes you feel secure while taking some slow deep breaths.
3. Skip to the next episode.
There's no crime (ha) in starting a new episode before finishing the last one. "The producers' whole aim is to stretch out the story as long as possible with enough thrilling twists and turns to keep you engaged," says Dr. Howes. But, for some of us, that engagement feels more like anxiety and agitation, he adds. If this sounds familiar, head straight to the end and catch the spoilers. Then, once the suspense is over, you can go back and check out the remaining episodes, if you still want to.
4. Do a short-term true crime detox.
If you're now thinking, Wow, maybe I should cut back on this? evaluate whether or not a true crime hiatus might do your mind a solid and help you feel less jumpy. You can delete your podcast apps temporarily, unsubscribe from newsletters, or remove content from your streaming list. Then, fill your time with anything else that will keep your mind busy, like plans with friends, catching up with former coworkers, exercising, or journaling, Dr. Howes suggests. If you find yourself sleeping better or feeling relieved, maybe this is a hobby you can pull away from slightly.
"If you don't think you can live without it, even if it seems like it's personally harmful to [watch or listen to] it, then you might want to seek the help of a therapist," Dr. Howes explains. Any obsession that feels "out of control" and adds additional stress or fear to your life may be something worth working through with a mental health professional.
Wondermind does not provide medical advice, diagnosis, or treatment. Any information published on this website or by this brand is not intended as a replacement for medical advice. Always consult a qualified health or mental health professional with any questions or concerns about your mental health.