Q&A
10.17.22
Achieng Agutu Is All About the Soft Life
The influencer and "confidence queen" knows a thing or two about boundaries.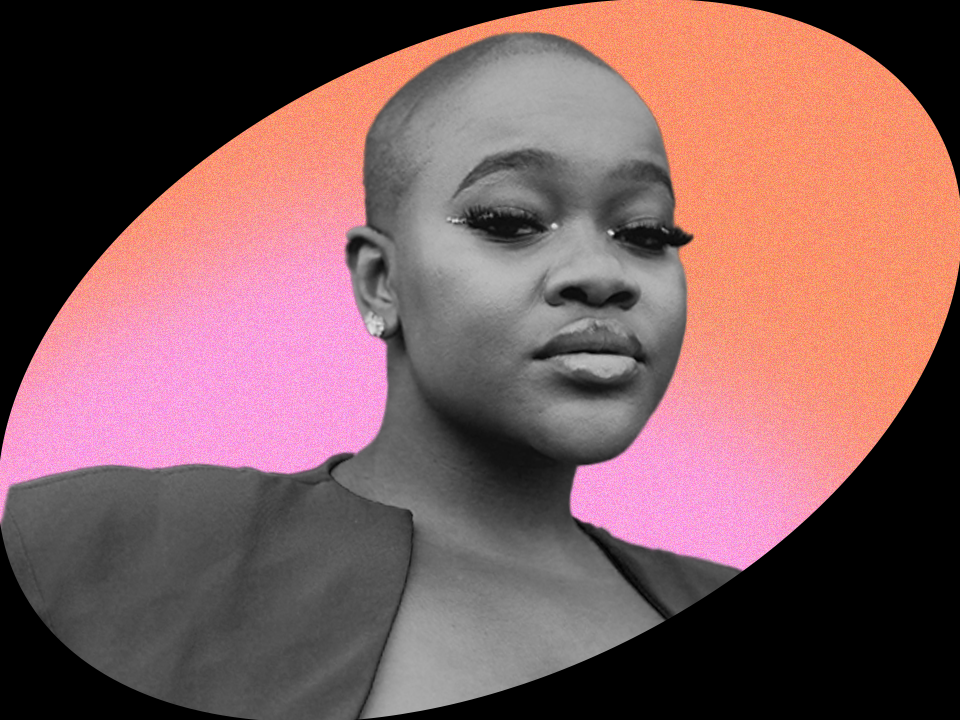 Photo Credit: Braylen Dion
Instagram's fave "confidence queen" Achieng Agutu is all about redefining beauty standards, prioritizing herself, and cutting out the noise of other people's opinions. "If I gave a single ounce of my energy to what somebody thinks about what I'm wearing today or what I'm posting today or who I'm hanging out with, I would've been stagnant forever," she tells Wondermind.
Stagnant she is not. From locking down brand deals with companies like Aerie and securing a much-deserved spot at New York Fashion Week (I mean, just look at her own this purple ruffle number), Agutu isn't slowing down any time soon. Here, the content creator talks about embracing the soft life and her journey.
[Sign up here to never miss these candid conversations delivered straight to your inbox.]
WM: How are you doing lately?
Achieng Agutu: Overwhelmed. I feel like a lot is happening in my life right now. [There are] exciting things, like moving to New York and getting set for the fall and all these things that I want to do. So [I'm] overwhelmed, but happy—the mix of both.
WM: What's helping you manage those overwhelming feelings?
AA: Something that is actively helping me right now is therapy. Even though you have your girls and you can talk to them, speaking to somebody who can better process things is best. Therapy is holding me down for sure. I would also say I thrive best when I'm around people, so it has been [important to] set boundaries with work, because I feel like I constantly have to do things. … So saying yes to being around people that I love and creating moments that bring me joy, but saying no and also putting up boundaries for work … I work in social media, so you can work 24 hours without [realizing].
WM: When did you start going to therapy?
AA: I've been going to therapy on and off probably since last summer. I had no time, and I wasn't putting myself first. But I've been actively going to therapy since the beginning of this year. It's been really helpful for me. With what I do in social [media], I continue to post content that deals with my self-love and self-confidence, and it's kind of exhausting sometimes to put out there.
WM: Do you ever feel the pressure to keep up your bubbly, positive personality?
AA: For some time, I did. I think that's when I was very much neglecting myself and my mental health. I can only be my best self if I take care of myself and set a boundary with my socials. Like, I've decided to post this part of me online, but also the world doesn't have to see all of me. When I'm the lowest, I can also decide what is private for me and what I want to keep to myself, and that was also a big part of my mental health. I felt like I had to share everything with my audience, like whether I'm sad, whether I'm going through a breakup, I'm going on a date, I'm doing this [and that]. I still share that stuff, but I think creating that boundary also helps me with my mental health.
WM: What's something else you do for your mental health on a regular basis?
AA: I've started doing tennis classes, and I'm really on my Serena Williams [and] Venus Williams Black girl magic. I've been taking Wednesdays off, which is sort of like my self-care day. I just moved to Brooklyn, so I'm trying to try different places—coffee shops, restaurants, and museums. I've been doing a lot of journaling as well because I just love seeing my growth more physically.
WM: You're always on Instagram for your job, which can be dangerous when you're trying to avoid comparing yourself to others. How do you keep from falling into that trap?
AA: Something that has helped me a lot is understanding that my journey is so different from other people. At the very beginning, I used to be like, Oh, they got that brand deal and I didn't or They are doing this and I didn't or They've made this goal and I haven't. No, everybody has their own journey. It's just realizing that my journey is different. It's unique. It has its own pace. It has its own season. It has its own reason. I know I'm destined for greatness. So the journey is here; I'm walking through it. Just knowing my worth stops me from comparing [myself to] other people. Comparison is a disease, and it is the disease that will rob you of your joy and your growth and knowing that you are that girl.
WM: You've said you're done buying into the harmful "strong Black woman" mindset. What are some ways you're working against that?
AA: Even with dating, I felt like I had to be this very strong, vibrant version of myself to attract the men that I wanted. That's also how men treated me, and I was like, Hold on. Why am I doing this? Who am I doing this for? 'Cause that's not who I am. I love the soft life; I love to be taken care of. I love taking care of myself and being spoiled. So even just realizing that you don't have to be this strong person all the time [has helped]. It's so toxic. It's the narrative that needs to be cut out because it stops Black women from really letting themselves be soft and loved and loved on.
Being like you have [to be] this strong person, you have no emotion—no, that's not who we are. It's dead. That narrative is dead to the grave. She's no longer with us. R.I.P. It's [about] just realizing that you deserve to have a gentle, soft, nurturing energy that supports you. There's this divine power that is supporting you all the time and you do not have to be this strong person who sweeps things under the rug or who is told not to be in touch with their emotions. It's fine to be that as well, but the balance, that is the sweet spot.
WM: What advice would you give to your younger self?
AA: Girl, just do it. I just stopped myself from living so much life because I was living for other people. I was living for the pleasure of other people and not for myself. Even wearing a dress that I thought I was so cute in, I would never do that because I was afraid somebody would say something. Or [I would] not go on trips with my friends because I felt like I couldn't be in that space. I felt imposter syndrome all the time. So just do it. Whatever it is, just do it. Put yourself out there. Be wild. Be crazy. The world will fall right at your feet, and it will follow you. Don't be afraid. You've got this. You're it, always.
This interview has been edited and condensed for length and clarity.
Wondermind does not provide medical advice, diagnosis, or treatment. Any information published on this website or by this brand is not intended as a replacement for medical advice. Always consult a qualified health or mental health professional with any questions or concerns about your mental health.