Q&A
10.19.23
How Aparna Nancherla Deals With Anxiety, Depression, and Imposter Syndrome
The comedian and author sits down for a mental health check-in.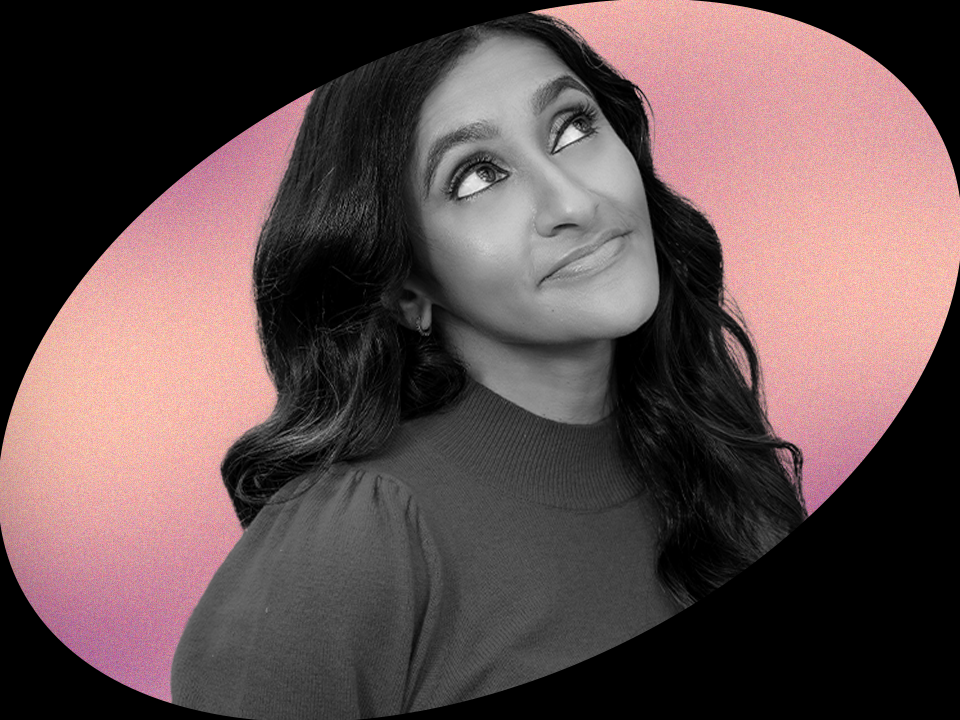 Photo Credit: Kim Newmoney
With endless writing and acting credits, it's basically a crime that comedian Aparna Nancherla has to deal with imposter syndrome (aka the feeling that you're faking it or are underqualified). But, as per usual, the way she writes about the pesky phenomenon and her mental health journey in her new book is extremely entertaining and relatable.
In Unreliable Narrator, Me Myself, and Imposter Syndrome, Nancherla "wrestles with how self-doubt has influenced my life and impacted my journey with several things, whether that be mental illness or body image or my relationship to my career," she tells Wondermind. And she doesn't shy away from unpacking her upbringing as an introverted and immigrant kid who didn't always fit in. "I think there were several things that were making me feel separate from other people. And then I think that going into an industry that also sometimes doesn't know how to make sense of you if you don't fit a certain mold has maybe made those voices louder," she adds.
Here, Nancherla sits down for a mental health check-in and shares how she deals with imposter syndrome, anxiety, and depression.
[Sign up here to never miss these candid conversations delivered straight to your inbox.]
WM: What's the inspiration behind your new book?
Aparna Nancherla: I think I wrote it because I was in a period where I was struggling more with self-doubt, and it had kind of come after checking off a lot of things I had done: taping a standup special or acting on a show as a regular character. I think I had assumed getting to certain career milestones would fix things or leave me at a place where I felt more secure and established.
It kind of felt like the opposite happened. It brought up more self-doubt and more feelings of: Do I even fit in here? Why am I allowed to be here? That unexpected turn led to wanting to explore more. Where does that come from? Why are those feelings getting louder?
WM: Is there anything that helps you keep imposter syndrome in check when it creeps up?
AN: From a young age, I've always tried to gauge how I was doing by looking at the person next to me or the people around me. Like, OK, they seem to be fitting in better, so they're doing this. Only in the past few years have I started to really try to focus more on what I want and what I am doing in this situation and [understand] maybe that's fine and really stop looking at another person's paper and just focus on my own. [It] feels like a very small thing … but for me, it's been kind of revolutionary.
And just staying the course in terms of what I want and not automatically thinking it's maybe not the right thing compared to what the person next to me is doing.
WM: Do you mind sharing your experience receiving a depression diagnosis and what helped you reach out for help?
AN: My depression was first named because I had been struggling with restrictive eating and anorexic behavior, and that started early on in college. I think only when I took time off of school to get treatment for that was I in touch with the fact that it was kind of a coping behavior for this underlying depression. So for me, they were both very hand-in-hand in terms of one really opening the door for my mental health journey.
But also, growing up I had always kind of associated eating disorders and that sort of behavior with whiteness and white women. Thinking it was something that I could struggle with only came to me after the fact. I just figured I was trying to get healthier or trying to fit a certain body image. But getting treatment for that and that being a way to learn about depression really opened my worldview in terms of like, Oh, these are things I've been struggling with that I've just never had a name for. Before this point, I thought, This is something everyone has been carrying around and just none of us talk about it. So it was really helpful for me, I think, in retrospect.
WM: Is there anything you wish you would've known back then that might've helped you manage your mental health sooner?
AN: I think just having more open conversations around how you're feeling would've been helpful. I mean, my parents were both immigrants and doctors, and I think there was a little bit of a survival mentality growing up of just fitting into a place and making sure everything looks a certain way and presents a certain way. So I think there wasn't always room for exploring emotions and how you're feeling and how you're doing internally. It feels like maybe the needle is moving on that in terms of the conversation being wider now and what people are able to openly acknowledge about their internal struggles.
AN: It varies. I tend to live a lot in my head, so I think getting more into my body really helps, whether that's going for a walk or exercising. Getting out into nature always helps. Sometimes they don't even necessarily help in the moment if I'm really in a low place, but it feels like committing to the act of going through the motions will help [to] start moving some of those patterns in a different direction. Meditation, therapy, and meds are also always helpful. Also, just spending time with people I love and trust is a big one. I tend to self-isolate or be like, Nobody wants to deal with me. I'm being such a bummer right now, [but I try to force] myself to do it anyway.
WM: What's one of the best lessons you've learned through therapy?
AN: One thing I learned early on that I think about all the time is … whenever I said I "should" do something, she's like, "There are no 'shoulds.' You could do something or you would, but 'should' implies there's one right way of doing things. And that's not true. That's just a construct you've created." If I think I "should" do something, it doesn't necessarily mean that is the one true answer.
WM: What stigmas or misconceptions about mental health tend to bug you?
AN: It feels like anxiety and depression, which are the main things I struggle with, have almost become overly trendy or something where it's like everyone's open about their anxiety and depression. That's not a bad thing, but it does feel like the experience of what it is has become a little diluted. … It's hard to pinpoint. I guess I just think that now that the conversation is open, we should still remember that there is no one exact version of what anxiety or depression is. It's not just this personality thing you can throw on. It is still a very real, hard thing that I think people still have trouble naming certain parts of. Even if we're openly talking about it on social media, it doesn't necessarily still capture the full experience of what it is like to have.
WM: And as someone who experiences social anxiety, what are your go-to strategies in social settings?
AN: I still sometimes have a hard time in those scenarios. Sometimes it's as simple as finding one person and being like, Who do I feel comfortable with here? Let's start there. Rather than trying to take in the room as a whole and be like, What are you going to do? How you are going to spend the next 90 minutes is really just trying to be present with whatever is happening.
Also a big one for me is being OK with a little silence. If you don't necessarily have something to say every single second or hit a lull in conversation with another person, that's OK. They're probably also a little bit worried about it.
WM: Do you have any advice or words or encouragement for anyone struggling with their mental health right now?
AN: I would say it's an ongoing process. I think being patient with yourself is huge and easier said than done. Sometimes the tricky thing for me is knowing what the mental illness [is saying] and what do I actually need. Do I need to cancel my plans because of self-care? Or am I doing it to avoid having to see other people? Be OK with knowing that sometimes it's hard to tell the difference and it's OK to not always get it right. Be forgiving of yourself.
WM: Anything else you'd like to add?
AN: These are all things you experience and struggle with over the course of your life. When I was first diagnosed with depression, I was like, OK, I'm going to go to therapy and take meds and then one day this will be all cleaned up. And now I know it's something I'm just going to deal with for the time that I'm here, and that's OK. Sometimes it feels like I'm maybe regressing, but it's all part of it.
This interview has been edited and condensed for length and clarity.
Wondermind does not provide medical advice, diagnosis, or treatment. Any information published on this website or by this brand is not intended as a replacement for medical advice. Always consult a qualified health or mental health professional with any questions or concerns about your mental health.