Explainer
08.15.23
Body Liberation Just Hits Different
If you also don't feel seen by the body positivity or body neutrality movements, this might help.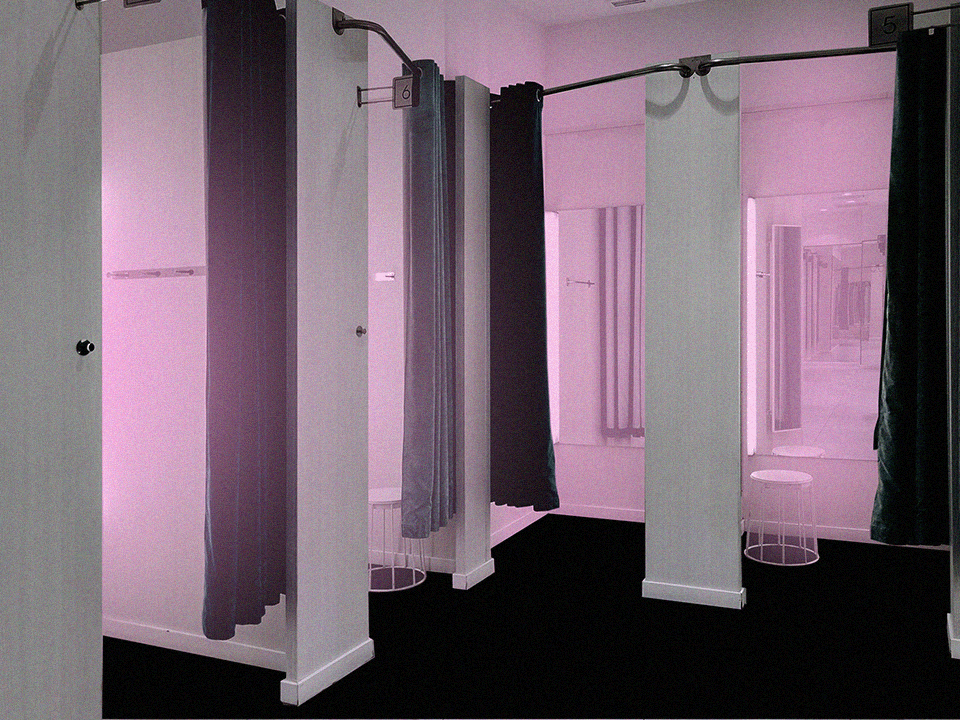 Shutterstock / Wondermind
Like a lot of us, when I was growing up, I didn't feel like the world saw me or appreciated me as I was. As a Black girl, some obvious examples of this were the ridiculous "Most Beautiful Person Alive" magazine covers. You know the ones. Years later, these are burned into my mind. The cover stars were almost always thin, white, able-bodied, cisgendered, heterosexual, eurocentrically beautiful people. Those standards didn't (and still don't, TBH) leave room for people like me or anyone else who wasn't an early aughts TV icon.
I might not have fully realized what was going on in my brain at the time I processed these messages; I just knew that it sucked. I felt basically invisible to the rest of the world. Over the years, that insidious form of rejection ultimately made me feel like my appearance wasn't "normal," and that it wasn't socially acceptable or beautiful or valuable to anyone—including myself.
It wasn't until I was in graduate school to become a therapist that I learned about body positivity. That's when my self-image started to shift. For me, tapping into body positivity, or affirming the things you like about your bod and embracing the parts you might've had reservations about, was a game changer. (Thank you to Body Positive Power, The Not So Subtle Art of Being A Fat Girl, and The Body Is Not An Apology for showing me the way!)
Once I understood that any parts of my body that I didn't like were literally fine, I realized I could experiment and have fun (gasp!) with my appearance instead of focusing on what clothing and looks were "flattering" or what was expected of me. Soon, I was wearing crop tops without a single care.
Then in 2015, I did the big chop, cutting off all of my hair and opting for a short afro instead. As a Black woman, this felt radical since short hair on us is often associated with masculinity, harshness, and low desirability (as opposed to non-Black communities where it's often seen as edgy, pro-feminist, or even cutesy). Deciding to cut off my hair and actually learning to love how I looked was just one way I could push back against the status quo and boost my overall body confidence.
I was so appreciative of body positivity and the larger-bodied queer Black women who started this movement. But it wasn't long before I noticed the body positivity movement getting whitewashed and co-opted by smaller, more privileged bodies. I mean, you've probably seen thin influencers hunching over and referring to the resulting folds in their skin as "fat" or trying to link their bloating to messages of justice and inclusivity. While I don't discount those experiences and agree that we should all embrace the way our bodies shift and change, the movement has become centered on more privileged voices since it began. It started to feel like those of us who'd experienced oppression based on how we look were being pushed aside in favor of more "palatable" complaints about things like "chub rub" or cellulite.
Not only that, but there were some major messages being left out of most body positivity spaces, like the fact that it is literally harder to exist in our society in a body that is larger, racialized, disabled, or pretty much anything but cisgender male. Or the fact that non-privileged bodies are often fetishized or disrespected in romantic settings, discriminated against in the workplace, and dismissed or villainized in medical settings—not to mention how we might feel and move throughout the world because of all of this.
The body positivity movement may have been born out of the fat acceptance movement of the 1960s (which included protests highlighting anti-fat bias), but every Instagram post I saw about loving your "tiger stripes" seemed like such a far cry from where this movement started. Even the growing body neutrality movement (which promotes looking at your body from a neutral meh, it's just a body lens) didn't feel to me like it was enacting any real systemic change from the status quo.
Enter: Body liberation, a movement that wants to dismantle social and political systems that treat certain physiques and people as more desirable, respectable, healthy, or just plain better than others. When I came across this philosophy, which has been popularized thanks in part to the work of activists like Tigress Osborn and Angel Austin, I knew body liberation could help me understand why I still couldn't fully feel happy in my body—even after leaning hard into body positivity. Turns out, I was ignoring how the real world continued to make me feel less than worthy.
What is body liberation?
Aside from emphasizing how to find confidence amid all the biased garbage you face on the reg, body liberation also encourages you to feel every emotion triggered by that societal nonsense. That includes acknowledging the hurt that can come along with experiencing physical challenges (like pain or inabilities), which the body positivity and neutrality movements don't exactly make space for. Body liberation doesn't pressure you to fix or love or even accept the things you don't feel good about.
The movement also asks people to remember how we're interconnected and how different cultures have different appreciations for bodies of various shapes, sizes, and colors. Through this lens, we're not stuck with the narrow ideals that we get from Western beauty standards.
Through studying body liberation, I gained a wide-ranging understanding of just how much damage these societal and systemic issues can burden us with from a young age. I learned to reframe my thinking from, The way I exist is a problem, to, Society has intentionally created non-inclusive conditions and limited the definition of the "right" way to exist. So, no more feeling like I had to shrink myself to make other people's lives easier. No more feeling like I needed to be subservient or timid to not intimidate insecure people. No more hating on my shape for not looking like a Victoria's Secret angel.
How to do body liberation.
Through this kind of work, my career as a therapist, and my social media platform, I decided I'd challenge and deconstruct the regressive messages that the media and our culture as a whole throw at us, like assuming that weight loss is always synonymous with wellness. I want adults and younger generations alike to know there's a more fulfilling way to live.
Our culture is hellbent on selling us the idea that our bodies need to be fixed or changed (capitalism's gotta make money somehow, I guess). But we can decide if we'll go along with the narrative that we're not worthy. We can redefine what beauty and worthiness is for ourselves.
Now, I'm not saying we can just ignore the structures that have fed us these hurtful narratives. We're only human, and our daily existence is still largely impacted by what other people think of us and how they treat us—regardless of whether we disagree. But we can continue to transform the systems that support these ideas about our bodies.
Start small by examining your relationship with your body. You can do that by writing down the messages you've internalized about your looks over the years, like, "My body is not good enough," "I need to take up less space," "I need to lose weight," or "I don't deserve to exist in this body." Then, ask yourself, Where did these messages come from? When was the first time I learned this, and how did it make me feel at the time? How did I feel before I learned this? Was I happy and joyful? And what did I look like at that time? If tapping into your memory isn't accessible to you, try to find a picture of yourself at a young age and see if that helps spark something.
Once you've reflected on those experiences, try to notice how those messages continue to show up in your day to day. For example, if you've been conditioned to take up less space, you might try to shrink or appear smaller when you sit next to someone. If you're disabled, you might fear speaking up publicly and calling attention to yourself. If you're someone with a racially marginalized identity, you may have been conditioned to make people with more racial privilege than you more comfortable in your presence or think they deserve to be accommodated over you.
After thinking about how these patterns show up for you, plan small steps to take up space and live more authentically. So, instead of moving out of the way for every person of privilege that walks by you on the street, decide to keep walking without moving out of the way. Honestly, that won't be safe to do everywhere, so think about one location where you feel the most comfortable and see if you can build up this practice and confidence there before taking your new habit on tour.
And because healing is usually best done in community, consider connecting with people of diverse backgrounds. This may look like following the social media accounts of folks who exist in different types of bodies—disabled bodies, Black bodies, queer bodies, trans bodies, etc.—and are doing the work to tear down whatever systems tell them they're not valuable or deserving of being in this society.
If you're not even sure where to begin, though, here are some of my favorite accounts that have personally helped me on this body liberation journey: Jennifer Mullan, PsyD, Patrilie Hernandez, MS, Chrissy King, Ivy Felicia, Tricia Hersey, Hortencia Jimenéz, PhD, Megan Jayne Crabbe, Tiffany Ima Akpan, Sonya Renee Taylor, Sonalee Rashatwar, LCSW, Access-Centered Movement, and Embodiment for the Rest of Us. Actively shaping the company you keep (even if just virtually) and welcoming inclusion and representation in your daily life can be really helpful for your confidence and outlook on life. 
Lastly, I suggest getting outside and spending more time in nature if you can. Observing the way nature has many shapes, sizes, abilities, existences, sexualities, and colors can remind you that there's so much beauty in diversity, and that same statement applies to you too.
Wondermind does not provide medical advice, diagnosis, or treatment. Any information published on this website or by this brand is not intended as a replacement for medical advice. Always consult a qualified health or mental health professional with any questions or concerns about your mental health.