Q&A
05.17.23
Brittany Snow Has Been Talking About Tough Mental Health Topics for Years
The longtime actor and September Letters founder on the power of connecting with others.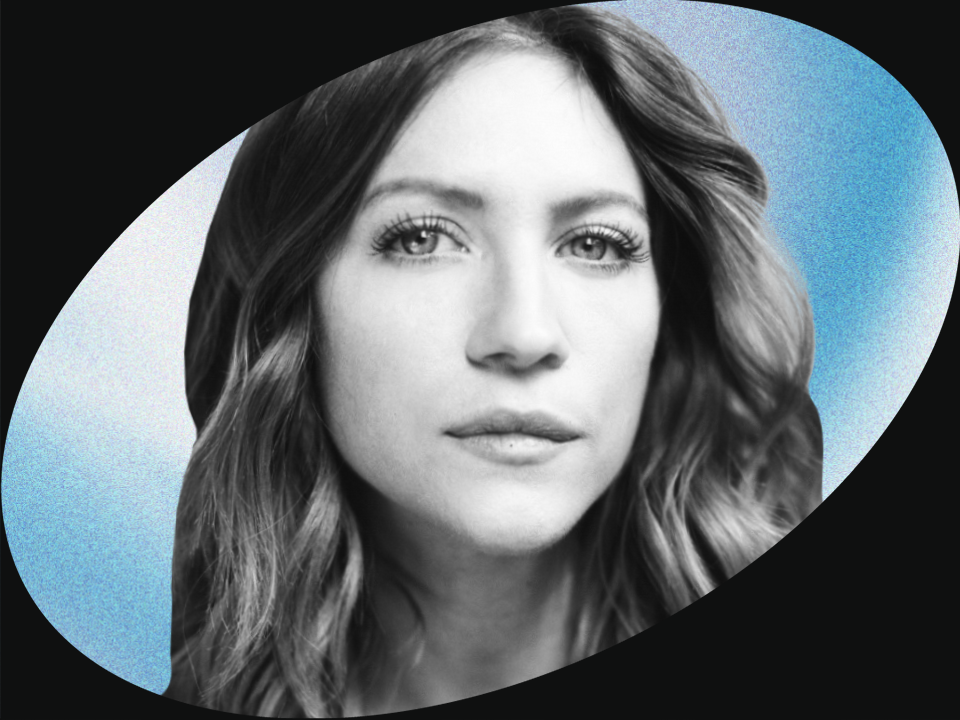 Photo Credit: Lauren Withrow
Before many of us felt safe enough to be open about our mental health, Brittany Snow was out there getting vulnerable about her own. In 2007, after reading someone's personal story in a magazine and carrying it around for months, she publicly revealed her experiences with an eating disorder, self-harm, and depression, which wasn't met with the same supportive reaction you might expect today. Instead, she tells us she faced judgment and name-calling at the time.
But she kept working to destigmatize mental health, founding the Love is Louder movement with The Jed Foundation in 2010. Then in 2020, Snow founded the online community September Letters to create a space where people can connect with each other and talk about their mental health.
Now Snow's story comes full circle with the May 23 release of the September Letters book, written by Snow and activist Jaspre Guest. A physical companion to the online platform that hosts personal letters from community members, the book features tons of interviews, essays, and mental health tips from Snow and Guest as well as others like Kid Cudi, Maria Menounos, Jay Shetty, and everyday people like you.
Each page is filled with honest and candid perspectives that are all organized by whatever emotion you're feeling right now, so you can take what you need without getting overwhelmed. And along with the heavier topics, there are also messages of hope if you need help looking at your situation from another, maybe more positive perspective.
"Those are really important because sometimes when we write, although it's therapeutic, it can be all-encompassing and sort of like in the mire, drowning with our own thoughts and feelings," Snow tells Wondermind. "Even when we're in those spaces, it's really helpful to change the perspective and think about it in a new way. I really appreciate the letters that do that."
Here, Snow checks in with Wondermind about how far we've come since she publicly talked about her mental health more than 15 years ago, the turning point in her mental health journey, and the importance of connection.
[Sign up here to never miss these candid conversations delivered straight to your inbox.]
WM: How are you doing lately?
Brittany Snow: I'm actually doing very well. The second part of that is that I usually say I'm doing well and I don't really mean it, but this time I actually mean that.
WM: Your mental health journey includes seeing your story in someone else's. Can you share what that story was and how realizing you weren't alone in dealing with depression, anxiety, and an eating disorder impacted you?
BS: When I was probably 13 years old, there was not a lot of information about teenagers and mental health disorders readily available on the news or in publications or anything like that. So I didn't really understand what was happening to me in terms of compulsive disorders, in terms of counting things and numbers, and not being able to go to sleep at night because I was so anxious. I was just a teenager and wrote it off as just kind of having a bad time at school or being bullied. Then I started realizing that I was doing something that none of my other friends were doing, but I didn't realize what it was.
And I subscribed to a lot of fitness magazines because I thought those held the answers. And there was an article in one of the fitness magazines where a woman had overcome an eating disorder and compulsive OCD and anxiety. She was talking about how she used different numbers and what she did with her food and what she went to bed thinking at night. It was the first time I actually saw word-for-word something that I had been doing. So I didn't feel as crazy or alone because I knew that someone else had this thing that I didn't have much verbiage for.
So I ripped out that article, and I carried it around in my back pocket for months and months because I would just open it up and look at it and think, OK, I'm not crazy. There's somebody else. Then I would put it back in my pocket, and I'd open it up [later]. That really helped me realize that there was an actual reason for what I was doing and that there was also recovery and hope. That was the beginning of my journey of getting better and seeking therapy and feeling connected.
WM: You talked about your mental health back when that wasn't as encouraged. What's something surprising you learned from speaking about this when the stigma was much more prevalent?
BS: It definitely was really tough to be met with a lot of questions in terms of my intentions for coming out with my story. I was maybe a little bit naive to think that no one was really going to pay that much attention and just the people on this charity website that I was doing the interview for would be able to get some help and feel not alone. I didn't realize that it was going to be a salacious sort of story, and it went more places than I thought. I was met with a lot of mistrust and miscommunication in terms of people [saying] that I was doing it for attention or vanity. What's really interesting about mental health is that sometimes when people don't understand it completely or they don't relate to it, they think it might be something that's like a vanity situation and that it's something you can just get over or toughen up.
For me, it was something I could definitely not control. And I know that many friends of mine in the mental health community agree with me that this is not something we would choose to have or complain about just for attention.
That was back in 2007 or 2008, and it's been really lovely to see how many people have been open about their mental health struggles. That gives more of an understanding and an audience [and shows] that more people are accepting it and viewing it as an actual problem that we need to talk about. [It's] not necessarily that anything's wrong with you, but it's a united front that we need to deal with.
WM: One letter you wrote in the book talks about feeling like you'd never get through those tough periods in your teens and early 20s. When did you first start to feel like, Alright, I'm doing OK now?
BS: There was definitely a turning point in my mental health journey. It was about 14 years ago now, and it was really the lowest that I had ever gotten, and I scared myself and most of my friends and family. There was this realization that I had to be willing to do whatever it took. So I actually left acting for about a year and a half and didn't work—turned down jobs. It was really scary because I had to, in that moment, choose myself and my mental health more than my career, which I had since I was a baby. And that was really what I valued as a part of who I was, it was about what I did instead of who I was.
I think that recalibration in my mind of getting back to center with knowing that I was a good person, without having a job or needing to be on or be something was really the first step in reorganizing my thoughts. That's what really turned it all around, was realizing that I am a valuable person regardless of what I do. It's who I am. But it was hard 'cause my career was all over the place after that, but I think that was the moment that I felt the best though. I was back to me.
WM: What aspect of your mental health still feels like a work in progress these days?
BS: I think it's an ongoing process, and it changes and evolves all the time. What has gotten more positive is that I do have tools, and I have the self-talk that I always wanted in terms of knowing that when things do get hard—and they continue to do so, and I don't think that'll ever go away—there is another voice that comes in that's very self-soothing and caring, and I know how to sometimes offset the negativity.
It's not always foolproof, because I think my normal go-to is to be anxious and reserved and shy and sometimes go to a sensitive place. I'm just a naturally sensitive person, but I do think that I now have a lot of skill sets that have been proven to me to work that I can go to. Sometimes it's just even putting on a Glennon Doyle podcast or a good song. Or it can be as much as calling my therapist and saying, "We need to talk right now."
WM: If you were to write a letter to yourself today, what would it say?
BS: I would say how proud I am of myself right now. I recently have gone through some things that were challenging, and I got through them in a way that I didn't necessarily expect. I would just be more easy on myself and write a letter to say that I'm proud of how far I've come.
I used to write letters to myself all the time in my journal saying what I needed to do and what I needed to achieve and how much more I had to go. And I think those letters didn't really help me in any way. I didn't get to those things quicker. I think patting myself on the back is something necessary and helpful.
WM: What encouragement would you give to anyone debating writing a letter to themselves?
BS: You can go to septemberletters.com, and we have a bunch of prompts that we give people to get inspiration from. Whether it be, "Is there something that inspires you? Or, "Is there something that you've overcome that you think will help someone else?" Or sometimes it's just writing how you're really truly feeling that day. Starting to actually take the time to process what you're going through in the moment is sometimes the therapeutic thing that you need that day. What's great about the website and I hope September Letters, in general, is that someone else might read it, so there is sort of this connective tissue piece where you realize that yes, you're writing for yourself, but you might be writing for someone else as well.
WM: What message would you like to leave us with?
BS: We're more alike than different, and we are not alone. There's always somebody that has gone through what you're going through. I know there have been so many times that I've thought to myself, There's just no way that I'm gonna get through this, and there's just no way that anyone would want to hear from me about this. And there has always been someone. I just have to be willing to reach out, and I have to be willing to take the steps to connect with someone else. It's important that we realize we are all connected.
This interview has been edited and condensed for length and clarity.
Wondermind does not provide medical advice, diagnosis, or treatment. Any information published on this website or by this brand is not intended as a replacement for medical advice. Always consult a qualified health or mental health professional with any questions or concerns about your mental health.