WM x POWERADE
08.11.23
Powered By

8 Comeback Stories That Will Remind You It's Never Too Late to Do Big Things
"Remember that rest is productive."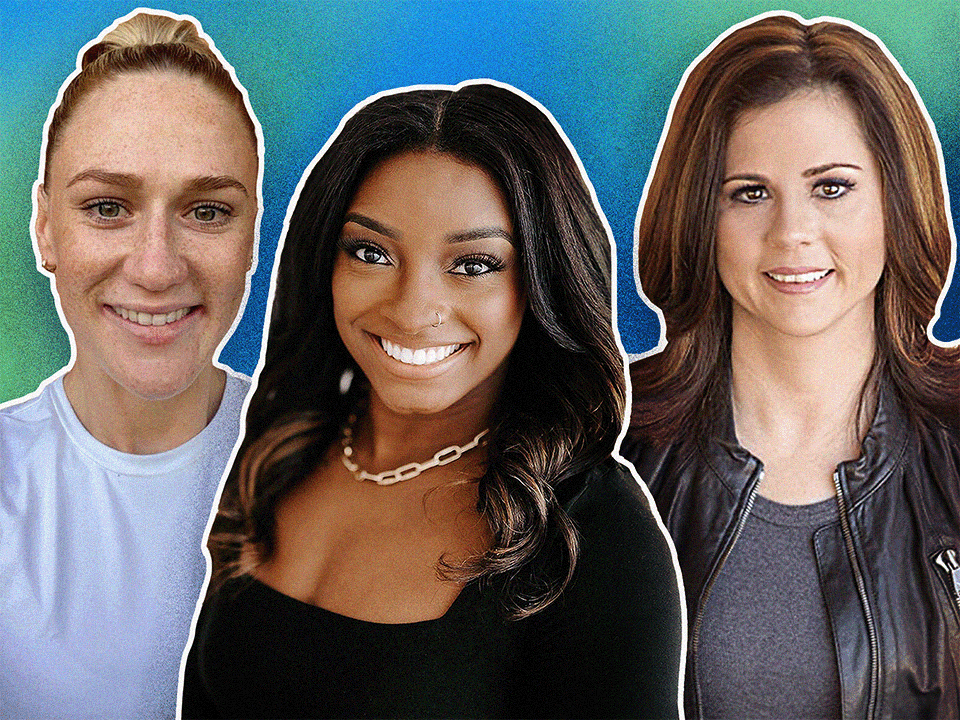 Photos Courtesy of CJ Bott, Simone Biles, and Mandy Teefey
Taking a pause, a break, or a full 180 can feel incredibly daunting—like you're somehow going to be "left behind" or fall "off track" as the literal or metaphorical play clock continues to tick by. But the reality is that it's impossible to keep up a high-speed, high-performance pace forever. Taking a pause every now and then isn't just recommended—it's required.
Whether you're an athlete, an entrepreneur, or an artist, listening to both your body and mind when they're asking (or begging) for a break is one of the smartest things you can do. Sure, it can be scary to step onto the sidelines for a bit. But it's important to remember that your own personal timeline is the only one that matters, and it's never too late to pause and achieve greatness.
Not totally convinced? We asked eight inspiring people to share the powerful pauses that helped them come back even stronger.
1. Simone Biles, Olympic gold gymnast
"In my scenario, my body literally was like, 'No, you're going to get help right now, whether you like it or not.' Because I kept telling myself, 'OK, after this Olympics I'm gonna get help.' But, you know, the amazing thing about your body is your body tells you what you need exactly when you need it. So that's what happened to me, and I got the proper help that I deserve. … I think it was a long time coming.
I've been in therapy on and off and, for me as a gymnast, I think the hardest thing with therapy is relating it back to injuries. Whenever I had an ankle injury, I would go to my doctor and my doctor would tell me, 'In six to eight weeks you'll be better.' And in therapy, I would be in therapy for a year and a therapist will never tell you you'll be better in six to eight weeks. It's just how the brain and the body works. And so I would almost get over therapy like, 'It's been seven months, how am I not better already?'
Years later I'm in therapy, and thankfully I am. And I'm getting the proper help that I deserve. But it was very weird thinking about it like that. Now I'm like, 'Oh I love going to therapy.' I changed my mindset about it."
2. CJ Bott, International football player
"This last season I reached a breaking point. I was part-way through the season, struggling through multiple injuries that I kept playing through, traveling with the national team, exhausted from the constant travel, and not looking after myself right. And, subsequently, I wasn't performing. After speaking to my support network, I realized that I needed to step back and look after myself better, both physically and mentally, in order to come back stronger and be the best, fullest version of myself. I finished this season in the best physical shape I've been in—the happiest in the sport I've ever been—and my team finished the season in top form to secure a place in the top league again next season.
In professional sports, we are often required to constantly push the limits physically, which also pushes our limits mentally. Although this gives me so much drive and motivation, and I love seeing what my body can do, I've definitely realized that we cannot always keep giving more to our game without giving our bodies more too. More respect, more time, more rest, and a bit more love. It's so important to take a moment, pause, and give our bodies and our minds what they need in order to come back stronger and be our best selves."
3. Mandy Teefey, CEO and co-founder of Wondermind
"I couldn't sleep. I was about to enter my second week of being wide awake. I was frazzled, withdrawn, isolated, and miserable. I looked at my husband and said, 'I have to go away.' This was never a conversation prior to that day, but for the first time I knew I had to make my mental well-being a priority.
During that time away, I gave in to the process. I learned I had been misdiagnosed and on the wrong path. I spent a month rediscovering what healthy was and what I needed to do to become myself again. When I returned home everything was clear. I wasn't just myself again, I was the strongest I had been in a long time. My feet were on the ground, my mind was clear, and I knew there was a way to find peace to heal."
4. Sarah Silverman, PsyD, behavioral sleep medicine specialist and holistic wellness consultant
"At the end of 2021, after working on the front lines of the Covid pandemic for 1.5 years, I—like many other health care providers—was feeling extremely burned out. My role as a mental health provider in a major hospital center ended up being one of the most challenging times of my career. While helping others navigate the impact of the pandemic on things like mental health, sleep, and social relationships, I wore burnout like a badge of honor, but I knew I had to take a step back from conventional health care after feeling overwhelmed for months. For the first time in a long time, I took some time off and was able to prioritize my own health and happiness. During this break, I felt the nudge to start my own health consulting business and took a leap of faith.
Fast forward a few years later, and now, I get to create an even bigger impact in the world, doing what I love to do: helping women improve their health and wellness through quality sleep, without the constraints of time-limited appointments, and with the flexibility for me to create better work/life boundaries. Entrepreneurship isn't for everyone, but it's the best decision I could've ever made for myself. My comeback was a chance for me to step away from a model of care that was no longer serving me or my clients and create a model for healing at the root cause level.
If you find yourself feeling burned out and in a similar situation, know that you're not alone. Give yourself some grace, and remember that rest is productive. Taking a pause may provide you with clarity as well as time to reevaluate what's most important to you. And, in case you need to hear this, you get to decide how you want your life to look, and you can pivot your career at any time. You don't owe anyone an explanation nor do you need to ask anyone for permission to do what's best for you. Your happiness is more important than any job will ever be!"
"I was let go from my last in-house editor position in December of 2016. At the time, I had my dream job working for a glitzy magazine, and so much of my identity was wrapped up in my former title. I was lost and unsure of what I wanted to do next. So, I decided to take a year for experimentation. Saying a lot of yes. Making ends meet by writing every article for every publication I could find (sometimes 30+ in one month), and even taking a leap of faith with my first solo international trip. There were moments I was absolutely frightened, but the throughline of 12 months of soul searching was that I am so much more capable than even I anticipated.
At the top of 2018, I stepped into my power and launched a podcast—taking my passion for storytelling and lending it to the strength of my own voice. That wellness-focused podcast, called Hurdle, is now my full-time job, an opportunity for me to interview athletes, industry experts, and CEOs about their highest highs and toughest moments. To level-up my product, I became a certified professional coach (liken it to a life coach) and use that education well-beyond interviewing. Now, I travel the world to host conversations and workshops. The show has almost 10 million downloads and I have my dream job rooted in conversation and community—empowering women everywhere to live healthier, happier, more motivated lives.
My comeback taught me that the best moments in life begin with self-belief, and that every single day is an opportunity to put pen to paper in my story of life. Each hurdle—no matter how difficult—is an opportunity to learn, if we only choose that perspective. And now, I know that my perspective is my true power."
"After several very stressful years in my career as an attorney with only three hours of sleep a night, my body started to shut down. A host of unexplained symptoms ailed me—from frequent nights of insomnia to random cortisol crashes during the middle of the day. After multiple visits to different doctors, it was clear that the issue was systemic, and if I didn't take a true break, I would never get better.
I spent the next 18 months focused on simple but consistent changes in my life—getting fresh air through the day, short walks, strict sleep schedules, eating well, and letting my body tell me what it needed. Easier said than done, as I always told my body and mind what to do, not the other way around. I felt defeated at first. I always prided myself on being 'productive' at all times but, ultimately, I realized that being wise was more important in the long run. If my body demanded naps at 9:30am and slow walks in the afternoon, I would comply. I decided I would slow down enough to actually listen to what I needed and indulge those requests without judgment or guilt. It meant stepping off the hamster wheel for a long break in hopes of regaining the full, functioning wholeness that I used to enjoy. At the same time, there was so much internal resistance—what if I gave in and fell into a permanent state of tiredness? What if I never came back? What if I had burned out forever?
The recovery was slow and thankless, but about ten months in, I saw a glimmer of my former self and energy come back. I was encouraged. Fourteen months in, my blood work looked amazing and by 18 months, I felt like I was in my twenties again. I learned to never take my health for granted again and, most importantly, that the body has a wisdom of its own that's superior to anything I could have imagined. The best lesson was the importance of taking shorter breaks and making frequent corrections along the way rather than waiting until full burnout is looming."
7. Linda Motlhalo, International football player
"A meaningful pause I took in my life was back in 2016 when I had to choose between football and school. I decided to take a pause in my studies because I had missed a lot of work and I was struggling to keep up. On the flipside, I was given the opportunity to go represent the Senior National Women's Team in the biggest stage, which was the Olympics. During this pause from my studies, what I did in my free time was to work on the subjects that I was really struggling with at school, and that really helped me a lot. [In] my comeback, not only did I pass my final year but I passed it with distinctions. And the advice I would give to anyone would be: Put in the work for the things that you really want and you will get the results."
8. Dame Sophie Pascoe DNZM, Paralympic & Commonwealth Games gold medallist
"I had a fantastic 2019 season breaking personal bests and setting World Record times. I had solely put all my eggs into one basket to achieve my goals in Tokyo. Nothing else mattered but the black line and my performance in the pool. Tokyo 2020 was set to be my fourth Paralympic Games and I had set myself an ambitious goal that I believed could be achieved by myself. I was one week out from our National Championships when Covid arrived, and we went into a nationwide lockdown. Here I was in peak condition and before I knew it the Games were canceled and later postponed to 2021.
I was in lockdown on my own when the announcement of the Games was shared with the world. It hit me hard grieving the loss of the Games and everything I had been working towards, questioning if I could continue for another year because, on reflection, I had put my personal life aside to be a World Champion athlete—for an event that got taken away in a day!
As lockdowns lifted and the world started finding a new normal, I was struggling to see what the future held for me. I was on autopilot at training, doing what I needed to do but with no real purpose. My incredible team around me noticed I had become a shadow of myself and confronted me to ask if I was OK—to which I shared that I was in a dark place and needed help. I took the time to work with experts to treat my diagnosed severe depression and have confidence in who I truly was again. After months of taking the time to find myself, I was reassured and came out confident knowing I can be Sophie and Sophie Pascoe 'the swimmer.'
I believe everything happens for a reason and that a negative life-changing moment can be made into a positive with the right support network around you to allow yourself to be truly you. The period of pause where I needed to heal and nurture myself is the reason I share my story today.
Fast forward to Tokyo 2020 Paralympic Games (postponed to 2021): I went on to win two Gold, one Silver, and one Bronze. From my darkest days to triumph, for the first time in my career I was proud not only of my success but that I had made it to what I didn't think was achievable 12 months before."
Wondermind does not provide medical advice, diagnosis, or treatment. Any information published on this website or by this brand is not intended as a replacement for medical advice. Always consult a qualified health or mental health professional with any questions or concerns about your mental health.