Stories
02.14.23
16 Comfort Shows People Highly Recommend
Mmmm, screen time.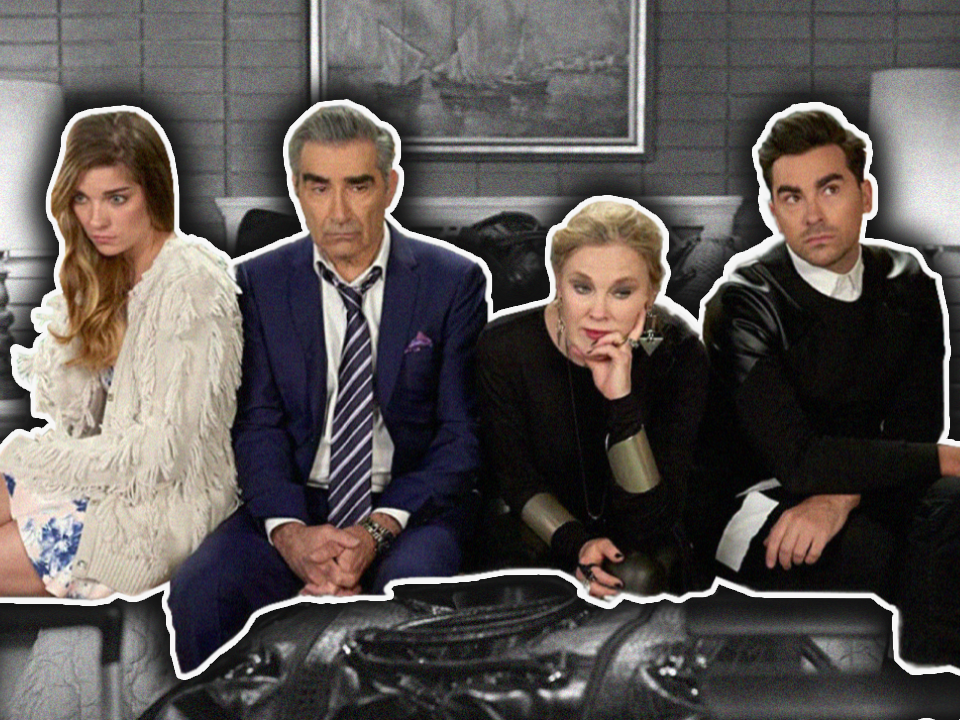 Whether you're obsessed with TV or barely use your parent's Netflix password, there's a solid chance you've got at least one show you turn to when the world is getting a little too real. The scientific (not really) term for this phenomenon is "the comfort show."
To qualify as such, experts say (OK, literally just me) a television or streaming program must have the following characteristics: 1. It must make you feel better than you did before you turned it on. Maybe it's a hilarious mockumentary that reminds you of hanging out with college friends or a reality show that some might classify as "garbage" but makes you feel like your life is actually pretty great. It could also be a moody drama that reciprocates the sad, melancholy feels currently circulating in your body. 2. It must be so reliable in making you feel better that you turn to it again and again.
Perhaps you're familiar with the magical powers of comfort shows and you're looking to validate its effectiveness by comparing it to our list—and you are welcome to do so! Or maybe you're searching for a new comfort watch to add to your rotation—you too are welcome in this safe space.
Of course, I do not know your life or what brought you to this calming TV sanctuary. But what I do know is that this list of comfort shows curated by Wondermind staffers with excellent taste in soothing TV is a work of art. Behold.
1. Cash Cab
"Few things are more comforting to me than knowing I'm right, and that's why I'm obsessed with rewatching episodes of Cash Cab that I've already memorized. While random groups try to answer as many trivia questions as possible (or else face being kicked to the curb!), I'm snuggled in my blanket on a Sunday afternoon shouting out all possible answers to the Red Light Challenge. If regular trivia games are too stressful for you, try rewatching ones you already know the answers to." —Shannon Barbour, Features Editor
2. Futurama
"This animated sci-fi drama follows the life of an accidentally frozen pizza deliverer after he's thawed—a thousand years later. Filled with an eclectic group of oddball mutants, otherworldly aliens, mad scientists, and robots, Futurama never fails to make me laugh, and I always notice something new, even though I've seen the show all the way through half-a-dozen times. I used to watch it to help me fall asleep in high school and college (seriously, there's a whole Reddit dedicated to Futurama sleepers, it's a thing) because it wasn't super crude and the characters felt oddly familiar—comforting almost. It's the perfect comfort show for people who are looking for a show like Family Guy and Rick and Morty but on a more wholesome level." —Marilyn La Jeunesse, Newsletter Editor
3. Will and Grace
"When I met one of my best friends in college, we bonded over watching reruns of this show that originally aired when we were in elementary, middle, and high school (when most of the references flew over our heads). We roomed together in college and then again through most of our twenties, and this show became the go-to background noise of our apartments and an endless supply of one-liners that worked their way into casual conversation. There was something comforting and incredibly real about watching these two codependent best friends and roommates (Will and Grace) who were both equal parts successful and messy navigating life in New York City with their hilarious sidekicks (Jack and Karen). It's still something I pop on when I need a nostalgic moment or brain break, and I love knowing that I can always text my best friend a line from any episode and get a reaction." —Casey Gueren, Head of Content
4. Grey's Anatomy
"If you're a weirdo like me who thinks hospitals are cool and surgery is fascinating and rain is the best weather, maybe this one's for you. The episodes usually start and end with a mundane moment in the characters' lives, like getting ready in the morning or having a glass of wine at night, but the middle is always chaos. There's something about that format that feels very comforting. The reflections from the narrator are very cliché but they're easy to relate to and sometimes that's all you need!" —Margarita Bregolat, Marketing and Coordinating Lead
5. Frasier
"This has been my comfort show for at least 15 years. When I worked the overnight shift at ABC News, the melodic jazz interludes, quiet pacing, and Frasier Crane's "soothing voice" would lull me to sleep—with a smile. The news industry is incredibly stressful. You work at a frenetic pace and ingest a consistent diet of politics, violence, and strife. It wears on your psyche. I found it hard to wind down after a stressful overnight, and nearly impossible to sleep during the day, but Frasier helped me relax. I love the way the writers incorporated the complexity of familial and human relationships with farce. It's relatable, smart, and still holds up after all these years. Frasier's not a loud show, maybe because it's centered around a psychiatrist's radio show, so the overall tone feels like it's intended to be calm, kind of like being in a therapist's office. I left news years ago, but I still watch an episode (or two) before bed when I can." —Marisa Bramwell, Senior Producer, Podcasts
6. Bob's Burgers
"Bob's Burgers is an animated family TV show that follows the Belcher family as they try to keep their family-owned burger joint open. I almost always have this show playing in the background as I work from home or spend time with my family over the holidays. No matter how many times I've seen it, the jokes still make me laugh and there are many valuable lessons and reminders hidden within. Plus, there are a ton of good burger combos written on Bob's chalkboard if you're a foodie looking for some punny dinner ideas. This comfort show is perfect for anyone looking for something light to take their mind off literally everything else." —ML
7. The Office
"I have no idea why a mockumentary series on a Pennsylvania-based paper company hits so hard, but the incredible writing and comedic timing of every person on that show probably has something to do with it. The Office is that show that I would put on when I was home sick in high school, or when you had people over in your dorm in college, or when you just needed cheering up as an adult. It seems like the humor in this one is either something you love or hate, but there are so many moments that can guarantee a laugh out of me no matter how anxious or depressed I am." —CG
8. Mad Men
"First of all, Don Draper. And that's basically it. The anti-hero of this series is an alcoholic working in the ad business in late 1950s New York City, and he's very attractive—even if he sucks sometimes. Besides Don's aesthetics, the pretty sets and general moody vibe of this comfort show are perfect for those days when you just want to lie under a pile of blankets, eat Flamin' Hots, and be a melancholy blob until further notice. I've seen the whole series at least three times now, and every session feels as good as the last (if not better because I'm seeing or hearing more details than I did before). Highly recommend!" —Ashley Oerman, Deputy Editor
9. The Great British Bake Off
"ICYMI, it's a baking competition show! I watch this at night and on weekends to decompress from the endless movement of daily life. I also seek out older episodes when I'm legit feeling anxious and can't find my way out of the feeling myself. It reminds me to take a break, and delivers the emotional breather I need. There's something special about the nature of the contestants' collaboration—the way each person competes to win while not losing sight of the humanity in the people they're competing against, even empathizing with them—is unmatched. It's a vibe that is totally unique to the show. There's levity and humor, jokes and wit, and definitely a lot of interesting U.K. cultural nuances, but those are also on top of the visual spectacle of watching talented bakers figure their way through each challenge". —Amy Thompson, Senior Writer, Podcasts
10. Veep
"The American political satire TV series about a former senator who becomes Vice President of the U.S. and goes on to become the President navigates the cutthroat world of American politics—but in the most hilarious, self-destructive way. When I need to hit pause on the world, Veep's sharp writing, witty dialogue, and cast of characters with many quirks and absurdities gets me through. I mostly keep coming back for Gary, the VP's very eager assistant, but this show is fast-paced and has a ton of memorable moments. I can watch it multiple times and catch new sequences and details I may have missed before. I promise it will make you smile!" —Kat Mikuta, VP of Sales
11. Gilmore Girls
"No comfort TV show list is complete without Gilmore Girls. Amy Sherman-Palladino's iconic series about three generations of Gilmores creates a whole world where viewers know so much about even the most minor characters (Michel hive, please stand up!). It feels so robust, and when I turn it on for yet another full-series rewatch, I can sink into the world of Stars Hollow while all my other worries fade away. I love watching this show with my mom and sister, or even just when I need some soothing background noise. Nothing calms me like Emily refusing to laugh at Lorelai's antics." —SB
"My comfort show is Gilmore Girls, hands down. It's comforting to me because it reminds me of my close relationship with my mom and transports me to a place that made me feel safe as a kid. I keep coming back because of the humor, pop culture references, and because there's something new to find in it every time I watch. I love that I used to think I was a Rory, and now I'm definitely a Lorelei!" —Emma Wright, executive assistant

12. Schitt's Creek
"I firmly believe there is no purer joy than Schitt's Creek. What starts out as an insufferably out-of-touch rich family who lost everything turns into a wholesome and hilarious commentary on what constitutes a good life. Watching each character find happiness in ways they never could have imagined in their previously "perfect" reality is so satisfying and oddly therapeutic. And watching David lipsync "Simply the Best" is basically a jolt of serotonin every time." —CG
"It's relatable and reminds me of where I came from. I come back to it again and again because it reaffirms I'm on the right path in life!" —Mandy Teefey, CEO and Co-Founder
"Whenever I need a pick-me-up this show makes me laugh and is very entertaining to the point where I don't even remember what was making me feel bad, sad, or low in the first place. I come back to it again and again because each time it gets funnier and the storylines never get old—even if I know exactly what's going to happen". —Jodi Sherman, Director of Sales
13. InuYasha
"A Japanese anime, InuYasha is a feudal fairy tale that follows the life of a modern girl as she slips through time and has to fight alongside a dog demon, monk, and demon slayer to save the world. It's a bit old-school, but InuYasha is such a good escape. It's perfect for fans of Lord of the Rings and Merlin who want to dip their toe into the vast and never-ending world of anime. Don't we all need a good feudal fairy tale to escape into these days?" —ML
14. Modern Family
"This show centers on three different families in the LA area and all of their hilarious drama. I think it's comforting that the characters are usually dealing with their own unique problems but always find a way to come together as a big family toward the end of each episode. I have a long-distance family and (sometimes) I wish we all lived in the same town, so to watch a fictional family go through their day together is comforting. It's one of those shows that you don't necessarily have to watch from start to end, but if you do, it gets even better because you see the characters grow up and enter different stages of life. I watch this when I miss my family and all the absurd situations we have been through together!" —MB
15. Love Island
"I've watched this series for the last few years and am so intrigued by the U.K. culture and the casting. For the uninitiated, this reality dating show is about a group of single "Islanders" who come together in a stunning villa located in a beautiful tropical destination to find romance. Each week the public votes for their favorite "islander" or favorite couple, and the final couples have a chance to win prize money. There's a lot I can personally relate to, which makes it fun to watch, but the cast's banter is pure entertainment and puts me in a good mood. Plus, the fact that everyone has a British accent makes it even better. It has all the good vibes." —JD
16. New Girl
"Like any show from the early aughts, this one has some moments that didn't age all that well, but I'll never not be a fan of Jess, Nick, Coach, Schmidt, and Winston. I love them so much that I'm also willing to overlook that these five very grown adults live in a loft in LA for basically seven years. The writing is just so damn good. There have been many times when I'm rewatching an episode (usually before bed) and hear a hilarious line I'd never heard before. At the end of the day, it reminds me that even when things go very wrong, they're mostly OK. Oh, and that all cats should be named Ferguson." —AO
Wondermind does not provide medical advice, diagnosis, or treatment. Any information published on this website or by this brand is not intended as a replacement for medical advice. Always consult a qualified health or mental health professional with any questions or concerns about your mental health.