Q&A
03.24.23
Paralympian Dani Aravich Is Learning to Give Herself a Damn Break
And she gets real about the post-Paralympics blues.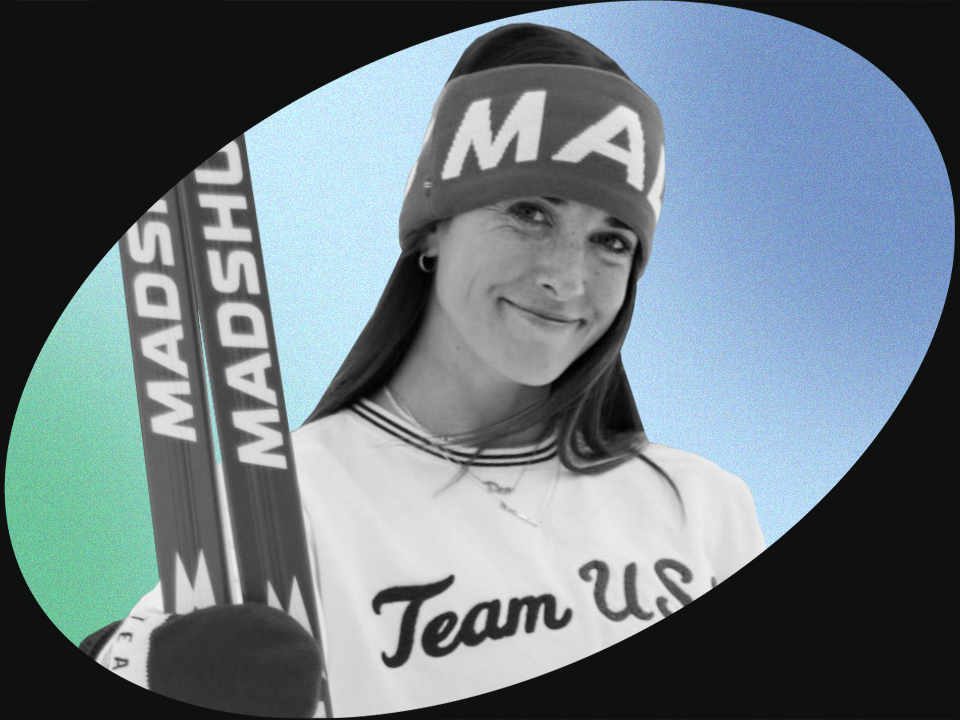 Photo Credit: Dani Aravich
Growing up, two-time Paralympian Dani Aravich didn't see many people with limb differences excelling in sports. So, her mom got creative: Whenever she came across an article about an athlete with a similar disability as Aravich, she'd add it to Aravich's "I Can" scrapbook. "[My mom wanted] to show me just because I was missing a hand didn't mean I couldn't be a badass, great athlete," she tells Wondermind. There was a local high schooler who made the varsity basketball team and a pro bowler. Former MLB pitcher Jim Abbott also made the cut, she says. Aravich has the book to this day, BTW (it's somewhere in her apartment bedroom).
Aravich has been in sports all of her life, but it wasn't until after college that she even considered joining the Paralympic Movement. In 2019, she got her start competing in para track and field before joining the para Nordic skiing team (biathlon and cross-country skiing). In August 2021, Aravich competed as a track-and-field athlete in the Tokyo Paralympics, and six months later she skied at the 2022 Beijing Winter Paralympics, where she placed in the top 10 for two of her races.
But her back-to-back Paralympic appearances didn't come without challenges. Aravich says she experienced a period of post-competition blues. She wasn't sure if what she'd given up—time with family and friends, the security of a full-time job—was worth the sacrifice. And it's something she still struggles with sometimes, she adds.
Her career in adaptive sports has ultimately taught Aravich that her passion spans way beyond the medal podium. She mentors kids through organizations like Challenged Athletes Foundation, NubAbility, and National Ability Center. It's a special opportunity to inspire the next generation that "might not ever see anyone who looks like them," she explains.
Aravich is now taking a break from track and field to focus on biathlon and cross-country skiing. As she gets ready for the next Winter Paralympics in 2026, she opened up to Wondermind about overcoming her post-Paralympics low, embracing therapy, and advocating for people with disabilities.
[Sign up here to never miss these candid conversations delivered straight to your inbox.]
WM: How are you doing lately?
Dani Aravich: I'm presently not good because [I have] COVID. I would say, lately, I've actually felt like I'm going through a lot of chaos. But it's good chaos. It's busyness, and I like to be busy. I just started a full-time job while also training and competing still, and learning to balance those two will be tricky. I'm coming up on the end of my [winter] season, and it feels like it's just flown by, but I'm really excited for the summer and hopefully traveling a little less because our winters are so hectic.
WM: You landed your dream job out of college working for the NBA's Utah Jazz, but you ultimately decided to pursue a career in adaptive sports. Do you believe you've found your purpose?
DA: I think that we all are searching for our purpose, and I think our purpose changes throughout different stages of life. For so long I thought, for me, it was to show that women could be these powerful, badass employees on the business side in professional sports, which was a seemingly male-dominated industry. And now that I'm no longer working in that career and I'm training and competing for Team USA, I thought my purpose would be to win gold medals and represent the U.S. to the best of my ability. But I think it's transformed into a lot more.
I want to make sure that people with disabilities have a place in this world, and I think a great place for that to start is through sport. That's why I love competing in the Paralympics, but I think it's so much more than that. I want to make sure that the next generation of para-athletes has better opportunities than we had. We are so lucky, but there's still a lot of work to be done. I would say my purpose now is to really try to continue the improvements in our sport for people with disabilities and ultimately see that reflected in society as well.
WM: Do you have any advice for people who don't feel like they've found their purpose yet?
DA: I think it takes a lot of trial and error to figure out what sets your soul on fire. And that sounds very cheesy, but in my advocacy work, when I see something come to fruition or I hear companies or brands taking these steps to actually include disability in their diversity, equity, and inclusion efforts or sponsor an athlete with a disability, it really gets me fired up. I feel this feeling of excitement meets anxiety.
You just really have to try everything. Anything that interests you, give it a go, whether it's a hobby, a new job, even a new group of people. It might not always resonate in one thing. It might be a collection of things that really is where your purpose lies, so don't get so stuck on one thing.
WM: You've mentioned before that athletes tend to feel empty once the Olympics and Paralympics end. Did that happen to you?
DA: Oh my gosh, yes. [Laughs.] They call the Olympic and Paralympic comedown the "post-game blues." After the Tokyo 2021 Paralympics, I felt so lost, and you would think that I wouldn't feel lost because I had something huge coming up six months later. I was one of four Team USA athletes to do the back-to-back [Paralympics] just six months apart. I didn't have a lot of expectations for how I'd do in Tokyo. I was just excited to qualify and make it. So you'd think I'd be so excited to get back and start training for this other thing that was so shortly after.
But those few months after, I felt so confused. I couldn't process what I went through in Tokyo. And after some analyzation, I think it's because I gave up everything in my life for Tokyo. I gave up a job in an industry I thought I wanted to work in. I gave up money—a lot of money. I gave up security. I gave up a lot of time doing extra things I wanted to do: socializing, seeing people, going on trips, going to weddings. And it all kind of came down to this one 60-second race in Tokyo, and so when it was over, it was kind of like, "Was it all worth it for that moment?" Now that [it's been] about two years, I can look back and say, "Yes, it's all worth it because it led to so many other things." But, in that moment, I felt really empty.
WM: What helped you feel less lost?
DA: I think that it really helped getting back into a ski routine. When I got back from Tokyo, I had a few weeks where I traveled for weddings and I was moving places, and so it really helped to get back with my Nordic team into our consistent training schedule and almost kind of wash away any thought of track and field and just focus on Beijing. It was extremely difficult still having all the COVID protocols that went into Beijing and living on edge that we can't get COVID before we go over there and we need to be extremely safe. But having such a close-knit team with Nordic skiing—we all live and train in the same city—it was nice to be able to lean on them.
WM: You said in an interview that you've seen a sports psychologist. How was that for you?
DA: Now, luckily with the United States Olympic & Paralympic Committee, they invest a lot in mental health. So, since I joined Nordic skiing, I was able to work with a team sports psychologist who I absolutely adored. He really helped me process emotions but also strategies. I've recently started working with a new sports psych, and I think that every athlete should.
And now I've also gotten back into more traditional therapy this past year. It's kind of nice to have my therapist to talk about life [with] and then my mental performance psychologist to talk about sports [with], but I often see the two bleed together. So, when I'm in therapy, I end up talking about my sport, and when I'm in performance [therapy], I end up talking about other parts of my life. And that's something that I think is unique with athletes. What's going on in your personal life will most likely affect your sport, and what's happening in your sport definitely affects your personal life.
WM: What's the best lesson you've learned in therapy so far?
DA: To be kinder to myself, and that's an extremely difficult thing to do. I like myself. I think I'm a hard worker. I think I'm fun. I know there are things I need to work on, but that's also part of being an athlete: You recognize your strengths, but you also recognize your weaknesses. And when I say be kind to yourself, it's giving yourself a break: a mental break, a physical break, whatever it might be.
I think I tend to sometimes overcommit to things and run myself into the ground and want to keep doing more, keep doing more because I want to be the best at everything I do, whether it's work or my sport or even hobbies. But what therapy has taught me is you have to take time for yourself to reset, and that can be really challenging to do. It's worth it because, otherwise, you can get to a breaking point.
WM: You post a lot about how disability shouldn't be a negative term. Growing up, did it seem like your disability was viewed negatively?
DA: I don't think I heard someone use the word disability in reference to me until I was a senior in high school. I was going to our summer league baseball game, and we had to purchase a ticket. The person who was selling the ticket said my price was less expensive than my friend's who had just walked in. And I said, "Wait, why? I thought it was $10." And they said, "Well, there's a disability discount." I got angry, and I said, "No, I'll pay the $10." And that was the only time someone had ever referred to me as having a disability. I knew I was different, and I accepted it in high school. It took a long time to get to that. And in college, it became almost like my identity that I was the girl with one hand, and I owned it. But, again, never really used that word.
It was when I started training for the Paralympics and getting more involved in Parasport that I came to terms with the word disability. It's because the Paralympics are for athletes with disabilities—I fit into that category—and people, I think, tiptoe around it. But it is a definition. It's a legal definition. I fit the bill, and now I want to represent that community and make this world better for that community specifically.
I think people just need to become more familiar with disability as a whole to understand that it's also a very wide word. A lot of people who have disabilities might not ever realize that it is, in fact, a disability because of the place they grew up or the terminology that was used. But 16% of the world has a disability, and we need to start talking about it more.
WM: What makes you feel better when you're having a bad mental health day?
DA: On a bad mental health day, I feel grounded by texting people I care about. Sometimes if I'm having a bad day, I don't really want to talk to anyone on the phone, but I think it helps to send a text to an old friend, to a family member, even an acquaintance and just tell them that you appreciate them, that you care about them, that you miss them. As much as I claim I'm an introvert and I do enjoy being alone, having the reassurance of people you care about knowing they also care about you is a very uplifting feeling. None of us want to do this life alone.
Oftentimes when I have a bad mental health day, it can sometimes come from loneliness because I do live a very lonely lifestyle, and it feels very selfish at times. I travel to get good at this sport for my own personal ambitions and goals. And, yes, we wear a Team USA jersey and represent our country, but at the end of the day, it is our own life and our own careers. So sometimes when I'm feeling down about that and feeling like I missed all these get-togethers or these weddings—people are growing together while I feel like I'm growing apart doing what I do for work—it feels good to have reminders that people do care about you, respect what you're doing, cheer you on, and understand that you'll try your best even though you might not always be able to show up.
This interview has been edited and condensed for length and clarity.
Wondermind does not provide medical advice, diagnosis, or treatment. Any information published on this website or by this brand is not intended as a replacement for medical advice. Always consult a qualified health or mental health professional with any questions or concerns about your mental health.