Q&A
08.16.23
We Talked to the Founder of Therapy for Black Girls About Why Friendships Are So Hard 
The podcast host and therapist's new book is for anyone who is ready to do some unpacking.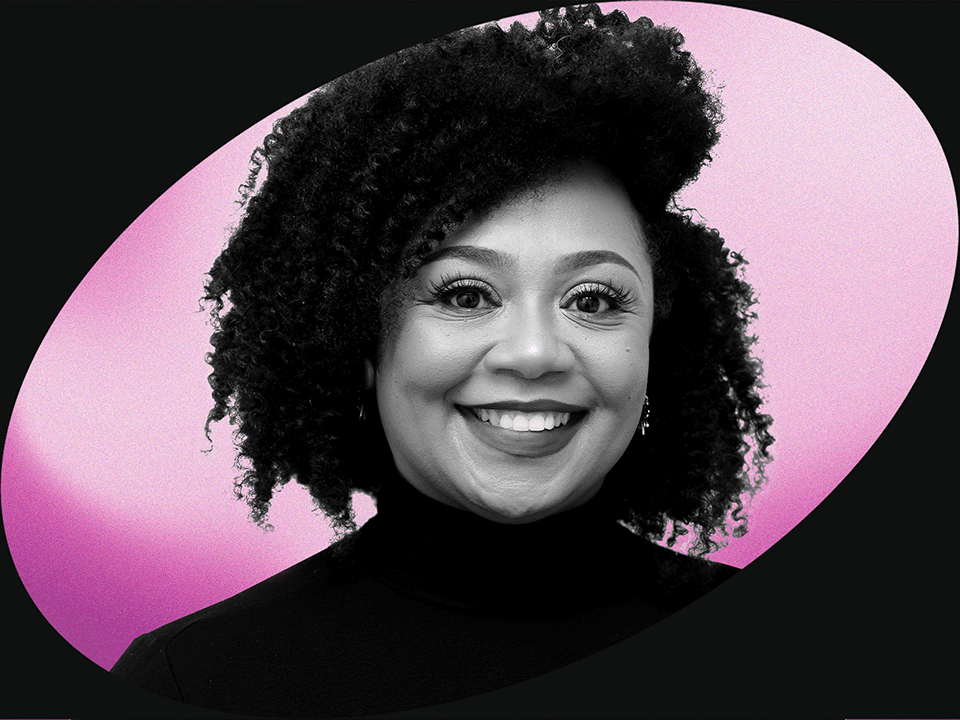 Photo Credit: Carol Lee Rose
If you're into following therapists on social media, you've no doubt come across psychologist Joy Harden Bradford, PhD, aka Dr. Joy. A therapist since 2009, Dr. Joy has become somewhat of a celebrity in the psych space, most known for creating a crucial database called Therapy for Black Girls, which helps Black people get connected with therapists who get it. Aside from the directory, Dr. Joy also fronts a podcast of the same name, and, most recently, she released a book diving into the benefits of friendship and sisterhood.
"Sisterhood Heals is really a celebration of the relationships that Black women have with one another and a guide to how we can strengthen those relationships," she tells Wondermind. "I feel like as a society, much of our socialization has been really around focusing on romantic relationships. I really want there to be more focus on the relationships we have with our girlfriends 'cause those are lifesaving and life-changing in lots of ways."
Here, Dr. Joy shares more about what readers can find in the pages of her friendship-strengthening guide and what it's like going to therapy as a therapist.
[Sign up here to never miss these candid conversations delivered straight to your inbox.]
WM: How are you doing lately?
Joy Harden Bradford, PhD: I feel like I am doing well now. I just wrapped up my book tour. That had definitely been very exhausting, but I feel like I have recalibrated now and have been sleeping in my own bed consistently for about a week now. So, I'm good.
WM: What are some reasons people might struggle to find sisterhood or foster deeper connections?
Dr. Joy: One of the reasons our relationships sometimes aren't as deep as they could be is that we are often avoiding difficult, awkward conversations. Sometimes we're really just staying very surface level, but really, our relationships typically become more intimate after we are able to navigate something that's difficult. So maybe there's something you've been avoiding saying to a friend or there's been some tension and nobody has called it out yet. I often think that when we're able to call those things out and then navigate them well, it actually leads to a different level of intimacy in the relationship.
WM: How can people with long-distance friendships strengthen those connections?
Dr. Joy: First, I think it's important to acknowledge how different the relationship will be because I think that's something we also don't do well. [We don't] give space for the grief that happens when a relationship changes like that, right? So if this is somebody who lived close to you and y'all were able to have weekly movie nights and do all these things and that changes, there's gonna be a grieving process. Allow yourself to give voice to what will be different and be able to say, "I'm really sad about this, but also really happy that you're gonna have this new journey."
I also think it's important to put times on the calendar when you're going to work to stay connected with one another. So maybe that'll be virtual movie nights. Maybe one or both of you will take turns flying or driving back and forth so that you all can stay connected in that way. It's important to have some forethought and not just wait until it's been six months and you haven't seen them. Actually make a plan for when you are going to see one another.
WM: When it comes to women who might be reluctant to be friends with other women, what could be going on, and how can they take a step toward forming a sisterhood?
Dr. Joy: I do think it's important for us to unpack where our messages around relationships with other women come from. It could be rooted in some kind of traumatic experience, like bullying or having been picked on at some point in your life. It can also come from the relationship or the messages we've gotten from our mothers and grandmothers and aunties about other women, right? So many of us have grown up to feel like you had to be watchful of other women around your romantic partner, or that you couldn't trust women, or that women are catty and dramatic. That has not been my experience, but I do think a lot of us have been taught that we need to be very watchful and keep people at a distance.
If we have not done the work of unpacking why we needed to hold on to some of those messages, in adulthood, we could see that we are still keeping people at a distance. If you've had some kind of traumatic experience of being bullied or whatever, it is understandable why it may be difficult for you to form relationships with the people who maybe remind you of being bullied. But I do think it's important to keep in mind that that experience does not define all of the experiences that you might have with women. It is important for us to keep ourselves open to the fact that other people will show up very differently and that not everybody has ill intentions or means us harm.
I definitely think journaling is a very powerful kind of exercise [to work through these emotions and experiences]. Actually, in the book, every chapter closes with journal-type questions for you to really kind of think through and figure out how to make sense of what you've just read. I do think it's important for us to think about where some of the ideas we have about other women come from. So journaling can definitely be a very helpful exercise to do that. But also, talking through that with a therapist can be helpful too.
WM: What's something that you're most proud of in your mental health journey?
Dr. Joy: I'm most proud of consistently being in therapy for the last several years 'cause I do think it is helpful to have a place where you can go and talk about all the different things that are going on with you and the therapist is tracking like, "OK, well you said this this year, but two years ago, you said something very different. Let's talk through the connection of all of that." I really feel like that has been critical for me, especially at this level and stage in my career. It has been really helpful to have a therapist who has known me for some time and can track those different things happening in my life.
WM: What's going to therapy like as a therapist?
Dr. Joy: So this is probably my third or fourth different therapist I've had throughout my life. So at this stage, it is pretty easygoing. But probably very early on, like when I was still training to become a therapist or earlier in my career, it was a little bit more to open up because I do think there is some impression management of not wanting to fall apart in front of a therapist who seems like they have it all together. [And you think], Are they gonna think I can't be a therapist if I'm falling apart or whatever?
WM: What mental health obstacle do you think we need to collectively work through together?
Dr. Joy: I see people kind of working on this now, but it's always a good reminder that it is OK to let people know that you're not OK. Especially as women, we have to put on so much armor and have to do so much presenting for people to not question us or for us to have perspective in certain spaces. I think that can trickle into other areas of our lives where it is actually OK to take that armor off and let our guard down and let people know that we may need some help or to ask for help. It is OK to let your guard down at some point, especially with people who are safe to you. Ask for help when you need it.
WM: What else would you like to add?
Dr. Joy: I'm always thinking about the power in sharing our stories, and I really want people to understand that and to know the power that they have in their stories. I think we can be hesitant to share something that has happened with us or some experience that we've had. But I have found that in sharing our stories, we really open up spaces for other people to be seen and validated and give them permission to share their stories as well. I don't want people to think that any experience they've had is too small or unimportant to share because you never know what you're unlocking for somebody else in sharing your story.
This interview has been edited and condensed for length and clarity.
Wondermind does not provide medical advice, diagnosis, or treatment. Any information published on this website or by this brand is not intended as a replacement for medical advice. Always consult a qualified health or mental health professional with any questions or concerns about your mental health.