Pro Tips
02.23.23
13 Black Therapists Share the Most Important Mental Health Advice for Their Community
"We can go farther together than on our own."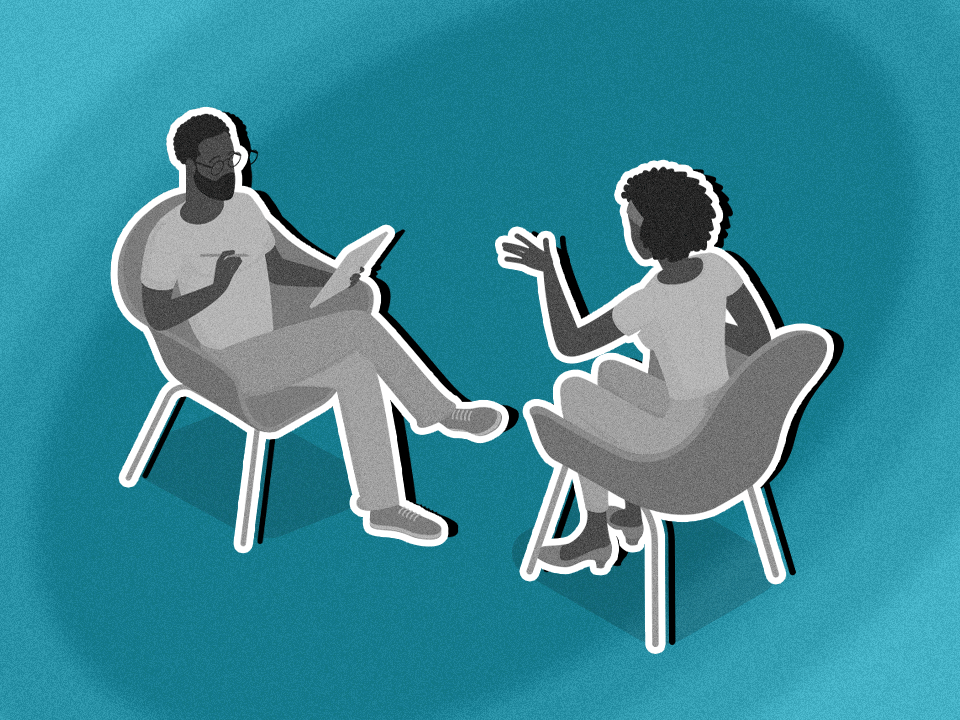 Shutterstock / Wondermind
If you're a member of a marginalized community or a community of color, like the Black community, you know that we're up against a unique set of obstacles that can make it tough to get the help we want and need. In fact, Black adults are more likely to report persistent emotional struggles, like sadness and hopelessness, than their white counterparts, according to a 2018 National Health Interview survey. And that's a thing Black therapists know all too well from a personal and professional viewpoint.
With factors like stigma, some (very valid) distrust of the medical field, and the burdens of systemic racism standing in the way, it can be hard to build up the courage to seek help or access support.
Then there's the matter of intergenerational trauma. If you're a descendant of someone who experienced a horrific event, like slavery, intergenerational trauma can show up as emotional and behavioral reactions, like anxiety, depression, and low-self esteem, that are similar to your ancestors', according to the American Psychological Association. Because the dysfunctional behaviors and unhelpful thought patterns that come with this trauma (like lashing out at someone, self-sabotaging, isolating yourself, and even self-hatred) can be passed from generation to generation, it can "become a part of our culture or family dynamics that can keep us, as a collective, in a cycle of stuckness and woundedness," says licensed therapist Anatasia Locklin, LMFT. "Intergenerational trauma responses can keep us small, fearful, and lacking the confidence to show up as the most optimal versions of ourselves," she adds.
Now, no amount of therapy or self-care can overcome systematic racism. But prioritizing our mental health by making time to sit with and process our emotions can positively influence how we show up in the world. That could look like journaling, meditating, opening up to a loved one, or dusting off whatever healthy coping tools you have.
However you can make time for your mental health, remember that we deserve to be happy and at peace like anyone else on the planet. To offer some encouragement as you prioritize you, we asked 13 Black therapists to share how you can get started on your mental health journey.
1. Bring others along on your healing journey.
"We can't talk about Black mental health today without talking about the impact of racial trauma. The burden of dealing with intergenerational trauma within our own families, as well as ongoing systemic discrimination and oppression, is tough. It can feel easier to isolate and process things independently or compartmentalize it altogether. However, processing and healing in community is important for maintaining relationships and building resilience.
Leaning on the support of our elders and ancestors can also provide comfort, healing, and inspiration as we work to create a more just world and fully embrace Black joy. If you're struggling, you don't have to deal with things alone. Odds are, the people around you are quietly dealing with similar struggles. We can go farther together than on our own. Healing in connection is a powerful tool!" —Jor-El Caraballo, LMHC
2. You deserve to enjoy the little things.
"We are living under incomprehensible circumstances governed by systems that aim to diminish our worth. As Black folks, we are expected to be more while simultaneously being treated as less. It's such a disorienting phenomenon that can, unfortunately, lead many of us to deny ourselves the simple pleasures of being human. Please remember that your humanness is non-negotiable and that rest is a commitment to radical self-preservation.
Finding ways of slowing down can offer you and your body a moment to reset your nervous system and leave you in a more grounded state of being. If this seems like a challenge for you, then working with a therapist can be a great way to begin the process. Your therapist is there to encourage curiosity, hold space for you, and to help you to build care practices in a way that feels more approachable. After all, you're a person first and foremost!" —Keanu M. Jackson, LMSW
3. Mental well-being looks different for everyone.
"As a Black Christian woman and clinical psychologist, I know emotional and mental health are nuanced topics to speak about and sit with in the Black community. There is no one-size-fits-all approach or a single intervention that would encapsulate the Black experience, and the journey to mental health and wellness can look different for everyone. We are not a monolithic community, but a very diverse and creative community that needs respect and appreciation in all of its color, shape, and size.
Blackness, or what it means to be Black, is a reality we all grapple with throughout our lives. Our thoughts, beliefs, and emotions about being Black and pursuing health and wellness resources can change at various points, and that's OK. And being religious or spiritual does not mean you neglect other aspects of your health and well-being. There is a place for religion and spirituality and mental health and therapy." —Edden Agonafer, PsyD
4. Embrace all your feelings.
"Black men often have a hard time identifying their feelings and showing vulnerabilities with people in our lives. One of the best things Black men can do for their mental health is to first give themselves permission to feel. In a world that celebrates an unbothered, cool posture for Black men, starting to readily identify our feelings accurately can be an important first step in getting the help and support we need. While it can be uncomfortable, letting ourselves feel and then heal is resistance! Black men need spaces for healing and self-care too." —Jor-El Caraballo, LMHC
5. Rewrite the script on intergenerational trauma.
"When we take care of our mental health, we are also doing an act of service to our community and family unit. Healing allows us to break cycles of dysfunction within our families since unhealed trauma and other untreated mental health issues can have intergenerational effects and disrupt the family unit. Intergenerational trauma can look like a range of things, such as coming from a family of alcohol and substance misuse or from a lineage of family members who are emotionally undeveloped and immature. When we heal ourselves, we are healing for the next generation and creating new scripts and traditions that uphold positive experiences over oppressive and dysfunctional ones." —Minaa B., LMSW
6. Embrace change and get connected.
"The Black community has been known to have a stigma around mental health as a result of years of harm from health care providers and misinformation. They have been experimented on without consent and misdiagnosed despite their pleas. However, things are beginning to change due to more advocacy and awareness in and outside of the community. More Black people are interested in working on themselves and ending generational cycles. They understand that it may be necessary to work through their stuff instead of pushing through and avoiding it.
Many Black people prefer to see therapists that look like them. With website directories like Therapy for Black Girls and Therapy for Black Men, there is more access to mental health therapists you can feel safe and secure with, and plenty of them are virtual. Therapy is and will continue to be an amazing resource for healing in the Black community." —Nicole Lewis, LCSW
7. Remember people are rooting for you.
"For those of you who have been able to gain an understanding of the intersection of Blackness and mental health and have accessed resources to better yourselves, we celebrate and honor your journey. For those who are waiting to be on this journey or waiting to access resources, we will show you the way, be gracious to you, and cheer you on as you learn all about the process of becoming your authentic self.
There is a therapist out there for you; there are therapists who share some aspects of your identity or therapists who can create a safe space for you to start the process. Try therapy at least once and see what it can do for you." —Edden Agonafer, PsyD
8. Get in tune with how your body might reflect your mindset.
"As a therapist and healer, I encourage Black communities to gain more awareness and access to embodiment-based practices such as meditation, yoga, energy healing, somatic therapy, and healing modalities that allow for us to not only be with our emotions but to also be in the sensations behind the emotions. Tapping into that can look like noticing when you feel comfortably warm all over when you're happy, tense when you're anxious, or fatigued when you're sad.
We have so many approaches to be in our rational, intellectual, problem-solving, thinking, cognitive brain, which certainly has its place. But we cannot think our way out of racial or intergenerational trauma—we have to heal intimately and holistically. There are deeper embodied patterns that have to be addressed on a body-based level. Slowing down and working with a therapist can help us listen to our bodies. Our bodies are a portal to our liberation." —Alishia McCullough, LCMHC
9. Take some space.
"As Black women, we are socially and systemically programmed to put our own needs aside and to overachieve and work hard in order to be appreciated and recognized. Research shows that Black women know a thing or two about being overworked and underpaid, which is a contributing factor to burnout. In workspaces, we can often be met with interpersonal stressors (microaggressions), which are emotionally exhausting and draining to the nervous system. The expectation is to be superhuman—and wouldn't it be nice to 'drop the ball' every once in a while and receive some grace?
Let this be your message to listen to your body. If it asks you to slow down, say no to what you can and give yourself permission to rest, sleep, and take the space to care for yourself in a way that feels nurturing and kind. Find spaces to share your feelings in community with others. That sense of connection and belonging can feel restorative. Know that you are valued. May you find spaces where your 'being' and humanness are embraced instead of your 'doing.'" —Nina Polyné, PsyD
10. Check in on yourself when things are going well.
"As Shuri says in Black Panther, 'Just because something works doesn't mean that it cannot be improved.' There can be a stigma around therapy, like being labeled as 'crazy' or people thinking you have debilitating issues. Do people struggling with crises and catastrophic issues need a therapist? Yes. Can people who are functioning on a daily basis, going to work, raising children, and maintaining intimate relationships benefit from therapy? Again, yes.
Therapy can be a safe space to work on yourself, increase your awareness, expand your emotional intelligence, establish healthy boundaries, and make those improvements to become your best self. Mental health is important, and you don't have to apologize for making it a priority." —Justyn Smith, MS, LPC
11. Prioritize your happiness.
"Whether it's processing attacks on our community or navigating spaces where we might be one of the few who look like us, everyday life can drain our mental energy. As we hold on to this stress while still making moves, it's easy to get caught up in what we need to do for our outer world at the expense of our inner world.
It's important to remember that our ancestors made a lot of sacrifices so we could be in the position to make a choice to be happy. Taking advantage of this opportunity means not always doing what is demanded of you from society, family, or work, but choosing your own vision of what is fulfilling. Intentionally prioritizing your well-being isn't selfish and is important to do so you can better show up for your friends, your community, and anything else you want to dedicate your time to. Regardless if it's spending more time in nature, taking a risk on a new career path, surrounding yourself with relationships that help you grow, or simply taking a nap, it's important to pay attention to what makes your soul dance and honor it every day." —Dakari Quimby, PhD
12. Unlearn the lies you've been fed.
"Black men in America have been misunderstood, misperceived, and mislabeled. In many ways, society tells us explicitly and implicitly that Black men's lives do not matter. This has had dire consequences for the collective mental well-being of generations of Black men. As a result, many of us have coped by normalizing unhealthy patterns of behavior and being emotionally suppressed. This is often the result of not having adequate, relatable spaces where we can heal free of shame and judgment.
This is the liberating power of therapy in the lives of Black men. Therapy can be important for many Black men because in a world where we often feel judged, it is a space where we can 1. be free to express the truth of our emotions that we often do not share with others, 2. be authentically affirmed in who we are as Black men, and 3. be challenged to grow to our fullest potential. Therapy for Black men can be the key to unlearning the lies we have been programmed to believe about ourselves, and such unlearning can be life-changing." —Vincent Allen, PhD
13. Conquer the fear of saying this two-letter word.
"Within the Black community, boundaries and saying no are important concepts that impact our interpersonal relationships and sense of self. In the Black community, saying no can be difficult, especially in cultures that place a high value on obedience and respect. Boundaries are the limits we set for ourselves in relationships with others. They help define acceptable behavior and allow us to maintain our personal space and autonomy. By setting healthy boundaries, we can improve our relationships, maintain a healthy balance, communicate our needs, and avoid overcommitment and burnout." —Claudia Garcia, LICSW
14. Remember who you are outside of work.
"It's important to acknowledge that work-related stress and the pressures of navigating the workplace while being Black can significantly affect one's mental health. As a member of the Black community, it's even more important to be aware of the added stressors that come with the systemic barriers and discrimination we may face. Despite these challenges, finding community, setting work boundaries, remembering who you are, and knowing your values are essential.
Remember to prioritize your mental well-being and understand that seeking help and working on improving your mental health is a sign of strength and resilience, not weakness. You have the right to be tired and rest when needed." —Thomas Vance, PhD
15. You deserve to heal.
"Our negative inner narratives [caused by] intergenerational trauma can be so deeply rooted and traced back to enslavement and white supremacy, which is why it's so important that we as a Black community recognize how significant intergenerational healing is and the impact this healing will have on our lineages.
Healing is our birthright. The Black community is undoubtedly resilient, yet we can be both resilient and need community and support to aid in our healing, as our historical trauma has been a collective experience. Healing is a gift to ourselves and others. When we heal ourselves, we heal those before us and those who come after us." —Anastasia Locklin, LMFT
Quotes have been edited and condensed for length and clarity.
Wondermind does not provide medical advice, diagnosis, or treatment. Any information published on this website or by this brand is not intended as a replacement for medical advice. Always consult a qualified health or mental health professional with any questions or concerns about your mental health.