Q&A
07.07.23
How Medication and Therapy Helped Emily Hampshire Find Her Magic
The author and 'Schitt's Creek' alum opens up about depression, relationships, and the power of a trampoline.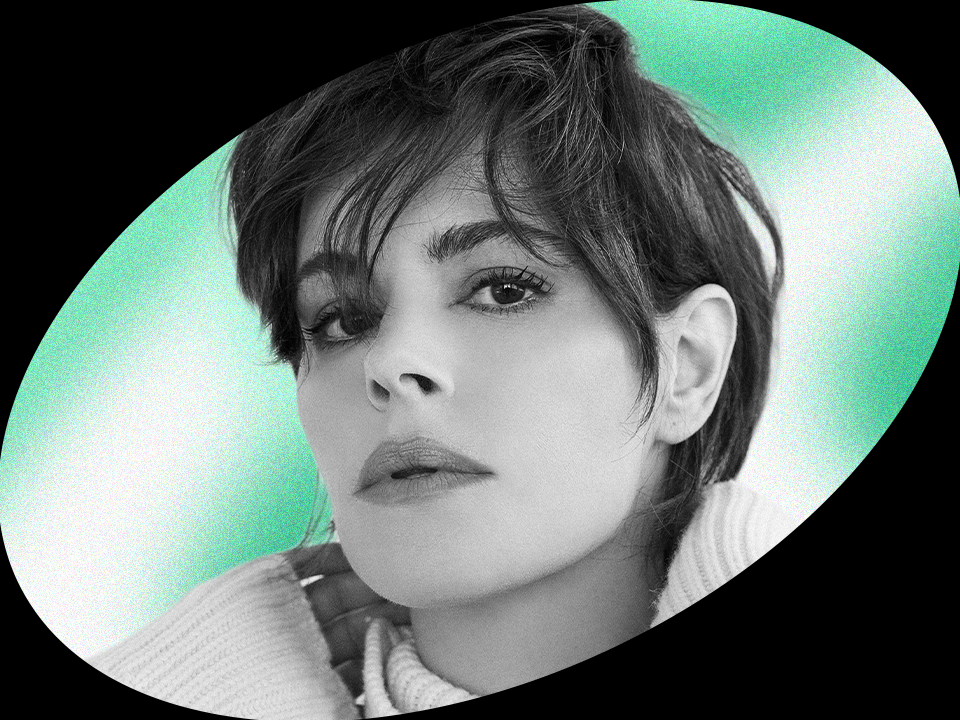 Photo Credit: Vanessa Heins
As the lovable Stevie Budd on Schitt's Creek, Emily Hamsphire has cemented herself in the comfort TV hall of fame. Lately, she's also been flexing her production muscles in the film The End of Sex,  as well as her writing skills in her debut graphic novel Amelia Aierwood: Basic Witch. When it comes to the book, which is out now, the oddball witch definitely shares some similarities with Hampshire, the author tells Wondermind. 
Here, Hampshire shares how the book was inspired by her personal mental health journey, how she navigated depression, and how she found her sense of self and true superpower.
[Sign up here to never miss these candid conversations delivered straight to your inbox.]
WM: What can you tell us about Amelia Aierwood?
Emily Hampshire: It's about Amelia, who is the black sheep of her very famous witch family. Think: the Kardashians of the witch world—the Witchdashians, if you will. She gets kicked off their reality show because her magic isn't really on brand, and she ultimately has to learn to find her own magic within.
The idea came to me when I was watching The Kardashians, and I was like, This is a real family of sisters. What if I just happened to be born into this family? I would be the worst Kardashian ever. I would totally be kicked off the show, and I'd be like the other sister that nobody heard about. But that's Amelia.
WM: There are definitely themes of being an outcast in the novel. Is that something you've ever dealt with?
EH: Oh, yeah. Amelia is not not me. She's definitely the misfit. I have always felt that way. Not necessarily in a negative way, just in terms of there was something that didn't always fit into the norm with me. And in Amelia's family, her siblings are adopted and she's the only biological child. In my family, my brother's adopted, and I was an accident or a miracle baby. The paradigm can shift.
I find it so interesting that my brother is so much like my parents—he talks like them, has their mannerisms. He really fits in with them, and I don't at all, so I found it interesting that kind of nature/nurture and what makes you who you are is not necessarily just what you think you're supposed to be like.
Amelia should have this magic that her family has. What I've struggled with for a long time is doing all the things I thought I was supposed to do and trying to be what people expected me to be. When I found myself and when I was more my authentic self was when my magic came about, when I kind of, I don't know, blossomed or at least felt like I was me.
WM: What's something that makes you different that you've come to embrace over the years?
EH: My brain. I have struggled with a lot of mental health, but I think as I've gotten older, I've realized that those struggles have ultimately helped me a lot and made me more empathetic and turned me into someone more interesting because of the struggle in a way. And I never really understood it before … why something would be so clear for other people, and I'm like, "Well, no, it's like this to me." That has always felt different in me.
And then I can go into fantasy a lot—really slip out of the world—and I've done that ever since I was a kid. I mean, my kindergarten report card was like, "Emily plays well alone."
WM: I was going to ask if feeling like an outcast ever gets lonely for you or if you're comfortable that way.
EH: It's really interesting because I've always said, "I don't get lonely. I don't get bored." I actually found that difficult during the pandemic in quarantine. This is maybe controversial, but I was very fortunate and privileged to be financially OK and healthy and all that. But when you remove those things, mental health-wise, I thrived in that environment. I get a lot of social anxiety, and to not be watched as much and have to go out, I was able to do everything.
But the one or few times I've felt lonely have been in relationships that I was not happy in. That's when I have felt the most lonely, I think, because I wasn't being myself with this person, or I had a tendency to lose myself in the presence of somebody else because I would be very codependent and be everything for the other person. I've realized as long as I have myself, I'm not lonely.
Amelia's a little different in that respect, and she's more like the younger me. I definitely always needed to be the best and the favorite. I think as you get older and do a lot of therapy, you can let go of that.
WM: Was there ever a turning point in those relationships that helped you see, I'm actually very lonely in this relationship. I'm not being myself.
EH: Quite honestly, it was [by] doing a lot of therapy after that because I'd gotten out of a relationship and didn't know who I was anymore. I didn't know what I liked. If you showed me, "Do you like this chair?" I would be, "I don't know, do I? Do you like it? Do you?" That kind of thing when you've completely lost yourself.
I did a lot of therapy, and I've been on medication for a long time, and that helped me very early on with OCD stuff. But then I found in getting back to myself, I did need some medication to help me be able to really dive into therapy in a way that changed my life, I have to say. I've had a lot of therapists, but this one therapist that I have had for many years now has totally changed my life, and I can't recommend therapy enough.
WM: What has your experience with medication been like?
EH: Well, 2000 was the first time I got depressed. The first time you get depressed, for me at least, I didn't know I was depressed. I mean, the behaviors I had, I didn't recognize as a problem. But it was like I couldn't stop keeping newspapers because I needed all the information. There were so many things I would put in place that, in retrospect, I can see as signs building up to [depression].
But I actually went to my regular doctor, and I was worried about my memory and my brain, and she was like, "I think you might be depressed," and she put me on medication. I was so scared of taking it because I was scared of all the things. Usually, a creative person is always afraid they'll lose their creativity or who they are. I was afraid of that. I was afraid of weight gain. I was afraid of all the things you hear.
At first, I took some medication that didn't work for me, that made things a little worse. I was lucky to have a doctor who really guided me along and was like, "You just have to keep trying till you find the one." When I found the one, it is like those commercials. I did literally feel a cloud lift and things fell away that allowed me to be more myself.
Then what was great was years later, I knew the signs of when things would go wrong, and I did notice sometimes when I'd be depressed. But at first, [when] I look back, I was just so angry. That's how it manifested in me. Nothing impressed me. This is something about me, but when somebody texts me, "How are you?" I just don't get that. I'm like, "Just tell me what you want." But at that time when it was really bad, it was like if somebody said hello to me, I'm like, "I don't know what to say to that."
Then years later, when things were harder, I did change medications or up medications, and then I went down on medication when the talk therapy really helped me. Now, I feel like I'm at a really great place. I've been lucky to have some great doctors.
WM: What's one of your favorite therapy lessons?
EH: To me, thinking of the past and pining is depression, and the future is anxiety. So staying in the present moment is the hardest and most important thing for me. … And I guess the "it's OK not to be OK" thing. I think it's changed so much over the years and people and celebrities are talking about how they took a break for their mental health. Like Simone Biles—that was so huge. Knowing that is an important thing to take care of has been a lesson.
WM: Do you ever debate stepping away?
EH: I debate it all the time. My fantasies are always like, I'll quit everything and move to a tiny town. I would like to do a job that involves repetition, just like a conveyor belt or mindless [work].
I still do feel expectations and needing to live up to those, and I'm not not aware that I'm a workaholic. That's something that I've noticed with a lot of therapy. I know when something's a little bit of a problem, like when I have a day off and I get anxiety, that tells me something. Or when I'm on Instagram and I notice myself comparing myself to other people and being like, Oh, why don't I have that career? When I am in my best, most healthy mental health, I don't do that. I'm so excited for everyone, and there's room for everyone. The minute I notice myself getting that way, I'm like, Oh, there's something I need to check. There's something going on with me.
WM: When you want to disconnect or unplug, what do you turn to?
EH: Honestly, this is crazy, but I got a trampoline—an Olympic-size trampoline. You can be in any mood, and the minute you start bouncing on a trampoline, it's gone. It's pure bliss. That's something I have started to [do] 'cause I find it hard when people say, "Working out gets your mind off things," or [to try] meditating, which I know is good for me. … But I can get into a loop of, Am I meditating properly? Am I the best meditator in the world? Bouncing really gets rid of it. I do tend to find repetitive motion super soothing, so that's what I'll do to take a break.
WM: Any final words of wisdom you'd like to add about mental health?
EH: I do feel like doing this comic book gave me the opportunity to go back to my younger self and say, "Everything that you think is your problem that you're trying to fix and hide, that's your superpower." I realize as I'm older now that the things that I try to hide and am embarrassed about or whatever (I see that in other people too), that's your magic. If you can embrace that, that's what makes you so special and will connect you to other people. There's no shame in that—it's actually a connective tissue.
This interview has been edited and condensed for length and clarity.
Wondermind does not provide medical advice, diagnosis, or treatment. Any information published on this website or by this brand is not intended as a replacement for medical advice. Always consult a qualified health or mental health professional with any questions or concerns about your mental health.