Q&A
11.07.22
Formula One's Esteban Gutiérrez Wants You to Face Your Feelings
The former pro driver opens up about struggling to find himself.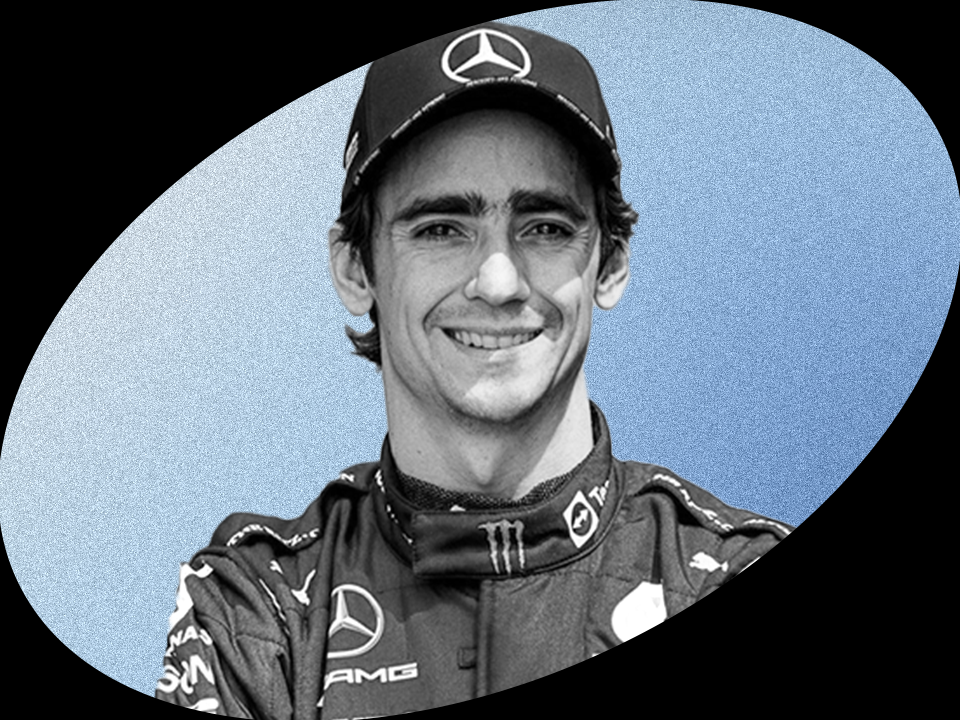 Esteban Gutiérrez started racing professionally at 14 years old and spent his passion- and pressure-filled career feeling a "roller coaster" of ups and downs. But after his 2016 season, he lost his seat as a Formula One driver for Haas, which ultimately took a toll on his mental health. Now, the brand and business ambassador for Mercedes's F1 team and founder of the online F1 merch platform EDASI tells Wondermind about that tough period in his life, how he slows down when he's used to speeding around a track, and why having a therapist with the same Mexican heritage is a win for him.
[Sign up here to never miss these candid conversations delivered straight to your inbox.]
WM: What has your career in racing taught you?
Esteban Gutiérrez: What happens at races is an example of what happens in life. So it helps you manage the pressure, to manage the whole winning and losing scenario. You are at the racetrack, you are putting in 120%, you're giving your best, you are competing against other people. ... You could be at one part of the race where you are the hero, then you make a mistake and it's totally the opposite. Then you have to recover, and you have to change your mindset very quickly in order to get the best out of [your] opportunities. ... It's an emotional roller coaster.
WM: Do you think racing has challenged you more physically or more mentally?
EG: Definitely mentally. It requires so much preparation, so much commitment, in a sport where you really need to make decisions that are compromising your lifestyle from a very, very early age. That has been, probably, the most challenging part because you start to race for the passion of the sport and then suddenly, at some point, it becomes a responsibility. It becomes a job, which you obviously enjoy and everything is great, but then there is a point where you start becoming famous, and then you have to deal with the pressure of being scrutinized by the media, by the people. You also get a lot of support, a lot of motivation, but there's always the difficult side, which is the criticism.
WM: You've made a career out of going fast. How have you personally found time to slow down?
EG: I did a lot of golf whenever I could. It's opposite in terms of the pace, but it's very similar in terms of the level of focus and precision you need. And really just spending time with family, with friends, because that's one thing that I didn't mention—every time you step up the ladder and you continue to grow and you become successful and you're progressing, each time you're more lonely. So it is important that you have people—good people—around you.
WM: How did transitioning out of F1 after the 2016 season impact you mentally?
EG: It had a huge impact because for basically all of my childhood and my teenage years and my 20s, all my purpose and my vision was about getting to Formula One and being successful in Formula One. ... The moment I lost my place in Formula One in 2016, suddenly you realize all of that vision and all of that professional purpose is thrown away from you. And you start questioning yourself: OK, what's next for me?
You can keep trying different avenues to come back to Formula One or transition into other types of racing. You can give yourself some time or you can transition into a completely different subject or topic. ... So that kind of confusion happened to me in 2016 and the years after because it takes time. In my opinion, regardless of what you have achieved, how much success you've gained, you will go through a depression phase [if there's a] change in your lifestyle and change in your life. It's inevitable. I had that for a couple of years, and of course it was a very, very difficult moment, and it was basically all about building my new vision and [finding] that new professional purpose to keep going.
WM: What is your vision now?
EG: My vision is growing sustainable and scalable businesses. I really love the process of spotting opportunities and making these opportunities happen. The part that I most enjoy is building a team to execute these opportunities. It's always a challenge, and I really love it because ... the more I expose myself to uncomfortable situations, the more I learn, the more confident I become. Uncomfortable moments are really what makes you grow massively.
WM: Back in 2016 when you were going through an identity shift, trying to find your next move, did you ever seek therapy?
EG: Unfortunately, while I was in the process of racing Formula One and back then, it wasn't a topic that was [spoken about]. ... [Getting professional help] was not very obvious, I would say, but if I would've been more proactive, of course I would've found a way. ... [But in] the following years, I did seek help. Ever since, I've always had weekly sessions with a professional therapist and also with mentors. I have a good mix of people that I can discuss things with and rely on.
I have changed [therapists] a couple of times because I feel that sometimes you need to explore a little bit. You need to know what is out there, have a bit of variety. ... My current therapist is from the same city [Monterrey, Mexico], from the same culture. I live in London, and I've tried therapists in London, I've tried therapists in the U.S., I've tried therapists in different places. It is not that one is better than the other; it's what suits you best. I felt that with a therapist who has knowledge of my culture, my lifestyle, my traditions, and who can actually understand that background, I can easily discuss certain things that are going to be more relevant to him as well.
WM: You said in a recent interview that you want to "focus on destigmatizing and improving our collective mental health." Can you tell us more?
EG: I feel like there's so much to be done in terms of awareness still. I'm pretty open with my experience. I don't hesitate sharing any details or things that I've been through in the past and that I'm going through right now, and I do it mainly with the purpose of maybe making other people feel that what they're going through, they're not alone in that process. There's different scenarios, there's different situations, but the emotional struggle is there. And we have to take care of it in the same way we physically take care of ourselves.
WM: What's the best piece of mental health advice you've ever received?
EG: To be aware of your feelings and accept those feelings [as] reality and not try to avoid them. Try not to avoid your feelings just because you have a little bit of ego or because you don't want to accept [them]. It's better to accept things being wrong. Just bring [those feelings] on, give yourself time to go through them, and accept that they're there. ... And also, accepting that we all have good days and bad days, and you will never get to the point where you will have no bad days.
I have learned throughout my career that there is no therapist, there is no family member, there is no friend or any person that will solve things for us. It's on us to solve our own issues with the help and advice of people that have the knowledge. At the end of the day, it's you who needs to make the changes. It's you who needs to acquire the experience and the knowledge to find your way.
This interview has been edited and condensed for length and clarity.
Wondermind does not provide medical advice, diagnosis, or treatment. Any information published on this website or by this brand is not intended as a replacement for medical advice. Always consult a qualified health or mental health professional with any questions or concerns about your mental health.