Explainer
02.08.23
Why You Feel Like a Ball of Anxiety the Day After Drinking
The annoyingly common experience is coming for your life choices (every single one).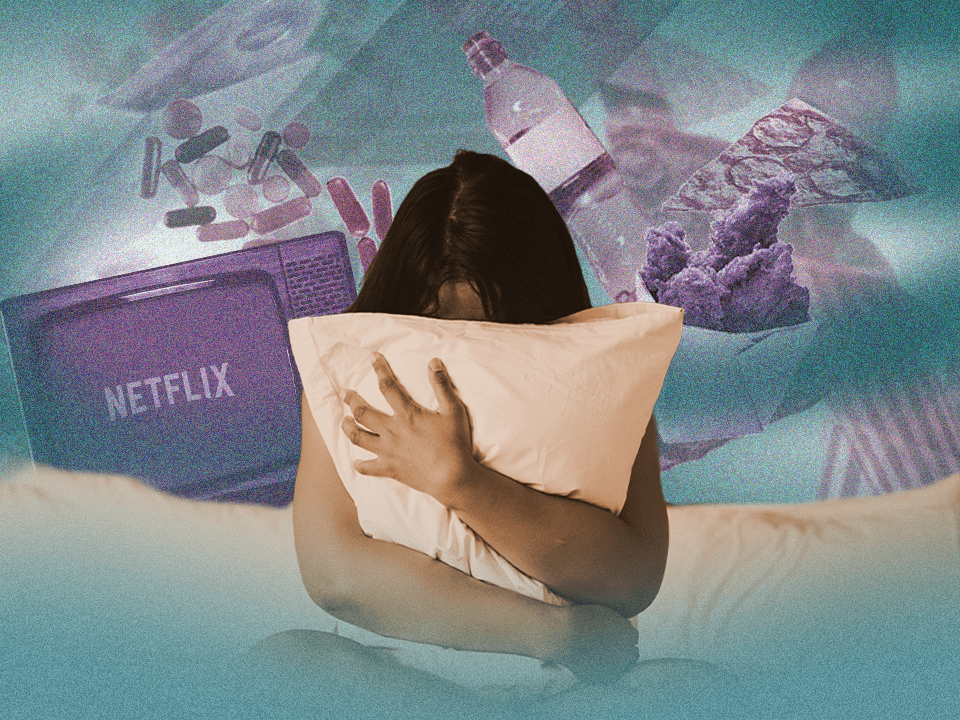 Shutterstock / Wondermind
You came, you drank, you woke up sweaty at 5 a.m. with racing thoughts including (but not limited to) that overshare with your boss last week, the online order you need to return, and how much money you spent last night. Welcome to hangxiety (hangover + anxiety) hell, friends. This perfectly named phenomenon is not a clinical term, but it refers to the super common experience of feeling anxious several hours after your last adult beverage.
Sure, this can be correlated with what scientists and college kids call "blacking out," since not remembering what you did last night and waking up to "Hey! Are you OK?" texts from your friends are solid reasons to feel hangxious. Still, you're not imagining things if hangxiety seems to hit you after two glasses of wine at dinner or alone on your couch. (Not NOT sub-tweeting myself here.)
As an active member of Club Hangxiety, I just want to take a sec to say that there are so many people out there feeling the same thing you are right now. In fact, I was just at a wedding where I had an amazing time, danced my ass off, and woke up with the sense that my people were probably judging me the whole time. QQ: Anxiety, can I live?!
So, yes, even though the comedown from a fun time can be super isolating and sometimes scary, it's also normal. As evidence, experts explain why hangxiety happens, what you can do to prevent it, and how to deal when it pops up. Cheers!
What causes hangxiety?
There are a few reasons why this can happen to you. The first is a booze-induced chemical imbalance of sorts. As you sip, the alcohol in your dirty martini starts messing with some neurotransmitter activity in your brain. More specifically, it binds to gamma-aminobutyric acid (GABA), the neurotransmitter responsible for telling your nervous system to chill out, making your brain less sensitive to its calming effects. At the same time, alcohol also blocks glutamate, an excitatory neurotransmitter that essentially keeps brain activity up and energized, says addiction psychiatrist Collin Reiff, MD. So, to keep up, your brain makes even more glutamate.
As you head off to bed post-happy hour, your system keeps producing way more glutamate (the energizing, stress-inducing neurotransmitter) than you need, explains Dr. Reiff. Meanwhile, GABA is basically out of office, so it's not keeping glutamate in check the way it normally does when you're sober. The result: Your brain's excitatory system is in overdrive, making your heart race, your body temp rise, and your mind a blur of stressy thoughts and cringey memories from 7th grade homeroom. So fun for us.
But wait! There's more. GABA also happens to be a very important player in helping you fall asleep, explains psychiatrist Juan Romero-Gaddi, MD, founder of Equal Mental Health. Because it's less effective at lulling you to sleepy town after you've been drinking, the quality of your Zs could be impacted, which can make you feel more on edge when you wake up.
If you drink a lot or have alcohol use disorder, the impact of all this brain chemistry can be way more intense, says Dr. Romero-Gaddi. Still, some people are just extra sensitive to the shift in these neurotransmitters, he adds. So whether you had one big night out or some casual cocktails, you could feel more anxious than usual.
Another unfortunate biological factor: The chemical mechanism that can make drinking feel so awesome might also make us feel shitty hours after we stop. Drinking, or just the thought of raising a glass, promotes the release of feel-good dopamine in the brain, says Dr. Romero-Gaddi. But there's also a point where—no matter how many drinks you have—you can't maintain the dopamine high causing the euphoric effect.
Though the science is a little murky, in theory, sensing the difference between those first-sip dopamine levels and your baseline when you wake up might also make you feel anxious, he adds. If you've ever experienced the embarrassment of a 9 a.m. flashback to your hand gesture-y storytelling, despite being totally normal in the context of that dinner party you were at last night, you know this hypothesis checks out.
Hangxiety can happen to anyone, but a small study from 2019 suggests that people who are more shy might be more likely to feel anxious the day after drinking. For that study, researchers measured participants' levels of shyness and social phobia before asking half of them to drink with friends at home (the other half hung out with friends while sober). The next day, researchers measured the participants' anxiety levels and found that highly shy drinkers were more anxious that morning—even though they drank about the same amount as the less shy participants. Wild, right?
How can I make hangxiety go away?
This is a bummer, but the most important ingredient in a hangxiety cure is time. Your brain basically just needs a minute (or, you know, hours) to find that perfect equilibrium between GABA and glutamate again.
That said, remembering that the life-questioning anxiety you feel the morning after a fun time likely stems from a chemical issue—and that it will pass—might actually help you feel better, says Dr. Reiff.
This would also be a good time to lean into those anxiety coping skills you use when things feel out of control, says Dr. Gaddi-Romero. Maybe that's taking your anxiety meds, going for a silly little mental health walk, or calling a friend for some co-regulation action. It might be harder to do the things you know work for you when you feel like shit, but they can help.
If your anxiety comes with a side of physical symptoms like tremors and heart palpitations, that's because you're basically going through a mini-withdrawal. But if these symptoms (including the anxiety) last for more than 12 hours, head to the ER to get checked out, says Dr. Reiff.
Otherwise, hydration, sleep, and food will help you recover and allow your brain to find its balance. Also—you knew this was coming—the next time you go out, try alternating beveraginos with water and sticking to two drinks or less total.
If you think you might have an issue with alcohol, check out these worksheets from the National Institutes of Health to get to the bottom of that, or head to SAMHSA's National Helpline if you'd like to talk to someone about it.
Wondermind does not provide medical advice, diagnosis, or treatment. Any information published on this website or by this brand is not intended as a replacement for medical advice. Always consult a qualified health or mental health professional with any questions or concerns about your mental health.