Explainer
04.25.23
Is High-Functioning Anxiety a Real Thing?
Perfectionists, people pleasers, and workaholics, this one's for you.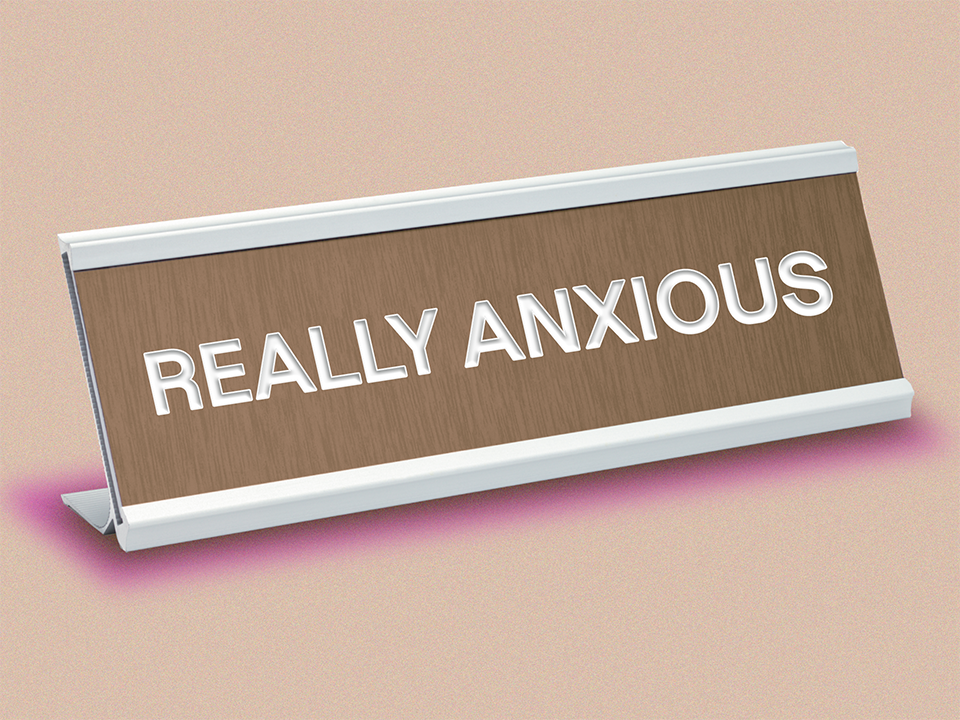 Shutterstock / Wondermind
On the outside, you look super successful. You're excelling at work, you've got a fun side hustle, and your weekends are always booked solid with brunch plans, workout classes, and coffee dates with friends. But on the inside, you're secretly stressing about what everyone thinks about you or whether you're on the right path in life. Sound familiar? Then you might be dealing with what some refer to as high-functioning anxiety.
While you won't find high-functioning anxiety listed as an official mental health condition in the latest edition of the Diagnostic and Statistical Manual of Mental Disorders (DSM-5-TR), it's a pretty popular term—both on TherapyTok and IRL. Here, we're breaking down what it actually means, how it's different from an anxiety disorder, and what to do if this term makes you feel seen.
What is high-functioning anxiety?
The term high-functioning anxiety is used to describe people (maybe you?) who look like they have their shit together—they're doing well at work, they're taking care of their health and hygiene, they've got a good group of friends—but internally they're battling symptoms of anxiety, explains licensed therapist Micheline Maalouf, LMHC.
Those symptoms fall into three categories: cognitive (the thoughts that go through your head when you're anxious), behavioral (the things you tend to do when you're anxious), and physical (the way anxiety makes your body feel), says clinical psychologist Lily Brown, PhD, director of the Center for the Treatment and Study of Anxiety at the University of Pennsylvania.
People with high-functioning anxiety can experience the exact same symptoms as those with a diagnosable anxiety disorder, like constant worrying, feelings of restlessness, or a racing heart. The difference is, with high-functioning anxiety, those symptoms don't get in the way of relationships, progress at work, or taking care of your basic needs. "Functional impairment that comes from anxiety is the major marker of whether someone technically has an anxiety disorder or not," says Dr. Brown.
But not meeting the diagnostic criteria for an anxiety disorder doesn't mean your struggles aren't legit or that they shouldn't bother you. It just means that your anxiety symptoms aren't messing with your life in a major way—like making it hard for you to leave the house or causing you to skip out on plans.
That's part of the reason why Maalouf says she prefers to avoid the label "high-functioning," since it can minimize people's mental health challenges. Maalouf adds that, in her experience, people with high-functioning anxiety often have a hard time relaxing and constantly take on new projects at work or make plans to fill all of their free time. You might also struggle to sit still or rest because that makes space for your anxious thoughts to bubble up to the surface, she explains. Migraines, stomach issues, acid reflux, and difficulty sleeping are also common in the people she sees with high-functioning anxiety, she adds. Obviously, it makes a lot of sense to talk to your primary care doctor to get to the bottom of any physical issues, but your mental health could be part of the problem.
Should you seek treatment for high-functioning anxiety?
You don't technically need to seek treatment if your symptoms aren't getting in the way of your daily life. But working with a mental health professional when you're dealing with any sort of anxiety will teach you coping skills and strategies that'll help you feel better and hold you accountable to use them, says Dr. Brown.
In fact, psychiatrist Marlynn Wei, MD, says that a lot of her clients technically have high-functioning anxiety—she just doesn't call it that since it's not a clinical term. These clients are doing pretty well in life but still benefit from learning new tools to manage anxious feelings and having support to make changes they've been worrying about, she explains. Plus, if you have access to therapy, addressing your anxiety symptoms with a licensed mental health pro could prevent them from worsening or impacting your day-to-day.
And high-functioning anxiety doesn't require a special type of treatment or anything—the strategies and coping skills used to manage symptoms of diagnosed anxiety disorders can help you too. Dr. Brown recommends looking into exposure therapy, which involves facing whatever situation or stressor is causing you anxiety and learning to tolerate the discomfort that it brings. Cognitive behavioral therapy (CBT), mindfulness-based therapy, psychodynamic therapy, and trauma-informed approaches can also be helpful, says Dr. Wei. Since anxiety is very treatable, it's just about finding the method that'll work best for you.
What can you do on your own to feel better?
If you're not looking to start therapy right now, there are also some strategies you can use to combat anxiety symtoms on your own. It could be as straightforward as talking to someone who gets it, doing something physical (even if it's just stepping outside for sec), or designating some time to work through these journal prompts for anxiety.
Mindfulness exercises can also be helpful in the long and short term. When you're anxious, you're typically ruminating about the past or worrying about the future, and mindfulness techniques can help bring you back to the present moment, explains Maalouf. A lot of people think mindfulness = meditation, and while that can be true, you can also take a mindful walk, paying attention to what you see, hear, smell, and feel. If you get lost in thought, just try to come back to the present by focusing on your breath or how your body feels.
Breathing exercises are another good strategy for tackling anxiety when your body is in fight or flight mode, says Dr. Wei. These can activate the parasympathetic nervous system (or "rest and digest" mode), which produces a relaxation response. She recommends box breathing, where you inhale through your nose for a count of four, hold your breath for a count of four, exhale for a count of four, and then pause for a count of four before inhaling and starting the cycle again. Even just a minute or two of breathing like that can be helpful when you feel your anxiety starting to set in.
The bottom line: High-functioning anxiety isn't an actual diagnosis, but it's a spot on the spectrum of anxiety that describes the way a lot of people feel. If you look successful and happy to the outside world, but internally you're struggling with anxiety that's bothering you, remember that your feelings are valid and you deserve support just as much as anyone who's outwardly struggling.
Wondermind does not provide medical advice, diagnosis, or treatment. Any information published on this website or by this brand is not intended as a replacement for medical advice. Always consult a qualified health or mental health professional with any questions or concerns about your mental health.